Drew Basil's extra point sailed through the uprights to give Ohio State a 52-34 lead with 6:47 remaining in the fourth quarter, and the bulk of the Buckeye contingent at Memorial Stadium began filing out the exits.
The game was all but over — Ohio State had shaken off Indiana in October 2012 to take another step forward at achieving a perfect season. Surely, the Hoosiers were no longer a threat, down three possessions with under half a quarter to play.
With the stadium half empty, however, Hoosier quarterback Nate Sudfield led a furious rally and tossed a pair of touchdowns passes in the span of 35 seconds and bring his team a field goal away from tying the Buckeyes. Ohio State needed an onside kick recovery to seal the deal that night and shove off the Hoosiers, who struggled to win four games that season.
"That was one of the few times I've ever seen a defense quit playing hard, and that was a problem. That was a program-changer," Urban Meyer said Monday. "Mistakes are one thing, but when I saw what I saw at that, that was not a good moment."
Meyer's first season as Ohio State's coach ended with a victory against Michigan in late November to cap a 12-0 season. The Buckeyes were banned from post-season play that year, so all they had to work towards was winning each of their regular season contests.
"I think we were up by three or four scores and they just came back, recovered an onside kick. So that was a game changer as far as how we approach. If you don't play hard, you're not going to play."– Urban Meyer on the 2012 Indiana game
It almost didn't happen due to a lack of focus late in Bloomington, Ind., the place the 2015 top-ranked Buckeyes visit Saturday at 3:30 p.m.
"I think we were up by three or four scores and they just came back, recovered an onside kick," Meyer said. "So that was a game changer as far as how we approach. If you don't play hard, you're not going to play."
Odd things seem to happen to the Buckeyes against the Hoosiers, a team that's given that's given them fits in recent years.
"We kind of slept walk into there (in 2012) and they obviously have a really explosive offense," senior left tackle Taylor Decker said Monday. "Last year at times they gave us troubles as a defense. We're just going to have to watch the film, game plan for them and then just play a complete game, as with any team that we play. If we don't bring our A game, we'll struggle."
The Hoosiers sauntered into Ohio Stadium last November down on their luck, having to use a true freshman quarterback because of injuries and transfers at the position. They were 3-7 and winless in Big Ten play prior to the matchup with the Buckeyes, who were trying to get back in the thick of things in the hunt for the College Football Playoff.
Deep into the third quarter, however, Indiana led, 20-14, before Jalin Marshall happened.
The then-freshman H-back scored four second half touchdowns to spring Ohio State toward a 42-27 win, but it was by no means easy. Indiana running back Tevin Coleman roasted the Buckeye defense for 228 yards and three touchdowns, one covering 90 yards.
"It's Big Ten. So it's a one-game season," Marshall said Monday. "Each game we go into, we prepare the best that we can and the most prepared team will win the game."
The Hoosiers are 4-0 this year, just like Ohio State, notching victories against Southern Illinois, Florida Atlantic, Western Kentucky and at Wake Forest. Not the stiffest competition, but make no mistake: The Hoosiers can score points with the best of them.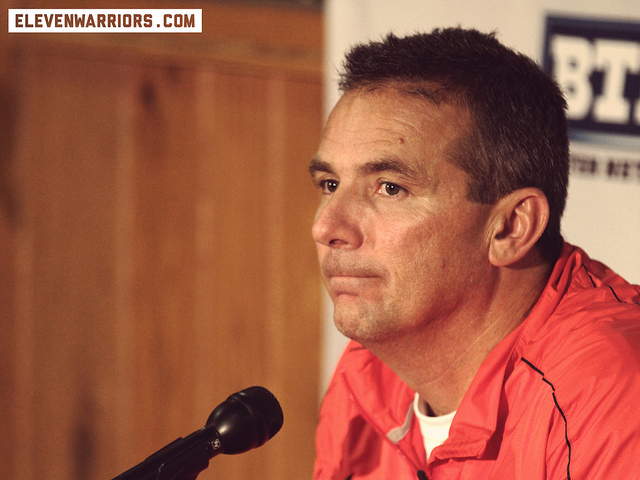 "Indiana's given us some really good games in the past and I know that they're offense is just firing right now," senior linebacker Joshua Perry said Monday. "They're playing really well. They score a lot of points."
Indiana averages 38.2 points per game, and actually has better offensive numbers in passing, rushing and total offense than Ohio State. Sudfield is back for his senior season after redshirting 2014 with a shoulder injury.
"When you get into Big Ten play, every team has good players," Decker said. "A lot of players could go to any school in the Big Ten on these teams."
That's why Meyer's determined to not let what happened in the 2012 affair at Memorial Stadium repeat when the Buckeyes pay the Hoosiers a visit Saturday.
"Big Ten season start this is week," Meyer said. "On the road, Indiana, renewed focus, as the ultimate goal is to compete for a championship in November, and that comes to fruition this week."