It's hard to find much to nitpick from a coaching staff that won a national championship, but that doesn't stop Urban Meyer and Gene Smith from evaluating the men they hired to bring them said title.
Ohio State tore through Wisconsin, Alabama and Oregon in the 2014 postseason to win the inaugural College Football Playoff in January. The Buckeyes overcame adversity in more than one form during the season, beginning with the loss of star quarterback Braxton Miller 12 days before the season opener at Navy. They then fell to Virginia Tech in the home opener Sept. 6, lost Miller's replacement, J.T. Barrett, to a broken ankle in the annual regular season finale against Michigan and mourned the loss of a teammate when Kosta Karageorge's body was found in a dumpster day after the team's victory over the Wolverines.
Through it all, though, the Buckeyes kept winning and took home the school's eighth national championship in the sport. Naturally, that was highlighted in the 2014 staff's performance reviews, in addition to the need for the coaches to instill an attitude against complacency for the 2015 season.
The records are result of an open records request submitted by Eleven Warriors Aug. 5 and filled Tuesday by Ohio State.
Evaluations occurred between June 2015 and July 2015, though dates for reviews of co-defensive coordinator and linebackers coach Luke Fickell as well as tight ends and fullbacks coach Tim Hinton were not listed. According to the records, all reviews were to be completed and returned to the Ohio State Office of Human Resources by June 30, though it is not uncommon for the dates to reach beyond that mark due to vacations and camps during the summer months.
As expected, battling complacency after winning a Big Ten, Sugar Bowl and National Championship was the main theme among each member's review, as well as recruiting and pushing for the nine units strong mentality Meyer stresses day in and day out.
URBAN MEYER: HEAD COACH
Naturally, Meyer earned high praise from Smith, the school's vice president and athletic director when the two met for his critique June 18. Of the eight core competencies (academic success of program, competitive success of program, commitment to compliance, student-athlete welfare, leadership, communication, budget management and public/donor relations) there were only three areas Smith felt Meyer did not exceed expectations, instead only meeting them. Those three: A commitment to compliance, communication and budget management.
Smith did not give Meyer an overall rating for his performance, but noted the need to find different areas of motivation for the 2015 squad and recruiting in areas where the head coach could grow. A continued boost in the Real Life Wednesday program was also mentioned.

In his self-appraisal, Meyer wrote about the "loss of quality coaches" as a challenge he faced in 2014, a result of running backs coach Stan Drayton taking the same position with the Chicago Bears and Tom Herman becoming the head coach at the University of Houston. He also wrote that aligning his support staff and that unit's energy tested him in 2014.
On how to improve in those areas, Meyer again wrote about complacency, but documented the nine players who graduated from the program and a successful job fair among his highlights from last season.

LARRY JOHNSON: DEFENSIVE LINE COACH, ASSISTANT HEAD COACH
Johnson coached Joey Bosa into an All-American as just a sophomore in 2014, a massive reason Ohio State experienced success during the season. He was seen as a home run hire by Meyer in January 2014, not only because the head coach poached him from conference foe Penn State, but because of his strong recruiting ties back east.
Johnson earned no less than a 4 in each provision of his review, though there is not any indications for his grade in the Public Relations and General subcategories in the evaluation, completed June 25.
Off-field issues, game planning and unit GPA — which was 2.54, the lowest on the team, according to the review — were determined to be areas that need improvement for Johnson. In the unit productivity area, Johnson wrote "Continue to motivate unit to be Great!"

Johnson also received a 5 for his unit's on-field development throughout the course of the season, but wrote in his comment sections at the end of the evaluation that he has a "need to continue to grow as a coach and enhance my coaching skills."
TIM HINTON: TIGHT ENDS AND FULLBACKS COACH
Hinton's position group posted a 2.89 cumulative GPA for the 2014 season, listed as a positive in his evaluation as the second-highest on the team (behind only the linebackers).
Interestingly, listed under areas Hinton needs to improve includes "value to staff" and "master of craft," something that might not have been expected considering he's been a coach for 34 years — 20 on the college level — and on Meyer's staff since the 2012 season.
Hinton also commented about Nick Vannett, a redshirt senior and starter this season, being honest about a mistake he made during last season but disappointed it even happened. He also is aware of the exit of Jeff Heuerman and the urgency for the tight end group to be more consistent. Productivity in recruiting was the lowest area of Hinton's self-evaluation — he gave himself a 2.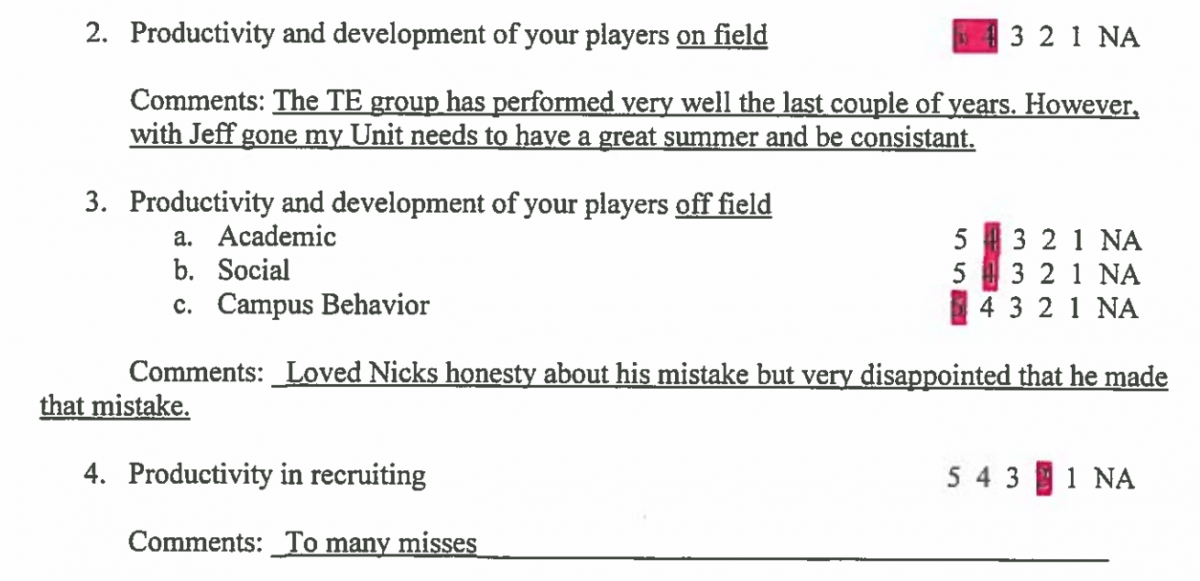 Hinton received an overall rating of 4 as a coach, but earned a 3 in multiple areas, including his use of social media and networking through recruiting and his research and development as a football coach.
ED WARINNER: CO-OFFENSIVE COORDINATOR AND OFFENSIVE LINE COACH
Warinner's offensive line was nearly flawless toward the end of the 2014 campaign, paving the way against three of the nation's top defense in the post-season to assist Ezekiel Elliott in rushing for 696 yards and eight touchdowns in those contests.
Warinner's performance evaluation, completed June 24, was what you would expect with regards to on-field development of the offensive line and his role in the offense, but he fell short in a few areas including recruiting and his use of social media to network. Specifically, it was pointed out that he needs to use Instagram more and that he "missed on a few top prospects" in recruiting.


Overall, Warinner acquired between a 4 and a 5 on his overall rating as a coach, which helped earn him a promotion to offensive coordinator after Herman's exit.
In his goals section, Warinner specifically noted helping the team win the Big Ten Championship and "beat the TUN!"
ZACH SMITH: WIDE RECEIVERS COACH
Smith's been with Meyer since the former was a graduate assistant at Florida, a part of two other national title teams before heading to Ohio State. The grandson of former Buckeye coach Earle Bruce, Smith was tasked with turning around a woeful position upon his Columbus arrival with Meyer prior to the 2012 season.
Smith's done just that: He's turned top talent like Michael Thomas into a potential early NFL Draft selection, saw Devin Smith and Evan Spencer get drafted this past spring and brought in top talent at the position. He even created an identity for the position, Zone 6, which is tagged in nearly all his social media posts.
Smith's evaluation, concluded July 9, didn't list a rating for his unit's production, and the most glaring piece from it is the grade under his unit's social behavior off the field, for which he received a 2. The wide receiver unit's cumulative GPA was 2.58 in 2014, the other thing along with its off-field behavior listed under things Smith must improve upon moving forward.
The goals portion of Smith's review was the most extensive on the coaching staff, noting the need to sign "2-3 difference makers at WR" and become "the Doc Holliday" in recruiting.

Smith also set goals to help Ohio State lead the country in punt return average, return for touchdowns and blocked punts.
LUKE FICKELL: CO-DEFENSIVE COORDINATOR AND LINEBACKERS COACH
Fickell faced intense scrutiny for a defensive unit that largely prevented Ohio State from getting to where it wanted at the end of the 2013 season, allowing huge offensive performances by Michigan, Michigan State and Clemson. With the addition of Chris Ash and a new press-quarters scheme on the back end as well as top recruiting at linebacker, Fickell earned high praise from Meyer at the end of 2014 for the defense's performances against Wisconsin, Alabama and Oregon.
That was not forgotten by Fickell in his evaluation.

The linebackers posted a 3.06 GPA in 2014, the highest on the team. That, obviously, was listed among the positives in Fickell's review, along with team tackling and just a general improvement of the unit as a whole. Recruiting, bringing in new ideas within the system and "establishing the best defense in the country" were listed under things he could work on.
KERRY COOMBS: CORNERBACKS COACH AND SPECIAL TEAMS COORDINATOR
To no one's surprise, the energy Coombs puts forth each and every day was a notable positive in his evaluation, completed June 19. His unit's cumulative GPA, 2.68, was the second-lowest on the team, but his solid work with Ohio State's special teams earned high remarks from both him and Meyer.

The only areas Coombs did not earn a 4 or 5 in his evaluation with Meyer were research and development in coaching and his use of social networking through social media in recruiting, for which he earned a 3 for both. Overall, Coombs earned a 4 for his rating as a coach.
CHRIS ASH: CO-DEFENSIVE COORDINATOR AND SAFETIES COACH
Ash's press coverage scheme was a crucial part of Ohio State's run at the national championship in 2014, his first year on staff. It brought a toughness to the back end of the Buckeye defense that had been missing since Meyer arrived. Due to that, the overall defensive improvement and unit cohesion were listed under positives in his evaluation, along with the safety unit's overall GPA of 2.79.
Ash's review took place July 13, the latest among the assistant coaches. Highlights from it include comments from Ash in every section a line was provided for him to write one, and the fact that the GPA tallied by the safeties missed their overall goal.

Ash appears to be a dynamo when it comes to paperwork, with a rating of 5 in each area that had to do with the element in his evaluation.
"Feel like I get my off-field responsibilities done on time and in a professional matter," he wrote.
He also wants to do whatever necessary in order to become a head coach someday.

MICKEY MAROTTI: ASSISTANT AD, FOOTBALL SPORTS PERFORMANCE
Meyer calls Marotti his right-hand man often throughout the course of the season, constantly giving him credit for Ohio State's success on the field while dubbing him "the best strength coach in the country."
It's hard to argue with the results, too. Ohio State looked noticeably fresher than Oregon and Alabama during the College Football Playoff despite those being the 14th and 15th games of the season. It all added up to Marotti being named the FBS strength and conditioning coach of the year.
The year did not come without challenges for Marotti, though, among them feeling short staffed because Anthony Schlegel was focusing on finishing school.

To combat that, Marotti noted that he hired Brady Collins from Mississippi State to help him out moving forward.
The only areas Marotti did not exceed Meyer's expectations in 2014 were in communication and overall management of the strength program.
---
Note: Evaluations for Stan Drayton and Tom Herman were not requested by Eleven Warriors, because they do not exist from the 2014 season as both left the program for their new jobs prior to spring practice.