Looking to serve up sweet revenge to the only team able to defeat them a year ago, Ohio State started fast, fell into a brief slumber, then awoke to score 28 straight points on the way to a 42-24 spanking of Virginia Tech in Lane Stadium. 
The win improved Urban Meyer to 51-5 in August/September games in his career and 13-0 in season openers while giving the Buckeyes 14 straight road wins – the longest such streak in the land. 
As usual, storylines abound for a team oozing with talent that despite its dominance, has room to improve which should be a scary thought for the rest of college football. 
With that, let's dive into Five Things from last night's win. 
aCTION BRAXTON

Coming into the game, the biggest storyline outside of who would start at quarterback was how Braxton Miller would fare in his first game as an H-back. Leading up to the season, despite his playmaking greatness, there were some questions as to how quickly and successfully Miller could make the position change. 
I think those questions are answered. 
Miller was absolutely electric in tallying 140 yards and two touchdowns – on just eight touches – in a debut that saw him mostly in the slot but also out wide, in the backfield and running the wildcat. 
The two biggest questions about Miller were whether or not he'd prove to have the hands to be legit receiver and if he could avoid big hits potentially injuring his twice surgically repaired shoulder. 
The first question was answered on his first touch as Miller dove and spun to haul in a 24-yard reception over the middle and later reinforced as he made a nice grab near the sideline on a 54-yard catch and run for a touchdown. As for the second question, I think it's safe to say Miller did a decent job of using field awareness and freakish moves to avoid the big hit. 
The wildcat plays never had much of a chance to succeed last night for various reasons but as the season wears on it will be a much more lethal formation and that's without considering Miller will eventually throw out of it. 
It's going to be a fun season watching #1, folks. 
EMBARRASSMENT OF RICHES

So, Ohio State seems pretty loaded at quarterback. 
I was surprised Cardale Jones was tabbed the starter but not at all surprised with how he played, how J.T. Barrett played and how the duo handled the whole situation. 
With his arm, Jones didn't set the world on fire statistically completing just 9/18 throws (yep, there were some drops) for 186 yards with two touchdowns against one interception but he again showed a knack for the big play. Case in point, five of his nine completions went for at least 20 yards including a 24-yard touchdown strike to Curtis Samuel to open the scoring and later a 54-yard toss to Miller for six.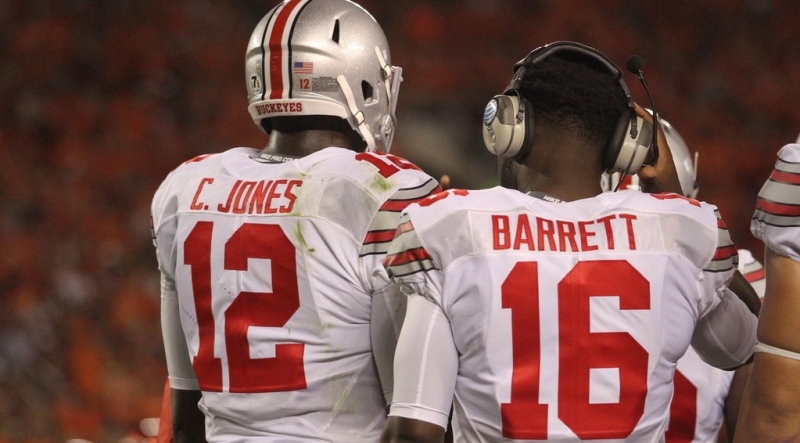 On the ground, he'll never be as natural running the various read/option plays as Barrett but he was more-than-serviceable totaling 13 carries for 99 yards and a touchdown. 
All the while, Barrett was seen on the sideline being the captain he is, coaching guys coming off the field, getting in Cardale's ear after possessions, and being absolutely ready for when his own number would be called. 
Sure enough, as soon as Urban inserted him into the game Barrett led the Buckeyes on a five-play, 75-yard march. The last two plays saw Barrett scamper 40 yards down the left sideline before a 26-yard pitch and catch with Mike Thomas for an easy touchdown giving Ohio State a 42-17 cushion. 
WALK THE LINE

For whatever reason, it can be tough for some to read critical comments in scenarios where the team scores 42 points in a fairly comfortable win but a few opportunities for improvement did manifest themselves despite the lopsided score with many of those generating from within the trenches. 
This is important because in my estimation, the biggest reason the Buckeyes were able to capture the crown last year was because the offensive and defensive lines finally got to a level of dominance not seen since Tressel's 2002 squad. 
Last night, those lines weren't as mistake-free and dominant as we grew accustom to seeing during Ohio State's playoff run. 
Regarding the offensive line, it appeared the biggest issues came from right in the middle with center Jacoby Boren and left guard Billy Price. Boren just wasn't himself with no less than three poor shotgun snaps and a personal foul turning a 3rd and 8 into a 3rd and 21 on Ohio State's first possession. Price, who was easily the most improved o-liner on the team last year, was called for holding to negate a Jones touchdown run that would've given the Buckeyes a 21-0 lead in addition to losing a few basic one-on-one assignments including a whiff on a 2nd and 5 play leading to a punt on Ohio State's last possession of the first half. 
Along the defensive interior, Adolphus Washington asserted himself but the duo of Tommy Schutt and Donovan Munger did little to change my belief that Michael Bennett is without question the biggest loss from last season's roster. Interestingly, Michael Hill seemed to make the biggest impact of the three guys despite generating the least buzz in camp. Tracy Sprinkle also came in and did some things. 
Note that I'm well aware the Hokies averaged just 2.9 per carry but it felt like most of the holes were right up the gut. It's going to be interesting to watch how Larry Johnson handles the playing time in the middle. Will one guy emerge as someone who rarely comes off the field or will a rotation be a season long plan and not just for the "keep guys fresh" effort?
BREAK ON THROUGH

Newsflash: Ohio State has talent for days. 
With so many returning starters/contributors, it's hard for young and/or unproven guys to find the field. That reality wasn't quite as harsh last night thanks to the one-game suspensions being served by Joey Bosa, Jalin Marshall, Corey Smith and Dontre Wilson and a handful of guys did their best to make a case for more snaps in the future. 
Sam Hubbard won't be mistaken for Bosa just yet but for a guy who has practiced at no less than three positions since his arrival in Columbus, the redshirt freshman made a solid debut with four tackles, a sack, 1.5 TFL and a quarterback hurry. He's going to do big things in a Buckeye uniform.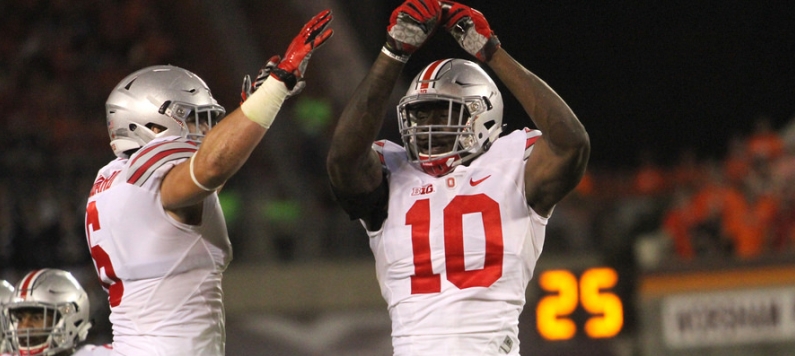 A third-year sophomore, defensive end Tyquan Lewis can no longer be described as young but unproven is certainly fair and he was a beast last night with six stops, 2.0 TFL, 1.5 sacks and a quarterback hurry. I was particularly impressed with his motor and the fact I didn't see him pass rush too far up the field which so many guys do essentially taking themselves out of a play and/or giving up a huge scrambling lane. 
Another largely unproven guy, redshirt sophomore corner Gareon Conley, had an impressive debut as a starter with eight stops. His sure-tackling on guys in space was great to see and crucial to killing a couple Hokie drives. 
Other young/unproven guys making an impact included sophomore Jalyn Holmes who registered six stops and a forced fumble, redshirt frosh Johnnie Dixon who hauled in a 29-yard reception and redshirt freshman Parris Campbell who despite two bad drops on offense (including one for a sure touchdown) was a factor on special teams. 
REIN-FOUR-CEMENTS

With the win in Blacksburg in the review mirror, the Buckeyes can now welcome Joey Bosa, Jalin Marshall, Corey Smith and Dontre Wilson back into the fold. I just laughed a little as I typed that. 
The return of Bosa means the Buckeyes are now ridiculously loaded at defensive end after I came away super-impressed with Tyquan Lewis last night in addition to feeling like Holmes and Hubbard will provide more-than-serviceable depth allowing for a rotation of sorts on an as-needed basis. 
Marshall's return looms largest considering the baffling reality that Ohio State more talent than any other team in the land by a solid margin but had to resort to putting its starting tailback and Heisman hopeful back on punt returns. Marshall has walked his own punt return tightrope but at least he's got some experience in the role. 
Additionally, the return of Marshall and Smith to the wide receiver group pushes guys like Campbell and Dixon into diminished roles, restoring depth to a group headlined by superstar Mike Thomas. 
For Wilson, seeing the field could be a challenge with Braxton and Curtis Samuel (3 touches, 42 yards, 1 TD) showing they can be a dominant 1-2 punch at the H-back. As such, Wilson should get some looks on kickoff returns while trying to steal some offensive snaps from Samuel. 
Holy smokes this team is loaded.