On a team loaded with returning stars and proven role players, it's difficult to predict exactly who might emerge as a new significant contributor.
That said, it's still fun to scan the roster, identify the unproven commodities flying under the radar and wager a guess as to which ones have legit shots to carve out their own key roles as part of Ohio State's bid to repeat as national champs. 
Of course, this highly subjective exercise is not only influenced by your own thoughts on each player's talents and potential playing time available at any given position but also each reader's own definition of the word "sleeper." 
For me, a sleeper is loosely defined as a guy who hasn't generated a ton of buzz and has a limited or non-existent collegiate résumé but the tea leaves say he could be a factor this fall. As such, a guy like Torrance Gibson, for example, is excluded considering the fair amount of hype he's enjoyed at varying points since signing on the dotted line. 
With that, here's a look at five guys who could materialize as sleepers this fall. 
noah brown – WIDE RECEIVER
A true sophomore out of New Jersey, wide receiver Noah Brown saw action in 13 games last year and even played a total of 57 snaps during Ohio State's postseason run but totaled just one reception for nine yards on the season. 
Thus far into camp, though much of the talk surrounding pass catchers has focused on Braxton Miller's position change, big expectations for Mike Thomas, Jalin Marshall's suspension and shift out wide from the H, where Dontre Wilson and Curtis Samuel fit in and if completely unproven yet high potential guys like Johnnie Dixon, Torrance Gibson or Terry McLaurin can crack the rotation, Brown has quietly emerged as a game one starter who has shed some weight and is making plays.
Besides Thomas, Brown could easily emerge as Ohio State's most complete receiver. Weight loss has made him faster yet he is still a legit blocker and can effectively line up at any of the receiver spots. 
I expect Brown's receiving production to better that of any of the more hyped names excepting Thomas, Braxton and maybe Marshall. 
DAMON WEBB – CORNERBACK
Imported from Detroit, true sophomore Damon Webb saw action in nine games last season with a modest three tackles to go along one pass defensed and a forced fumble.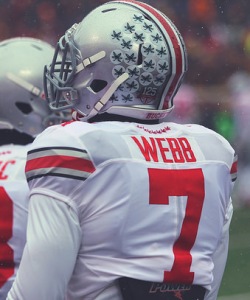 This fall, he enters the season as a reserve cornerback fighting for time behind starters Eli Apple and Gareon Conley. Webb was in a duel for the starting spot opposite Apple for much of the spring but Urban Meyer declared Conley the starter entering fall camp. 
I'm merely playing a hunch with this one but I still believe that while Conley will start game one, the job will be very much a rotation in the early going and eventually Webb will seize the role or at the very least emerge as the fifth defensive back in nickel situations. That's far from a slam dunk however as Erick Smith will have something to say about that along with the much more hyped Marshon Lattimore despite recurring nagging injuries. 
I could be way off here but I think it's important to remember that game one starters aren't always guaranteed to have a stranglehold on their position. Case in point, Cam Burrows started over Vonn Bell at safety versus Navy last year (to be fair, Bell did have some camp injury woes though he was healthy enough to play in game one) before Bell seized the job and never looked back. 
Even if Webb doesn't replicate that scenario, he's got a great shot to be a factor in Ohio State's secondary this fall. 
DONOVAN MUNGER – DEFENSIVE LINE
Another player currently slated to play a reserve role, redshirt sophomore Donovan Munger could make some noise on Ohio State's interior defensive line. 
Last season, the Shaker Heights product played in 10 games tallying five stops including one TFL. Notably, one of those games was against Alabama when he served as he only interior defensive lineman reserve to see action against the Crimson Tide. 
This year, Munger could line up at both nose guard and defensive tackle but the primary opportunity looks to be at the nose as he starts the season as Tommy Schutt's primary backup. 
Schutt gets the edge as a former five-star recruit entering his senior season but the expectation is that Larry Johnson will employ a rotation to keep guys not named Adolphus Washington and Joey Bosa as fresh as possible. Within that rotation, Munger should have plenty of opportunities to make a case for an eventual starting nod. 
Even if Munger does have a stellar campaign it might be hard to notice unless you keep in mind the effectiveness of a nose guard can often be measured in how successful the defensive tackle and two interior-most linebackers are in making stops thanks in part to guys like Munger taking on multiple blockers and moving the line of scrimmage. 
SAM HUBBARD – DEFENSIVE END
I admit I'm pushing the boundary a bit in tabbing a Hubbard a potential sleeper because he's been able to generate a fair amount of buzz despite redshirting a season ago.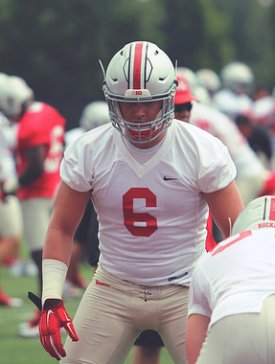 I'm making an exception here because the hype he did create was more about the fact the staff couldn't help but declare how talented the kid was but at the same time, they simply couldn't decide on a position after he entered the program as an All-State safety before seeing some practice time at linebacker and even tight end before finally settling in at defensive end. 
Now, Hubbard is focusing on one position and with Bosa suspended for the season opener the two-time state champion out of Archbishop Moeller has a chance to make an early positive impression if he can win the battle with Jalyn Holmes for the bulk of those Blacksburg snaps. 
From there, he will have his hands full potentially vying for time at the opposite end currently occupied by Tyquan Lewis – another guy who I might be wrongly omitting from this list – or in spelling Bosa from time to time or, who knows, based on his versatility he could see the field as an added stand up rusher in certain passing down situations. 
With all that talent at the end spots, tabbing Hubbard here might be a stretch but it definitely seems like a matter of when not if for the former top-ranked player in the state. 
BRI'ONTE DUNN - RUNNING BACK
On an offense loaded with proven weapons and in a backfield featuring a Heisman frontrunner in Ezekiel Elliott and a prized incoming freshman in Mike Weber, it's easy for the thus-far-underachieving Bri'onte Dunn to get lost in the conversational mix. 
A fourth-year junior, Dunn was his own worst enemy in the past but a renewed attitude saw the former five-star recruit out of Canton GlenOak earn Meyer's respect with his practice habits and special teams efforts down the stretch of last year's title run. 
Entering fall camp as Elliott's backup, Dunn hasn't generated much hype from a fanbase significantly more interested in seeing what Weber might be able to do as a true freshman. That said, Dunn's chances to hang onto the backup role and make a name for himself received a bit of a boost when Weber went down with a torn meniscus earlier this week. 
The fact is that while Weber will only miss a few games, the real concern is that missing the rest of camp means zero reps on the fundamentals of the running back job beyond rushing the football such as pass blocking, identifying blitz pickups and mastering the play book via repetition. That's not to say Weber won't come back and be an immediate force but the reality is that he'll return in the midst of the actual season when practice time is spent more on game planning for the upcoming opponent than catching up a kid on the offense and non-rushing fundamentals of the position. 
That's not say Weber's injury is the main reason why I think Dunn could be a sleeper. More so, I just think Dunn is a talented kid who finally has his head on straight, knows it's now or never, is hungry to prove he deserves the carries and has spent enough time in the offense to have a full grasp of his positional responsibilities. Knowing Weber's development and availability will be slowed a bit simply helps ensure a few more snaps for Dunn to show what he can do.