Wednesday night brought the debut of the heavily anticipated Scarlet and Gray Days from BTN, and while some old ground was covered, like the beef between Cardale Jones and Joshua Perry over Ronda Rousey and the origin of the "Slobs," viewers discovered a lot more about the 2015 Ohio State Buckeyes.
Here are the top eight things we learned from the premiere Wednesday night:
1. Cardale's packing philosophy is simple: "There's only two things you need to count: underclothes and shorts."
2. Linebacker Joshua Perry has a pillow with his name stitched on it: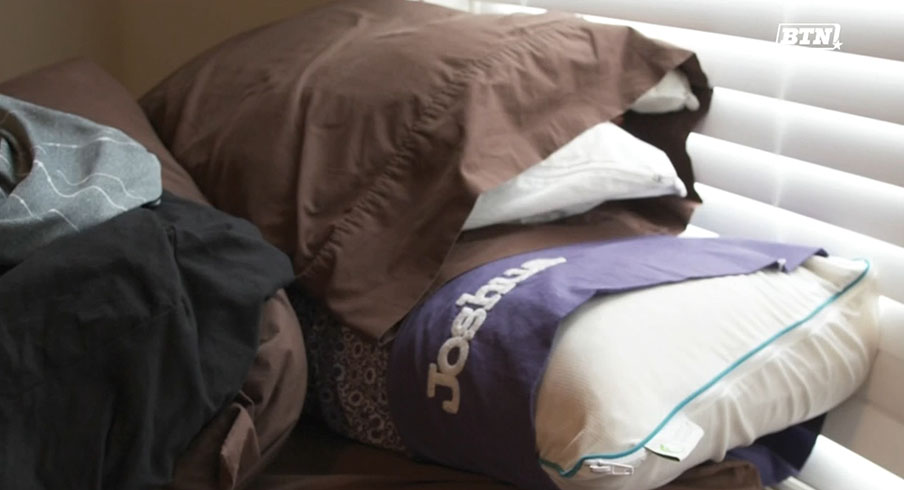 Meanwhile, his roommate, Cam Williams, needs to work on his "throw away your three-day old food" game.
3. Urban Meyer's Champion's Dinner concept extends to everything. The Sunday night before the start of fall camp saw players that took care of their summer football business attending a dinner that included carved meats, shrimp and this killer Block O ice sculpture: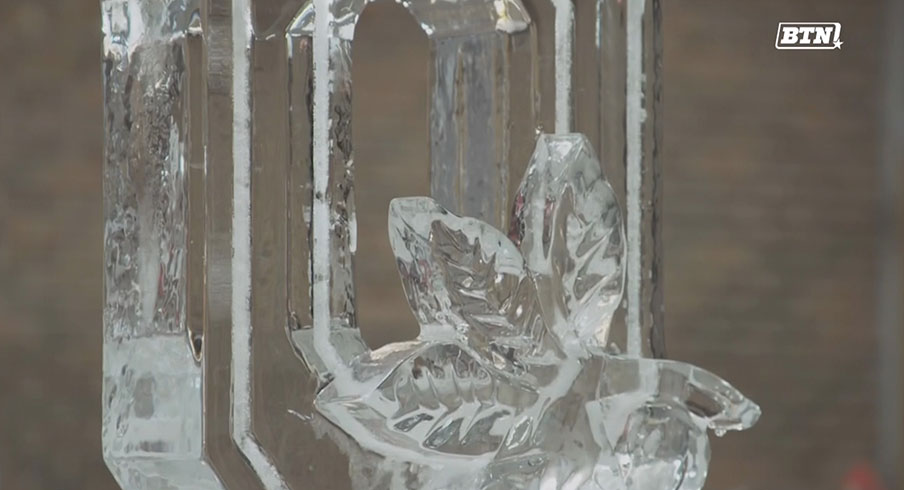 While those who didn't fully take care of summer business – including Braxton Miller, who claims he overslept once – have to eat at the chump buffet, which consists of burgers and hot dogs.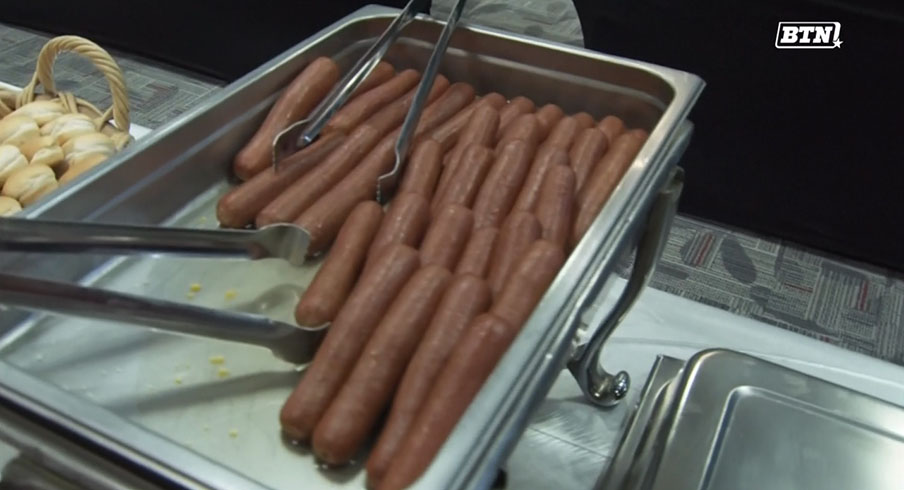 "All you need is one slip up and then you're eating hot dogs and hamburgers."
4. Urban Meyer is fond of the phrase "Careers are made, legends are born." At a speech to the team prior to the start of training camp, he told his team that "at a place like Ohio State, you become a legend," and urged them not to hide from that.
5. Ohio State assistant strength coach Kenny Parker has a way with nicknames. While introducing the freshmen to their "big brothers" on the team, he offered up the following:
Taylor "Copied Dylan Thompson's Tattoo" Decker
"Mr. Metro Himself" Josh "Still Ironing His Boxers Cuz They Wrinkled" Perry
J.T. "Baby Forehead" Barrett
And then this happened...
RIP, Dame Webb.
6. Freshman wide receiver K.J. Hill, who recently became the third member of his class to lose his black stripe, had a rough go at his first session of fall camp.
"Welcome to the Buckeyes."
7. Kerry Coombs is still insane and is probably better suited for Parris Island than college football. As players made their ways to the ice tubs, he screamed, "WHY AM I WAITING FOR YOU? C'MON!"
Later, he engaged in a spirited debate with wide receivers coach Zach Smith and his crew, first telling them he watched them stand around all summer and following up by saying his corners would be right there on them all day, "You can smell us in your breath."
8. J.K. Simmons makes everything better. This was an extremely well-produced look at Ohio State's camp and Simmons was the icing. Though, if we may, Mr. Simmons, the freshmen have black stripes removed to reveal scarlet stripes, not red stripes.