An Ohio State running back wins the Heisman every 20 years.
Pictured above are the Buckeyes' primary tailbacks since Eddie George last won the award in 1995 - and despite the fact that collage is a 4 and 5-star bouquet containing several MVPs on championship teams, none of them were Heisman candidates.
You think that's because it's a quarterback's award? Orlando Pace and A.J. Hawk each collected more Heisman votes by themselves than every Ohio State running back in the picture did, combined. 
Pepe Pearson, Michael Wiley and Antonio Pittman are all in the top 10 in school history for career rushing yards yet they were never considered. Lydell Ross (!) is in OSU's top 20 but – don't fall down when you read this – he was never a Heisman candidate either. These were not slights. There was no controversy.
NO BUCKEYE TAILBACK HAS SNIFFED HEISMAN Glory SINCE EDDIE TASTED IT.
The most deserving candidate of this span might have been Maurice Clarett, who had the gross misfortune of playing when freshmen were not considered, among his many other gross misfortunes. 
Joe Montgomery played his heart out. Jordan Hall, Maurice Hall, Brandon Saine and Rod Smith all had hype and flashes. Derek Combs, Jonathan Wells, Beanie Wells (twice) and Boom Herron were all voted team MVPs, yet there's not even a 3rd-place vote to be found among those guys.
Carlos Hyde, however worthy, saw his candidacy end before it was allowed to begin. No Buckeye tailback has sniffed Heisman glory ever since Eddie tasted it.
But Ohio State running backs still win the Heisman every 20 years. And it's been 20 years.
---
The Heisman was called the "Downtown Athletic Club Trophy" in 1935 when it was first established but by the time Howard Cassady won Ohio State's second statue 20 seasons later it had been renamed for the late college football pioneer and Ohio native.
Cassady was the Buckeyes' first true running back to win it. Vic Janowicz won five years earlier, but in addition to running back he also threw for 500 yards and kicked extra points. That's novelty; Cassady only carried the ball on offense. He was also the Buckeyes' shut-down corner back when playing both ways wasn't novelty - and long before shut-down corners were ever described that way.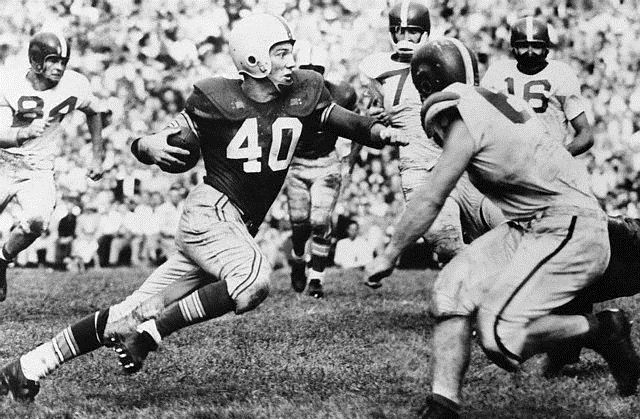 That was 1955. Archie Griffin helped Ohio State celebrate the 20th anniversary of Cassady's award by winning his second consecutive trophy. That 1975 season is historically viewed as the weaker of Archie's two - relatively speaking - but momentum from 1974 finish helped propel him back to New York City the following December. 
Eddie then honored Archie's 20th anniversary by winning one himself, sharing footballs with the Biletnikoff winner and the 1st team All Big Ten TE while rushing behind a guy finished fourth the following year and taking handoffs from a quarterback who himself finished 10th in Heisman voting.
So for those of you who think having too many weapons is Heisman repellent: It's not.
It's hard to imagine a more explosive offense than that 1995 one, which brings us to the edition that will be taking the field during the season which marks Eddie's 20th anniversary.
Zeke is better positioned to win the Heisman than any Buckeye RB since Archie 40 years ago.
The defending national champions return three quarterbacks behind a punishing, veteran line as well as the offensive MVP of both the Sugar Bowl and the National Championship games. No matter who starts under center the offense should be unnerving for even the best defenses in the country, as both Wisconsin and Alabama discovered in Indianapolis and New Orleans.
From preseason expectations to momentum coming off his historical postseason performance, the variables are aligned: Ezekiel Elliott in 2015 is better positioned to win a Heisman Trophy than any Buckeye running back since Archie repeated 40 seasons ago.
Why Archie? For you youngsters who primarily know and love Eddie from his YouTube highlights, prior to that 1995 season he was still largely dismissed as a converted linebacker who fumbled too much - despite having a solid junior year. He was no threat to forfeit his final season of eligibility for the NFL draft following 1994.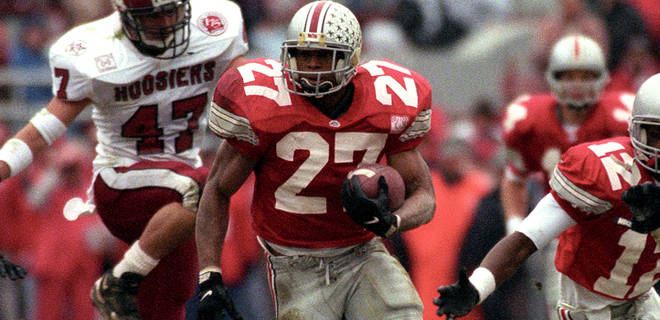 The top five Big Ten running backs that season were All-Conference selections Ki-Jana Carter of Penn State, Minnesota's Chris Darkins, Purdue's Mike Alstott and Indiana's Alex Smith. Michigan's Tyrone Wheatley, a first-round NFL draft pick, was honorable mention. Eddie was at best the sixth-best running back in the conference the year before he won the Heisman.
Outside of their mutual love of crop top jerseys, this is one of two real similarities that can be made between Eddie and Zeke: the top five Big Ten running backs of 2014 were All-Conference selections Melvin Gordon of Wisconsin, Indiana's Tevin Coleman, Minnesota's David Cobb and Nebraska's Ameer Abdullah. Michigan State's Jeremy Langford, a 4th-round draft pick, was honorable mention.
Like Eddie, Zeke was at best the sixth-best running back in the conference last year. That second similarity? They both faced Alabama in bowl games, 20 years apart. This is where the similarities end.
CARLOS HYDE WAS URBAN MEYER'S FIRST 1,000-yard BACK. ZEKE FINISHED LAST SEASON 122 YARDS SHORT of 2,000.
Eddie rushed for 89 yards in a last-minute loss to the Crimson Tide. Zeke had 230; the second of his three straight career highs. That is why his Heisman candidacy heading into 2015 is more similar to Archie's repeat bid in 1975.
Sixth-best running back in the Big Ten didn't look silly for Eddie until the following season. Zeke turned that descriptor into an eye-roll almost immediately, shifting the focal point from Ohio State's quarterback-driven offense further into the backfield.
He exceeded six yards per carry eight times last season. He averaged 213 rushing yards in games against the four top-11 teams the Buckeyes faced; none of which were played at home. He only missed being a 2,000-yard rusher by 122 yards despite spending ample time on the sideline during blowouts.
Zeke finished 2014 just 50 yards short of eclipsing Eddie's Heisman year and Ohio State single-season record for rushing yards. He did that on 56 fewer carries. Still want to designate Ohio State's undetermined starting quarterback as its Heisman candidate in 2015?
Well, quarterbacks have won it the past five seasons, but Buckeye running backs also tend to win this thing every 20 years. And it's been 20 years. Everything is aligned for it to happen again.
So you can take the quarterbacks. I'll take number 15.