With over three months still separating us from the sport and team we love, now seems like a great time to offer up some predictions specific to personnel. That way I can always go back and remind you if any become reality but also hope that the sheer amount of time between now and when these predictions might ring hollow will be enough to make you forget ever reading this post. 
Additionally, I invite you to leave your own player-specific predictions for the season so you too can take advantage of archiving the post if things work out or allow the 109 days until kickoff to assist in creating distance between you and your potentially foolhardy claims. 
vonn bell will become 1st OSU safety since mike doss in 2002 to record 100+ tackles AND EARN ALL-AMERICAN HONORS
This may not be that much of a stretch but I want it on record that I think Bell is a lock for 100 tackles and All-American honors. 
Last year, Bell finished 2nd on the team with 92 stops and that was after a spring camp slowed by injury to the point where he didn't even start the season opener against Navy giving way to Cam Burrows. 
Obviously, Bell caught fire and played his best ball in the biggest games last year which should serve as a springboard into an elite season that sees him turn pro after Ohio State repeats as national champs. 
Probably the surest tackler since Doss roamed the secondary, Bell is going to blow up this fall. 
DAMON WEBB SUPPLANTS GAREON CONLEY AS STARTING CORNER before the start of b1g play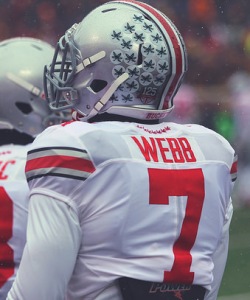 This one is a much bigger reach as Urban went out of his way to prop Conley toward end of spring as he anointed the redshirt sophomore as the starter at cornerback opposite Eli Apple. 
Meyer went so far as to share with the media that, "we're going to make the call to the family and say your son earned a right to start at Ohio State."
I don't dispute the fact Conley earned the right to start. I just wonder if he's got the chops to hold onto the gig. I'm not down on Conley as much as I'm just high on Webb but in spot duty last year Conley was abused at times including the well-chronicled debacle in East Lansing forcing the staff to play an injured Apple to stop the bleeding. 
Of course, Webb is just as unproven a commodity so I'm really just going on a hunch here but I have the true sophomore out of Detroit Cass Tech making the most of his reps in September and seizing the starting job by the end of September. 
BRAXTON MILLER LOGS MORE SNAPS AT H/TB/WR THAN QUARTERBACK
This is a bit of a crap shoot since it's May 21st and we really don't know whether or not Miller will even be able to repeatedly throw a football at the level required to be a starting quarterback but I make this prediction going off the assumption that he will be fully healthy. 
I continue to believe that Miller will eventually come to realize his best shot at a legit pro career – healthy shoulder or not – is as an all-purpose player. Further, as the great teammate he is, he'll realize he can help this team repeat as champs (and gain his first ring as a contributor) by becoming an all-purpose weapon that scores rushing, receiving and throwing the football making Ohio State's offense even more dynamic than it was a season ago. 
I wonder if this isn't part of the reason Jalin Marshall was moved from H to log more snaps at wide receiver, creating additional opportunity for Miller to work in the slot as he's clearly a superior talent to Dontre Wilson and Curtis Samuel with the football in his hands. Plus, playing the H doesn't require Braxton to necessarily have the same hands or pure route running skills as a wideout since a good portion of balls targeted to that position are on short routes including bubbles and crosses. Oh, and how about Braxton coming at the defense on a jet sweep with the option to outrun or juke a defender or maybe even throw a pass? Me likes. 
I get that this one could be way off but its been my dream scenario since Barrett proved he had the dual-threat skillset to lead a high-octane offense and that dream was only magnified after Cardale showed what he could do on the biggest of stages. 
A BUNCH OF TRUE FRESHMEN WILL BE HYPED UP BUT NONE WILL BE LEGIT CONTRIBUTORS IN 2015
That's not a dig at the 2015 freshmen class because there will be plenty of future stars but it seems like every year we (fans/media) hype up incoming players and put unrealistic expectations on them only to be disappointed they couldn't match the unfair hype.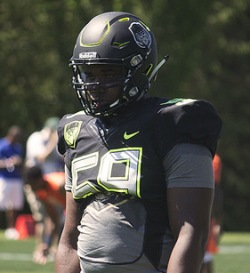 That problem is only amplified by the fact Ohio State's cupboard is so stacked at most positions. 
Nick Conner was an early enrollee and looked like a stud in spring ball and fall arrival Justin Hilliard could be a future star but with Darron Lee, Raekwon McMillan and Josh Perry set to log heavy minutes in games against elite foes, it would take a combo of a ton of injuries and regression from the likes of Chris Worley, Dante Booker, and Camren Williams to create an opening. 
Another January arrival, Jashon Cornell probably generates the most buzz as a possible true freshman contributor but with Joey Bosa anchoring one DE slot and slightly more seasoned guys in Tyquan Lewis, Jalyn Holmes and Grown and Sexy all vying for time opposite Bosa, cracking the rotation against top competition might be a bit of a stretch for the future star.  
Other names like Mike Weber, Torrance Gibson and Eric Glover-Williams, among others, also face year-one talent logjams at their respective positions. 
BILLY PRICE EMERGES AS OHIO STATE'S 2ND BEST OFFENSIVE LINEMAN
It's a no-brainer that left tackle Taylor Decker is Ohio State's most dominant offensive lineman but while center Jacoby Boren and right guard Pat Elfein – studs in their own right – generate a fair amount of buzz for their work, I think it's left guard Billy Price who emerges this year as the squad's most reliable slob behind Decker. 
Price was a raw redshirt freshman last year, forced to rely mostly on brute strength over polished technique especially early in the schedule as most evident in the loss to Virginia Tech when he was swallowed whole by the Hokie bear front. 
As the season played out however, Price showed continuous improvement in the technique department and now seems primed to team with Decker giving Urban and Ed Warriner a dominant left side of the line to leverage.