For many, this play was the first time they really remember seeing Adolphus Washington and going, "daaaaaaayum."
It wasn't the last. That day hasn't come yet.
The kid who looked so good blasting off the edge past future NFL tackle Taylor Lewan and getting a strip-sack in The Game as a freshman is now one of college football's most formidable interior defensive linemen.
"Diesel" came out of Cincinnati's Taft High School as a prize recruit in the 2012 class. A five-star recruit and Parade Magazine and U.S. Army All-American as a senior, Washington dominated high school opposition, registering 23.5 sacks, 90 tackles and three forced fumbles his final season, leading Taft to the playoffs. He was Ohio Division III Co-Defensive Player of the Year and first-team Associate Press All-State selection.
But Adolphus was more than a football player. He was a well-rounded athlete. Washington led Taft's basketball team to the state's final four—while leading the Cincinnati Metro Athletic Conference in scoring and rebounding—and was named the 2011 co-player of the year for Ohio's Division III. Buckeye fans were salivating over Diesel's athleticism.
In November of 2011, he committed to bringing his football talents to Ohio State, choosing the Buckeyes over basically every other major program in the country, including Alabama, Auburn, Notre Dame, USC, Michigan State and Florida State.
Washington was expected to get on the field early as a Buckeye and he did, seeing time in 10 games as a freshman in 2012, lining up primarily at defensive end late in games. He made only nine tackles his first year, but he made them count. Five of those tackles were solos, three went for sacks (Including the strip-sack referenced above) and 3.5 were tackles for loss.
As a sophomore, Washington played in 12 games, starting five. Half of his 36 total tackles were solo stops, with four TFLs. He also had two sacks. But, slowed by a groin injury, he wasn't making quite the impact folks expected, while then-teammate Noah Spence was grabbing all the attention.
Beefing up to play interior line can't be an easy thing, but that's what Diesel was asked to do at Ohio State. It's difficult to gain weight and still retain explosiveness, but Washington somehow managed. As a junior, Adolphus played with 290 pounds on his 6-foot-4 frame. He combined with Michael Bennett on the inside to clog up running lanes, keep his linebackers clean and helped defensive ends Joey Bosa and Steve Miller put heat on opposing quarterbacks.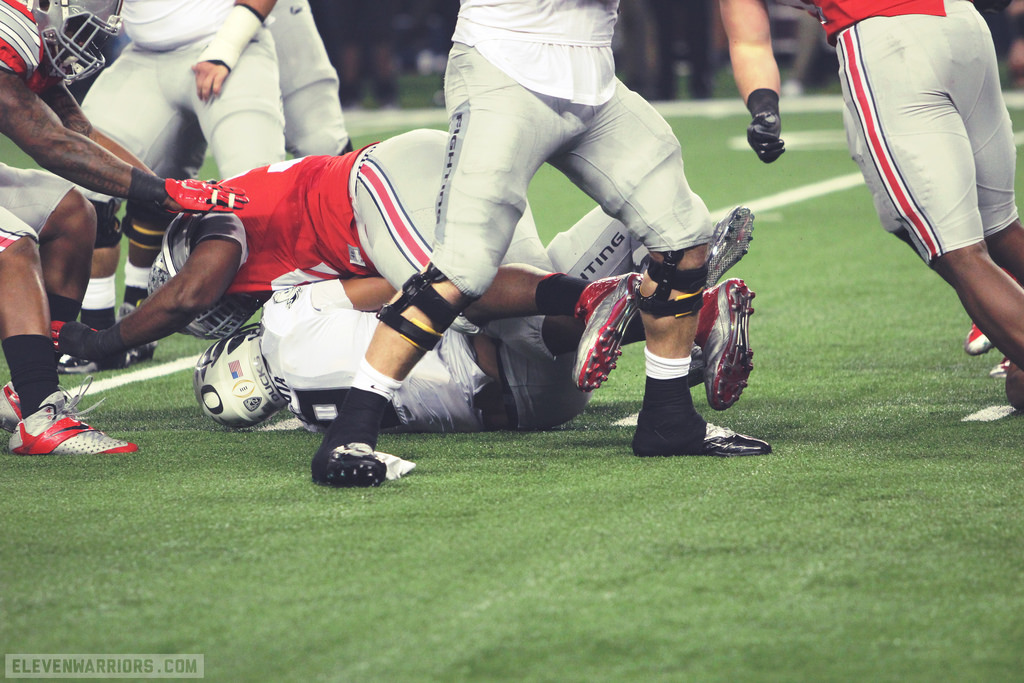 Adolphus posted career highs in tackles (48), solos (25), tackles for loss (10.5), and sacks (4.5), with a forced fumble, a quarterback hurry, and three pass breakups. With power, explosiveness and relentless pursuit, the junior version of the Diesel helped make Ohio State's one of the best defensive fronts in the nation.
And he did all of this despite playing nose tackle to free up teammate Bennett to make plays in space. In 2015, it'll be Washington moving out into more space to make those plays.
"Definitely thinking about that," Washington said Thursday after Ohio State's 10th spring practice. "I try to visualize all the stuff I could be doing this year. I'm definitely excited and I'm glad to be there."
Provided that Tommy Schutt (or someone else) can be a productive nose guard, Washington is poised for a breakout season—the kind that could help his team get back to the College Football Playoff and earn himself a lot of extra cash as an NFL player next year. He may be the quietest star on Ohio State's defense, but Washington should make plenty of noise this fall.
And if he can replicate his strip-sack in The Game from the interior of the line along the way, so much the better.