Ohio State's rebuilt secondary under Chris Ash has passed a couple of midterms the last two games in the Big Ten Championship and Sugar Bowl. Oregon will provide a tough final exam.
It's one thing to go up against Wisconsin's Joel Stave or first-year starter Blake Sims, regardless of how prolific he and Heisman Trophy finalist Amari Cooper have been this season. It's an entirely different thing to go up against Heisman-winning quarterback Marcus Mariota and his plethora of talented receivers.
But before we get to the Ducks, let's look at how much has the defense transformed under Ash this season.
Last year, the Buckeyes allowed an average of 268 passing yards per game and 31 touchdowns while intercepting 16 passes. Under Ash this year, Ohio State has allowed 191.6 passing yards per game and 15 touchdowns, intercepting 24 passes. Every member of the starting secondary has multiple interceptions with three of the four—Vonn Bell (6), Doran Grant (5) and Tyvis Powell (4) each picking off four or more.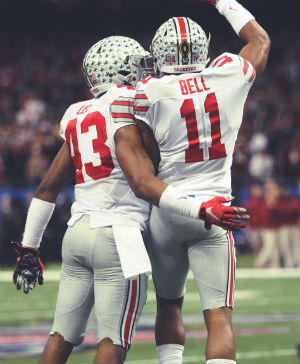 In the Sugar Bowl, Sims threw for 237 yards and two scores—both to Cooper. That's a tad below the 250 yards per game he averaged entering the Ohio State game.
However, the Buckeyes intercepted Sims three times, after the Alabama quarterback had thrown only seven picks in his first 13 games, and much of his yardage came late in the game with Ohio State playing softer coverage.
Of Sims' 237 passing yards, 93 came on the final two drives and 51 of that came on one play, when Powell forgot the situation and bit on a double move.
By holding Cooper to 71 yards and Alabama to just 144 passing yards allowed in the game's first 56:24, the Buckeye secondary did its job.
Against Wisconsin in the conference title game, the Buckeyes were even better. Sure, Stave threw for more than his average yardage with 187 passing yards on the night, but he attempted 43 passes, owing to Ohio State shutting down another Heisman finalist in running back Melvin Gordon. Stave completed just 17 of those 43 attempts (39.5%) with three interceptions and grew more and more frustrated as the evening wore on.
So…about those Ducks.
Mariota is throwing for 294.4 yards per game. He has an insane 40 touchdown passes against only three interceptions. You read the previous sentence correctly; it's a 40-to-3 ratio. He completes 68.6% of his passes and tossed for more than 4,000 yards this year.
Seven of Mariota's targets have at least four touchdown receptions and five have more than 400 receiving yards. The fastest of those players, freshman Devon Allen, has 684 yards and a team high seven scores, but reportedly will miss the game Monday night after sustaining a knee injury returning the opening kickoff in the Rose Bowl. Another target, tight end Pharaoh, was lost during the Utah game, after posting 25 receptions for 420 yards and six touchdowns.
Allen and Brown or no Allen and Brown, the Ducks have a pretty scary array of pass catchers. Junior Byron Marshall has caught 66 passes for 834 yards and five touchdowns. Freshman Darren Carrington has 37 receptions for 704 yards and four scores. And sophomore Dwayne Stanford has 39 catches for 578 yards and six touchdowns.
Ash's Buckeyes will need to contain Marshall the way they did Cooper, and limit yards after catch all over the field. Against Florida State, Mariota lulled the Seminoles with short passes and later torched them with the same exact look, only this time a receiver released downfield to the surprise of the FSU secondary.
Ohio State has already shown the ability to keep both Michigan State's Tony Lippett and the country's best receiver, Cooper, from exploding for big plays. The Ducks have more than one guy who can do it and a quarterback who can find the open receiver.
Mariota is not only accurate, but also not very likely to make the kind of mistakes that result in turnovers.
Ash's group will face its final exam on Monday. A national title is dependent upon the Buckeye secondary passing—so Mariota can't.