Perhaps Tom Herman didn't quite get enough credit for what he did with Ohio State's quarterbacks during the 2014 season.
If you really step back and think about it, the Buckeyes' quarterbacks situation a year ago was somewhat stunning. Ohio State lost its starter and two-time Big Ten Player of the Year (Braxton Miller) 12 days before the season opener. He was replaced by a redshirt freshman who had never played a collegiate game and all that guy (J.T. Barrett) did was go on to finish fifth in the Heisman Trophy voting after undergoing a season-ending injury of his own. After that, a guy who was more well-known for a tweet than his football skills (Cardale Jones) stepped in and led the Buckeyes to the national title.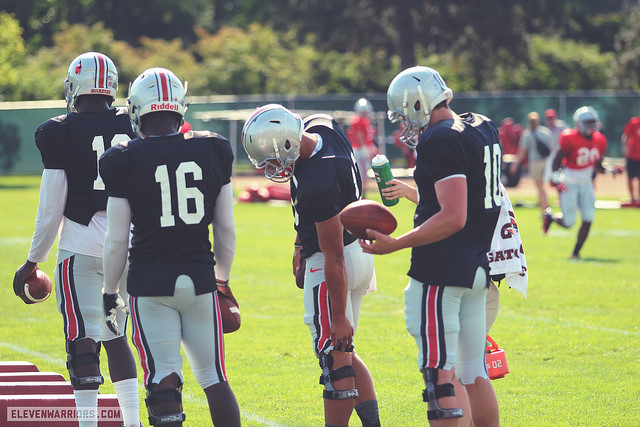 Herman, Ohio State's former offensive coordinator and quarterbacks coach, had the task of making sure his signal callers were always prepared, that at any point in time they could be thrust into a high-profile situation. And to Herman's credit, Barrett and Jones were always ready. It was undoubtedly one of the biggest reasons why the Buckeyes were able to win the national title.
Herman is no longer in Columbus, he left after the season to become the head coach at Houston. His replacement is now tasked with a similar difficult duty of always having the players at football's most important position prepared.
Tim Beck came to Ohio State after seven years at Nebraska, where he was the quarterbacks coach. He never had a situation like he does now, obviously, where he inherited two of college football's most accomplished QBs.
"This is the Ohio State University, right, and growing up in Ohio it's a dream come true to be able to come here and work with Coach Meyer and really all the staff," Beck said when he was hired. "These guys do a great job.  And the culture and the program, and it's what I believe in."
The Buckeyes quarterbacks admit it took some getting used to Beck — they had grown accustomed to Herman's ways of teaching since Urban Meyer brought him in prior to the 2012 season — but the transition, overall, was a smooth one.
"I definitely believe Coach Beck has our best interests at heart and he really does care about his players and he's a really smart coach," Jones said. "I can't think of a better replacement than Coach Beck."
Added Barrett: "They're a lot alike off the field. On the field, if anything, Coach Herman didn't run around as much because he's old and his knees was bad, but hasn't changed much."
"I can't think of a better replacement than Coach Beck."– Cardale Jones
There's also a huge decision to be made within Beck's position group. That duty won't fall on the first year coach, but rather it will be Meyer making that decision.
"That's not fair to Tim," Meyer said. 
Ohio State's offense broke countless records in 2014 and it was Barrett who spearheaded the Buckeyes' attack. When he went down, Jones stepped in and won the three biggest games of the season.
There was no drop-off and, because of that, it has created an unprecedented dilemma in Columbus. Herman deserves plenty of credit for what's currently going on at Ohio State, but with him no longer in the picture it's up to Beck to continue what has already been started.
"You know, I believe in our guys. They've got to be accountable and we've got to build trust," Beck said. "Being accountable, saying who you are, having integrity, if you're going to do something, you do it."