It's hard to put into words exactly what the last 12 months have been like for Braxton Miller.
Once the face of Ohio State's program, a three-year starter at quarterback and a two-time Big Ten Player of the Year, Miller was basically unheard from throughout the Buckeyes' run to the national championship during the 2014 campaign after he suffered a season-ending shoulder injury just 12 days before the year began.
He made appearances on the sidelines and in the press box at games, but he never said anything publicly, to anyone. Not about how his rehab was going, not about the emergence of J.T. Barrett and Cardale Jones in his place and certainly not about the transfer rumors that swirled around him throughout the entire offseason.
For 12 months, it was nothing but silence and the man who was once the most popular player in Columbus took a backseat to Barrett and Jones as they led the Buckeyes to a national title.
That finally changed, though, and the silence was broken on July 9 when Miller spoke publicly for the first time since his injury and revealed to the Columbus Dispatch he was, in fact, returning to Ohio State for his final season.
But the rollercoaster for Miller didn't come to an end there.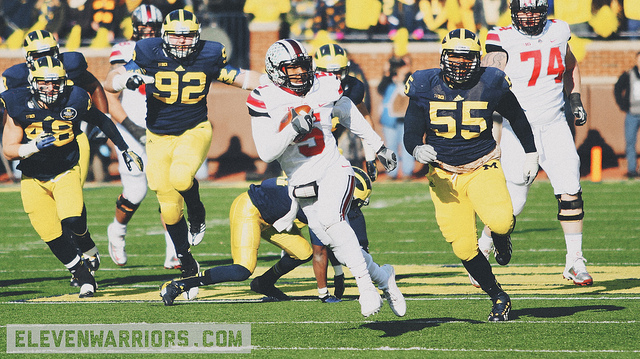 Weeks later, on the night of July 23, Miller's journey took another turn when he told Sports Illustrated he planned to switch positions for his final year in the scarlet and gray — from quarterback to the H-back/wide receiver role.
"It's a long process to get back totally to throwing and throwing every day. This is the smarter thing for right now, God blessed me with a lot of talent and different opportunities," Miller told Sports Illustrated. "I'm going to have fun with that and still score a lot of touchdowns and help the team out and be dominant at that."
Miller will also be sporting a new number when he suits up this fall. Gone are the days of the No. 5 college football fans have grown accustomed to seeing from the 6-foot-2, 215-pounder. Miller will be wearing No. 1 this season for Ohio State.
"It's a new beginning, a new start, and I felt like I needed to restart myself in the sense that I just needed a new change," Miller told ESPN.com about his number change.
The journey to this point has been long for Miller. It hasn't been easy on him, either.
"I'm blessed because some people don't come back from certain surgeries," Miller said. "I came back from this second one from my shoulder and I'm fortunate enough God blessed me with the ability to play any position on the field and I just pray every night that I have a healthy season and he'll just protect me throughout practice and things like that."
"Whatever I do on the field, I just want to be the best at it."– Braxton Miller
Miller's transition to his new position will take some time. He must learn the ins and outs of playing receiver — a spot he's never played before — throughout the course of a training camp with hopes of being ready Sept. 7 when Ohio State travels to Blacksburg, Va. to face Virginia Tech in its season opener.
Head coach Urban Meyer said his goal is for Miller to start that game at H-back for the Buckeyes. One of the biggest challenges Miller has faced thus far, though, isn't necessarily the route running or pass catching, it's getting his legs underneath him. Miller's legs have been sore from the amount of running he's doing during practice, something you obviously don't do a ton of as a quarterback.
"Braxton, his life hasn't been spent running, running, running," Meyer said. "Basically put on track shoes and go for two hours."
The potential for Miller seems endless at his new position. He's one of the most explosive players in all of college football and Meyer, an offensive guru, can't help but smile when he discusses the possibilities of Miller in his offense not playing quarterback.
Nobody really knows what Miller is going to bring to the table in the 2015 season, his final in what has been a fine career at Ohio State.
But Meyer expects Miller will be an impact player and Miller certainly won't shy away from those expectations.
"I just want to be the best player," Miller said. "Whatever I do on the field, I just want to be the best at it."