Joshua Perry did not sugarcoat things when he was recently asked about the state of Ohio State's linebackers when he first arrived on campus as a freshman in 2012. 
"To put it in basic terms, we were garbage and probably the worst unit on the team," Perry said.
Boy, how the times have changed.
"This summer, we got unit of the summer for our offseason training," Perry said. "If that's any way to put it in perspective, we came a really long way."
Perry, preseason All-American Darron Lee and super sophomore Raekwon McMillan, make up one of the best linebacking corps in the country heading into the 2015 season — college football guru Phil Steele has the unit ranked No. 2 nationally behind only USC. Over the course of four years, one of Ohio State's biggest question marks has been turned into one of its biggest strengths.
Ohio State LINEBACKERS

| Player | No | HT | WT | YR | Hometown |
| --- | --- | --- | --- | --- | --- |
| JEROME BAKER | 4 | 6-1 | 215 | FR | Cleveland, OH (Benedictine) |
| KYLE BERGER | 44 | 6-2 | 230 | FR | Cleveland, OH (St. Ignatius) |
| DANTE BOOKER | 33 | 6-3 | 233 | SO | Akron, OH (St. Vincent-St. Mary) |
| JOE BURGER | 48 | 6-2 | 230 | SR | Cincinnati, OH (LaSalle) |
| NICK CONNER | 34 | 6-3 | 230 | FR | Dublin, OH (Scioto) |
| JARED DRAKE | 30 | 6-0 | 220 | SO | Westerville, OH (Central) |
| CRAIG FADA | 38 | 6-1 | 230 | JR | Columbus, OH (Bishop Watterson) |
| JUSTIN HILLIARD | 47 | 6-1 | 230 | FR | Cincinnati, OH (St. Xavier) |
| DARRON LEE | 43 | 6-2 | 235 | SO | New Albany, OH (New Albany) |
| RAEKWON MCMILLAN | 5 | 6-2 | 240 | SO | Hinesville, GA (Liberty County) |
| JOSHUA PERRY | 37 | 6-4 | 254 | SR | Galena, OH (Olentangy) |
| ZACH TURNURE | 36 | 6-1 | 235 | JR | St. Louis, MO (CBC) |
| CAMREN WILLIAMS | 55 | 6-1 | 225 | SR | West Roxbury, MA (Catholic Memorial) |
| CHRIS WORLEY | 35 | 6-2 | 225 | SO | Cleveland, OH (Glenville) |
The journey to this point hasn't been easy, and the position group had often been under a lot of fire from head coach Urban Meyer, but the end result has been worth the struggle.
"It feels good to have guys who play with great confidence and that's what you see," Ohio State co-defensive coordinator and linebackers coach Luke Fickell said. "I think success breeds that and I think the way they finished, the way they played the last few games of the year, where they came from, I think it's bred a lot of confidence and that's something that goes a long way."
Perry is the elder statesman of the group. A senior and now three-year starter at the outside linebacker spot, Perry was the Buckeyes' leading tackler one year ago, by a wide margin, with 124. He recorded 8.5 tackles for loss and three sacks and, at 6-foot-4 and 254 pounds, has the size and athleticism to play multiple positions. As Ohio State looks for someone to take Joey Bosa's spot on the defensive line in Week 1 against Virginia Tech, Meyer hinted that Perry could be a possible replacement.
Lee has perhaps earned the highest praise, at least nationally, of the three. He exploded onto the scene last year as a redshirt freshman — in his first year playing linebacker, mind you — and became an instant force off the edge for the Buckeyes. Lee was second on the team in tackles for loss (16.5) and sacks (7.5) and was third in tackles with 81. His performance down the stretch — where he has named Defensive MVP of the Sugar Bowl — allowed him to wind up on several preseason All-American lists heading into 2015.
Perhaps the most talented of the three, though, is McMillan. The former five-star recruit from Hinesville, Ga., split time at the middle linebacker spot a year ago with Curtis Grant and flashed moments of brilliance. In what was mostly a part-time role, McMillan recorded 54 tackles (6.5 for loss) and 2.5 sacks. As he transitions to become a full-time part of Ohio State's defense, expectations for McMillan's sophomore season are sky high.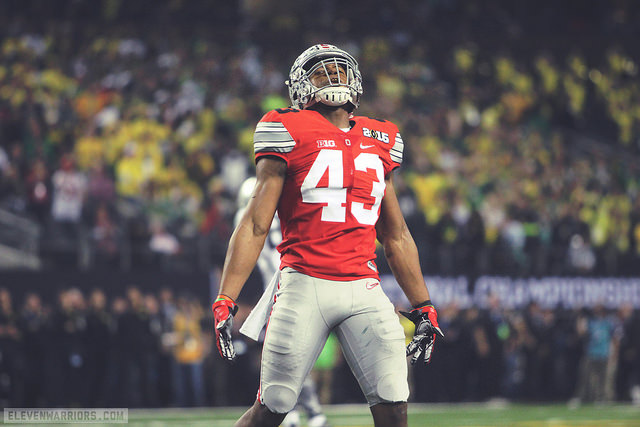 "We're doing a lot of different stuff now, just run personnel and whatnot but now that we've established our identity, the Silver Bullets and whatnot, it's just keeping that going," Lee said. "Learning as we go and just getting better every day."
Behind the starters, though, the Buckeyes have quite a bit of depth, which makes the unit that much stronger. Sophomore Dante Booker backs up Perry at the Will linebacker spot and he's a player Perry describes as "a physical freak." Behind McMillan in the middle is senior Cam Williams and backing up Lee at the Sam spot is sophomore Chris Worley. 
And, to top it all off, Meyer and Co. brought in a freshman crop of linebackers in the 2015 class that Meyer said he's "very excited about." Five-star outside linebacker Justin Hilliard, four-star Mike linebacker Nick Conner and four-star Sam prospect Jerome Baker make the future even brighter for the Buckeyes.
"We're going to be really good regardless who's out on the field because of the culture and the expectations that we have," Perry said. "It's going to be a group contribution and how we come together and play as a unit."
It's been a few years since the Buckeyes have had this much talent at the linebacker position. Ohio State has a great history of linebacker play and the current Buckeyes are well-aware of what came before them. They're just hoping to put themselves in that same category.
"We don't talk about where we fit in, but we definitely recognize those guys and how good they were," Perry said. "We set our sights to be like them and we've got them up on the wall, some of the guys that came through here, and it's just huge to be able to have guys like that in the past, have a great tradition to make your mold off of."