It's almost here. It's almost here. It's almost here. Breathe deeply into a paper bag then raise your hand if you saw the Buckeyes here the weekend after the Va. Tech loss. Kyle, Mike, Vico...steer 'em home in this, the final roundtable of the 2014-2015 season. HIT IT.
Compare this to the week before the Alabama game. Are you more confident, less confident or about the same heading into the matchup with the Ducks? 
Kyle: Slightly more confident, based on the matchup of OSU's running game versus Oregon's run defense. Although they gave the game away with turnovers, Florida State moved the ball well on the ground in the Rose Bowl, and OSU is a better rushing team than the Noles. 
Mike: It might have been the liquor, but I spent the early morning of Jan. 1 screaming "we gon' beat Bama to-day!" up and down Park Street in downtown Columbus. It's hard to be more confident than I was before Alabama, but I feel just more strongly about the national championship game. Sure, Oregon will put up a ton of yards and Ohio State has a tendency to give up big plays. I don't see any the Ducks getting enough stops and they're certainly not better than Bama in most defensive categories. At the very least, OSU chews up enough of the clock to prevent Marcus Mariota from getting in any rhythm.
Vico: I assumed losing to Alabama was a foregone conclusion. Therefore, almost by definition, I'm more optimistic about beating Oregon and winning the national championship. While Oregon has a killer offense and a defense good enough to get the job done for its offense, it seems less like the soul-crushing Borg that Alabama is. My concern is in a fatigue factor. That win against Alabama looked exhausting for the players. Cardale Jones was visibly sore and Ezekiel Elliott had to tap himself out of the two-point conversion. Alabama hits hard. Fortunately, that thing Alabama was hitting hard was hitting it right back harder. I worry how much is left in the tank.
Oregon's pass defense is ranked 108th in the country giving up 266 yards per game. Is this the team's Achilles' heel? 
Mike: I wouldn't say Oregon has many overall strengths on defense, other than generating turnovers -- which is largely a combination of luck and over-aggressive offenses trying to keep pace with Oregon's scoring. They are extremely athletic, though, and their secondary will force you to methodically drive up the field. Many teams have done just that and convert at a 41 percent clip on third downs. Ohio State may complete a few deep balls but I expect many yards to come underneath, which should mean a big day for Michael Thomas.
Vico: See my post on the matter. Run defense might be the bigger question mark. Oregon's offense puts its own defense in passing situations in which the defense is much more likely to fail (and doesn't care if it does).
Kyle: I wouldn't say so, as it's clear that the Ducks are a bend-but-don't-break defense, who are happy to make an offense string together long drives before clamping down in the red zone. Teams have picked up tons of yards through the air that haven't equated to points.
In your eyes what is the biggest matchup to watch this Monday? 

Vico: I'll be watching the matchup of Oregon's wide receivers versus Ohio State's corners. They'll have to stay disciplined to force negative plays on Oregon's multiple screen calls and not concede long plays after biting on the screen fake. Mariota processes information too fast for Ohio State's defensive backs to be making rash decisions like that. Oregon will want to minimize Ohio State's defensive line, but still move the ball in glorified run plays like screens.
Kyle: Without question, it's Oregon's offensive line against the Buckeye D-line. Injuries have taken a big toll on that unit for the Ducks all year, and if Bennett, Bosa, and co. are able to disrupt plays in the backfield, it will go a very long way toward stopping Mariota's offense. If the OSU front isn't making plays, the Buckeyes won't win.
Mike:  I don't think there's a particular one on one matchup to watch, just all the ones up front for Ohio State's offensive line. As Taylor Decker recently said, Oregon does not allow the opposing offensive line to double team and the Ducks try to outnumber you at the point of attack. If they throw all 11 guys at Ezekiel Elliot, I still don't see how they bring him down.
Oregon will bring a different style than that of Alabama. It might be a bit of an adjustment for the "slobs" trying to clear space with a smaller, speedy bunch in front of them. The Ducks might start the game by shutting down any perimeter runs and force things up the middle. That plays right into Ohio State's strength, so there's really not an area where Oregon can win a battle unless the Buckeyes don't hang on to the ball.
Oregon is second in the country in points scored per game with 47.2. Can the Bucks slow down the Ducks? 
Kyle: Yes, but it will have to happen on first down. While most teams like to play conservative defense on 1st and 10, the Buckeyes will have to create negative plays on these downs, forcing the Ducks out of the uptempo rhythm. Mariota thrives when he has 2nd and 5, 3rd and 2, etc, but isn't as effective when facing long yardage situations.
Mike: Not sure any team in college football is truly capable of slowing down the Ducks. Arizona did -- the first time they played -- but I consider that Oregon's version of the "Virginia Tech debacle." The Ducks' offensive line, much like Ohio State's, has gained some cohesion as the season has worn on. Oregon's issues against Arizona were caused by numerous injuries up front. OSU's dominant defensive line will cause issues, per usual, but they won't live in the backfield like Arizona did in Eugene. I expect Mariota to hit a few underneath routes and their many explosive receivers will turn shoddy open field tackles into touchdowns.  
Vico: I think so. Oregon's points per game is going to be padded by some chump opponents. I don't doubt it can score on our defense, but we're not exactly South Dakota or Colorado. I feel comfortable in thinking we can hold Oregon to ten below its average scoring output for the game. Whether we can force two or more touchdowns below their average is unknown for me, but that's my hope. 
Ezekiel Elliott is quickly becoming one of the best backs in the country. Do the Ducks have enough to shut him down?

Mike: If Alabama didn't have enough to shut Ezekiel Elliott down, not sure how Oregon does. Granted, completely different defensive scheme. Both Bama and Wisconsin devoted extra defenders to the run and dared Cardale Jones to beat them through the air. Instead, Urban Meyer and Tom Herman continued to ram it in and around their defenses. More of the same on Monday.
Vico: Oregon is not a great run defense and it doesn't play great running teams. I kind of like that matchup in Ohio State's favor. That said, I reiterate my concern about a fatigue factor.
Kyle: Elliott should have room to run inside, as the Ducks defensive front isn't as stout as what the Bucks saw from the Crimson Tide. The biggest area of difference is at inside linebacker, which may be the weakest spot of all for the Ducks. I expect big things from Elliott and the Buckeye running game.
What must the Buckeyes do to win this game? 
Vico: Front-run Oregon. Oregon's offense is designed to score points in a hurry in a catch-up situation, but its team as a whole thrives on playing in front. The first half (and first quarter) should be high priority for Ohio State.
Kyle: Attack the Ducks on first downs when they have the ball, and focus on winning individual battles up front, not blitzing. Then beat up and wear down the Ducks front 7 before looking to take the top off with the deep ball.
Mike: The reason why Florida State let the Rose Bowl slip away is obvious: turnovers. Way too many turnovers. Somehow, that didn't cost Ohio State the Sugar Bowl, but Oregon has been known to feast on them and their offense shouldn't get any extra chances. It goes without saying turnovers are a key part to any game, but especially against the Ducks. Outside of handing them the football back, Oregon will have trouble slowing down the Buckeye offense.
Will Cardale Jones continue his unbelievable streak of strong performances in huge games?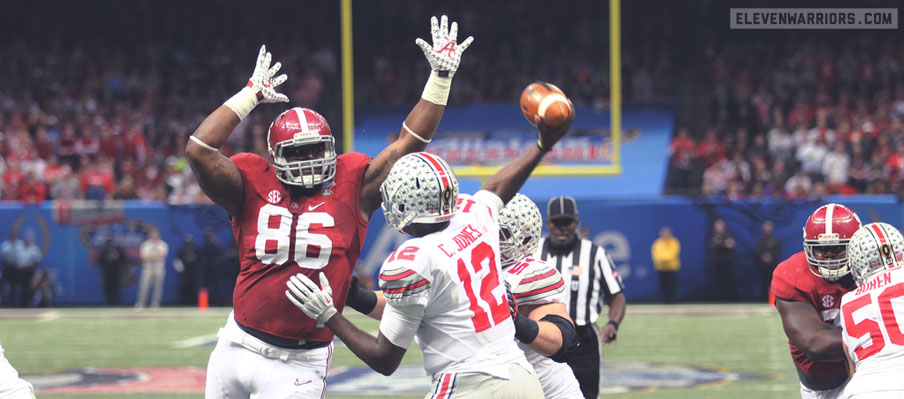 Kyle: I don't see why not. The Ducks don't do anything schematically on defense that should be more confusing than what he saw from Alabama, so if he struggles it's likely to be from the size of the moment. Hopefully Meyer, Herman, and the coaches can settle him down like they did after some early hiccups in the Sugar Bowl.
Mike: I think he'll have a big game on the ground and through the air. Oregon will gear their defense towards stopping Ezekiel Elliot at almost all costs. The deep middle will be vulnerable and, I think, we'll see soft coverage by the Duck corners on the outside. Any time Jones and Elliott run a read option play, they'll crash hard on Elliott and Jones will keep it for a big play. Don't think there are any doubters left, but there definitely won't be after this one.
Vico: I think he'll do fine, but I suspect Ohio State will run the ball more against Oregon this game. It's hard to keep the kind of pace on which he's been for the past two games.
What is Cardale Jones' end of game stat line?
Mike:  I would be shocked and mad at Tom Herman if he throws it 35 times again, so: 15-25, 211 yards, 3 TDs, 14 carries, 80 yds, 1 TD. The only reason I didn't bump those totals up is because there are many mouths to feed on this offense..
Vico: Hmmm. I'll go 14/20 for two touchdowns and an interception.
Kyle: 18-29 for 239 yds, 2 TDs, 1 INT through the air, then 16 rushes for 68 yards and a TD on the ground
Who will be the Buckeyes' leading receiver? 
Vico: Devin Smith: 4 catches, 90 yards, and a touchdown.
Kyle: I like Michael Thomas a lot here, since Oregon's corners don't tend to play a ton of press coverage. I expect a lot of short hitches to the outside to get him going, like we saw in the Michigan State and Wisconsin games. I'm guessing he'll have 8 catches for 86 yds and 1 TD.
Mike: I think it will be Michael Thomas, with the Ducks overly concerned about Devin Smith beating them over the top. Thomas will get some major YAC breaking tackles off some underneath routes. The ball will find many different receivers but Thomas will have something like 5 receptions, 87 yards and a touchdown.
What's your final score prediction?
Kyle: OSU wins 42-35
Mike: 45-39, Ohio State. Thirty-nine is a weird number but it's because Oregon converts a random two-point conversion like they usually do.
Vico: Being negative in my past two predictions has paid off in the past two games, so I'm going to continue being negative: Oregon 36; Ohio State 31. I would love to be wrong.
If (big if) the Buckeyes win. Will this be the most impressive season in Buckeye football history?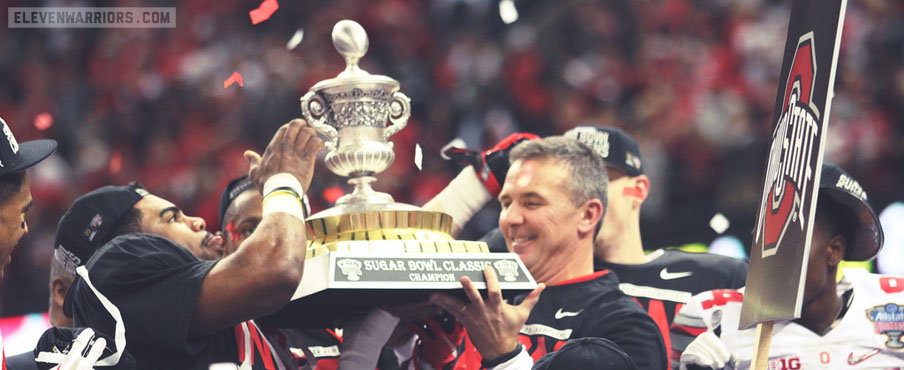 Mike: I'm not old enough to declare anything "the best or most [blank] ever." With that established, it will go down as the most impressive and most memorable, in my mind. Name another sport where you could conceivably say a team's two best -- most important -- players were injured and that team still won a championship? Two best starting pitchers go down and their team still wins a World Series in baseball, probably not? Two quarterbacks go down in the NFL and that team goes on to win the Super Bowl? Ask the Cardinals how that worked out. Kyrie and LeBron were injured earlier this week and the Cavs couldn't even beat the Phialdelphia 76ers. #HotTake
Vico: Not really. The 2002 schedule was much more daunting and also featured 14 wins. That 1973 team was straight-up nasty and should be an easy selection as the greatest Ohio State football team to not win a national championship. The 1968 team brutalized Mike Phipps (I think Jack Tatum even hit him so hard that he quit playing that game) and manhandled O.J. Simpson and Leroy Keyes. Both guys finished one and two in the Heisman voting, though Ohio State will have played the top three Heisman finalists this year. That 1968 team didn't lose at home to a .500 team, though.
I think this season would be comparable to 1957 or 1961. I'd cherish the hell out of it all the same.
Kyle: Depends on how you define impressive. If you mean "most dominant" then no, as the Va Tech stinker still looms large in that department. However, I doubt we'll ever see a team grow like this in one season again, which is impressive in its own way. I don't think anyone expected this kind of season after losing Hyde, the offensive line, and then Braxton Miller. However, the development of Barrett, Elliott, Mike Thomas, Darron Lee, the slobs up front, and countless others has been pretty amazing. Regardless of what happens in Dallas, this is one of the most memorable Buckeye teams, and I hope we celebrate what these guys did without just moving on to looking at recruiting and thinking about next year's depth chart.