Well here we are. What once seemed like a pipe dream following the dismal loss to Va. Tech is suddenly a reality. The Buckeyes are heading back to Indianapolis to take another swing at a conference championship. It's been a roller coaster of emotions this season. From the low of losing Braxton Miller, to the lower of falling to the Hokies, to the high of witnessing J.T. Barrett play out of his mind, to the low of the events of last week, and finally to the (bittersweet) high of trying to swipe a conference crown (and possibly more). To dissect it all we've got Vico, Patrick and Jason. Take it away men.
Last week was one of the toughest in recent memory for Ohio State football. Give me a quick stream of consciousness that attempts to sum it all up.
Vico: To be honest, I haven't thought a whole lot about it and I'm curious of the extent to which the week's events ultimately affect the football team on an intangible level. It's ultimately adversity, however broadly defined. Rising above it requires a strict focus on tasks at hand.
Patrick: I'll give you a quote from Taylor Decker, who answered questions about fallen friend and teammate Kosta Karageorge for almost 15 minutes Monday, instead: "We're trained to handle adverse situations, obviously not something of this magnitude. We're trained to play football, and this is so much more than that. Football's just a game. People blow it out of proportion and make it a lot bigger than it is." That's the week summed up in a couple sentences for me. 
Jason: I mean how can you sum it up? It was supposed to be a weekend of celebration – another win over the hated Wolverines, Gold Pants for everyone – but instead the team was hit with back-to-back gut punches. I just hope all of these young men are doing well and take minute to appreciate the life around us that's so much bigger than football.
Cardale Jones is making the first start of his Ohio State career in the B1G championship game. What does he bring to the table?
Patrick: He's HUGE. If you knew nothing about Ohio State football and you saw that guy during warmups, you would think he was a tight end. If you saw him throwing, you'd figure he was the starting quarterback. He has a cannon. I've seen it myself after practice at the Woody. The kid can throw. Jones also has yet to take a meaningful snap for the Buckeyes, and that's something arm strength can't make up for.  
Jason: For starters, I am convinced he's indestructible, so I haven't paid a lot of attention to the talk about using Jalin Marshall or burning Stephen Collier's redshirt if something were to happen. Beyond that, he's big, athletic, has the same tendency to fall forward at the end of runs you saw in Carlos Hyde and Barrett and he knows the playbook pretty well by now. He took a ton of snaps during spring practice when Braxton Miller was out and got a lot more at the end of fall camp as well. He'll be ready mentally and physically, but he'll need to avoid mistakes.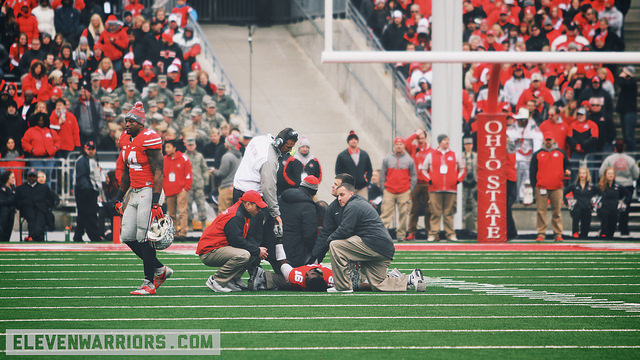 Vico: Cardale Jones is built like a tank and might be a bit more fleet of foot than Barrett, if you can believe that of a guy who measures at 6-5 and 250 pounds. He was raw when he enrolled at Ohio State and we won't know how much he has improved over the course of his three years on campus until the game on Saturday. From what little we've seen, there may be an added dimension in the run game in terms of power. He lacks the vision of Barrett (saw this immediately on that third-down play when he entered the game against Michigan) and may not be able to challenge Wisconsin's secondary like Barrett. What value he adds to the run game may be offset by that.
What is the Wisconsin coaching staff's game plan against Jones? 
Jason: Young quarterback making his first start in a huge game? They're going to load the hell out of the box and force Jones to beat them in the air or with his feet on the edge. If you're a defensive coordinator, this is a game you relish – you're thinking of your most exotic blitzes, having fun disguising coverage. You'll know early whether it's going to work or not.
Vico: Dare Jones to win the game with his arm. I'm not confident in Jones' ability to do that right now. At least, I don't know. I wouldn't mind being wrong, but do recall this is the third-string quarterback for this team.
Patrick: Force Jones and Ohio State to air it out. Make the Buckeyes beat you with the intermediate and long ball. If the Badgers want to create problems, they're going to pressure Jones into making mistakes and making throws he doesn't want to. For as good as the cast around him is, Jones is still making his first-career start against a top-five defense. 
Melvin Gordon is an animal. Can the Buckeyes stop him or (at least) slow him down? 
Vico: Ohio State could, but it would require a herculean effort from the defensive line. Gordon does most of his damage bouncing runs outside the tackle box. It's imperative for edge players to set the edge and force him inside. This is a game where Mike Bennett and Joey Bosa need to play to the all-B1G billing afforded to them. Adolphus Washington, who had a good game last year against Wisconsin, needs to have one of the best games of his season on Saturday as well.
Patrick: I think so. I mean, Melvin Gordon is going to get his carries and he's going to get his yards. He's going to pop Ohio State for a 15-yard run here and there. He might break one for 30-40, too. The second the guy gets to the corner, he turns it up another notch. And for a defense that's had trouble with backs like Minnesota's David Cobb and Indiana's Tevin Coleman, there's no reason to think Gordon won't do the same (and then some). But I really think this is the best defensive line Wisconsin's faced all season. If they do their job, it'll let the linebackers have a shot at preventing Gordon from blowing the Buckeyes up on the outside. 
Jason: I want to say yes, but I'm not convinced this Ohio State defense can do that. They surrendered big yardage to David Cobb and Tevin Coleman and Gordon is a better back – with a better line – than those two. Still, if I'm Luke Fickell and Chris Ash, I'd much rather face Melvin Gordon with Joel Stave at quarterback as opposed to say… Russell Wilson.
Beyond Gordon, what concerns you most in this matchup against the Badgers? 
Patrick: The play-action pass. If (when?) Gordon gets going, Ohio State's going to have to sell-out against the run and if Wisconsin's smart, it'll throw it over the top. The Buckeyes struggled with it last weekend against Michigan. 
Jason: I think it's just the general physicality of the Badgers offensive attack. Ohio State has some depth/injury issues on the defensive front and a line that was supposed to be eight-deep is suddenly five-deep on a good day, so if the Badgers can string long drives together, the fourth quarter could be messy.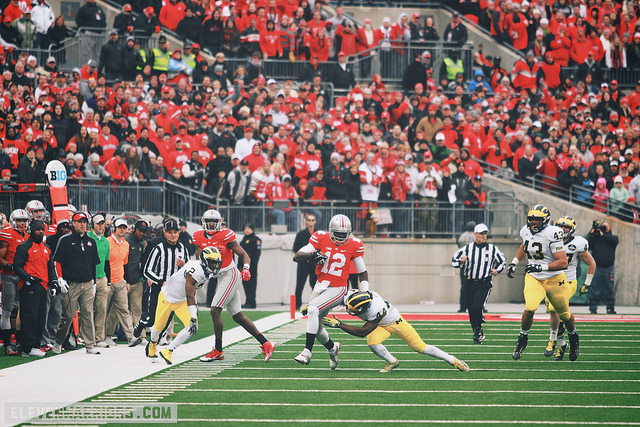 Vico: Ohio State is breaking in the third-string, "running" quarterback against the no. 2 total defense in the country. The Badgers concede around 103 yards a game rushing (8th nationally) and 156 yards a game passing (2nd nationally). Given Ohio State's situation right now, that Wisconsin defense is worrisome.
How confident are you in Cardale leading this team to victory? 
Jason: I'm very confident in Cardale – if he can avoid making a big mistake. And that's not a given.
Vico: I don't have much confidence Jones could be the one leading Ohio State to victory. The touch on his passes isn't what Barrett has and he lacks the game reps that Barrett accrued over the course of the season in order to break Drew Brees' total touchdown record among Big Ten football players. Again, I'd like to be wrong, but this seems like a tall order right now. I expect Ohio State to throw a few screwballs at Wisconsin's defense on Saturday (i.e. Jalin Marshall).
Patrick: For the record, I think Cardale's a pretty talented and smart kid who gets a bad rep for that tweet two years ago. That said, Ohio State's chances of beating Wisconsin are better off if it doesn't need him to lead it to victory. If the Buckeyes want to win, they're going to rely heavily on the supporting cast around him. I get the offense still and always will run through the quarterback, but they're not going to ask Jones to win the game for them. 
What is your final score prediction?
Vico: I'm going to get bombed by the 11W commentariat for this, but I'm thinking something like 23-14 Wisconsin. I would love to be wrong, though.
Patrick: Ohio State wins, 25-24. Urban Meyer coaches the game of his life. 
Jason: I think Ohio State wins this one 31–17.
HYPOTHETICAL ALERT. If the Buckeyes win, will it be enough to get them into the playoff? 
Patrick: Should it be enough? I think so. Will it be enough? I think it depends on what happens in front of them. If Alabama, Oregon, TCU and Florida State all win this weekend, Ohio State's not going to the playoff (insert rant about why the field should be expanded to at least eight teams, four teams is stupid and just the BCS plus a play-in game). 
Jason: Yes. 11-straight wins, a conference championship and odds are, another team will take a tumble in their conference championship game.
Vico: Assuming chalk wins the week: no. I expect Alabama, Florida State, and Oregon to all win their conference championship games this week. I'm also expecting Baylor and Texas Christian to hammer their opponents. Ohio State would need to win by a ton and against the second-best defense in the country to make a case for leap-frogging both Big XII programs vying for that no. 4 spot. I reiterate that beating this Wisconsin team may be a tall order.
One interesting wrinkle in this may be the playoff committee's criteria. With the switch from the BCS' formulas to the collective determinations of a cabal of athletic directors, former players/coaches, and football aficionados, the criteria for inclusion changed as well. I hear (and worry) about the playoff committee members becoming enamored with things like "game control" despite that being a biased or misleading metric in a measurement sense. From my perspective, the playoff committee rankings are no less opaque than the BCS formula.
All told, it builds toward this idea that team rankings are no longer determined by an aggregate composite indicator but instead about the collective determination about which four teams are the "best". These are not the four "most deserving" or the four teams with the best qualitative and quantitative records, but the four "best". Is a 12-1 Ohio State team (assuming, hopefully, it wins) one of the four "best" teams in the country with a third-string quarterback? I'm not sure what the committee would think.
Do you want to see a J.T. Barrett-less Ohio State team in the playoff? Be honest. 
Jason: Why not? Crazier things have happened and even if they do go out in the semis, it's valuable experience for a 2015 team that could be favored to win it all.
Vico: I do, but mostly because I want to win everything and I want that playoff money. To heck with the circumstances; beat everyone and everything.
Patrick: Sure, that sounds fun to cover.  
Do you see any upsets in the making for this championship weekend? 
Vico:  I don't. The interesting games to watch will be the ACC and Pac-12 Championship Games, but I expect Florida State and Oregon to both win. My guess is Ohio State gets whatever Big XII team is left from the playoff (Baylor?) in the Cotton Bowl. It's unclear to me if a loss to Wisconsin gives Wisconsin that spot and punts the Buckeyes to the Citrus Bowl.
Patrick: For a while, I thought Oregon was the most-likely team to lose this weekend. But the more I think about it, I could see Florida State finally getting burnt after playing with fire all season.
Jason: Yes. Just look at the last 10 years of conference championship games. There's at least one upset every year and this played to Ohio State's benefit many times when the Big Ten did not have its own conference title game.