Ohio State made it 12 wins in the last 14 meetings in The Game with a 42-28 decision to improve to 11-1 on the season but to say the victory was bittersweet is probably the understatement of the year. 
The Buckeyes lost their 2nd Heisman Trophy candidate this season, this time to a broken right ankle, as J.T. Barrett was tackled awkwardly on the first play of the 4th quarter. 
Nursing a 28-21 at the time of the injury, the Buckeyes responded with two touchdowns to secure the win but even the eternal optimist has to feel a bit of doubt as Ohio State has just six days to get 3rd string quarterback Cardale Jones ready to go against Wisconsin in the B1G title game while the defense was already faced with the tough task of slowing a deadly Badger rushing attack led by Melvin Gordon. 
Before we turn our focus to next week's game in Indianapolis, one that could still end with the Buckeyes earning a spot in the College Football Playoff, we look at Five Things from another beatdown issued to the Wolverines. 
A STANDING O FOR A FALLEN J.T.
How could it end this way for J.T. Barrett? A kid that does everything right on and off the field falls victim to a freakish tackle while a clown like Jameis Winston is enabled by his coach, is seemingly a threat to the public, throws four picks in his rivalry game, and still is sitting pretty for a spot in the playoffs. It sickens me.
And it all happens on a day when Mississippi State goes down, likely putting the Buckeyes one spot away from a berth in the CFP with a resume building opportunity set up for Saturday night. Yes, the Buckeyes could still beat Wisconsin and maybe get the bid but (1), kid yourself all you want, OSU isn't beating 'Bama with Cardale under center unless the turnover margin is wacky and more importantly, (2) it was J.T.'s team. The kid rescued Ohio State from potential disaster when Braxton went down and the heart, toughness and skill he's shown has been nothing short of heart-warmingly spectacular to watch. 
Yesterday, through three quarters and despite looking decidedly "off" at times, he chewed up 265 total yards and was responsible for another three touchdowns, leading the Buckeyes to a 28-21 lead before his season was abruptly finished. 
Despite the fact he won't see any postseason action, Barrett still set school records for single-season total offense (3,772 yards) and passing touchdowns (34) while setting the B1G record for touchdowns responsible for with 45. Not bad for a redshirt freshman handed the keys to the offense just 12 days before the season kicked off. 
Even with all those facts and figures, what's most impressive about the kid is that after his ankle exploded he remained focused on the team instead of himself as he sat in the stands watching the rest of the 4th quarter before telling the team postgame that "it's not about me, it's about you moving forward." Chills. 
PAGING JALIN MARSHALL
After torching an admittedly bad Indiana team with four touchdowns in the 2nd half, Jalin Marshall, head-scratchingly, was barely utilized against Michigan.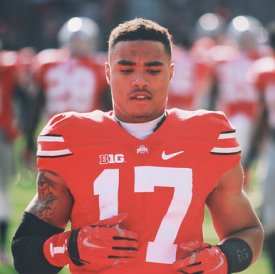 The week before his breakout against the Hoosiers, Marshall had fumbled a couple times at Minnesota drawing the ire of fans but Urban Meyer went out of his way to say he had not lost confidence in the young return man and H-back. 
Yesterday, however, I had to wonder if Meyer did lose confidence as Marshall fumbled a punt in the 1st quarter. The ball bounced right back up to Marshall and he promptly ran 23 yards to the Michigan 31-yard line. Despite the nice recovery and run, Marshall didn't get his first offensive touch until the game was 43 minutes old. 
On that play, a key 3rd and 3 with the game tied at 21, Marshall took a jet sweep for eight yards setting up an Ezekiel Elliott touchdown run two plays later. Two possessions later, aka the drive after Barrett left the game, Marshall got two more touches as Meyer milked clock. 
Overall, Marshall had just three offensive touches for 19 yards and to not get an opportunity until two minutes left in the 3rd quarter was puzzling. Whatever the reason for the lack of opportunity, you have to figure Marshall, with Barrett on the shelf, will be a much more integral part of the offense next week. Some wildcat seems like a no-brainer and beyond the jet sweeps that have proven effective, I have to believe Meyer/Herman will be looking to safer passes in the playbook like bubble and tunnel screens and other short stuff so Marshall should get his chances. 
FROM SHRUG TO HUG
The shrug has become Joey Bosa's celebratory trademark but for the first roughly 50 minutes yesterday, the best defensive lineman in college football was causing some OSU fans to shrug as his play was uncharacteristically poor. 
Through early in the 4th quarter, Bosa had registered just one tackle tying kicker Kyle Clinton for the least in the game, jumped offside on a 3rd and 6 play to negate not only a stop but a turnover as Curtis Grant pounced on a Devin Gardner fumble allowing Michigan to retain possession and score three plays later, and committed a personal foul on a 3rd and 7 play to extend another Wolverine possession. 
Then, just like that, Bosa flipped the switch and made a big play late. After Elliott's 44-yard run to paydirt on a beautifully executed 4th and 1 play gave the Buckeyes a little breathing room at 35-21, Bosa sacked Gardner and forced a fumble which Darron Lee scooped up and took 33 yards to the house to make it 42-21 good guys with just under four minutes left on the clock. The possession was really Michigan's legit last gasp and Bosa's play ensured there would be no miracle comeback. 
With Michigan again on offense, Bosa sacked Gardner on the third play of its drive. The Wolverines would eventually score cutting Ohio State's lead to 42-28 but they needed nine plays and 2:43 of game time to do it leaving just 1:15 left in regulation. 
Yes, teams are running away from Bosa and constantly double-teaming or at least chipping him but the reality is Bosa will have to be a more constant presence next week if Ohio State has designs on slowing Wisconsin. 
UP AND DOWN DEFENSE CONTINUES
Coming into the game as the league's 13th ranked Total Offense at 286 yards per game, Michigan chewed up 372 yards yesterday, or 86 more than its average. The overage came via the air as Gardner (plus one halfback pass) accounted for 251 passing yards against an average in league play of 145 yards per game while the rushing attack was held to 20 yards below its B1G average with 121 yards on 3.2 yards per carry.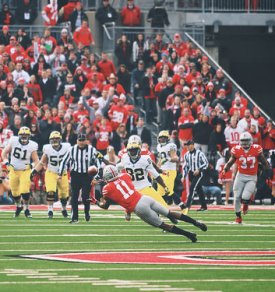 Beyond the disappointment in passing yardage surrendered was the fact Michigan converted 6/11 3rd downs (55%) after converting just 34% of 3rd down tries in the previous seven league games. 
Probably the most painful aspect of the defense's afternoon came in the form of three long touchdown drives. The Wolverines recorded touchdown drives of 80, 95 and 75 yards, chewing up about 16 minutes of clock in the process. The last of those drives tied the game at 21 midway through the 3rd quarter but Ohio State stiffened a bit from there as they gave up just 11 yards rushing over the final 22 minutes and recorded a score of their own on Lee's fumble recovery and dash for six. 
Vonn Bell, though he was victimized by a great play call on Michigan's first scoring drive, had an otherwise spectacular day with a career high nine stops plus an interception. The aforementioned Lee was also solid with eight tackles, two TFL and a sack to go along with his fumble return touchdown. 
Raekwon McMillan was also a factor in his first Michigan game with six tackles including two for loss while starter Curtis Grant had just two tackles, one for loss. It's obviously not as bad as when Pitt Brown started over Bell for virtually the entire season last year but I can't understand how McMillan doesn't play 90% of the snaps by this point. 
Regardless, a defense that just made a terrible Michigan offense look serviceable needs to figure out how to put it all together now that they won't likely have an offense that can cover their blemishes by simply outscoring the opponent. 
HARSH REALITY
After losing Heisman candidate #1 late in fall camp only to see Heisman candidate #2 emerge through the course of the season, Tom Herman and Urban Meyer have to find a way to get Cardale Jones ready to steer the Ohio State offense in the B1G championship game. Color me very concerned for about 10 different reasons. 
The good news is Jones has been in the system for three years now and did see quite a few reps with the starters in fall camp as Braxton was brought along very slowly before his shoulder finally exploded just 12 days before the season opener. It wasn't until then that virtually all the practice reps went to J.T. so there's that. 
The bad news is Jones was demoted to 3rd team for a reason. Is he better than probably 90% of other 3rd team QB's in the country? You can probably make that argument but the simple fact is he's thrown 17 passes in a game this season. 
I do like that he's got incredible size and can run the ball (26/206, 7.9 ypc this year) but I don't like that Herman/Meyer can only have so much confidence in Jones' ability to grasp and execute the full offensive repertoire if for no other reason that lack of practice and we've seen Herman/Meyer become ultra-conservative when they feel that way. A completely one-dimensional offense won't get it done against Wisconsin.
It's also troublesome that previous game tape has shown stacking the box and playing cover 0 can be an effective strategy against the OSU offense if you've got the personnel and the B1G team stats indicate the Badgers have exactly that. 
In league play, the Badgers are #1 in Scoring Defense (17.9), Total Defense (260.1), Opp 1st Downs (14.1) and Opp 3rd Down Conversion (29%), #2 in Pass Defense (147.6) and #3 in Rush Defense (112.5). The only good news is they are dead last in Red Zone Defense, giving up 18 scores (13 TD, 5 FG) in 18 opponent trips. 
Throw in the fact the OSU defense (5th in B1G Rush Defense at 141.9 ypg) needs to slow down a Badger attack averaging 329 yards on the ground and it's an uphill battle to win in Indy. It can be done, no doubt, but the pressure will be on Jones and the rest of the offense to move the ball, chew some clock and keep Melvin Gordon and company off the field.