Well the Buckeyes didn't win any style points against the Nittany Lions last weekend, but a W is a W and you can't be mad at that. Next up are the Fighting Illini before a critical bout with Michigan State in East Lansing. Will the Scarlet and Gray soldier on and get that turtle trophy? Only time will tell, but to help break it all down we've got Jeremy, DJ and Jason. Let's hit it.
How big of a blow will the loss of Rod Smith be to this team?
Jeremy: In the grand scheme of things offensively? Not much. Smith has been instrumental on special teams, and when you combine his departure with the already difficult loss of Devan Bogard, then the issue gets bigger. I personally feel like his removal from the team could have positive lasting effects. People in the locker room need to understand that the coaching staff is heart attack serious about the values necessary to be a Buckeye. Spare me the larger socio-based rants about whether or not marijuana use is a "big deal" because it doesn't really matter. If you can't put the team before yourself, you don't deserve to wear the uniform.
DJ: Sadly, outside of pass blocking situations, it will not be very big. I love Rod Smith, he has the talent to play in the NFL, but in the end he was expendable. I'm still pretty gutted about it.
Jason: I'm pulling for Rod to graduate, sneak into the NFL as an undrafted free agent and blossom, but if we're talking about how much the 2014 Ohio State Buckeyes will miss him, it won't be much.
J.T. Barrett sprained his MCL in a gutsy performance against PSU. How careful should the coaching staff be with him against Illinois?
DJ: It's going to be 35 degrees with a chance of snow showers Sunday night at 8 PM, and Michigan State looms, so they should be overly cautious with him. I love Tom Herman, but I am not a fan of his leaning on quarterback draws and designed runs, especially when we're one torn tendon from the drawing board.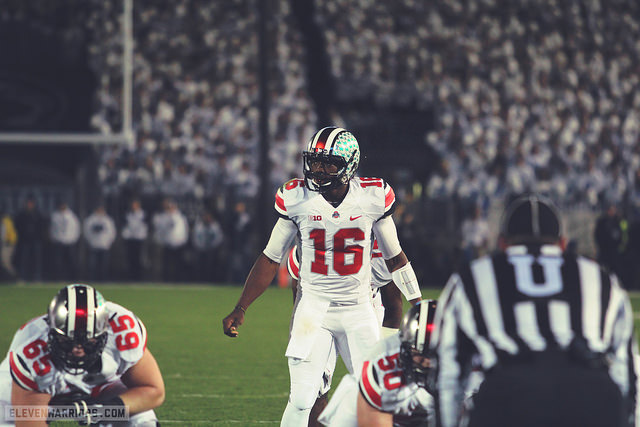 Jason: Hopefully, Ohio State can jump out to a big early lead at home against the Illini, meaning Barrett can sit for the second half. While his knee is certainly dinged, he looked good enough in overtime at Happy Valley and didn't appear to be limping or anything after the game, so I'm optimistic that it won't be a lingering thing. Still, if you can get him out of the game early, it will only help for next week's clash with Sparty.
Jeremy: One word: very. If the game goes as it should - meaning Ohio State runs out to a big early lead - then by all means there's no reason for JT Barrett to take a snap in the second half. Re-watching the Penn State game, it was obvious that Barrett was in some substantial pain; so if he can get some extra rest this weekend, especially with the cold weather that's expected, he should. Let Cardale Jones play, let Jalin Marshall run the "wild Buck" or anything, but let's make sure Barrett is as close to 100-percent as possible come November 8th.
The defense gave up just 10 points in regulation against Penn State. Are the Silver Bullets back? 
Jason: I'm not sure if they're back back, but they're certainly making strides, improving in every game this season and are already light years ahead of where the unit was last season. As Ross pointed out earlier in the week, Saturday night marked the first time in nearly two years that the Ohio State defense actually won a game.
I think that's a real testament to the work Chris Ash has done since his arrival and as such, I'm pretty bullish on the unit continuing to grow through November.
Jeremy: If they're back or not I don't know. What I do know is that A.) they're significantly better than last year and B.) using Penn State's offensive success isn't much of a barometer. The Nittany Lions offense is anemic, but Christian Hackenberg is talented enough to make some plays to keep things interesting, which they did. Ohio State's defensive line has been almost as good as advertised, despite some depth issues that have arisen and the linebackers are really improved over last year, specifically Josh Perry who's playing at an All-Big Ten level. In the defensive backfield, an improved Tyvis Powell has made a big difference and Doran Grant has provided some consistent play as well. Things are moving in the right direction, but they're not there yet. The playmakers are there, they just need to make the plays.
DJ: No, the Silver Bullets are not back because the Silver Bullets wouldn't have surrendered a 91-yard drive to a one-dimensional offense like Penn State's in the fourth quarter of a close game. Is Ohio State much improved over last year? Yes. Are they improving by the week? Yes. But they're not on Silver Bullets level just yet.
What happened to the offense last Saturday?
Jeremy: Fear of a second "big" mistake after the pick six. An injury to JT Barrett which essentially removed Ohio State's best attack against an aggressive Penn State defense. An incredible crowd that limited the Buckeyes' ability to communicate. All those things were instrumental in slowing down a Buckeye offense that had been rolling along at record pace.
DJ: J.T. Barrett's pick-6 to start the second half altered that game entirely. It got the crowd back into it, and I think that affected the team much more than I anticipated. I'm also worried about OSU's pass protection abilities.
Jason: I think it comes down to a young team playing in a hostile environment. They got the win, which was paramount, but with so many freshmen and sophomore contributors, games like that are bound to happen. If you can learn from it, great. If you can learn from it while also escaping with a win, all the better.
The Selection Committee's first ever ranking of Ohio State? Too high, too low or just right? 
DJ: I'd take Ohio State's chances against anybody in the country (especially on a neutral field), but that Virginia Tech loss gets worse by the week. And the best team Ohio State's beaten is probably Navy or Penn State, so "it is what it is." Thankfully, Ohio State has chances in their schedule to move up.
Jason: It is what it is. The Big Ten is down – with only three teams that have any real teeth and Ohio State has a bad, bad loss to Virginia Tech on the books. I don't think the Buckeyes are out of playoff contention by any stretch – there's a ton of football to be played. Beat Michigan State, win the Big Ten Championship game and Ohio State will be right in the thick of things with so many of the other teams ranked ahead of them yet to face each other.
Jeremy: You know, and I will try and say this as reverently as possible, but I could care less where this selection committee or anyone else thinks that the Buckeyes belong. A selection committee releasing preliminary rankings at this point in the season is nothing more than furthering the ESPN-driven, media-self-fellating agenda that has already borderline ruined college football. There's zero reason we should be talking about "who is in, who is out" until all the games are played because each day, each night, each week it's discussed all that happens is more propagandizing and posturing by people with ulterior motives (read: $$$) that unfortunately control the majority of the narrative. Let the games play out, then let's talk about it. Put Ohio State 4th, 10th or 24th; I don't care.
Style points are a very real thing for The Buckeyes at this point. Will merely winning against Michigan State be enough to put them back into the playoff picture?
Jason: Absolutely. Beating Michigan State at their place is a quality win, whether it's by one point or 35 points. Of course, the 35-point win will look better to the committee, but man, just win.
Jeremy: Last Saturday, at Penn State, was a game I think the Buckeyes needed to win with "style points." They didn't. Michigan State, on the road against a legitimate Top 10 team, is a "who cares as long as they win" situation. The idea right now is simple: Ohio State can't beat good teams. Michigan State is a good team. A very good team.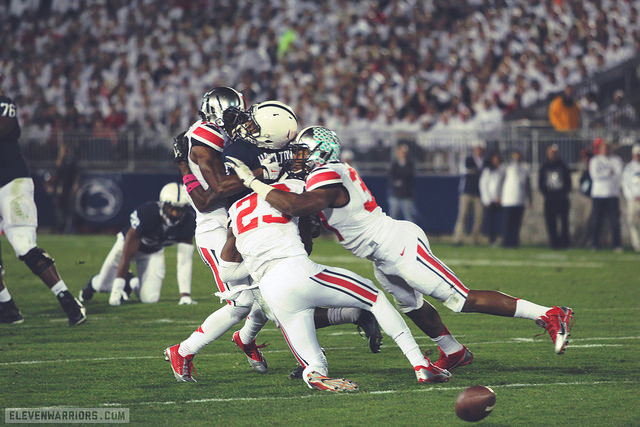 DJ: I would've thought a simple win would've been enough before the Penn State game, but Ohio State must win impressively in East Lansing to make a dent in the ground they must make up to make the playoff. It's a primetime game and the whole nation will be watching. It's time for the Buckeyes to grab a statement win they've lacked the last two years.
Illinois is ranked 120th in the nation in rushing yards, giving up nearly 260 ypg. How many will the Buckeyes have this weekend?
Jeremy: Because of the anticipated weather, the JT Barrett injury, the inefficiency last and the overall awfulness of the Illini, I think we'll see Ohio State come out and try to blow the doors off of Illinois in the first half. By halftime, the game should be out of hand, and then the Buckeyes will grind it out. I'd be shocked if they had less than 350 rushing yards and 500 total yards.
DJ: They'll give up over 300. With the conditions and quality of opponent (plus with Pat Narduzzi and Dantonio watching) there will be no need to get fancy against Illinois. Run the damn ball and pound the bums into submission.
Jason: It could get ugly. Not 2011 ugly when a bad Ohio State team beat a ranked Illini by throwing the ball just once, but expect Tom Herman to lean on Elliott, Samuel and the other running backs in this one. Illinois loves giving up big games to Ohio State running backs (Byars, George and Hyde come to mind), and I think we'll see another Saturday night with Elliott topping 175 and the team rushing for nearly 300.
What's the No. 1 thing you want to see out of OSU against Illinois in the lead-up to Michigan State? 
DJ: A dominating win from start to finish. Ohio State escaped last week when they probably should've lost, and this week an inferior team is coming into the Horseshoe. If it's close by halftime (or beyond) it's a failure.
Jason: I want to see the offense that comes out, scores quickly and in bunches to put the opponent away. Beyond that, just stay healthy, gents.
Jeremy: I want to see one thing: a pissed off bunch of guys who won't accept mediocrity in any form. Not on the field, not off the field, and not from themselves or their coaches. I want to see attitude, aggression and excellence in all three phases of the game. No bad quarters, no sloppy "we've got a big lead so we can get lazy" stuff that happened against Rutgers; just a good old fashioned butt-whooping.
What is your final score prediction?
Jason: I think we'll see something like Ohio State 45, Illinois 13.
Jeremy: Ohio State 59 Illinois 14. I know enough about the way Urban Meyer works to be confident Ohio State will come out and do everything in their power to lay it on the Illini this weekend. Yes, he's friends with Tim Beckman, no, Tim Beckman wouldn't take it easy on Meyer if he had a big lead, and I don't think Urban will take it easy on Beckman, either.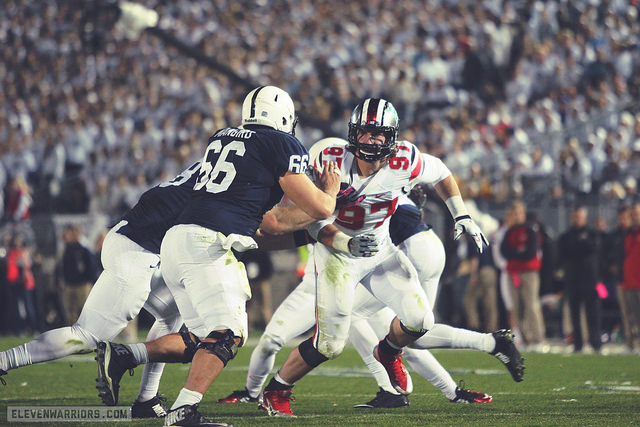 DJ: 56-10, good guys.
What's your price for allowing Joey Bosa to have a free form-tackle shot at you? Full-pads of course.
Jeremy: I'm basically made of glass, so a clean, running start shot on me from a person, err, destructive life-form, like a Bosa? It'd be a pretty difficult thing for me to volunteer for, even for a hefty chunk o' change. 
DJ: Bosa could crack me for $50. ¯\_(ツ)_/¯
Jason: I'm not trying to get paralyzed anytime soon.