The bye weeks are officially over friends. It's football from here on out. Despite not playing last week, the Scarlet and Gray moved up to 13 in both polls and are looking to angle their way back into the playoff. That journey starts tomorrow against a Rutgers team making their first trip to the Horseshoe as a member of the B1G. To break it all down we've got Chris, Patrick and Nicholas. Take it away fellas.
Do you think the Buckeyes lost any momentum with a second bye week coming right in the middle of everything clicking? 
Patrick: Maybe a little, but I think it's like riding a bicycle: You just get back on and go. 
Nicholas: Rutgers also had the week off; wouldn't their momentum be affected just as much as the Buckeyes? Unless the bye week is supposed to hurt the Buckeyes next Saturday against Penn State, it's a moot point. Unlike Kirk Herbstreit, I don't put much stock in intangibles.
Chris: I sure hope not. It was a bit funky to have the bye weeks occur as they did but at the end of the day it's the job of the staff and team leaders to ensure the guys are ready to go. Based on the caliber of coaches and leaders Ohio State has along with the fact that so many young guys are starting and/or competing for playing time, I have to believe the engagement level at practice has been high and the team will be ready on Saturday. Coming off a bye at home should also provide an assist.
What's the number one concern for Ohio State heading into Saturday?
Nicholas: The Buckeyes have flattened several subpar defensive lines in a row, and now they have to replicate that against a good defensive line. Darius Hamilton is an all-conference talent, Kemoko Turay is an excellent speed rusher, and David Melewski can also bring heavy pressure. If Rutgers can force OSU into third and long, they can create an organic pass rush to give J.T. Barrett trouble.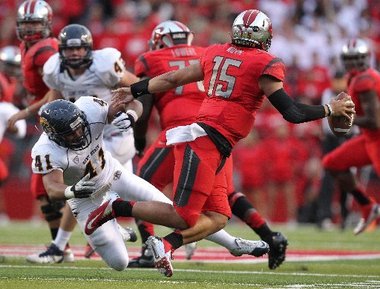 Chris: Keeping Gary Nova in check is probably the most talked aspect of the game but I think another angle to watch is how Ohio State's offensive line performs. The line has been dominant since the Virginia Tech debacle but that has been against awful competition and they still rank just 8th in conference with 13 sacks against. Though the Rutgers defense as a whole is pretty bad (10th in B1G at 397 yds/game), they do lead the country in sacks (24) and the expectation is that they will stack the box on occasion and plan to consistently blitz on 3rd down. How well the Buckeye offensive line plays will be just as important as how the secondary fares in limiting Nova.
Patrick: Urban Meyer's convinced this isn't a problem, but the Buckeyes should be careful not to overlook Rutgers. After being left for dead following the loss to Virginia Tech, they've kind of snuck back into the fringe of the national picture. There's a lot to look at, and there's always a chance Ohio State gets distracted with Penn State and Michigan State on the horizon. 
Rutgers QB, Gary Nova, threw for 404 yards and 3 TDs against the Wolverines? Can we expect anything similar against the Buckeyes? 
Chris: Though it might be hard to believe especially if you still have the Cincy game on your DVR, the Buckeye defense has done a pretty good job in minimizing big plays and controlling opposing passing attacks. Admittedly against bad teams, they are currently 19th in the land in Opp Yards/Pass (6.1) and 12th in Opp Pass Yards/Game  (178.8). They also lead the league with nine picks, intercepting 6.1% of opponent attempts which is good for 2nd in the country. All that said, Nova has looked like a decent quarterback. He won't reach his season average of 268 pass yards but I'll guess he comes close at about 250 with a pair of touchdown tosses.
Patrick: I don't think so. Nova -- who threw 14 interceptions before being benched last year -- has been better, but I still think he's prone to turning the ball over. Against Penn State, which ranks in the top five for scoring and total defense, he threw five interceptions in Rutgers' lone loss. I would imagine Ohio State's defense is deeper and more talented than the Nittany Lions' handicapped unit.  
Nicholas: Gary Nova was an absolute wreck for three years, and now he's fifth in the country in passing efficiency. The Buckeyes should be able to force him into the horrible decisions/throws that made him notorious, but I don't know whether to expect another Michigan game or another five-interception game from Nova. He's a riddle wrapped in a mystery inside an 80-yard touchdown pass.
Who is your player to watch for the Scarlet Knights? 
Patrick: Gary Nova! I think Rutgers' chances of winning Saturday are directly correlated with how he plays. Nova's had his share of struggles, but so has Ohio State's pass defense.
Nicholas: Look out for Leonte Carroo, Rutgers' leading receiver. He has great hands and runs crisp routes, and nobody has shut him down so far this season. If the OSU secondary has more coverage breakdowns, he'll torch them.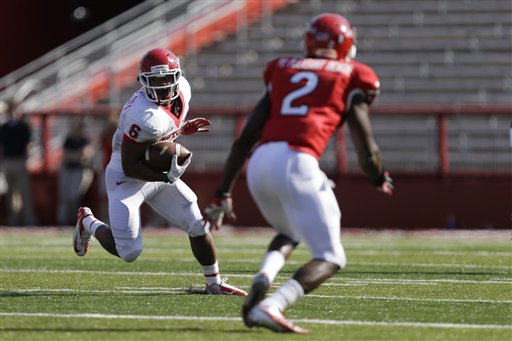 Chris: Nova is the clear answer here but since we already talked about him a little, I'll say running back Desmon Peoples. The redshirt sophomore took over the starting gig after Paul James suffered a season-ending injury in week four at Navy and though he rushed for 82 yards in relief against the Midshipmen and another 83 versus Tulane, the Wolverines held him to 38 yards on 2.5 per carry. During that same span, Nova has found him six times through the air with impressive gains coming on four (33, 32, 27 and 18 yards). If the OSU defense can keep Peoples bottled up, putting that much more pressure on Nova to deliver, they will increase their odds of picking off some throws.
Rutgers is ranked No. 96 in the country in passing yards given up per game (261.7) How many will JT have on Saturday?
Nicholas: Barrett will have 275 passing yards. Rutgers may have a weak secondary, but Meyer won't strain him once the Buckeyes have a two-score lead.
Chris: I can't imagine the offense putting up any less than 35 points as Barrett shreds another mediocre defense. I'll say he goes for around 270 with three scores.
Patrick: With the way the offense is humming, I think J.T. will pass for 270-plus yards and at least a pair of touchdowns. 
Who will be the leading receiver for the Buckeyes against the Scarlet Knights? 
Chris: It's hard to go against Michael Thomas since he's been such a consistent player thus far but I'll take Devin Smith. The senior has been campaigning for more balls (11 rec, 3rd on team) and I have a hunch he's going to have a few big plays on Saturday afternoon. Maybe it's just wishful thinking but I'll say 4 catches for 99 yards with a touchdown.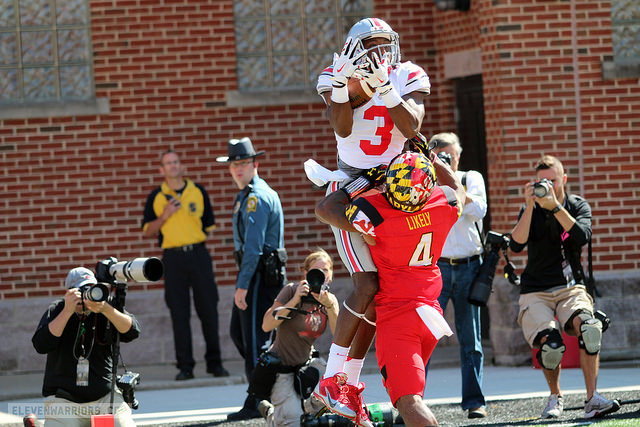 Patrick: Michael Thomas. Did you see that catch against Maryland? That was NFL stuff. Since Ohio State spreads the ball around, I think he hauls in less than 10 catches, but totals about 100 yards. 
Nicholas: Might as well stick with the breakout receiver, right? It'll be Michael Thomas, with 6 catches for 110 yards.
What is your final score prediction?
Patrick: Ohio State 42, Rutgers 17
Nicholas: OSU 42, Rutgers 17
Chris: Ohio State 42, Rutgers 20
What is going on with Jameis Winston? Please, someone tell me.
Nicholas: Winston is doing the immature things Big Men On Campus do if they know they have their coach in their pocket, but social media ensures his indiscretions become public. As for the botched sexual assault investigation, that's the result of shameful behavior by Florida State and Tallahassee police, no matter what #FSUTwitter believes.
Chris: He's what you get when you combine years of enablement/entitlement from those who stood/stand to benefit from his football talents combined with a lack of common decency and not exactly all-star parenting. 
Patrick: Everything that's wrong about big-time college athletics. Might I suggest reading the New York Times' lockdown coverage and this piece by the great Dan Wetzel.