After a way-too-long week away from the action, your Buckeyes are back on the gridiron and ready to take on Cincinnati. Dinosaurs walked the earth the last time Ohio State lost to an in-state rival, so let's hope the pre-historic streak continues this Saturday. To break it all down I've tapped Jason, Jeremy and Mike. Let's hit it.
What's your final four right now?
Jason: 1. Oregon: Any team that runs away from Michigan State like that is for real. If Mariotta can stay healthy, the Ducks should be playing for the first-ever playoff championship. 2. Oklahoma: All they've done is throttle Alabama in a bowl and win every game since. 3. Texas A&M: SO. MANY. POINTS. (SUCH OFFENSE) 4. Alabama: Lane Kiffin, rising star as an offensive coordinator? Nah, anyone could put up points with that squad.
Jeremy: I think - and I tweeted as such recently - that the one thing parity in college football is showing is that every team stinks, basically. That said, there's a few teams that have stunk less in my mind than others. I'd take Oregon, Oklahoma, Texas A&M and Florida State as my final four currently. I think the Ducks got their annual scare last week and unlike previous years, they didn't botch it completely. Although I think A&M will eventually get exposed, right now they've been the most explosive team in the country and the Sooners are right behind them. For the fourth spot, I'm taking FSU - even with their defensive lapses and no running game.
Mike: I'm sure, because it is still so early, I will look back at this answer and laugh at myself in two months. There's really no reason for me selecting three of these four, based purely on what they've accomplished so far this year – Oregon's win over Michigan State being the exception. This is how I think it'll play out: Oregon, Oklahoma, Florida State, Alabama. Two things I'm confident in: Florida State running the table, because their schedule is so soft, and they won't harm their chances of winning by suspending Jameis Winston again. I'm also predicting only one SEC representative because the SEC West is ridiculous and the Tide is the only team that will come out of the conference with one or fewer losses.
Will a B1G team make the playoff? 
Mike:  No Big Ten team will make the playoff. The national stigma, fair or not, is powerful. The only team, I feel, that stands a shot is Michigan State. Their loss might be the "best loss" in the country, but they'll have to win out, obviously. On top of that, they'll have to hope the SEC has no more than one one-loss team and a Pac-12 or Big-12 team's one loss is not nearly on par with MSU's loss to Oregon. That's too much to ask for, at this point.
Jason: I think it's still way too early to say. I will say it was silly to hear so many pundits write off the league after the conference's disastrous week two. Repeat after me: there are no experts in college football.
Jeremy: Because of the Big Ten's less-than-sterling reputation, I don't see any possibility for a team with a loss to make the playoff, so only Nebraska and Penn State remain viable options. If the Nittany Lions or 'Huskers run through their schedule and the SEC eats their own as usual, the powers that be would have a tough time keeping out an undefeated Big Ten team. 
Is this Hoke's Last Year?
Jeremy: Yes, it's his last year and it's because Michigan's football team stinks. They've regressed every season under his leadership and the fans are not buying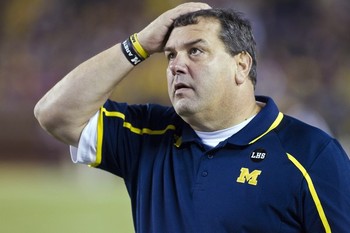 into what the administration there is selling. I believed before the season Michigan needed two wins against the unholy triumvirate of Notre Dame, Michigan State and Ohio State and avoid any embarrassing defeats along the way. They already embarrassed themselves against the Irish and the Utes. Bye bye Brady, we hardly knew ye. 
Mike: At this rate, and with his business savvy, Dave Brandon will let a lucky fan pick who Michigan's next coach will be. In any case, I doubt it will be Brady Hoke. It's become pretty clear, with all the apparent talent there, the staff is doing a terrible job of developing it. Obviously, he's being judged differently than Rich Rodriguez ("if our two best conference wins in the last three years are both Minnesota, well, at least it's a Michigan Man at the helm") but the current staff hasn't elevated the level of play on the field. At all. 
Jason: Yes. Don't think there's any doubt about that at this point. Dave Brandon's, too.
What's your gameplan against Cincinnati
Mike: Offensively, if Cincinnati does come out in a "Bear" front, Tom Herman has to do a better job of moving the pocket and getting the ball outside the hash marks. Of course, there's only so much you can do with shoddy pass protection and a quarterback still too inexperienced to recognize blitz schemes. If the Bearcats use their base defense for the majority of the game, I feel confident in the Buckeyes' ability to hit short pass patterns, getting Dontre Wilson or Jalin Marshall the ball and having them break a long run, which will open some stuff up downfield. The Virginia Tech game was about the only time I've seen OSU stray from its downhill running game  – OK, sorry, can't help but mention the fourth quarter in the B1G Title Game, as well. Anyhow, if that ever happens again, in any game, I'll be worried. 
The Ohio State defensive line is good enough to generate pressure with four guys. Perhaps Gunner Kiel will surprise me if he's efficient on the move, but I'm not expecting that. Cincinnati will move the ball, sometimes in large chunks, simply because their wideouts run effective patterns and Kiel has a cannon. With the new, aggressive coverage scheme we've heard so much about, I'd hope Kiel tries and fails to squeeze a few through tight windows.
Jason: Offensively, let J.T. continue to do his thing. He'll grow each and every week with his receiving corps and it's going to be magical to watch, come November. Ohio State must also build on the running game that showed some life against Kent State, especially because UC seems susceptible to giving up rushing yards. Defensively, roll nickel and dime all afternoon and bump and run for the win. 
Jeremy: My goal if I am the Buckeyes is to keep the ball out of Gunner Kiel's hands by establishing a dominant running attack early and often in the game. Don't let the UC offense get a rhythm or confidence by keeping them off the field; Cincinnati's porous defense should help make that a reality. Avoid the long, drawn out passing routes, don't give them a chance to upset JT Barrett's flow and keep the ball out of their hands.
On defense? Blitz. From everywhere, at all times. Hit Kiel enough and he'll wish he'd transferred to an 8th or 9th school.
The Bearcats' aerial attack is strong. How many yards to they have through the air Saturday?
Jason: Gunner will probably get at least 250, maybe 300 because he's going to have a lot of attempts, especially if Ohio State can jump out to an early lead. That doesn't mean the Buckeye secondary plays poorly, because UC will throw on a lot of teams this season.
Jeremy: I think you'll see Kiel and the Bearcats be successful throwing the ball, because that's what they do and the Buckeyes haven't really been tested yet by any significant aerial threat. I expect 275-325 yards passing and a couple deep ball "wins" against Ohio State's as-of-yet unproven pass defense.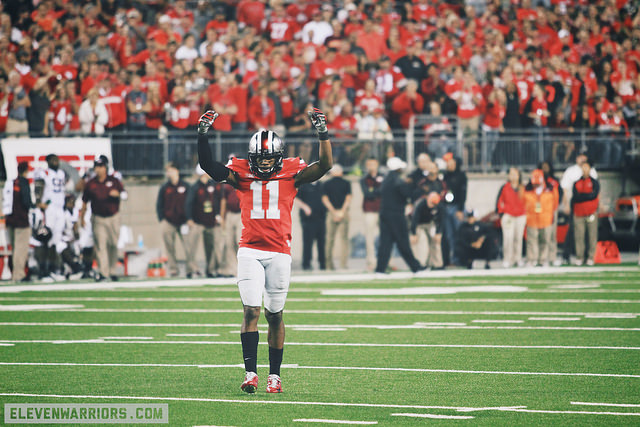 Mike: Given my confidence in Ohio State's defensive line, I'll say they'll be a major factor in holding Cincinnati under their season average and Kiel will throw for 310.
Will Gunner Kiel be the best QB the Buckeyes face in the regular season? 
Jeremy: No, because they play Christian Hackenberg and I think the "Hack" is a future Top 5 pick in the NFL. He has every single tool to be a great, great quarterback.
Mike:  In terms of pure arm talent, he might be the best quarterback Ohio State will see this year. Even with that qualifier, I'd still give the edge to Christian Hackenberg. In almost every conceivable way, Hackenberg is better than Kiel. That's no disrespect to Kiel, because Hackeneberg has the talent to be a first round pick in 2016. The best quarterbacks OSU plays, this year, are still young. Kiel, with only two starts, is the youngest of the Kiel, Hackenberg, Connor Cook trio. Those are, by far, the three best QBs the Buckeyes play this season – we'll pretend Michael Brewer was an aberration. Just because of his relative inexperience, Kiel is the third best of those. 
Jason: I hope not because Michael Brewer looked pretty good a few weeks ago. He'll be in the mix, but Ohio State will also face Penn State's Hackenberg and Michigan State's Connor Cook in the next six weeks. They're all really good quarterbacks, but Hackenberg may be the best of the bunch.
The Bearcats are giving up 171 rush yards per game (82nd in the nation). How many will the Buckeyes have this weekend? 
Mike: Eventually, Ohio State will wear the Cincinnati defense down. It might take a while for the running game to get going, especially if (when) Cincinnati puts 9 or more in the box. I'll peg the Buckeyes for 150 yards, with Curtis Samuel rushing for the most. He's a complete back that will continue to emerge and he'll get outside and break a few, Saturday.
Jason: I'm going to go with Ezekiel Elliott with something like 115. A lot of people were high on Samuel for cracking the century mark against Kent State, but EZE still ripped off 9.3 per attempt against the Golden Flashes. notbad.jpg 
Jeremy: I expect a big weekend from the Buckeyes on the ground, if they're given the chance to get it going early. Cincinnati's Jeff Luc is a concern, but the rest of their defense is mediocre at best and terrible at worst, despite a college of awesome names. I think we'll see a heavy dose of Ezekiel Elliott and Curtis Samuel with Zeke having his breakout game of the year. Give me 275 on the ground for the Buckeyes and half of that for Zeke, in the 140 range with two scores.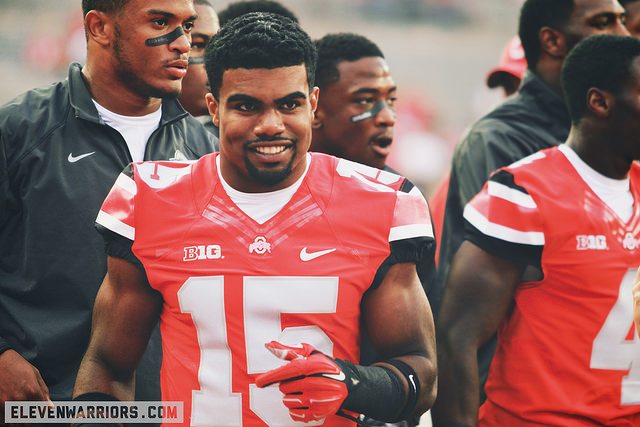 Who needs to shine in the secondary for the Buckeyes to have success on Saturday?
Mike: It will have to be Doran Grant because Cincinnati's biggest threat is – literally – the 6-foot-6-inch receiver Mekale McKay. Grant will often match up against McKay in man coverage and must be the shutdown corner Meyer, Chris Ash and Luke Fickell expect him to be. He's at an obvious height advantage, but their listed weights are about the same. Grant shouldn't be afraid to be physical and hound him right off the line.
Jason: Oh what I wouldn't give to see Eli Apple have a breakout performance Saturday. Grant on the other side is already dependable and if Apple can emerge, boom, all coverage worries forgotten. 
Jeremy: Tyvis Powell. Tyvis Powell. Tyvis Powell. He has to be in the right places and make plays.
What is your final score prediction?
Jason: Ohio State 38, Cincinnati 17. I realize this game could also be a lot closer than many of us would like, but I'm not ready to deal with that thought just yet. 
Jeremy: I've got the Buckeyes winning in a bit of a back-and-forth battle. I think Ohio State wins 38-31, and I think it's going to be a nail biter most of the way as the Buckeyes defense will have a bit of a struggle to keep Kiel on his butt. Ultimately, I think Ohio State's defense is better than Cincinnati's and we'll see the Buckeyes up 38-21 going in to the fourth quarter and then will allow a couple late scores.
Mike:  31-24, Ohio State. Cincinnati won't put up nearly as many yards as we might expect, Kiel has trouble throwing the ball on the move against a relentless Buckeye pass rush and they're actually able to get the Bearcats off the field on third down. With the help of a few turnovers, OSU leads in time of possession and eventually wears down Cincinnati. A late score makes it appear closer than it will be. 
You're Chris Ash. What do you say to the secondary before they take the field?
Jeremy: "This is your moment to prove to the world that the 'Silver Bullets' are back. You know what to do, you know how to do it, now get out there and do it."
No need for fancy pep talks, no need for insane rants. Do your job. 
Mike: "In the last two weeks, every time your head coach spoke to the media, he's repeated the same quote about how Tommy Tuberville thinks this group of receivers is the best he's seen. How does that make you feel? I mean, he used to coach in the SEC, you know? If you happen to catch the replay on ESPNU, next week, I sure hope the announcers mention Tuberville used to coach at Ole Miss and Auburn. The SEC never gets enough respect on ESPN, Pawwwwllll...
Woah. Don't know what happened there, guys, sorry."
Jason: "Gents, get me five picks and I'll take all of you to Dairy Queen."