Welp. Last weekend was terrible. The Hokies came into Columbus and split town with a W. It made us all feel sad. And the only way to cure the sads is to hear from some of your best good friends on the Eleven Warriors staff. I'm happy to oblige. Let's talk the weekend that-was, the Buckeyes' hardware hopes and the Golden Flashes with Kyle, Chris and Patrick.
Are the Buckeyes' Playoff Hopes Dead?
Kyle: The Big Ten east division always looked like it would be decided when OSU went to East Lansing, and that hasn't changed. With one non-conference loss, they're absolutely still in play for a playoff spot if they win out. As much as the Big Ten gets (deservedly) picked on by the media, Ohio State has never really felt that sting when it comes time for selections to bowls. So, if they prove they're the class of the Big Ten, they'll be right there for a spot in the Playoff.
Chris: All signs point to yes but if Ohio State were to somehow run the table impressively from here it could at least make it interesting enough that we'd have to see how the upper echelon of the other conferences shook out. I know there wasn't a playoff last year but Sparty is a decent example of a team stinking it up in September that was certainly playoff worthy come December.
Patrick: I think so. Even if Ohio State wins out (which I don't think it will after Saturday night), it's not going to get in over a one-loss team from the SEC, Pac 12 or even the ACC at this point. The league embarrassed itself last weekend and that's not going to do the Buckeyes any favors down the road.
Is OSU still good enough to win the B1G?
Chris: Yes. Because the B1G is garbage and while many are piling on the coaches and players right now, it's not out of the realm of possibility that areas such as the offensive line and wide receivers show enough improvement to make Ohio State good enough to win a mediocre league.
Patrick: Yes, because the conference -- outside of Michigan State and Wisconsin -- looks terrible. Ohio State's path to a league title isn't paved in gold, but the Buckeyes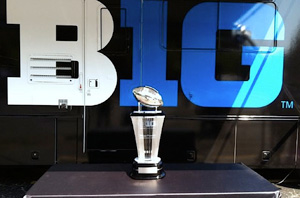 should have a real shot if they can clean up some stuff. I think road games against Maryland, Penn State, Michigan State and Minnesota are going to be key. I don't think any of those are gimmes with the way Ohio State played Saturday.
Kyle: Not today, but the matchup with MSU isn't for another six weeks. The talent is absolutely there, but isn't shining through quite as much as it hopefully will by then, especially on offense. These guys don't know who their best players are quite yet, and how to properly use them. Once the 2012 and 2013 Buckeyes understood that Hyde on the inside and Miller on the outside were their most dangerous options, the other players were able to compliment them properly.
What happened with the O-line last week? Can it be Fixed?
Patrick: It's fixable. But it might take a little while. I think it's also key to realize this year's offensive line, even at its best, probably won't be as good as last year's unit. It's sort of a no-brainer statement, but you'd be surprised how many people figured the Buckeyes could just plug four guys in and keep chugging away. Fortunately for them, there's nowhere to go but up after that dismal outing against the Hokies (and a lot of the struggles were because of VT's Bear, Cover Zero scheme).
Kyle: This appears to be all about lack of playing time together, against real, live opponents. The only way this improves is through live game reps, which they'll get this weekend. When these guys have known who to block, their technique has been good, so I have faith that they'll eventually work out the communication problems and turn into a solid unit.
Chris: I won't pretend I'm an offensive line coach but from an everyman point of view, it looked like a combo of an inexperienced line being woefully unprepared by the coaches for what they were facing. From a player development standpoint, I believe it's fixable but unfortunately that only comes with acquired experience. From a coaching standpoint, I stand with Warriner at this time.
Did Va. Tech just give Opponents a Blueprint to beat the Buckeyes?
Kyle: Yes, but it's basically the blueprint to building the Sears Tower. By playing press, man coverage on the outside with some inverted cover 2 (where the safeties come up to play short and the two corners are responsible for deep halves), it opened up the rest of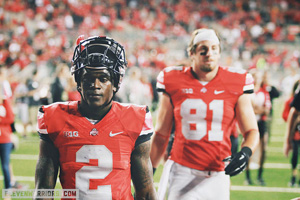 the VT defense to shut down all the things the Buckeyes wanted to do. VT exposed some flaws (getting off press coverage, picking up countless blitz variations), but as Meyer pointed out in his Monday presser, only one team in the conference has the talent to even attempt that gameplan (MSU). Opposing coaches may steal elements here and there, but they don't have the horses to play that style and expect to not get exposed eventually by OSU.
Chris: I'm not so sure about that. I think it's realistic to expect many teams will attempt to stop the run by stacking the box but maybe only one other team on the schedule will have a secondary anywhere near the level of Virginia Tech's that will allow for such a sellout approach at the line of scrimmage.
Patrick: Sort of. If you want to beat Ohio State, that's a really good way to do it and I'm sure some teams will try and exploit the Buckeyes' weaknesses like the Hokies did. At the same time, Virginia Tech's game plan worked because it fit their personnel. Outside of Michigan State, I'm not sure any of Ohio State's opponents have the type of players to effectively run such a scheme.
What's going on with Ezekiel Elliott? Wasn't he Supposed to be the Feature Back?
Chris: Like others before him, I think Elliott is thus far a product of the OSU hype machine. I do believe he is going to be a very good player over time but to continuously expect kids with little game reps to step right in and produce at a high level is unrealistic. I personally disagree that all signs pointed to him being a feature back this season. I interpreted the offseason to indicate he would get first crack as the sure starter but fully expected a running back by committee approach. That said, we've not even seen that yet thanks to the horrific line play in the first two games coupled with Tech's strategy to take away the run game. Elliott's time will come but from what little we've seen, Samuel is the most gifted ball carrier on the team.
Patrick: He's playing like I'd expect a sophomore running back to play two games into the season. I think he's pretty talented and that 15-yard scamper to tie the game at 21 Saturday was nice, but Ezekiel's still fighting Curtis Samuel and Rod Smith for touches. I'm not sure Ohio State will even have a feature back this season.
Kyle: He'll have 120+ yards this Saturday, probably on less than 15 carries. Curtis Samuel has looked really good thus far, but once the OL gets it together, he'll be running it between the tackles with the success we expected.
Whats up With The Wide receivers?
Patrick: Michael Thomas played well, Corey Smith didn't. Catching the ball and making plays at practice is one thing. Doing it on a big stage is another. That's not an excuse for Saturday, it just is what it is. Ohio State's receivers have been average since Meyer got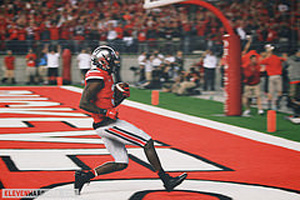 to Columbus. The Buckeyes can change it this season. If they don't, I think that's pretty concerning considering how often they talk about all the talent they have at the position. What's the point of potential if it's not production?
Kyle: Right now, all the receivers in the rotation seem to have at least one major flaw: Smith can't get off press coverage, Spencer has trouble getting separation from DBs, Wilson and Marshall are converted from other positions and aren't natural pass-catchers yet, and Corey Smith still seems to be adjusting to the speed at this level. Mike Thomas has been the best for me thus far, and I'd guess he'll be rewarded with more targets. At this point, Smith and Spencer are what they are, and the other guys need time.
Chris: I wish I knew. Considering the sheer number of receivers on the roster and the noted youth, I don't think there's a static answer. Coach Smith has taken some heat for lack of development and I won't argue with that opinion. I do believe, however, that Mike Thomas is a great complement to Devin Smith provided Barrett has a couple seconds to throw. Despite his terrible game last week, I'm not ready to give up on Corey Smith either. What troubles me most is the feeling that the wide receivers as a unit struggle to create separation. Is that coaching or talent? I'm not sure I'm qualified to answer nor have I seen enough reps from the young guys to have a firm opinion.
How did you feel about the defense's performance in the second half last weekend?
Kyle: I, for one, was shocked when I talked to fans after the game and heard them complaining about the defense. They were excellent all night against the run, and played much better against the pass as the game went on. Many of those third down conversions occurred early in the game, and the entire unit stepped up. The one guy I think needs some praise is Doran Grant. His name has barely been mentioned, which for a cornerback is exactly what you want.
Chris: As a whole, there are certainly bigger issues facing this team than the state of the defense. I thought they did a pretty nice job in the 2nd half, especially the defensive line, Vonn Bell and Doran Grant. Overall, I felt the entire unit performed fairly well against the run but I still have some concern with the pass defense. In particular, I think we'll continue to see teams pick on Curtis Grant in coverage and I'm not sold on Tyvis Powell in coverage at this point either.
Patrick: I thought it was solid, but it really let up on the drive that put Virginia Tech up, 28-21, midway through the fourth quarter. Ohio State was significantly better in the second half than they were in the first, but little mistakes here and there cost them. I get the defense is filled with youth trying to learn a new system, but it has to get better on third down after giving up 9-of-17 conversions to the Hokies.
How would you like to see the Buckeyes bounce back?
Chris: Well, I guess it would be pretty cool to see an Ohio State team actually have some confidence in their ability to run between the tackles. Even better, I'd love to see Curtis Samuel and Bri'onte Dunn get the majority of the carries. That's the tandem I'd love to see emerge giving Ohio State a power and speed threat. Other than that, I'd really love to see what Jalin Marshall can do at the H. I'm not giving up on Dontre by any stretch but I haven't seen near enough wiggle from him to make me think Marshall doesn't deserve more touches so we can see what's he's all about.
Patrick: I think this is a really big chance for Ohio State to get its confidence back. Beating Kent State won't suddenly atone for last weekend, but it's an opportunity for the Buckeyes to beat up on a team that's going to be comprehensively overmatched. The offense should be able to open it up a little and I think the defense is going to look more aggressive than it did last week. I think it's important Ohio State gives its running backs plenty of touches, too.
Kyle: I don't want to see anything really change schematically or personnel-wise, instead I just want to see both units execute at a high level. Kent will give this team every opportunity to look good, and I hope OSU takes it, using this chance to build confidence in everything they've worked on all spring and summer.
What's your final score prediction?
Kyle: OSU wins big: 49-3
Patrick: 35-7
Chris: Ohio State 42, Kent State 10
If you had the opportunity to say anything to the fan base this week...what would you say?
Patrick: Some of you need to re-adjust your ridiculous expectations.
Chris: Down in front!
Kyle: Chill the F out. This is still a very good team, but one that needs time to learn what they're good at, and who they can rely on, especially on offense. This unit lost their QB, RB, best WR, and 4 OL, and had to face one of the best defenses in the country, without a question. No need to freak out about it. Also, OSU's defense is going to be reeeeeally good by the end of the year, just watch...
If you had the opportunity to say anything to the coaching staff this week...what would you say?
Chris: Specifically to Urban, I'd ask him to shelve the constant hyperbole. I'm tired of hearing how guys like McMillan and Dixon need to see the field because they are grown ass men only to see them stapled to the bench. I'd also suggest that Vonn Bell not share reps with any other safety. If they want a rotation, how about Powell and Burrows share time?
Kyle: Enjoy doing the things you've wanted to do all summer on Saturday. Shrink the playbook for the offense and just beat Kent. Your athletes are better, just given them a chance to succeed. Defensively, try for a shutout. This is a chance to make a statement for this unit.
Oh, and to the new coaches...yes, it's like this every time OSU loses...
Patrick: A quarterback is a product of the talent around him. Protect J.T. and have the guys around him catch the ball. Things on offense will get better.