Believe it or not, we're one sunrise away from the greatest achievement known to man: The Ohio State Football Season. So, I've tapped some of the greatest men known to man to help us wade through the last remaining questions for tomorrow's matchup against the Navy Midshipmen. DJ, Jeremy and Michael, you're up. Brace yourselves...it's the Eleven Warriors Roundtable: Week One.
It's J.T. Barrett's first competitive start in two years. How does he handle it?
DJ: I think J.T. Barrett will be fine. I'm sure there could be some nerves in the first couple drives, but I'm about as high on him as one can be with a redshirt freshman who hasn't made a competitive start in two years.
Jeremy: I think Barrett will have some nerves initially, which is natural of course. How he fares later in the day is directly related to the new offensive line's performance. If he gets time to run through his progressions and feels comfortable in the pocket, I think he could have a big afternoon. 
Michael: Unknown, which is the exciting thing about it. That position is a microcosm of the whole team. We know the talent is there and we presume the coaching is, but until they take the field, we have to be prepared for literally anything. I'm simultaneously cautiously optimistic and terrified. I am Schrödinger's fan.
Give me Barrett's end of game stats...
Michael: Tough question, but I'll guess 13-of-19 for 180 yards, 2 TDs and 1 INT with an additional 65 yards on the ground. I expect J.T. to distribute the ball rather than be the focal point of the offense, and I believe they'll stick mostly to the short passing game with minimal downfield shots while trying to run the ball a lot.
Jeremy: Barrett is not going to be hamstrung because I think Ohio State wants to make him feel empowered as the de facto "leader" of the offense. They'll give him the reins and see what he can do and I think the numbers will make Buckeye fans happy. I see him in the 225 yards and three touchdowns range through the air and 40-ish yards on the ground.
DJ: 175 yards passing, 75 yards rushing, two touchdowns and perhaps a turnover.
What scares you most about Navy?
Jeremy: My biggest concern is young linebackers that over-pursue on the option and Navy's penchant for cut-blocking and potentially injuring the Buckeyes' already shrinking defensive line depth. Guys like Bosa, Schutt, and Bennett will need to be cognizant of where their legs are at all times.
DJ: Their cutblocking. Honestly, it should be illegal in college. Also, the fact they have nothing to lose. 
Michael: Their offense requires you to have 11 guys playing assignment football. With inexperience at linebacker and in the secondary, there are bound to be breakdowns, but hopefully not catastrophic ones. Defensively, they try to limit home runs and make you use a lot of plays to score. That could wear on a young, inexperienced quarterback.
Navy finished second, nationally, in rushing last year. How do they fare this weekend?
Michael: I think they'll be close to their average, because they're so fundamentally sound and Keenan Reynolds is so good at reading the defense. My hope is that Ohio State makes them settle for field goals.
Jeremy: It's hard to adequately prepare for the triple option and I think the Buckeyes will struggle with it as most teams did last year. I don't see any situation where Navy doesn't end up with 250-plus yards on the ground. The key for Ohio State's defense this weekend is to make sure they don't sell out to stop the run and open themselves up to get burnt behind the secondary, which is what happened a few times in their last meeting with the Midshipmen.
DJ: Somewhere around 200, but only because they're so run-based.
Who leads Ohio State in receiving Saturday?
DJ: Corey Smith; he'll have seven catches.
Michael: Dontre Wilson will catch the most passes—maybe six. I expect Tom Herman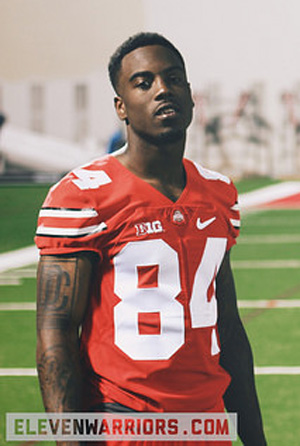 to try to get him the ball in space quickly.
Jeremy: I'm going to predict Corey Smith. It seems the writing is on the wall for the JUCO transfer to be the breakout star at wide receiver and that will start this weekend. Buckeye fans will see a homerun hitter who can create space on his own and a guy J.T. Barrett looks too often.
The Buckeyes are nearly a two touchdown favorite. Thoughts?
Jeremy: I think eventually this is just right. The game will be back and forth early but the Buckeyes should be able to pull away in the second half as talent overcomes nerves. Don't be surprised if Buckeye fans go into the half with a lot of head shaking though. There's bound to be some rough patches.
DJ: I think the spread is right, but I don't think Ohio State will cover. (I do think they'll win, however.)
Michael: Away from home with a redshirt freshman making his first start, I think it's probably too much, but I would appreciate a big lead as far as my nerves are concerned.
Who will you be keying on from each side?
DJ:  For Ohio State, Curtis Samuel. Urban Meyer has been raving about him since he stepped foot in Columbus, and I'm interested to see the percentage of carries given to him. On the other side, Keenan Reynolds, partly because he's the straw that stirs the drink and partly because he's the only Navy player I know.
Michael: For OSU it's Barrett, because his performance is crucial and will tell us a lot about what our expectations should be for the season. All eyes will be on J.T. That said, I'm really interested to see what Jalin Marshall can do.
For Navy it's obviously Keenan Reynolds. He's a dark horse Heisman candidate and according to Michael James of the Birddog Blog, he is the best quarterback Navy has had in the modern era. What makes him dangerous is his intelligence at reading the option and his arm strength and accuracy in the passing game.
Jeremy: On the Buckeyes' side of the ball it's Corey Smith. I think he's going to have a breakout afternoon. For Navy, the player to watch is of course the quarterback, Keenan Reynolds. Last year Reynolds ran for over 1300 yards and had 31 rushing touchdowns. 31. Navy will pressure the edges of Ohio State's defense and Reynolds is a master running the triple-option, while remaining a threat to throw the ball as well. Keep Reynolds under 100 yards and the Buckeyes win easily.
Gareon Conley or Eli Apple? Who do you have starting opposite Doran Grant?
Michael: I think Apple will start but we'll see a lot of both players until one can separate himself from the other.
DJ: *Flips coin* Gareon Conley.
Jeremy: These two are very similar - and both very good - options. Conley may be a bit more physical and because of that I'll take him in the starting spot because the ability to support the run this weekend is more important than natural cover skills.
Give me your final score prediction...
Jeremy: Ohio State 31 Navy 21
DJ: 37-27, Ohio State.
Michael: Ohio State 34, Navy 28, with me chugging Maalox in the fourth quarter if Navy has the ball last.
"Playing the first game of the season at a neutral site is..."
Michael: …like spaying or neutering my pet—I realize it's sometimes necessary but I don't feel very good about it. I prefer my college football to be played on campus.
Jeremy: ...a nice opportunity for the players and fans to see a new environment. However, count me in as someone who'd rather have home-and-home situations. I'm a fan of college football, and much of that is the pageantry and tradition of college football. I bet most of Navy's football players would prefer the chance to play at Ohio Stadium as opposed to playing in MB&T Stadium if they had the option.
DJ: ...not cool. I would rather open at home or some place like Auburn.