Greg Frey played under Earle Bruce and John Cooper at the end of the 1980s and into 1990, becoming a three-year starter at quarterback, sandwiched between single-season starters Tom Tupa and Kent Graham.
Frey still stands as Ohio State's fourth leading all-time passer, with 6,316 yards, trailing only Art Schlichter, Bobby Hoying and Joe Germaine. He completed 443 of 835 passes (53.1%) in his collegiate career, tossing 37 touchdowns. He ranks third in OSU history in completions and attempts, and sixth in touchdowns.
Wearing his iconic tinted-visor helmet, Frey is one of just eight Ohio State quarterbacks to throw for more than 300 yards in a game. His 362 yards at Minnesota in 1989 are the third most for a game in school history. That 1989 game in Minneapolis stands as Ohio State's largest come-from-behind victory, with the Buckeyes overcoming a 31-0 deficit to win.
Comeback wins became a signature of Frey's Buckeye career, with dramatic late wins over the likes of LSU and Iowa along the way.
A two-sport star in college, Frey also played two years of baseball for the Buckeyes. The right-hand hitting outfielder was drafted 62nd in 1991 by the Detroit Tigers. In 2011, Cincinnati.com named Frey the area's 47th best multi-sport star of all time.
Today, Greg is an independent distributor for Advocare, coaching people with their health. He is also in his 11th year as a television color analyst for high school football games with SportsTime Ohio
Greg and his wife Jen have a six-year-old son, Jackson, and will be traveling to China next month to adopt a little girl named Lucy.
We caught up with the former Buckeye signal caller this week. Herein, you'll find his candid answers to our questions.
Cincinnati isn't a big Ohio State hotbed. Did you follow the Buckeyes growing up?

Greg Frey: Cincinnati is a heavy Catholic town, so we were big Notre Dame fans. A couple of my cousins played at Notre Dame. I was a huge ND fan and got to go to a lot of games and was hooked on that. Ironically, Ohio State wasn't on the radar at all. Ohio State has more of a presence there now but still, it's a Bengals town, a Reds town, Xavier University, UC is doing well now, Miami University, you're 20 miles from Kentucky, so UK basketball...there are all these draws down there and Ohio State just wasn't on the map, really. So, for me, that wasn't on the radar until late, late in the recruiting process.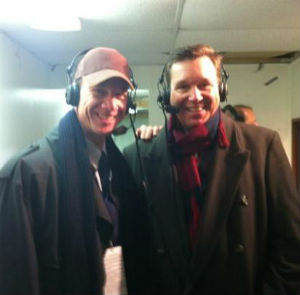 Were the Irish in on your recruitment? What teams were in the running for your services?
GF: Notre Dame did (recruit me) but they were going through a coaching change. Gerry Faust offered me a scholarship and then he got fired. And Lou Holtz came in and he was looking for more athletic quarterbacks so he didn't offer me a scholarship. For me it really came down to Iowa, Boston College, Ohio State and North Carolina. 
Who handled your recruitment for the Buckeyes?
GF: Ironically Coach Tressel had just left Ohio State. (Then-quarterbacks and receivers coach) Tom Lichtenberg came in, I believe in January. I didn't hear anything until almost the second week of January my senior year. It's kind of amazing. I actually reached out because I wanted to know if they were interested, and sure enough they were. So it kind of started from there. To be more specific, it was Tom Lichtenberg and Earle Bruce.
What was your visit to campus like?
GF: I really liked it. Coach Bruce sold me. I trusted him. I respected him and I just had a real good feeling in my gut. I also had a desire to play baseball and he was willing to honor that, so that was big with me. Ultimately, combined with the fact that it was two hours away from my parents, it was a great combination for me.
What is your earliest football memory at Ohio State?
GF: My first game, we played in the Meadowlands against Alabama. I remember running out for warmups and looking around with this 'wow' feeling. The turf monster got me and I went face-first right into the turf. It was classic and of course the other guys were just all over me. I bit it hard.
Some of Ohio State's biggest comebacks (Minnesota, LSU, Iowa) happened during your career. What was it about those teams that led to these dramatic late-game heroics?
GF: Jokingly you could say that we had a lot of opportunities to do that. (Laughs) It was just a never-say-quit attitude. That's the way I was brought up. There was always a silver lining. No matter how bad we were playing or how things were going against us, we always believed. One play could turn it around and one quick score could get us back in the game. It didn't take much to have a little bit of momentum. We just had huge belief that we could do it.
No comeback was bigger than the 31-0 deficit you overcame at Minnesota. What was it like to be part of that?
GF: We scored right before halftime and went for two and got that, so it was 31-8. When you're down 31-8 versus 31-0, it feels really good, believe it or not. It's an amazing perspective. It was very calm. We knew we were shooting ourselves in the foot and we knew we could score on them. We were very focused on what we had to do. I just remember talking to everyone saying, "Guys, we can do this. We can score on these guys. They cannot stop us." That's all we talked about and we got real focused on that. We made a few adjustments like you normally do. But it was that little bit of confidence we got from scoring before the half that just gave us a little bit of momentum we needed.
You were a freshman during Earle's final season in 1987 and then saw the beginning of the John Cooper era. What was that transition like for you as a player?
GF: It was tough. Earle recruited me. I hadn't been through a political change, but it was kind of like that. You have a whole new regime coming in and they want their people. And Coach Cooper wasn't shy about that in his first year. He wanted his own guys. For a while we kind of felt like outcasts—the Earle guys. I think over time that diminished, but you get all new coaches for the most part and offensively a different style of coaching. So it was vastly different.
Did you guys buy into Coach Cooper right away or was there a feeling of him being a bit of an outsider?
GF: A little bit of both. I mean, yeah, he's from Tennessee and he's coming from Arizona State, so that seemed like worlds away. But at the same time, you're very open-minded because hey, he's in control of our playing time now. So I was very open to getting to know him and the coaches and dived in. It was my opportunity to be a quarterback, so I was trying everything I could do to get indoctrinated in their system and learn and grow and show them that I could be the guy.
Which games and moments still stick with you from your time at Ohio State?
GF: There's quite a few. The comebacks certainly come to mind right away. Those are all very, very special to me. Our first win with Coach Cooper in '88, we beat Syracuse and they were coming off a really solid season, ranked very high. We played a nearly flawless game. That was my first start, so that was a big day for me. I don't think I slept for three weeks.
Beating Michigan in '87 up there in Earle's last game—I got to play one play in that game and contribute. That was really big. That might have been the best locker room I've ever been in—beating them when everybody had written us off because Earle got fired on that Monday. That was an amazing, life-lesson type of a week.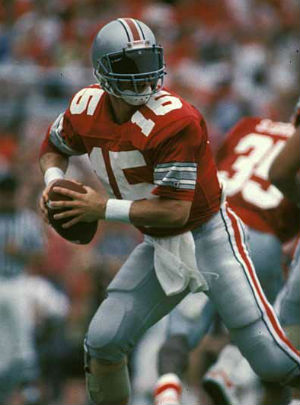 And the '88 Michigan game stands out to me too, because we darn near pulled off another comeback from losing 20-0 at halftime and actually took the lead on them late in the game. We drove like 90-something yards and scored too fast. For me, the electricity in the stadium that day was like nothing else I've ever experienced in my life. It was palpable and I will never forget how that felt, even though at the end John Kolesar ripped our hearts out. It was everything that game is supposed to be.
Do you still have your "Earle" headband the players wore for that game at Michigan?
GF: Oh yeah. I do. Absolutely.
What do you miss about Ohio State, independent of playing sports?
GF: I had a blast in my academic experience. I had some great professors. I was an English major and had a minor in military history. I had a blast with getting to know my professors and digging into some of those classes and doing the social thing on campus—even though when you're an athlete you're a little bit limited. It was a very positive experience for me. 
What sticks out to you about your senior year?
GF: I remember running out the tunnel my senior year, every time I ran out, really appreciating how awesome it is because you knew those days were numbered. There's just nothing like it except throwing a touchdown pass. That's a little better.
How emotional was Senior Day for you?
GF: It's pretty overwhelming because you know this is it. That's very bittersweet. We lost on our Senior Day and I was beside myself. I couldn't walk off the field almost. It was horrendous. It was one of the most horrible feelings of my life.
At the end of your career, was there interest from NFL teams or a chance to extend your career professionally?
GF: I played baseball my last two years. In hindsight it hurt my chances really on both sides. When I got done (with football), nothing happened that summer and I was just devastated that I didn't get invited to a camp. There was a lot of discussion but nobody invited me. The next spring I went to spring training with the Detroit Tigers. I had opted not to go (the previous year) because I was holding out to a chance to play football.
As I recall, Coach Bruce got me an opportunity to play in the Canadian Football League and I turned it down, which was an absolute mistake. That was just foolish on my part. I missed out on an opportunity. In spring training '92, I went for a couple months, did great but was way behind and I knew it. I said, "Thanks but no thanks," and I walked away and really was at peace about that. At 24 years old in the minors, you're old. I didn't want to be 28, stuck in Triple-A, and wondering what's going on.
How did you end up getting involved with the Ohio Glory?
GF: I came home from spring training and literally two weeks later I was starting to look for jobs and I got a phone call from the Ohio Glory of the World Football League. One of their coaches was a former GA at Ohio State. He said, "We just had a guy get hurt and we need a quarterback on the practice squad. Do you have your passport handy? If you say yes, we're catching a flight to Barcelona in the morning."  They had blown me off initially. Honestly, they didn't think I could throw the football because I played at Ohio State. Larry Little was the head coach. That's what he thought. So when they called me I told them no out of spite. And then about a half hour later I called them back and said, "OK, I'll do it."
That was my best opportunity and it took me maybe a month to get the starting job. I did great and they were like, "You're going to be the guy next year." I started to get some discussions from NFL teams and then the World League folded the next year. So it wasn't meant to be. In 1993 I played Arena Football for the Cleveland Thunderbolts, trying to hang on to buy another year. I just got beat up pretty bad -- two concussions and a separated shoulder in eight weeks. I said, "That's it. I'm done." I walked away and that was it.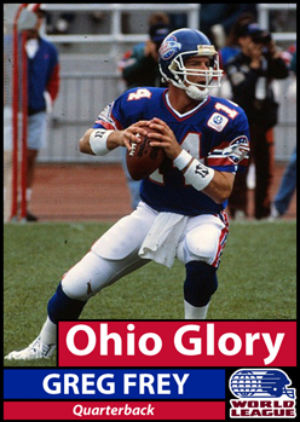 How did you end up getting into television?
GF: It started with radio. I was with 610 (WTVN) for about 10 years. That started in...it might have been '91. George Lehner said, "Hey, come check out a Bucks Line and just sit there with us." Ten years later I was still doing it. That was a lot of fun. I stopped in '01 and of course the next year they win the national championship. After a couple years away from that I got a call to do a state championship game (for TV) in 2004 and just loved it. I've been doing state championship games ever since and now I've got games pretty much all season long. I start next week and I can't wait. It's a blast.
You also got involved coaching in high school as an offensive coordinator. What was that like for you?
GF: I coached for five years, from '04 through '08. The first three were at Bexley High School and then the last two were Pickerington North. I loved it. I'm a coach at heart. I knew at some point I wanted to do it and finally got the right match with the right staff. I really bonded with Tom Phillips, who's still the coach at Pickerington North.
Have you spent time with Urban Meyer at all since he took over at Ohio State?
GF: As a former captain, he very much has an open door policy. Urban and I met way back. He was a voluntary assistant coach at St. Xavier my senior year, before he came to Ohio State to be a graduate assistant. I've seen him a few times in the last year and he's been very welcoming.
We actually got to play golf—Channel 10 did kind of a Ryder Cup challenge with former Buckeyes. It was me, Coach Meyer, Scoonie Penn and Michael Redd against four of the Blue Jackets. Coach Meyer and I got teamed up for about six holes. That was neat, getting to spend some time with him. He was adamant about, "Hey, come over any time you want. Sit in meetings, do whatever you want to do. Bring your son." And that was really nice. I just don't have the ability to do that as much as I would like but it's nice to be able to do that and be welcomed.
What is your favorite Ohio State tradition?
GF: As a player, it was Hang on Sloopy. I remember a couple of times at the end of the third quarter I'd walk to the sideline and they'd play that and Neutron Man would dance (in the stands). I was always sneaking a peek. I would suck in a little of that because it was so special to see and to feel the energy in the stadium.
And Script Ohio, now that I'm a fan—we didn't get to see that when we played. The band would come to practice once or twice a year and do that for us which is really cool. We actually got to participate in Script Ohio, which is amazing. But now, as a fan and a parent, seeing Script Ohio and the band coming out before the game, it's special. There's just nothing like it. My hair stands up every single time.