Well friends, it's that time again. Believe it or not, we're a week away from watching the boys in the Scarlet and Gray duke it out with the Middies. Braxton Miller is out, but the end goal is still in sight, and to help provide clarity, I've tapped some of the brightest bros in the business to give their #HOTTAKES.
Ladies and gentlemen, without further adieu I give you the first of many 2014 season RoundTables.

What are your thoughts on the loss of Braxton Miller. This is a trust tree. Be honest.
Michael: I just hope Dr. Andrews can repair the damage so his career can continue. I hate this more for Braxton than for the team's prospects. Ideally you'd like to see the kid go out, win a championship and get drafted after his senior year as a reward for all that he's done for the program.
Kyle: Overall, the offense will still put up plenty of yards. There won't be as many explosive, 2,3, or 4 play drives like there were last year, but we'll still see plenty of points with Barrett leading the way.
DJ: I was gutted at first, but in retrospect, it was better this than have him lose an entire season because he got injured in the fourth quarter of Ohio State's first conference game. (/Salute Christian Bryant). It also gives Ohio State time to prepare, and thankfully Virginia Tech isn't Alabama or Michigan State. (The Hokies will still be tough, though.)
In the end, J.T. Barrett gets invaluable experience (Ohio State will know what they have with him, for better or worse, by the end of the season), and Braxton returns for 2015. Sucks now, but this time next year it will be a good problem to have. Right now, I deal with it by pretending Braxton actually turned pro after the 2014 Orange Bowl.
Chris: I hurt for Braxton more than the Buckeyes though I'm past the grief stage and am now fully interested in seeing how the offense works when not leaning on one or two guys to carry the bulk of the load. Beyond this year, assuming Miller does actually return, I'm curious to see if he comes back as an all-purpose weapon instead of a signal-caller. He would obviously still be the best QB on the roster but if he wants to play professionally, the position switch would make sense for him and potentially Ohio State.
 
How much confidence do you have in JT Barrett leading the Buckeyes to a B1G championship? The playoff?
Patrick: First of all, I think JT Barrett just has to be JT Barrett for Ohio State to make it anywhere. He's not Braxton Miller, and if Ohio State asks him to be, it'll be in trouble. If Meyer and Co. are smart (they are), they'll use him as the distributor he is. Barrett has the supporting cast to make it to the Big Ten title game and, potentially, the playoffs. 
Do I think he can help them to Indianapolis? Yes. Do I think they can win the league championship? Yes. Do I think they're playoff contenders? Yes. Fringe contenders, but yes. Do I think they'll make it to the playoffs? No. 
Jeremy: Barrett's job is simple: distribute, don't turn it over, and don't feel like you have to do "too much." He's not Braxton Miller, and he knows it, so use the guys around him and watch the entire offense grow together. There's a strange benefit to Miller being out and that's the chance for everyone to become cohesive at the same time, gelling together. I think Ohio State is still a B1G contender with JT Barrett under center, and if they do that, they put themselves in the mix for the CFB Play-Off.
Ramzy: How much confidence do I have in a system quarterback recruited for an Urban Meyer offense to participate in a championship run with dozens of 4 and 5-star players around him? All of it. That's why he's there. The Buckeyes should be favored in at least 11 of 12 games this season. Ohio State is absolutely capable of being a chalk team that pulls one upset.
Nicholas: There are two ways of looking at this, either with or without scarlet-tinted glasses. The optimistic perspective: Urban Meyer's quarterbacks have a great track record, and Tom Herman might be a quarterback coaching savant. Barrett has a redshirt under his belt, and he has taken half of the first-team snaps since the Orange Bowl. He's more developed than Braxton Miller was as a sophomore, and in case you didn't notice, the last two Heisman winners were redshirt freshman quarterbacks. I'm not saying JT Barrett is going to win the 2014 Heisman, but I am implying it!
And now for a cold slap of reality: The best-case scenario for JT Barrett would be something like Colt McCoy's 2006 season with Texas. McCoy passed for 2,570 yards and 29 TDs; you may also recall McCoy having no impact against Ohio State's killer defense and Texas finishing 10-3. OSU must beat Michigan State to get to the Big Ten Championship Game, and that's just not going to happen unless Barrett plays 90% as well as Miller did in last year's title game. If the Buckeyes lose to Sparty, kiss the playoff goodbye.
 
There's some talk of platooning Barrett and Cardale Jones. It worked for Urban in 2006. Will it work this year?
Mike R.: No, and here's why. Both Cardale Jones and J.T. Barrett are not "they need to be on the field type players." Leak and Tebow were both QB's that couldn't be kept on the sidelines and I do not think that Jones is that kind of player.
Johnny: It won't work, and I hope he doesn't go that route unless J.T. really struggles. Tebow the backup was always more of a situational fullback instead of a full-fledged quarterback, and while Cardale and Barrett are about as different physically as two QBs can get, neither are experienced enough to give up reps to the other. One or the other needs as many game reps as humanly possible, and platooning them will result in a wasted year developmentally for both. Unless Cardale has some really specific packages made up for him that he can run flawlessly, stick with Barrett. 
Mike Y.: It worked in 2006 because he knew the limitations of each QB, plus the drastic difference in styles of play allowed Tebow and Leak to work together. I don't think we'll see anywhere near that kind of platoon. Maybe Cardale, because of his size, will come in for some short-yardage situations, particularly around the goal line. They did that last year, though, with goal line packages for Kenny Guiton at QB.
Jeremy: Unless it's a very specific role for Jones, I don't think this will work. In 2006, Tebow was a short-yardage, running option almost exclusively and it worked well for the Gators but that was a senior and a freshman, not two freshman (essentially) vying for the role of leader on a team full of fresh-faced youngsters. Pick a guy, ride him until you know he can't handle the job and then consider other options. There's nothing worse for an inexperienced QB who is trying to gain confidence than the fear of a constant quick hook.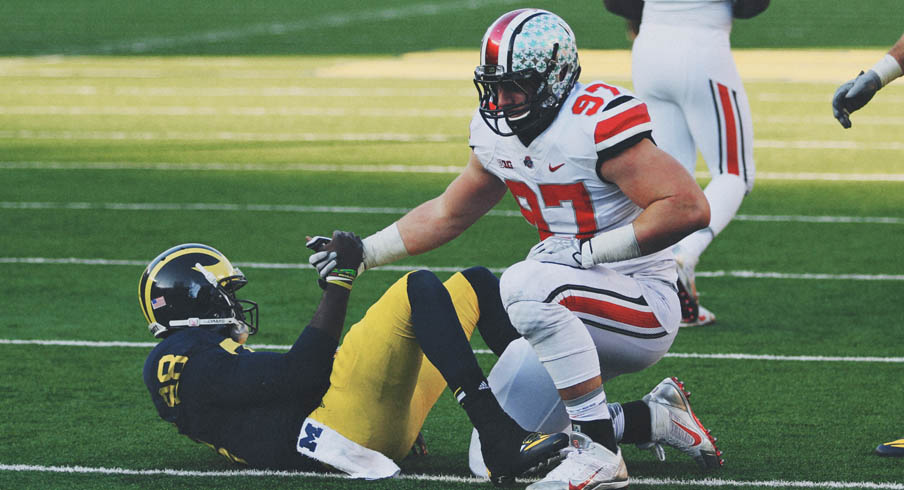 When it's all said and done, will the defensive line be the best in the country?
Tim: I think it very well could be. All four of those guys have NFL potential, it's just a matter of staying healthy and living up to all of that hype. 
Ramzy: Can't speak for the rest of the country but it will be at least the best DL Ohio State has had since 2010. The 2003 line is probably the best this century - this year's could threaten that one.
Mike R.: The defensive line is going to be the best in the country for two reasons: The talent is there and the rotation that Larry Johnson incorporates is going to work wonders. Bosa and Spence are going to stay fresh each game, same with Bennett and Washington, and the guys that come in to sub them are going to be fresh. They are going to put up huge numbers.
Nicholas: I think it will. Nobody has a deeper d-line than Ohio State; only Clemson has a better starting four, and only Alabama has more blue-chip recruits on the roster. Ohio State has one of the best starting four in the country, and it certainly has the deepest d-line. I'd like to see if Larry Johnson's rotations mean the line is significantly fresher in the fourth quarter; if so, I'd take Bennett/Bosa/Spence/Washington/whoever over anyone else.
Mike Y.: Alabama, Clemson Florida State and UCLA all have strong defensive lines. A few of those are missing a piece from last year, but even if those teams do return their entire line – like Clemson – they still don't have as much overall talent as Ohio State's front four. Michael Bennett might be the best interior pass rusher in the country, and, while it's difficult to imagine, Joey Bosa will be even better than last year. Add in a healthy Adolphus Washington and, when he returns from suspension, Noah Spence, you'll have the best defensive line in the country.
 
Who will lead the defensive line in sacks at the end of the season?
Michael: I'm going to go with Noah Spence here because I think Joey Bosa will see more double teams and Spence will have a chip on his shoulder after the suspension.
Johnny: My guess is Bennett. Bosa and Spence (once he gets back from his suspension) will probably occupy a lot of attention due to their flash and dash, but Bennett had seven sacks of his own last season playing with essentially one arm. And again, I would like to point out that I said this kid was going to be a star like four years ago and ultimately deserve all credit for all of his present and future success.
DJ: Noah Spence, but Joey Bosa is going to get his. Spence, however, will be the main beneficiary as offensive lines will undoubtedly focus on the whirling dervish that is the man they call the Big Bear. 
A lot of people forget about him due to some idiot spiking his drink with ecstasy, but Spence is already seen as a first round pick. He could easily play himself into top 15, top ten status. 
So yeah, I'm as high on Noah Spence as Spence must've been at whatever shitty off-campus party he got his drink spiked. 
Patrick: Noah Spence. I waffled between him and Joey Bosa, for the record. But Spence being the viper means his job is usually to be the chief pass rusher. Bosa will get double-teamed a lot this season.
 
The receivers are green but talented. Who are you most looking forward to seeing perform this season?
Tim: Can I say Dontre Wilson here? I'm going to anyway because it's America. I wasn't exactly blown away with his performance last year, but I definitely saw the potential. I also think Jalin Marshall could have a huge season.
Kyle: Dontre Wilson, without question. His explosiveness is unmatched on this team, and the coaches have really only scratched the surface in terms of finding ways to get him the ball. 
Chris: I'm excited to see if Jalin Marshall can be a factor in the slot and in the return game. He'll obviously have to work his way onto the field with Dontre having a one-year head start in the slot but I have a blind hunch the kid will be a force. I would also say Michael Thomas because he just might be the breakout guy in the group but I figure everyone else is already tabbing him.
Ramzy: Michael Thomas. I like my receivers, rangy, cocky, immensely talented and just a little bit crazy. He's my prototype.
 
Which receiver will lead the team in receptions? With how many?
Mike R.: Dontre Wilson with 60.
Michael: I wrote about that earlier this offseason and went with Devin Smith's experience. I had him for 54 receptions for 753 yards and nine touchdowns. Braxton being out doesn't change my answer, but I'll drop his totals to 49 catches for 695 yards and seven touchdowns. I think Barrett will benefit from the extra weapons and spread the ball around.
DJ: Corey Smith is going to lead Ohio State in catches. A lot; Corey Smith is going to have a lot of catches.
Patrick: Michael Thomas. 60. I think for Ohio State to be successful, it's going to have to spread the ball around a lot this season.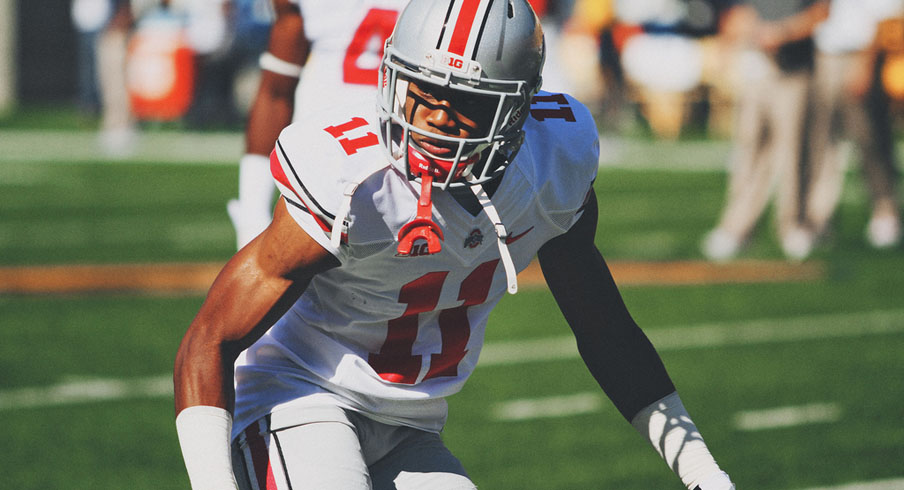 The secondary has to be better, right?
Nicholas: I have no doubt they'll be better. I don't see Chris Ash as a can't-miss position coach like Ed Warinner or Tom Herman, but having Ash responsible for the entire secondary will clear up some of the systemic issues from last year. Bradley Roby was solid for much of his career, but he wasn't as good as billed in 2013. With additional depth, an aggressive (and cohesive!) scheme that takes advantage of the roster's athleticism, and the general idea of regression to the mean, the secondary is all but certain to improve.
Mike Y.: The main issue plaguing last year's secondary, I felt, was the scheme. It wasn't conducive to the talent, there was poor communication amongst players and, especially poor communication by the coaches to the players. With Chris Ash, those issues are solved. Outside of Doran Grant, though, there are legitimate concerns about experience. Really the answer here is: of course it will improve because it can't be any worse than last season.
Johnny: Yeah, because it's hard to get much worse than hot garbage, or 112th in the nation as was the case last season. Hopefully another year makes these guys another year wiser, and hopefully Ash's simplified scheme calms down their gametime jimmies.
Jeremy: Good gracious, it better be. The reasons it should be? Experienced cornerbacks and a new aggressive approach thanks to Chris Ash. The reasons it won't be? Losing CJ Barnett and Christian Bryant, although Vonn Bell is a better talent than either of those two were, their leadership and experience was invaluable. The defensive line's success will directly impact the secondaries success.
 
Who steps up to fill Carlos Hyde's massive shoes this season?
Chris: No one player will match his 208 carries, 1521 yards or 15 touchdowns. I see Ezekiel as the leading rusher on this team but the depth will keep him from going for 1,000.
Tim: It's not going to be one guy, but I think Ezekiel Elliott will run for roughly 900 yards, if healthy, and Rod Smith will go for about 500. I think Ohio State will throw the ball more this season without Miller.
Kyle:  EzE ends up with just over 1000 yds, but Dontre and Barrett end up with plenty of yards on their own (over 400+ each).
DJ: ROD SMITH FOR 1,200. (100 emoji)
 
Who is the freshman not named J.T. you are most looking forward to watching this season?
Mike R.: Jalin Marshall. If he hadn't gotten injured during fall camp last season, he would've made a huge impact on the 2013 campaign. He is just too talented not to.
Michael: I can't wait to see Curtis Samuel get the ball in space. Every time Dontre Wilson touched the ball last year, he looked a threat to take it to the house. Now here comes Samuel, a kid who is faster and bigger. How can you not be excited about that?
Nicholas: Raekwon McMillan, because a freshman linebacker who draws comparisons to Andy Katzenmoyer and is named for a danged Wu Tang Clan member is as interesting as they get.
Jeremy: Raekwon McMillan is my choice and that's because I genuinely believe by the time B1G play rolls around he'll be a true freshman starting at middle linebacker for the Buckeyes, which we've not seen since 1996. I know that he's behind Curtis Grant on the depth chart right now, but McMillan's talent and drive will rise to the top.
DJ.: Johnnie Dixon. That fella is the best receiver Urban Meyer has signed, and Dixon is going to play in the NFL for a long, long time. I'm trying to appreciate every second of his career this year.
 
Project Ohio State's record:
Johnny: 10, including the bowl game. Michigan State takes us out, we stumble early versus Navy or Virginia Tech, drop another one we shouldn't, but then recover and win the bowl game. I will say this: if we lose to Michigan this year I will be furious, for so many reasons other than the usual.
Tim: I don't think a 10-win season is out of the question, but there is so much unknown at the quarterback position. I think the Virginia Tech game will give Ohio State some trouble because of its defense and the Michigan State game was already circled before Braxton Miller got hurt. I'm going to say they finish 9-3, but I think 10-2 is a possibility.
Kyle: 11-1. I didn't think the Buckeyes were winning in East Lansing with Braxton, and that doesn't change now.
Ramzy: 15-0. I'm not interested in hedging for my emotions' sake this year. Win all the games.
 
You've got one thing to say to J.T. Barrett in the locker room before he takes the field against Navy. What do you say?
Mike Y.: J.T., ESPN says your team is depleted when, really, the only difference is that you're now the starting QB. How does that make you feel? Pretty awful, huh? I've also seen at least three fake J.T. Barrett Twitter accounts. If you succeed at this, there will be many more. Do you really want to put that evil on society? Sorry, I'm bad at pep talks.
Chris: <Leslie Nielsen voice>I just wanna tell you Good luck. We're all counting on you.<Leslie Nielsen voice />
Patrick: Just be you. You're going to go as far as your supporting cast will let you. 
Jeremy: Be yourself and don't worry about who you're replacing. You came to Ohio State for one reason, and that's to lead the Buckeyes' offense and to do it in a different way than Braxton Miller. Your biggest strength is the guys around you, use them, rely on them and more importantly trust them and they'll trust you.
Kyle: You know this offense, you know where the ball is supposed to go. Just focus on making your reads and letting the defense show you where the ball should go. There is so much talent around you, don't hesitate to lean on Devin, EzE, Dontre, and the rest of those guys. Your job is to let them make plays. Give them chances to be explosive, and we're walking out of here with a W.
DJ: One day — maybe tomorrow —  the sun is going to explode and wipe mankind from his miserable existence on this shitty intergalactic pebble we call home. Everything you see around you, the stadiums, the fans, you... will one day be nothing ash at the bottom of our galaxy's ashtray. So who gives a shit what happens today? What do you ultimately have to lose? You came to Ohio State for this day. You came to Ohio State so you could one day lead the Scarlet and Gray to victory. So don't let some pissant like the fear of failure stand in the way of what you came here to do. Now go out there and make a goddamn play for your team.