Exactly one week away from taking on the Navy Midshipmen in Baltimore to kick off the 2014 season, Urban Meyer and staff are still working to put the finishing touches on the two-deep depth chart. 
Upon welcoming a new co-defensive coordinator and safeties coach in Chris Ash along with assistant head coach and defensive line overlord Larry Johnson, the effort to replace four starters and seven letter winners began in earnest. 
On offense, the task was even taller as the Buckeyes lost 10 letter winners and six starters including their leading rusher and receiver along with the bulk of arguably Ohio State's best offensive line in school history. As you may have heard, the project of retooling the offense's two-deep became that much harder with the season-ending shoulder injury to Heisman hopeful Braxton Miller a mere five days ago and just 12 days before kick off. 
Despite the attrition, both planned and of the blind-sided variety, Meyer now has three of his own recruiting classes to draw from and the cupboard looks to be far from bare. The rub is that a solid chunk of the talent vying for playing time is unproven at the collegiate level which means that even when the staff settles on a two-deep for Navy, you can expect to see changes as the non-conference season unfolds. For now, however, here's a look at how things might shake out, starting with the offense. 
QUARTERBACK
With the loss of the league's offensive MVP two years running, Meyer and offensive coordinator Tom Herman will hand the keys to redshirt freshman J.T. Barrett. Interestingly, they'll do so mere days after announcing he had passed up redshirt sophomore Cardale Jones out of Cleveland Glenville on the depth chart, ready to serve as Miller's backup. 
Projected Offensive Two-Deep

| POS | STARTER | BACKUP |
| --- | --- | --- |
| QB | BARRETT | JONES |
| RB | ELLIOTT | SMITH |
| LT | DECKER | DODSON |
| LG | HALE –OR–  | PRICE/UNDERWOOD |
| C | BOREN –OR– | LINDSAY |
| RG | ELFLEIN | FARRIS |
| RT | BALDWIN | LISLE |
| TE | HEUERMAN | VANNETT |
| H-B | WILSON | MARSHALL |
| WR | D. SMITH | C. SMITH |
| WR | M. THOMAS –OR– | E. SPENCER |
Now, the Wichita Falls, Texas product will get first crack when the Buckeyes take the field next Saturday. The good news is that the kid who has yet to throw a collegiate pass and hasn't played competitive football since right before he shredded his ACL in October of his senior year of high school has shown a consistent ability in practice to move the offense. Herman and Meyer have both talked about Barrett's skills as a "distributor" which is good to hear because he lacks the speed and jukes (who doesn't) of Miller nor does he have a cannon for an arm. In addition to showing a knack for facilitation, Barrett has drawn rave reviews for his efforts in the leadership department with Meyer even inventing the word "Guitonish" for description purposes. Color me intrigued. 
At the ready should Barrett falter is Jones, the 6'5", 250 lb. Pryor-molded kid who didn't come to play school. Word is Jones has matured a great deal since his ill-fated comment though one has to wonder his mental state following an untimely demotion following 15 practices with the ones. From  skill-set perspective, Jones didn't get to show much last year as his spot-duty occurred with OSU routing opponents. In fact, he attempted just three passes, completing one, while typically handing off or keeping up the middle. 
Meyer lightly suggested he could use two quarterbacks this year but the hope is that one or the other is good enough to seize the job. 
RUNNING BACK
Gone is Carlos Hyde and his 1,521 rushing yards and 18 total touchdowns. Combined with the loss of Braxton's 1,068 rushing yards, Ohio State must replace 60% of last year's rushing offense. It's not likely they'll achieve such lofty totals in 2014 but that doesn't mean the cupboard is empty. 
Checking in at a 6'0", 225 lbs., true sophomore Ezekiel Elliott is poised to start the season at tailback despite undergoing minor surgery on his left wrist exactly two weeks ago. Though it's a small sample size, Elliott looked the part as a freshman as he averaged 8.7 yards per carry (30 attempts) with a pair of touchdowns. Even if Elliott picks up where he left off, there's reason to believe the offensive brain trust will share the rushing work load to both keep Elliott fresh and take advantage of a stable of talented backs. 
Fifth-year senior Rod Smith has been far more hype than substance during his rocky career in Columbus but facing a now or never situation seems to have had a positive effect on the 6'3", 231 lb. beast out of Fort Wayne, Indiana. Interestingly, Smith enters the season with more games, rushes, yards and touchdowns than any back on the team and in 83 career carries, only one has gone for negative yardage. Still, while Smith appears to have first dibs on the 2nd-string role, his spot is far from secure. 
On Smith's heels is the tandem of redshirt sophomore Bri'onte Dunn and true freshman Curtis Samuel. Dunn has also shown a tendency to get in his own way but you have to love his ability to run between the tackles, something that could elevate him on the depth chart as the league play begins and the weather turns cold. Samuel, a product of Brooklyn, New York, stole Urban's heart back in spring ball and could potentially see some snaps at H-back especially if carries from the tailback slot become scarce. For a guy standing just 5'11" with ridiculous quicks, Samuel is more powerful than he looks and has also drawn praise for his toughness. While he might not be a featured player in 2014, it's realistic to think it's just a matter of time. Meanwhile, it seems a good bet DeSales product and all-around great kid Warren Ball is once again on the outside looking in. 
OFFENSIVE LINE
With Ed Warriner forced to replace four starters from last year's group, it's no surprise two spots are still up for grabs.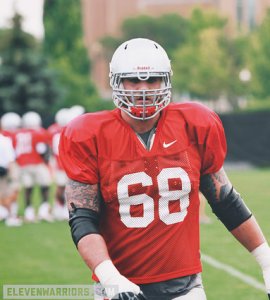 Returning starter Taylor Decker is the unquestioned leader of the line but even he is going through a transition as junior from Vandalia moves from right to left tackle. Indications out of camp are that he's settled into the role nicely but the responsibility of protecting the quarterback's blind side is still new. Another spot currently accounted for is right guard, which belongs to redshirt sophomore Pat Elflein. The Pickerington North product filled in admirably for Marcus Hall after his double-bird salute in Ann Arbor and backed that up with a strong performance against Michigan State in the B1G Championship. At right tackle, senior Darryl Baldwin has won the starting job ahead of redshirt frosh Even Lisle. 
At left guard, the trio of senior Joel Hale, redshirt freshman Billy Price and redshirt junior Antonio Underwood continue to battle. At times, Warriner and Meyer have touted all three so a rotation in the first game or two could be needed to for a true starter to emerge. For now, my guess is Hale gets the first shot a week from today with strongman Price the next in line. 
At center, the competition is also fierce with junior Jacoby Boren and senior transfer Chad Lindsay vying for the starting gig. Lindsay left Nick Saban's program for a chance to start after earning just four starts over the course of three seasons in Tuscaloosa while Boren is a legacy who has been groomed for the position. While no definitive starter has been named as of yet, my gut says Boren will run out with the starters in Baltimore though an early rotation of sorts could be a reality. Price has also seen practice time at center though it's unlikely he'll end up there. 
Names like Kyle Dodson, Chase Farris, Jamarco Jones, Demetrius Knox and Brady Taylor provide additional depth up front. 
RECEIVERS & TIGHT ENDS
Ohio State is loaded at tight end with senior captain-to-be Jeff Heuerman, junior Nick Vannett and freshman Marcus Baugh. 
Coming off the best season by a tight end since Ricky Dudley in 1995, Heuerman needs just 383 receiving yards to move into 2nd place on the school's all-time list for tight ends behind Bruce Janikowski. Stuck in Heuerman's shadow to a degree, Vannett is good enough for Ohio State to sport one of the best tight end duos in the country and Baugh, while green and likely a year away from contributing, is a four-star out of California. 
The rest of the receiving corps is equally loaded with talent however much of it is unproven. The lone receiver that has truly earned his stripes is senior Devin Smith who is coming off a 44 catch, 660 yard, eight touchdown season that saw him both dazzle and disappear though some of his ghostly ways can be attributed to Braxton's rocky final five games of the season through the air coupled with Meyer/Herman buttoning up the offense over that same span. 
Who joins Smith as a starter at wideout is not yet carved in stone, nor will it matter much considering Zach Smith has enough weapons that he'll want to rotate guys in an effort to find his best pair. For now, my guess is Evan Spencer may be on the field for the first snap against Navy but over the course of first few weeks, Michael Thomas should cement a starting role. Thomas frustratingly took a redshirt last year but considering his size and hands outdo Spencer's strong blocking ability, the time might be now for Thomas to make his move. 
Corey Smith and Johnnie Dixon might be next in line but make no mistake it's a crowded one as 6'5" Jeff Greene could also work his way into the fold though it might be tougher for names like freshmen James Clark, Parris Campbell and Noah Brown. 
At the oft-discused H-back position, Dontre Wilson has a firm grasp on the starting spot but Jalin Marshall should get a chance to show what he can do. Curtis Samuel looks to be a running back first but as noted, if things get too crowded there and Meyer is set on getting him touches, they could come from the slot. So, basically what I'm saying is holy smokes there is loads of unproven talent just dying to compete for snaps. 
Now that we've weaved our way through the offensive spots, we turn our attention to a defense looking to reestablish themselves as the Silver Bullets. 
DEFENSIVE LINE
The unquestioned strength of the team, the defensive line is loaded with stars and depth, so much so that most pundits are calling them the best d-line in the land. 
PROJECTED DEFENSIVE TWO-DEEP

| POS | STARTER | BACKUP |
| --- | --- | --- |
| VIPER | SPENCE | MILLER |
| DT | BENNETT | CARTER |
| NT | WASHINGTON | SCHUTT |
| DE | BOSA | LEWIS |
| WLB | PERRY | JOHNSON |
| MLB | C. GRANT | MCMILLAN |
| WALKOUT | LEE | WORLEY |
| SAF | BELL | BURROWS |
| SAF | POWELL | TANNER |
| CB | D. GRANT | G. CONLEY |
| CB | A. REEVES –OR– | E. APPLE |
In the middle, 6'2", 288 lb. senior Michael Bennett out of Centerville will be paired alongside 6'4", 295 lb. junior Adolphus Washington in the starting lineup. Bennett placed 4th in TFL and 3rd in sacks on the unit a year ago while Washington was a bit of a disappointment finishing with 4.0 TFL and 2.0 sacks though he was often nicked up. Tommy Schutt has come on of late and projects to figure prominently in the inside rotation with Chris Carter and Michael Hill also poised to contribute. 
On the outside, returning starter Joey Bosa is already a star after a stellar freshman campaign (13.5 TFL, 7.5 sacks, team-leading 6 QBH) and junior Noah Spence is a beast in his own right coming off 14.5 TFL and eight sacks a season ago. Of course, Spence is suspended for the first two games paving the way for seniors Steve Miller and Rashad Frazier to see increased time with Jalyn Holmes looking to earn some snaps of his own at the viper spot. Behind Bosa, redshirt frosh Tyquan Lewis is making a case for playing time. 
Coach Johnson has said he's focused on using a deep rotation and it clearly looks like he's got more than enough talent to wear down offensive lines. 
LINEBACKERS
The position group that has taken the most flak during Urban's short tenure, Meyer now considers the linebackers a unit of strength. While I love the depth, I'm not personally as bullish on this group largely because I need to see starting middle linebacker Curtis Grant take the next step and complement weakside starter Josh Perry, while also wanting to see what sophomore walkout linebacker Darron Lee can bring to the table. Again, I see the potential of the trio and love that Perry and Grant have so much experience but until they consistently produce on game day, I'm sticking to being cautiously optimistic. Their chances of living up to Meyer's billing certainly go up playing behind that monster defensive line. 
That said, you have to be giddy about the depth Meyer has brought in with all-world freshman Raekwon McMillan pushing Grant for time, redshirt freshman Chris Worley on Lee's heels and the duo of sophomore Trey Johnson and junior Camren Williams still in the fold. None of this even mentions future contributors in freshmen Dante Booker and Joe Burger. 
SECONDARY
The weakest link of last year's Bullets, the secondary has been completely retooled with the installation of Chris Ash's more aggressive pass defense and the loss of Bradley Roby, C.J. Barnett and Christian Bryant.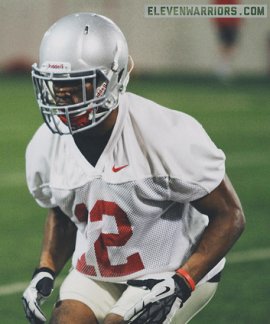 Of the two corner spots, one is locked down by senior Doran Grant who should challenge for all-league honors while redshirt sophomore Tyvis Powell is a definite starter at one of the two safety spots. Of the returning players, Grant is the 2nd leading tackler and Powell the 5th. 
Opposite Grant, my hope is Eli Apple earns the first chance to start. I love the kid's frame (6'1", 198) and after Armani Reeves was scorched more than a handful of times in coverage, I felt the staff could have used the former five-star out of New Jersey last season.  Speaking of Reeves, he's certainly in the mix at corner or nickel and the fact the staff saw fit to play him so much last year says plenty about his potential. Meanwhile, redshirt frosh Gareon Conley is the third guy in the mix to pair with Grant as this position battle will likely rage into the first month of the season. 
At safety, Vonn Bell looks to be the odds on favorite to start with Powell but Cam Burrows will at least spell both players if he doesn't earn a starting job. If not for the curious decision last year to continue running an overmatched Pitt Brown out there, Bell would be much further along in his development though he could still be on the verge of a breakout season. Ron Tanner offers additional depth but a three-man rotation of Bell, Powell and Burrows is the most logical scenario. 
SPECIAL TEAMS
When you talk Ohio State special teams, you have to start with Australian punter Cameron Johnston. As a freshman who joined the squad last summer, Johnston lead the country in percent of punts downed inside the 20 and finished 2nd in the league with a 44.0 average yards per punt. Because of his skill, Ohio State only had the opportunity to tackle a punt returner seven times all year. 
As solid as the punter situation is, the placekicking job remains up in the air as senior walk-on Kyle Clinton does battle with freshman hotshot Sean Nuernberger. The prevailing thought is Nuernberger wins the job while also serving as backup punter while Clinton could potentially handle kickoff duties. 
In the return game, things are still fairly murky although it's seems a good bet Dontre Wilson will return kickoffs alongside maybe Jalin Marshall, Curtis Samuel, Johnnie Dixon or Mashon Lattimore. Marshall and Wilson are also likely front runners on punt returns.