Before Beanie Wells, there was another leading Ohio State rusher named Wells who wore No. 28 in the Buckeye backfield—Jonathan.
A native of River Ridge, Louisiana, in the New Orleans area, Jonathan Wells helped John Curtis Christian High School win three consecutive class 4A state championships. A big, bruising back, Wells drew interest early from many schools and chose to play his collegiate football at Ohio State.
From 1998 to 2001, Wells played under John Cooper, arriving on campus as a backup to the likes of Michael Wiley and Joe Montgomery in a crowded and talented backfield. In his four seasons, he racked up 2,381 yards and 27 touchdowns on 479 carries.
Wells saved his best season for last, rushing for 1,294 yards and 16 scores his senior year of 2001. You remember it as Jim Tressel's first team—the one that kept the promise and beat Michigan on the road, snapping a six-game losing streak to That Team Up North that dated back to 1987.
He is currently ranked 16th on the school's all-time rushing list, but his 5.0 average yards per carry are better than several players higher up the list, including Pepe Pearson, Raymont Harris, Carlos Snow and Jim Otis.
After the 2001 season, the expansion Houston Texans selected Wells with their fourth round pick (99th overall) in the 2002 NFL Draft. He played four seasons in Houston, leading the Texans in rushing his rookie season.
Wells started 18 games over his four years with Houston, carrying 374 times for 1,167 yards and 10 touchdowns behind a historically bad offensive line.
He also caught 44 passes for 323 yards and two scores.
I spoke with the former Buckeye tailback standout and he graciously and enthusiastically answered my questions. Enjoy!
What have you been up to since you finished playing football?
Jonathan Wells: I've been working on record labels since then.  Originally I started a label called From the Ground Up and now it's called You World Global Media. We did a deal with Capitol Records recently and it's going well. I have a variety of artists—obviously we've got rappers, and some pop artists and I even have a 13-year-old pop artist.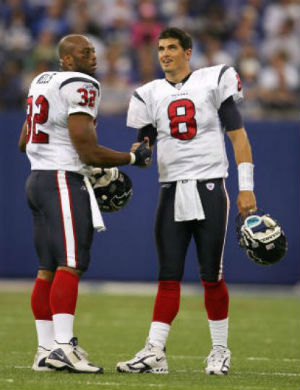 How does a kid from New Orleans end up as an Ohio State Buckeye in 1998?
JW: Honestly I think it was God, destiny. I didn't know anything about Ohio State until I saw Eddie George play in 1995. It was a very easy decision to go to Ohio State and follow a great player like Eddie George. I was a big kid too, and a lot of schools recruited me as a linebacker or full back. Ohio State was the first school to send me a letter my junior year. I kind of knew that's where I was going.
What was your life like in the New Orleans area?
JW: My childhood was interesting. It was rough. I had a brother who committed suicide when he was 12 and I was seven. We had some horrible years there dealing with that incident. But I was lucky. Both my parents were there for me and they were very supportive of me in anything I did. It was OK. I grew up in the murder capital of the world; New Orleans, with a lot of violence. What probably saved my life and sent me in another direction was going to high school at John Curtis Christian School. I was able to go on and graduate and play at Ohio State.
Who was responsible for recruiting you to the Buckeyes?
JW: Coach Tim Spencer (running backs) and (former quarterbacks coach) Tim Salem were the two main guys. Coach Cooper came down toward the end. Coach Spencer really sold me on the program and I had a lot of respect for him. He was an Ohio State great. If I was going to learn from anybody, why wouldn't I go up there with a great like that? It was a no brainer.
What were your first impressions of Ohio State?
JW: I came up a little early to start working out with the team in the summer my freshman year. (Strength) Coach Dave Kennedy had us running quarters, 400s. I was nowhere near running that distance. He broke my back and let me know if I didn't get it together real quick, I was going to take myself back to new Orleans.
Who did you room with and who were some of the guys you hung out with on the team?
JW: I came in and roomed with Derek Ross my freshman year. We had a bunch of great guys around—Jamar Martin, Cie Grant, Nate Clements, LeCharles Bentley—I was cool with all the guys. We had some great veterans who took us under their wing, like Dee Miller and David Boston. Michael Wiley was a great mentor for me.
Do you still talk to some of those guys? Or other former Buckeyes?
JW: I've been up in Columbus getting with a lot of the guys, Maurice Clarett, recently. Mike Wiley and I; we do a lot of autographs together…Pete Johnson. A bunch of guys.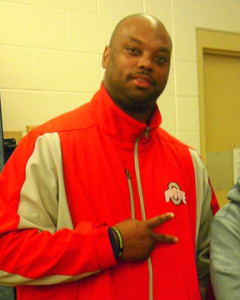 What moments of your OSU career stand out for you?
JW: Everybody likes to talk about the Michigan game because I had a great first half my senior year and other than that, it ended up being the game that broke the curse of beating Michigan at Michigan. I like to look back at the Northwestern game my senior year. That was a breaking point for me, as far as making some long runs. I took one 72 yards to the house and it was the first night game that year. That jump started my senior year, and gave me a chance to play in the NFL.
What was it like being a part of the Houston Texans—a new NFL team at the time?
JW: It was great being part of a brand new franchise, and being the first leading rusher in franchise history. Me and David Carr, we were kind of thrown to the wolves though. We had some offensive line issues, breaking the league record for sacks allowed by like 30 sacks. it was tough, but we got through it and from there it was a roller coaster ride—starting here, backup there. But I worked hard on special teams and was captain three years. I gave it my all and did whatever was needed to try to win games.  I played in the NFL four years and it was a blessing.
What prompted your football exit and the start of your career in entertainment?
JW: I never like to blame anything on injuries, but my last workout for Seattle I blew out my calf muscle. I had a lot of frustration with Houston for playing time and with my free agency was frustrating and it had a snowball effect. Once I got injured, I got into something else that I loved and put my passion into that.
Do you get back to Columbus for many games?
JW: I normally make one or two games a year. This year I'll make more because I've been down here in Atlanta but I'll be spending more time in Ohio.
Are you still a passionate Buckeye and follow the team?
JW: Absolutely, I don't miss a game. I don't care what part of the country I'm in, I've got to find the game. I'm the first player from Louisiana to play for Ohio State and we take football very seriously. I'm a die hard. I still bleed it 'til I die. Nobody loves Ohio State more than me.
What do you think will happen with the upcoming season in the wake of the Braxton Miller injury?
JW: It's a part of the game. Star players get hurt all the time. I feel bad for Braxton and what he's going through but you've got to have that 'next man up' mentality. These younger guys got their opportunity, although it may not be the way they wanted it. It's time to step up and make a name for themselves. I expect them to do that. They've been there a few years with Urban Meyer and they should be right up to speed.
Since you're still following the Buckeyes, who are some of the players who have impressed you since your days in Columbus?
JW: Troy Smith was obviously one of the best quarterbacks in Ohio State history. I loved watching him. I love my little bro Beanie Wells. There's a lot of players—Ted Ginn Jr., A.J. Hawk—I keep up with them all. I don't really watch NFL games unless they have Ohio State players I know, but I watch the Buckeyes.