Ohio State football radio broadcasts are a big deal. Sure, the national TV broadcasts draw fat paychecks, but it's radio coverage that Ohioans respect.
With Ohio State football's 63 radio affiliates, every square inch of Buckeye State soil is covered on football Saturdays. On those Saturdays, the man tens of thousands of Ohioans listen to is Paul Keels.
Keels has been the official radio play-by-play announcer for Ohio State football for 16 years. His booming bass voice is both reassuring and familiar, and his longevity has led to the nickname "the voice of the Buckeyes".
But Keels is not the first radio announcer to have become identifiable with Ohio State football. That honor belongs to Don Fritz, play-by-play announcer for Ohio State football from 1949 to 1954, who can stake a claim to being the original "voice of the Buckeyes".
---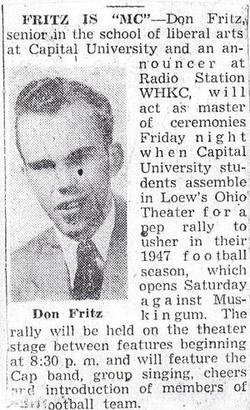 Don Fritz was born in Port Huron, Michigan, in 1927. Growing up two hours northeast of Detroit, he seemed destined to be a true-blue Wolverine. But a calling from above brought him to Columbus: his father Walter was a Lutheran minister. He attended seminary at Capital University, and he expected Don to follow in his footsteps.
Don was obedient. At Capital, he earned associate's and bachelor's degrees in theology. To pay his way through school, he took a full-time job at radio station WHKC, now known as 610 WTVN.
It was a logical move: a preacher has to be comfortable speaking to large groups of people, and in high school he had worked at WHLS in Port Huron, announcing updates on the European front of World War II. And a salary of $300-400 a month was more than enough to live on.
At WHKC, Fritz broadcast all kinds of programs: music, news, and (to his lasting embarrassment) food and gardening. During the Christmas season, he announced Santa Claus's arrival at the studio.
In 1949, one of the advertisers at WHKC bought the broadcast rights to Ohio State football games from another station. As station personnel had little experience covering live sports, the higher-ups held tryouts for the play-by-play position.
Fritz figured he'd have the inside track since he knew more about sports than any of the other WHKC announcers. He was right: after a practice run calling a local high school football game, WHKC named him their play-by-play announcer for Ohio State football games.
At the tender age of 22, Don Fritz was the voice of the Buckeyes.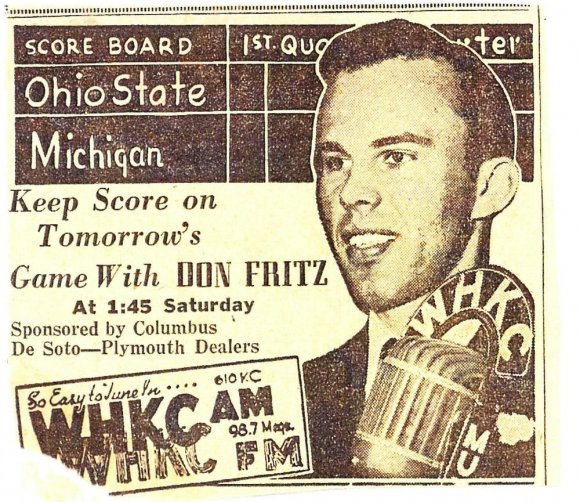 Nowadays, local announcers receive little publicity. Paul Keels and Jim Lachey and Marty Bannister are reasonably well known, but they're not a selling point for the marketers. In 1949, advertising was completely different.
WHKC quickly realized that while Fritz may have been a radio announcer, he had a face made for print. All his radio programs had advertisements including his youthful visage, and soon advertisements for Ohio State games did as well.
Before Don Fritz, nobody cared about who the radio play-by-play announcer for Ohio State games was. He wasn't just the voice of the Buckeyes; in a literal sense he was the face of Ohio State football.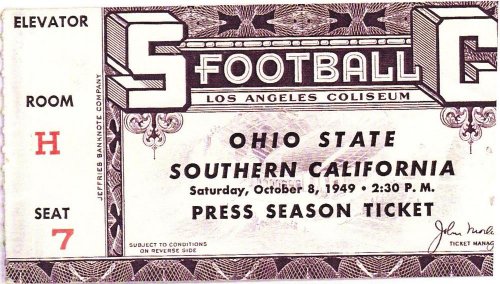 WHKC got more than it bargained for from the start. The advertiser who bought the broadcast rights failed to notice that Ohio State was scheduled to play at Southern California in week 3 – meaning that WHKC would have to fly its rookie announcer out to Los Angeles on the station's dime. Don laughed at this. "They weren't happy, but it was in the contract."
Much like today's broadcasts, Fritz had several on-air colleagues. On his left, he had the color commentator, whose job was to keep an eye on individual substitutions (more common then, since most athletes played both offense and defense). On his right was the commercial man, who took over during lulls in the action and at halftime.
The job soon led to complications in his life. He had to spend the entire 1950 season as a missionary in Florida (mercifully missing the Snow Bowl and Wes Fesler's firing). In 1951 he returned to the booth a married man. It was his wife who would give him the biggest surprise of his career.
That October, just before a road game at Wisconsin, Fritz learned his pregnant wife had gone into labor. Don Fritz fretted through the first half. At halftime he received a telegram from his wife, who was still in labor: "EVERYTHING FINE | BABY NOT HERE | WE WILL BE LISTENING HONEY | LOVE MARY".
Don and Mary's daughter Deborah was born that evening, safe and sound. A few years later, to Don's gratitude, their son Don Jr. was born on a weekday.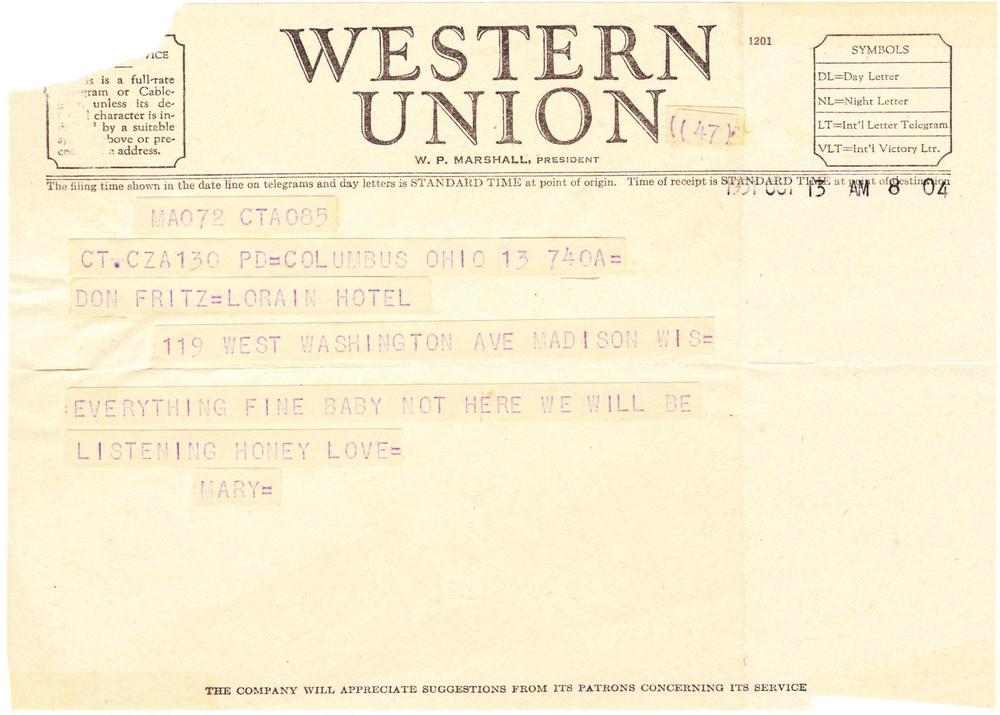 Life still found other ways to stress him. Two days before the Ohio State-Iowa game in 1952, a parishioner at Fritz's church died. The family requested he hold the funeral service on a Friday afternoon. The problem: the game was in Iowa City.
Today, announcers can fly from Columbus to Iowa City in three hours. In 1952, that wasn't an option for Don Fritz.
Despite his radio commitment, his church duties took preference. Fritz did the service. Afterwards, his funeral director friend transported him to Iowa City in his hearse.
Fritz got there just in time to call the OSU-Iowa game, which the Buckeyes lost; he then had to take another 14-hour hearse ride just to preach at his church on Sunday morning.
Don Fritz was popular calling Ohio State games, so much so that he branched out into baseball. WHKC gave him game duties for the Columbus Red Birds, the minor league precursor to today's Clippers. Six nights a week, Fritz and a sound technician would distill the games into 30-minute recaps, using pseudo-live commentary along with special sound effects to recreate the game's action. On occasion, he would do the same for Cincinnati Reds games.
The process wasn't perfect. On occasion the ticker tape he relied on for the play-by-play would stutter and he would be left stalling for time, repeating that the pitcher "reaches for the rosin bag... reaches for the rosin bag... reaches for the rosin bag..." like a broken record. Fritz lamented: "How many rosin bags does one pitcher need?"
Soon, Don Fritz had too many commitments and not enough time. After graduating from Capital, he moved on to Ohio State to earn a master's and a doctorate in communications. Eventually, he realized he couldn't minister and work at a radio station at the same time. Fritz left WHKC in 1952 and took a full-time ministry position at St. Mark's Episcopal Church in Columbus.
Though he no longer worked at the station or called Red Birds games, Don Fritz was so tied to Ohio State football that WHKC begged him to keep calling Buckeye games. "Nobody else was as good as I was," he recalled with a sheepish grin.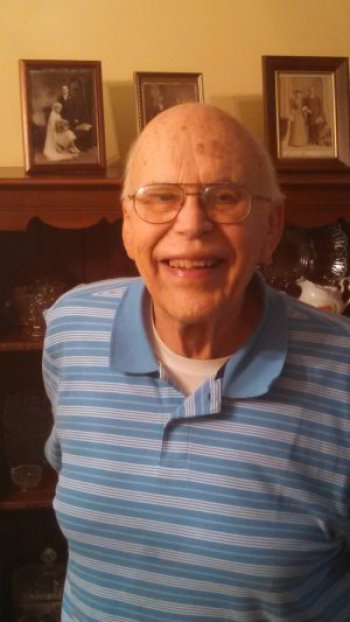 Don Fritz doesn't remember much about 1953 or 1954, not even Ohio State's consensus national championship in 1954. What he does remember are his interactions with Woody Hayes, whom he would meet at a weekly press luncheon at the invitation of Ohio State president Howard Bevis.
Even in the confines of a friendly audience at a fancy hotel restaurant, Hayes had a bombastic personality. Unlike much of the media, Hayes didn't throw Don for a loop: "I wasn't intimidated," Fritz said.
Don Fritz has all the humility you'd expect from a Lutheran minister. If you meet him expecting to hear a rant about how football coverage used to be better back in the old day, you'll be disappointed.
Though he doesn't often listen to the radio broadcast anymore (TV is easier for the 87-year-old to see and hear), Fritz has nothing bad to say about Paul Keels or any other inescapable radio personalities. He and his wife watch the OSU game every week, and after he stopped broadcasting he attended games at Ohio Stadium for over 50 years.
The only strong opinions you'll wring out of him are those of other schools, derived from the quality of food they served in the press box. "Ohio State served us hot dogs, which was all right," Fritz said. "But at Michigan they served us roast beef dinners. And at Pittsburgh they only gave us two donuts – how cheap were they!"
---
Fritz left radio announcing entirely in 1954; his church needed him more than the Buckeyes. After years of ministry at St. Mark's he founded Messiah Lutheran Church in Reynoldsburg, where he ministered until his retirement 20 years ago. Today he and his wive live on a quiet cul-de-sac in Blacklick.
Few records, if any, exist of Fritz's time calling Ohio State games from 1949-1954. But if they do, you'll hear a sweet baritone voice bidding you farewell: "This is Don Fritz, saying 'see you again'."