In the last 20 years, I can count on one hand the truly memorable gifts I've received for birthdays and holidays. Of those I can remember, one stands out above all the others.
I opened the package on Christmas Day, 2006. To my surprise, there it was—a beautiful, black, shiny new iPod. My wife had stunned me. Money was tight that year and we had decided to focus on giving our daughter a good Christmas and keeping each other's gifts under a specific budget.
I was unaware Apple's website extended credit on iPod purchases, but she wasn't, thus she was able to sneak in under budget and get me this wonderful gadget. On the back was engraved "Follow You, Follow Me," the title of 'our song.'
It's a cool little gizmo that I still use on a daily basis, even though its 80 gigs of storage holds only about a quarter of my morbidly obese music collection. But at heart it's only a hunk of metal, plastic and wires. It's not terribly special in any way and truthfully it is outdated technology.
What makes it such a memorable and valued gift is that it was completely unexpected. Most years, I just tell my loved ones what I want and most of those items not-so-magically appear on my birthday or at Christmas time. That year, my list didn't include anything that cost more than 25 bucks.
Boom. iPod. Sweet.
Unexpected pleasant things have a way of surprising like that. Just like what was inside that small package I opened in 2006, none of us knew what we were getting on National Signing Days past, when autographed faxes rolled in from the likes of Kenny Guiton, Malcolm Jenkins, Dane Sanzenbacher or James Laurinitis.
If Ohio State recruited them, we probably reasoned, they must be pretty good. But these were not the most heralded guys in their classes. Like me, with my Genesis-lyric inscribed iPod, we had no idea what we were getting. So when they displayed their abundant talents on the football field over the course of their OSU careers, we were unexpectedly delighted.
Some of our favorite players are the underdogs—guys who seemingly came out of nowhere to steal our hearts and take wins away from Ohio State's opponents. Those four players above, and others like them, are memorable because we expected little from them and they gave so much.
But the bastard sword of expectations slices both ways.
Ohio State recruiting is nationally ranked among the very best on an annual basis. As such, many very highly ranked players fax their letters to Columbus on National Signing Day.
And we expect a lot from these young men. So it displeases us when they don't perform to levels of which we believe they are capable.
What leads us to believe they are capable of anything other than sending in a fax (or getting someone else to do it for them)?
The proliferation of recruiting websites, media coverage and scouting reports has created this atmosphere. As rabid fans of our team, we eat up recruiting stories in the off-season because we need something to feed our addiction in the 24/7/365 news cycle. Recruiting is all we have for parts of the year. And it's all some reporters have to do, too.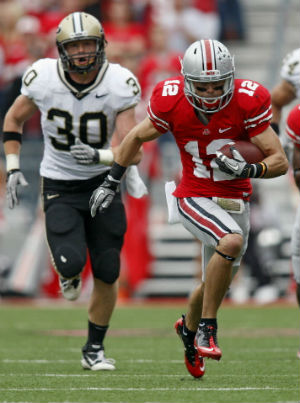 So we read. We find out about some kid in Georgia or Virginia or Texas or some small town in Ohio who is very good at football. High school football.
People scrutinize his strengths and weaknesses, watch him play against other high school kids and a consensus is reached on what his worth will be as a collegiate football player. Sometimes one group and another group reach a different consensus. But the kid is "rated" by one service after another until we as fans have some idea of what kind of college player they should be.
Each group's consensus is represented by a number of stars. Linebacker Curtis Grant out of Hermitage, Va., received five of these from multiple recruiting services. The "experts" thought he was a can't-miss prospect.
Curtis Grant did not give himself five stars.
As fans, we often forget that. He did not proclaim himself to be the 14th best inside linebacker out of 154, or any number of other things written by recruiting consortiums. Here's a player Rivals says "reminds us of Ray Lewis." (No pressure or anything, Curtis!)
All he did was play football against other kids in his age group. Other people assigned him those stars.
And we bought it.
Fans think of other prize recruits—guys like Braxton Miller, Terrelle Pryor, Ted Ginn Jr., and on back to Chris Spielman—and we expect things. We look for them to get in the lineup early, dominate, and possibly leave for the NFL before their senior year.
But it doesn't always work that way.
And when it doesn't, those players not meeting the expectations we heap upon them end up in stories like this, and we as fans tend to look down them or make them our whipping boys when the team, or one of its units, isn't performing well. It's probably the most unfair thing that we do as college football fans.
For a number of reasons, players don't work out like we think they will, starting with the fact that we're basing our expectations on predictive data supplied by collectives of complete strangers and maybe a few highlight reels of the kid going HAM all over other kids who are likely either physically or genetically inferior (or both).
Other factors include the kid's maturity level and how he deals with new variables in his life: the adjustment from adolescence into adulthood, first-time freedom from his parents' direct supervision, juggling college coursework and a near-NFL level of football preparation, new social dynamics outside the fishbowl we call high school, homesickness, and so on.
Sometimes a kid will get by on athletic ability and physical superiority in high school, only to find that they lack the more cerebral aspects of the game required at the college level, where almost everyone is a freak athlete, thus leveling the playing field. Or maybe the coaching staff isn't using the player in a way to maximize their strengths.
And we see the same kinds of things happen when college stars don't make it in the NFL (see: Mike Vrabel's time with the Steelers).
None of these make someone a bad kid.
Still, many of us are quick to jump on our computers and use our keyboards to eviscerate 18-to-22-year-old young men on the internet out of frustration because of a missed tackle or a botched assignment. The higher a recruit's ranking, the more they feel our wrath when they don't perform like we expect them to.
Curtis Grant did not give himself five stars.
Whatever happens, what we expect will have nothing to do with it.
He's a kid playing football for the team representing the university we love. Despite his number of stars, he didn't earn a starting spot until his junior season. He played OK. As Ohio State fans, we are not OK with "OK." And I'm not suggesting we should be. But that's our own problem, not Grant's.
Now he enters his senior year.
Grant is on the Butkus Award watch list, which means absolutely nothing other than he is an athlete starting on a team that is expected (there's that word again) to do well this season.
Ohio State fans have been largely cold on Grant through his career so far. He has one season left to make an indelible impression. He's a big, strong kid who is working hard to do his best for himself and his teammates. He's trying to succeed and help his team do the same.
He might come through, playing well enough to actually win the Butkus Award, and possibly restoring Ohio State's defense to its former glory.
Or, he may not. Whatever happens, what we expect will have nothing to do with it.
Curtis Grant did not give himself five stars. But he can still earn them himself with a stellar final campaign.
And maybe we should watch and appreciate him (and others like him) for whatever contributions he makes to the tapestry called Ohio State football; and not try to hold him up to standards we arbitrarily assigned to him based on recruiting rankings.