It's safe to say that Ohio State's defensive line talent is near an all-time high. Michael Bennett, Joey Bosa, Noah Spence and Adolphus Washington, Ohio State's starting line, have a combined 19 recruiting stars between them, and the other linemen in the rotation are nearly as decorated. The line is constructed to win awards, and if all goes well several Buckeyes are good enough to earn national recognition.
Michael Bennett, for instance, was named a preseason All-American by Athlon, and Joey Bosa was named to the freshman All-American team by two outlets. Spence led the line in tackles, and Washington was no slouch. How such a talented cadre could finish 96th in Adjusted Line Yards is a mystery.
Bennett might not care for preseason honors, but this year's defensive line can assert itself by producing a consensus All-American. Though award voters might not give defenders the same credit as offensive players, at least they're more careful about rewarding statistics and not narrative.
I think the Ohio State defensive line could produce a consensus all-American, but rather than trying to project that player's numbers I want to create a workaround. Assuming that the Buckeyes want one of their defensive linemen to be an All-American, what benchmarks will he need to hit for consideration?
GOING FOR TWO

Not since 2011 have a pair of teammates been All-Americans from the same position grouping (Morris Claiborne and Tyrann Mathieu, LSU), and not since 1997 has one team produced two consensus All-American defensive linemen (Jason Peter and Grant Wistrom, Nebraska).
New defensive line coach Larry Johnson plans to rotate players more often, which will keep the players fresher but give the starters fewer snaps. In our wildest dreams the Buckeyes could land two linemen on the all-America team, but let's not get irrational.
BASELINE STATISTICS

Let's see what stats we're working with. First up, Michael Bennett, Joey Bosa and Noah Spence, whose 2013 numbers put them in consideration for 2014 honors:
|   | TACKLES | TFLs | SACKS | PBU | INTS | FF | FR |
| --- | --- | --- | --- | --- | --- | --- | --- |
| MICHAEL BENNETT | 42 | 11.5 | 7.0 | -- | -- | 3 | 2 |
| JOEY BOSA | 44 | 13.5 | 7.5 | 1 | -- | -- | 1 |
| NOAH SPENCE | 52 | 14.5 | 8.0 | 2 | -- | 1 | 1 |
| AVERAGE | 46 | 13.2 | 7.5 | 1 | – | 1.3 | 1.3 |
The numbers for Bennett, Bosa and Spence are remarkably similar. Of course Michael Bennett is the guy everyone thinks is poised for a breakout season, but might Noah Spence be better? He hasn't gotten much attention for a five-star recruit, especially not one that led the defensive line in tackles, TFLs and sacks as a sophomore. With normal offensive formations and Bennett on the inside, Spence will be able to speed rush to his heart's content.
Partway through last season, I wrote that Joey Bosa was on pace for the best freshman defensive line performance in OSU history. At the time, he was on pace for 37 tackles, nine TFLs and four sacks; he only improved after that. If he is recovered from the knee injuries that slowed him down toward the end of 2013, he has even more room for growth as a sophomore.
Their competition is the 2013 All-American defensive line: Michael Sam (Missouri), Aaron Donald (Pittsburgh), Jackson Jeffcoat (Texas) and Vic Beasley (Clemson). These four were pretty productive!
|   | TACKLES | TFLs | SACKS | PBU | INTS | FF | FR |
| --- | --- | --- | --- | --- | --- | --- | --- |
| MICHAEL SAM | 48 | 19.0 | 11.5 | 2 | -- | 2 | -- |
| AARON DONALD | 59 | 28.5 | 11.0 | 3 | -- | 4 | -- |
| JACKSON JEFFCOAT | 82 | 19.0 | 13.0 | 4 | 1 | 2 | -- |
| VIC BEASLEY | 41 | 23.0 | 13.0 | 6 | -- | 4 | 1 |
| AVERAGE | 57.5 | 22.4 | 12.1 | 3.75 | 0.25 | 3 | 0.25 |
As good as Bennett, Bosa and Spence were, the consensus All-Americans were better across the board. The Buckeyes would each have to nab 10 more TFLs, 3.5 sacks and a couple more pass breakups and forced fumbles to have All-American stats.
What's odd about the four All-American linemen is their differing NFL value. Sam was picked in the seventh round, nearly undrafted, while Beasley is a future first-rounder. Aaron Donald was a top-5 pick, while Jackson Jeffcoat went undrafted. Mark it as evidence that you don't need to be a first round draft pick to be a great college player, even if it helps.
PACING

Defensive linemen never win the Heisman Trophy. Instead, they have an assortment of individual awards: the Outland Trophy, the Bednarik Award and the Lombardi Award. To be all-Americans, OSU's linemen can't just rack up sacks and force fumbles; they have to be award semifinalists.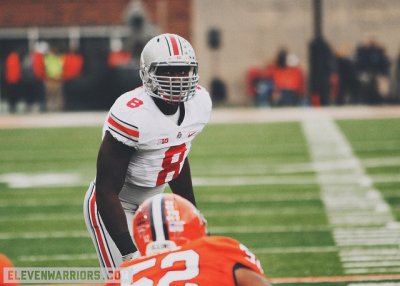 Preseason award watchlists are useless, but halfway into the season that they start to matter. To win one of the awards, a player first has to be named an award semifinalist and then a finalist.
All four members of 2013's All-American defensive line were award semifinalists; you have to go back several years to find someone who wasn't. The Buckeye linemen don't have to peak early, but they have to be good enough through their first eight games that a late surge would keep them in the running.
To rack up those stats, OSU's linemen need to be on the field often enough to make an impact. By one estimate Michael Sam played 58% of his team's snaps; and that's on the low end. Aaron Donald had the highest snap percentage of any lineman in the 2014 Draft, so there's the other extreme.
Let's make the case easier and say Ohio State's best-performing lineman needs to play 65% of all defensive snaps to be in the running. The Buckeyes defended exactly 1000 plays in 2013; across 14 games, that's 71 plays a game, and at a 65% rate that's 43-46 plays a game they'd be on the field.
Defensive line coach Larry Johnson is well known for rotating his players; will Bennett, Bosa and Spence play often enough to merit consideration?
THE MARKETING MACHINE
It's November, and several OSU linemen are in the conversation for best defensive player in the country. Now they need some creative power behind them. Now is when they need OSU to deliver on their creative wizardry.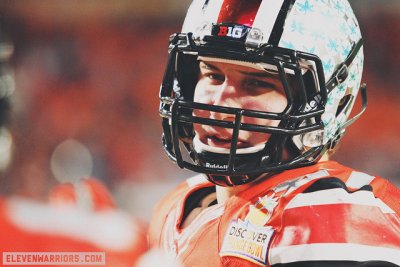 Sammy Silverman's efforts for Ohio State's recruiting are famous. AP voters aren't as susceptible to slick graphics and funny videos as recruits, but why not try anyway? Did anybody really take offense when Orlando Pace donned a chef's hat and lectured Heisman voters about how to make pancakes?
A spoof commercial where Bennett, Spence and Bosa are all making sack lunches might be too cheesy, but rest assured Ohio State is going to think of something.
Being an All-American isn't just about making an impact, it's about being consistent early in the year and playing even better down the stretch. If the Buckeyes have the first killer defense of the Meyer Era, one or two linemen should be in position for those national honors.