The 2014 Buckeyes are going to be good. They might even be great. With a number of starters returning on both sides of the ball, the squad will have veteran leadership at key positions, particularly at QB, WR and along the defensive line.
But, that's not to say the Scarlet and Gray couldn't use a little help. Luckily, I've devised a way to travel back in time (Doc Brown had something with the Flux Capacitor) to pluck a few Buckeye greats out of the Scarlet and Gray Pantheon. With that said, I've got to be selective. The DeLorean has just two available seats (the backseat is small…and we're talking football sized humans here) so I've got to choose the two legends whose skill-sets will most help the 2014 team. It was tough, but I've made my selections. Here's who I'm going after. Once I've got them in custody, I'll circle back to present day Columbus and deliver them to the doorstep of the WHAC. No need to thank me Urban, just get them fitted for those new age jerseys the kids are wearing.
Riding Shotgun: Orlando Pace

Ed Warinner's offensive line must replace four senior starters. That's a tall-order even for a coach of Warinner's pedigree. There's no denying the young-pups are green and would benefit from a leader in their ear on the field. Who better than pancake legend: Orlando Pace?
A coach on the sideline, especially one like Warinner is a valuable commodity, but when you're in the thick of it during the fourth quarter at East Lansing, you'll need a player directing things from a boots on the ground level. That player is Pace. I have no doubt his experience and technical skill at the position would elevate the play of the talented young'uns around him.
Pace started in every game for the Buckeyes from 1994-1996 (so he knows a little something about seeing the field early with inexperience). In 1994 he earned Big Ten Freshman of the Year honors. In 1995 he became the first sophomore to win the Lombardi award, then he made college football history again in 1996, becoming the first two-time winner of the trophy.
Pace's junior season (his last in Columbus) was by far his most impressive. That year he won the aforementioned Lombardi award, the Outland Trophy, the Chicago Tribune Silver Football, the Football News Offensive Player of the Year and finished fourth in the race for the Heisman Trophy (the highest by a lineman since 1973). Pace did it all on the back of the pancake block (pun intended). A move he made famous during his time as a Buckeye.
The Whole Backseat: Jack Tatum

You saw the defensive backfield last season. So there's no sense in a complete re-hash. They were bad. Probably bad enough to cost Ohio State a shot at the national championship. Many times they looked timid with little-to-no ability to stick a clean tackle. Legendary lumber-layer and all around hungry man, Jack Tatum, simply would not stand for this style of play. That's why I'm bringing him with me, back to the future.
When you earn the nickname "The Assassin" in a sport where everyone is trying to knock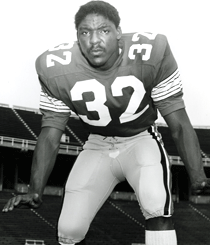 someone's head off, you're probably doing a lot right. Tatum's hits would ring in opponents' ears for weeks as Jack was the personification of Meyer's 4-6 seconds of relentless effort. His motor ran at full-bore on every play and when he came for you, you were going to end up on the ground (probably with a headache). That's why Jim Tressel instituted a Jack Tatum Hit of the Week, awarded to the best slobber knocker every Saturday. Tatum is a Buckeye legend and could school the young back-field in the art of intimidation, grit and bad-ass swagger.
Tatum came to the Buckeyes as a running back, but assistant coach, Lou Holtz, convinced Woody Hayes to move Tatum to defensive back during in the middle of his freshman season. From there Tatum's career blossomed.
As a sophomore in 1968, his breakout game came against Purdue after he was assigned to Boilermaker Heisman Trophy hopeful, Leroy Keyes. The underclassman helped shut Keyes down, as he gained just 19 yards all day. The effort earned the Scarlet and Gray a 13-0 upset of top-ranked Purdue and ultimately jettisoned the Buckeyes to an undefeated season and outright national championship.
Tatum won All-Big-Ten honors that year and added All-American to his portfolio in 1969 and 1970. In his last season in Columbus, Tatum was awarded the national Defensive Player of the Year award and finished seventh in Heisman Trophy voting. During Tatum's tenure the Buckeyes went 27-2, winning two Big Ten and National titles. Not a bad way to spend your college years.
Doran Grant, Gareon Conley, Eli Apple, Armani Reeves, Vonn Bell, Tyvis Powell, Ron Tanner and Cameron Burrows could all learn a thing or two from Tatum. Inserting him into the 2014 locker-room would instantly infuse a level of hard-nosed play and confidence not seen from the 2013 secondary. Get comfortable in the back seat Jack...uh I mean Mr. Tatum. There's a little turbulence in the worm hole back to Columbus.
(Highlights below. All in a Raiders uniform, but it does a great job of capturing the essence of Tatum)
---
Pace and Tatum are my picks for former players that could help the 2014 Buckeyes immediately. Who would you select from the temple of Buckeye legends?