Annual voting for the official fan tee of the football season is both one of the cooler innovations from Urban Meyer and his staff and another sign that real football is coming.
This year, like previous years, fans will have two weeks to pick a winner from three designs. But this year, unlike previous years, is the 125th season of Ohio State football. You must not take this duty as a fan lightly.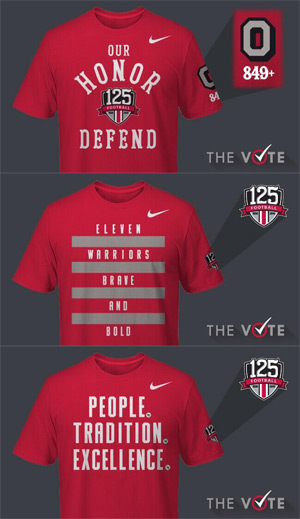 The first design features the school's logo for the 125th season, wrapped with "OUR HONOR DEFEND", taken from the chorus of The Buckeye Battle Cry, of course, on the front and a Block O with "849+" below it, signifying the program's win total, on the left sleeve.
The second design features the lyrics "ELEVEN WARRIORS BRAVE AND BOLD" – again, taken from The Buckeye Battle Cry – interspersed with gray bars on the front. The sleeve of this design features the 125th season logo.
The third design features "PEOPLE. TRADITION. EXCELLENCE." with buckeye leaves on the front, which is a stylized/shortened version of the school's slogan: The People. The Tradition. The Excellence. Like the second design, this tee also features the school's logo for the 125th season on the sleeve.
Truly three solid designs – in fact, all look better than the three vintage options we saw last season. But in our eyes, the choice is clear here.
The poll closes on July 4, after which, fans will have the opportunity to purchase the winning shirt both online and at the official team shop located at the Schottenstein Center.