One exciting aspect of every new college football season is that as players exit the program, we get to watch the remaining guys compete in an effort to better the production of those left behind. 
This season, not only do the Buckeyes need to replace their leading rusher and receiver, they also must replace their two biggest big play threats not named Braxton Miller in Carlos Hyde and Philly Brown. 
This is especially important in Columbus as last year's offense, in B1G and postseason play (10 games), benefited greatly from big plays as they churned out 62 total plays of 20+ yards for 1,999 yards and 21 touchdowns. In fact, 40% of the total offensive yards and 41% of the touchdowns (22/54) came via big plays. 
Players no longer in the program accounted for 27 of those 62 big plays (44%), 852 of the 1,999 yards (43%) and six of the 21 touchdowns (29%). Obviously, Hyde and Brown were the chief producers with a combined 23 big plays for 714 yards and six touchdowns. 
OSU BIG PLAY PRODUCTION (20+ YDS) IN B1G & POSTSEASON

PLAYER
PLAYS
YARDS
TD
B. MILLER
14
502
6
C. HYDE
12
391
3
C. BROWN
11
323
3
J. HEUERMAN
9
309
3
D. SMITH
6
196
3
D. WILSON
4
95
2
K. GUITON
2
50
0
C. FIELDS
1
47
0
E. SPENCER
2
45
1
J. HALL
1
41
0
TOTAL
62
1999
21

 

 
The return of Miller eases the burden a bit considering he peeled off 14 big runs and was involved in all but one of the big passing plays but behind a rebuilt offensive line combined with a desire to cut back on the amount of hits he'll take, a plethora of guys will be counted on to step up. 
Urban Meyer and Tom Herman are also blessed with a handful of returning guys who should be primed to improve upon last season's individual big play output. 
While it might be surprising to some, Jeff Heuerman leads the returning big play threats through the air after nine receptions of 20+ yards a season ago with three scores. Heuerman proved to be a dependable target and was especially dangerous down the seam. An easy choice as an offensive captain, Heuerman will look to better a 26 catch, 466 yard season which served as the finest tight end receiving yards production since Rickey Dudley went for went for 575 in 1995. 
Devin Smith has been hyped as a big play guy for the last few years but his production hasn't quite yet met the hoopla. As a junior starter, Smith had six plays of 20+ yards during the B1G and postseason slate and his struggles down the stretch ran parallel to Braxton's as he caught only six balls over the final five games though he gets bonus points for a 53-yard touchdown against Michigan. In his defense, he was a bit nicked up down the stretch and 44 grabs for 660 yards and eight touchdowns on the season isn't anything to sneeze at but more big plays from Smith would be a boon to this offense.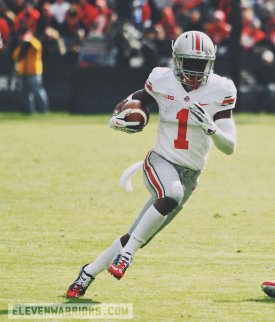 Dontre Wilson arrived in Columbus with his own wave of hype but the expectations proved unrealistic as he was often used as a decoy while the coaches worked to find his niche in the offense. That said, Wilson is now primed to fill the H-back role vacated by Brown. After 53 touches as a runner or receiver yielded 460 yards on the season but just four plays of 20+ yards over the final 10 games, Wilson will be on the more than twice as much this fall which could lead to his emergence as the number one big play threat on the field with the exception of Miller. 
Who else might emerge as a playmaker through the air is a mystery. My money is on Michael Thomas as the spring game hero seems to finally have his game tight after a redshirt in his second year in the program. He's got the hands and his 6'3" frame makes for an attractive target. Evan Spencer is still around and he registered a couple big plays last year but the injury bug has somewhat stunted his development. 
Some insiders are touting Corey Smith as a guy that could emerge on the outside based on his reportedly polished play in late season practices while others are enamored with true freshman Johnnie Dixon. Jalin Marshall, Jeff Greene and James Clark also hope to figure into the big play discussion while the yet to arrive Parris Campbell is a burner that has Ohio State coaches intrigued about his ability to play the H-back slot. Anything is possible but the fact remains freshmen busting onto the scene are the exception, not the rule. 
On the ground, the Buckeyes boast a solid stable of backs but it might be unrealistic to think any one of them can match Hyde's big play production next fall for reasons ranging from Hyde's incredible play to running behind a green offensive line to potentially sharing carries with multiple players.
Sophomore Ezekiel Elliott will get the first crack and holding down the starting tailback slot and EZE oozes big play potential which is reflected in his 8.7 yards per carry on 30 totes as a true freshman. The fact Elliott can also catch the ball out of the backfield increases the likelihood of some big plays to come. 
My sleeper to be a legit ground game contributor this fall remains redshirt sophomore Bri'onte Dunn. The Canton product averaged 5.3 yards per carry in three games as a freshman and following a season on the sidelines, he's a year stronger and faster with a running style similar to that of Hyde and his improvement is not lost on the staff. 
Freshman Curtis Samuel has also impressed during his short time in the program thanks to impressive versatility and blazing speed. Listed as a running back, if Samuel earns time it will likely be at a myriad of spots on the field and while his touches could be limited, the percentage of those that result in big plays could be something to watch. 
Bottom line, while Ohio State has to replace the top two non-quarterback playmakers from a season ago, the list of candidates to fill the voids is nothing short of impressive and the competition for playing time should boost the production.