Gordon Gee's ill-fated attempt at humor in March 2011 now contains an extra dose of irony.
"I'm just hoping that the coach doesn't dismiss me," Gee said that spring day, as scandal engulfed the Ohio State football program and then-head coach Jim Tressel.
More than three years later, Gee and Tressel are working at different universities, both forced out after public missteps in a society increasingly unforgiving for lapses in judgment.
Or is it? Tressel's appointment as president of Youngstown State University proves pardons are available. But it's not only the board of trustees he must win over. The 2,000-member academic staff is the group Tressel must galvanize, shaping a university's trajectory that just experienced arguably the most unstable year in its 106-year history.
Tressel, an adoptive son of the city, is tabbed with steering the university on a course toward prosperity. It's an old hat for Tressel at Youngstown State. During his 15-year head-coaching career, he won four national championships with the Penguins. Almost two decades later – and three years after an unceremonious ending at Ohio State – Tressel is back in the Mahoning Valley holding the top job at YSU.
"Obviously, I think he has a lot of presidential qualities, particularly for Youngstown State," Gee, president of West Virginia University, told Eleven Warriors. "He's from that region, he understands that university thoroughly, he spent a long time there. He's not a guy who looks through a single lens. He doesn't look through a football lens, he looks through a university lens.
"He's had a significant position at the University of Akron, where he's been very successful. One of the things you have to understand is in different times and different structures of universities there are times for different types of leaders, and I think this is the time for Youngstown State."
Not everyone agrees with Gee's assessment. In an online poll conducted by the Youngstown Vindicator, 56 percent of 1,684 respondents didn't believe Tressel, who lacks a doctorate degree, was qualified for the presidency. But many business leaders in the community, including Congressman Tim Ryan, supported Tressel's candidacy and went as far as to send a letter of recommendation urging trustees to hire Tressel as YSU's next president.
The letter cited his ability to work with the university, private sector and local workforce to build financial and organizational support for YSU initiatives that will grow the university and broader economy. Among the 32 signees were former Youngstown State and Eagles quarterback Ron Jaworski; Sam Covelli of Panera Bread fame, who donated $10 million to Ohio State in 2012 for a new arena; Denise DeBartolo-York, co-chair of the San Francisco 49ers; Bob Sebo, a millionaire Bowling Green and Ohio State booster; and Bruce Zoldan, a millionaire fireworks magnate, Youngstown State grad and owner of the Youngstown Phantoms.
"[Tressel] is the right leader to guide YSU through the challenging times ahead," Ryan said after the university announced his hiring. "This is a new beginning for our university, a time for revitalization and renewal at Youngstown State and the broader community.
"Make no mistake, the biggest beneficiary of this decision is the student body at YSU. They will reap the benefits of President Tressel's leadership both on campus and with increased opportunities in the local economy."
Count Mayor John McNally among Tressel's supporters. He said Friday's announcement was met with mostly positive reaction, a welcoming home to long-lost family members. Tressel, his wife, Ellen, a Youngstown State grad, and four grown children, have deep roots in the community.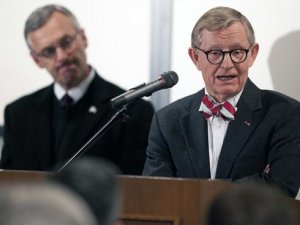 Calling it a positive day, McNally said Tressel's learning curve within the area will be non-existent due to his familiarity with Youngstown. The two leaders spoke while the university vetted its three finalists – Tressel also was a finalist at Akron – and McNally came away impressed. They had matching agendas for the city and the university.
The enterprises are linked in many ways, with one of the most important being economically. McNally and Tressel's aim is to have the city and university work more closely together.
"[YSU] is a major player in the economics of our city. It's a major player through its staff and research in terms of economic development in the city," McNally said.  "It's one of the strongest sections of our entire city, and I don't think we can downplay the importance of the university environment as a whole to the economic health of our city. There are a lot of positives that will occur because of Jim's role as president of the university."
The 21st century has ushered in a new era of university presidents. Provosts and distinguished academics still make up a bulk of chief executives, but there's a larger swath of leaders in higher education that aren't from the traditional makeup. In a period of deep budget cuts and dwindling federal and state dollars – Youngstown State operates on a $179 million operating budget – the importance of fundraising has become magnified.
"For public universities, it's become increasingly imperative because the support for public universities has decreased dramatically," said Gee, considered by many to be the top presidential fundraiser in the country. "You are really compelled to take on further sources of money and, of course, private support in order to keep the cost of education in reach of middle-class families."
The senatorial Tressel is a fundraiser's dream. At Ohio State, he raised money for several athletic and university projects, including the University Library and Tressel Family Fund for Cancer Prevention Research at the James Cancer Hospital. He continues to campaign for charitable causes and school levies.
Tressel's objective at Youngstown State is to grow the $226-million endowment, spur long-term growth and retain a series of deep-pocketed benefactors.
"Jim Tressel is a household name certainly in Ohio and beyond, and I think that can only enhance his credibility as a fundraiser," Jack Stripling, senior reporter at the Chronicle of Higher Education, said. "He happens to also be a pretty ingratiating guy. He seems pretty down to earth despite his storied history in football.  Those are intangible attributes for presidents that I'm sure will serve him well.
"There are going to be people that are star struck by him and it'll be interesting to see if that translates into dollars."
In a recent article, Stripling highlighted tarnished presidents' second chances. Tressel's tenure at Youngstown State could be a case study on the issue of mercy after a high-profile falling out.
"No one knows that more I do," Gee said.
In truth, second acts are common in positions of power. CEOs, head coaches and even one-term presidents get do-overs. Four years after Grover Cleveland was voted out of office, he found himself back in the White House thanks to a forgiving electorate. 
"Our institutions should be about tolerance and opportunity, not about creating an environment in which tolerance and forgiveness are the exception."– Gordon Gee
"Of all the places, universities should exercise the law of forgiveness," Gee said. "We have young people that make mistakes, folks within the academic community that make mistakes. Our institutions should be about tolerance and opportunity, not about creating an environment in which tolerance and forgiveness are the exception."
Selective amnesia can result in even the most ruthless violators receiving a clean slate. In Tressel's case, there aren't just qualification issues, his messy exit from Ohio State is a boulder-sized hindrance lingering over the proceedings.
"I don't think you can talk about Jim Tressel without talking about the difficult ending to his coaching career," Stripling said. "In the minds of the people that see big-time football as inherently corrupt or anti-academic, Jim Tressel is a part of that system. The rap on him if you look at the Ohio State case and what's in the public record is that he put winning in front of the truth. That's not only going to be a football issue, but a character issue he has to deal with day in and day out. Frankly, I don't think anyone is more aware of that than Jim Tressel."
Tressel also has a checkered past at Youngstown State. Ray Isaac, the quarterback of the Penguins' 1991 national championship team, received $10,000 cash and other illegal benefits from YSU booster Mickey Monus. At the time the infractions were learned, Tressel was the head football coach and athletic director. The NCAA charged the athletic department with lack of institutional control and docked the football program several scholarships.
Consider it a perfect storm of scenarios that led to Tressel's lofty position. That's one way Chet Cooper, president of YSU's faculty senate, described the situation. It took the school's former president to leave for another university just seven months into his tenure and a well-respected former football coach to be entering the next phase of his life. There are eerily similar parallels to Urban Meyer's hiring at Ohio State.
"His background isn't necessarily in education itself, but he has other attributes that apparently made him a favorable candidate for the presidency," Cooper said of Tressel. "A lot of things just happened to fall together at the same time. It's sort of a perfect storm and a great opportunity to recreate the administrative culture and academic culture at YSU. I'm hoping being chair of the academic senate I can work with the new president to help formulate such an environment."
Cooper acknowledged Tressel's background doesn't scream university president. But he was encouraged during the interview process when Tressel admitted to not being an expert on education while pointing out a managing style that would include surrounding himself with veterans of academia, namely an experienced provost.
"I would say the major challenge Jim will have will be establishing himself as a credible leader in an academic situation," Gee said. "I have every confidence that he can do that, because I think he's a great fit for Youngstown State. The point that I made to the search committee was that institutions need, first and foremost, strong leaders and an understanding of the universities they're leading. I always found Jim to be very engaged in the life of the university, much beyond that of football.
"He has to establish the role of Youngstown State in the state itself to make certain it identifies its strengths and has a clear path to success strategically; try to find the resources to make sure that happens. That's really the role of a university president."
Youngstown State's history is tumultuous, Gee added, giving Tressel an opportunity to hit the reset button. Regardless of the outcome, there will be interested observers throughout the country. Former players, fellow presidents, admirers and critics will all have one eye trained on Youngstown, a Rust Belt town with hope and optimism in the form of a world-beater from the past.
"No matter what side you're on, it's intriguing," Stripling said. "If you think colleges are drifting away form their academic mission and focused on the frivolity of big-time sports, then you hate this move. If you think higher education is a stagnant, unchanging industry that's going kicking and screaming into the 21st century, then you love this move.
"There's something for everybody."