Despite overhauling its defense, offensive line and wide receivers, as well as losing stud running back Carlos Hyde to graduation, Ohio State is expected to challenge for the inaugural Big Ten East Division title in 2014.
If the Buckeyes are going to finish at the top of a very competitive division — which includes arch rival Michigan, defending league champs Michigan State and traditional power Penn State — they will have to survive the four conference road games this fall.
In the past, Ohio State's road to the B1G championship consisted of not stumbling against the "little eight" and then beating the Maize Sun & Blue.  Starting this fall, the road will be tougher than it's ever been. In addition to having to beat the Wolverines, there are land mines throughout the schedule to navigate, but those away from the Horseshoe are especially dangerous.
Herein, we'll take a look at the four roadies that may determine whether or not Ohio State ends up in Indianapolis at the end of the regular season.
These games take on added importance when you consider the Buckeyes suffered two losses away from home last year (both at neutral sites) and the team's average scoring margin outside of the horseshoe was +13.6 points — the average margin in home games was +32.1 points.
That road margin dips considerably when you toss out the 56-0 win at horrible Purdue and factor in a slop touchdown on the last play against Northwestern.
Let's go road trippin'.
At Maryland — Oct. 4
The Buckeyes open the B1G schedule on the road at Byrd Stadium, visiting new conference and division foe Maryland. The Terrapins are coming off a 7-6 season that ended with a 31-20 dropkicking at the hands (feet?) of a surprisingly good Marshall squad in the Military Bowl. The Terps, not a terribly deep team, dealt with some injury issues along the way.
Maryland was 4-3 at home, including a 37-0 clubbing of West Virginia. But Randy Edsall's Terps won't be favored against the Buckeyes unless many unforeseen things happen between now and then. Ohio State should be able to get out of College Park with a victory, but this will be a huge game for Maryland and Byrd Stadium will be an unfamiliar environment. It will be important for the Buckeyes to jump on the Terps early and not give them or their fans any reason for hope.
At Penn State – Oct. 25
Ohio State visits Beaver Stadium to face James Franklin as head coach of the Nittany Lions for the first time. The Nitts were 5-2 at home last year in a 7-5 overall season (1-0 at neutral sites and 1-3 on the road), and one of those losses came in overtime (as did two of the wins). The lesson here is that Happy Valley is always a tough place to play.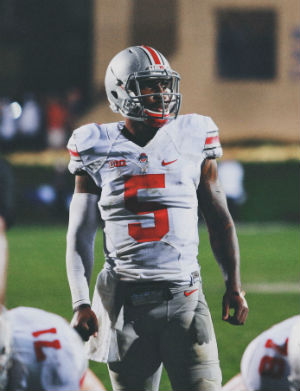 Quarterback Christian Hackenberg has a year of college football under his belt and the Nittany Lions will be energized by Franklin. The Buckeyes have had some bad trips to Penn State in the past and this game very well could be the first major challenge of the season, depending on how the Virginia Tech game goes in early September. Urban Meyer must have his squad ready to play because a stumble here could derail the drive to Indy.
At Michigan State – Nov. 8
If all goes according to plan, the trip to East Lansing should decide the Eastern Division. Sparty is the defending league champ, courtesy of their win over the Buckeyes at Lucas Oil Stadium in a game that still to this day begs for more Carlos Hyde and fewer defensive lapses.
Michigan State was a perfect 7-0 at Spartan Stadium a year ago, despite having a fairly soft home schedule — its best home wins were against Michigan and Minnesota. Much will be written about this game between now and early November, but the short version is that this game is probably going to determine who goes to Indianapolis to face the B1G West Division champs.
At Minnesota – Nov. 15
The Golden Gophers went 5-2 at home last season and were surprisingly strong under Jerry Kill. Their victims at TCF Bank Stadium included the No. 24 Nebraska Cornhuskers and Penn State. The losses came to Iowa and Wisconsin. Minnesota was a tough out last year, especially at home. Their season resulted in a Texas Bowl appearance against Syracuse, where the Gophers fell, 21-17.
This will be Ohio State's second consecutive road game and it very well may fall in the wake of a very emotional contest at Spartan Stadium. Even if the Buckeyes escape Sparta with a victory, they can't have a letdown a week later against Kill's Gophers. This game could be the second toughest of the conference season. If Kill's rebuilding of Minnesota's program stays on track, this could be a low-scoring defensive struggle.
---
When the season is over, these are the four games that may stand alongside The Game as the signposts of the 2014 Big Ten season. The Buckeyes will probably need all of them to advance to Indianapolis. If they slip anywhere, it can't be at East Lansing because they may need the head-to-head tiebreaker.