With spring practice in full swing there are a number of players vying for starting positions.  But, it isn't just players on the cusp trying to impress their way into the rotation, it's also rotation players attempting to impress their way into a captain's role.
Following a squad vote last season, Urban Meyer selected eight men to lead his team. It's impossible to say how many captains Meyer will tap this year, but it's slightly easier to determine who will be in the running. So, without further adieu, here's a way too early 2014 captains prediction.
Braxton Miller
This one's about as close to a lock as you're going to see. Miller was one of just two juniors named to the cadre of captains last season (the other being Ryan Damn Shazier). Miller will be a senior in 2014, touches the ball on every offensive possession, holds a boatload of Scarlet and Gray records and has the opportunity to break a few more.
A concern heading into last season was Braxton wasn't vocal enough. That seemed to change in spring ball last year, but maybe not as much as some believed. This offseason quarterbacks coach, Tom Herman, has subtly called Miller out, stating he can no longer "take a back-seat" to Kenny Guiton when answering questions in the meeting room. That should be enough to put Miller on notice, but only time will tell.
With the injury to his shoulder, Braxton has been focusing on the mental side of the game. The much ballyhooed "Braxton Cam" allows coaches to see Miller's perspective while the Huber Heights product calls out the coverages he sees. The hope is Miller's emphasis on the heady side of the game this Spring will translate into an increased leadership role on the field this fall.
Michael Bennett
Bennett is another name that's sure to make the short-list of candidates this fall. The lone senior on the team's best unit, Bennett will be relied upon to bring the young-pups up-to-speed. Starters like Adolphus Washington, Joey Bosa and Noah Spence know the drill, but defensive line coach, Larry Johnson, wants to see eight or nine guys in the rotation at all times. That means the blue-chip talent stockpiled over the last two years will be expected to make a more immediate impact. Michael Bennett is the leader who must work to help get them there.
The endearing Bennett had a monster 2013 tallying 38 tackles, 11.5 tackles for loss and seven sacks (good enough for second on the team). In addition, the 6'2'' 288 lbs Centerville product forced 4 fumbles and recovered three, good enough for first on the team.
Bennett is primed and ready for a stellar swan song. Earning a "C" on the jersey would only make his final campaign that much more special.
Devin Smith  
Smith makes the list because the wide receiver corps will be in desperate need of a big-time leader. Gone is Philly Brown, tops on the team in catches, which leaves Smith as the sole receiver with any significant production sans Evan Spencer.
In 2013 Smith tallied career bests in receptions (44), yards (660) and touchdowns (8) and set a school record with a 90-yard haul against Cal in week three. To put things in perspective the remainder of returning receivers combined for just 24 catches, 22 of which were reeled in by Spencer.
Needless to say, Smith will need to inhabit a player/coach duality if the group wants to see continued growth in 2014. As Michael wrote a couple weeks ago, 2014 will be Smith's time to embrace or shy away from the spotlight. If he steps up to the plate, look for a captainship to follow.
Doran Grant
Grant is the wild-card on this list, but much like Smith he plays on a unit in dire need of a guiding hand. Grant will be the only full-time starter returning on the secondary and he put together a solid 2013, tallying three interceptions (tied for first on the team), 10 pass breakups (second on the squad), and 55 tackles (tied for fourth on the team).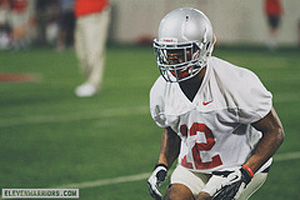 Overall the unit had to hear how terrible they were all offseason, and that "terrible" group only got younger and less-experienced. Mechanisms have been installed to breed success (Chris Ash, a new philosophy etc.) but that doesn't change the fact that none of the players around Grant have played in front of a raucous Happy Valley or East Lansing crowd. 
The talent is there with players like Gareon Conley, Eli Apple, Cam Burrows, Ron Tanner and incoming freshmen Marshon Lattimore, Malik Hooker, Erick Smith and Damon Webb, but when the going gets tough these youngins will need a field general. That duty should fall to Grant. The hope is he's up to the challenge.
---
Captains won't be named for months, but the work to become a captain is being put in at the WHAC right now. All four of these players have the chance to join the ranks of a prestigious fraternity, but it's up to them to earn it this fall.