Former Georgia Tech wide-receiver turned Buckeye, Jeff Greene, is a big kid. Coming in at 6-foot-5, 218 pounds he was a tough draw for any cornerback in the ACC. Perhaps his size had something to do with his team leading 18 catches for 284 yards and two touchdowns in 2012. Then a sophomore, Greene proved he was a viable weapon despite a Yellow Jacket offense far more content to hand it off then fling it down-field.
Forced to sit out last season, Greene had a calendar year to learn the Scarlet and Gray offense while playing a vital role on the scout team. Now the wait is over and Buckeye Nation will finally get a look at what Greene can do.
When studying players on paper (particularly wide receivers), it's hard not to get excited about a guy with 6'5'' size. Immediately the term "red-zone" threat is tossed around, and why not? Plenty of lengthy wide receivers have made a career of high-pointing the ball in the back of the endzone, but the really good ones are so much more than that. In looking at the NFL's top wide receivers of 2013, one thing immediately jumps off the page: height. The average length of the players in the linked-to list is 6'3'', with guys like Calvin Johnson (6'5''), A.J. Green (6'4''), Brandon Marshall (6'4'') and Vincent Jackson (6'5'') leading the pack in terms of tall.
Those players can leap, but they can also beat their man downfield, proving that big doesn't always mean slow. With the most successful wide receivers in the NFL coming in collectively around 6'3'', you'd think Ohio State would look to field players with roughly the same metrics. But, that simply hasn't been the case.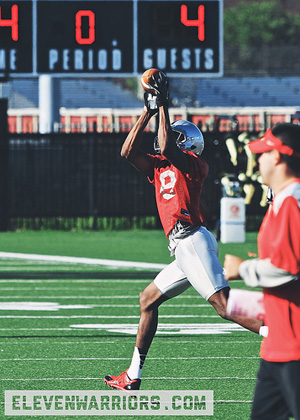 Over the past decade only two receivers over 6'3'' have made a significant contribution for the Buckeyes (over 25 catches in a season). Depending on who you ask, Brian Robiske is listed as 6'4'', while Jeff Heuerman (6'6'') had 26 catches last season.
This isn't to say the Scarlet and Gray haven't had success with shorter receivers. Players like Santonio Holmes( 5'11'') Ted Ginn (5'11''), Dane Sanzenbacher (5'11'') Devier Posey (6'0'') and Anthony Gonzalez (6'0'') were monsters despite their stature. But, there's a sense Buckeye fans are thirsting for the next big thing (quite literally). Jeff Greene could be it.
You'd have to go back to Michael Jenkins in 2003 to find the most recent comparison in terms of size. Jenkins was listed at 6'4'' 214 pounds and used his frame to get whatever he wanted. From 2001-2003 he led the team in receptions, he ranks No. 1 in terms of receiving yards in a career (2,898), No. 3 in passes caught in a career (165), No 4 in receiving yards in a season (1,076) and No. 5 in total receptions in a season (61).
In 2002, he played a vital role for the National Championship Buckeyes, making more than a couple plays that will go down as "clutch" personified.
Those are large shoes to fill for Greene, but the comparison is being made because he's the first Buckeye receiver in years that's big enough to fill them. Greene will get a shot to prove what he can do this season and he'll be one of the only players in the room with an intangible you can't teach. Learning to use his size as an advantage should be a major focus for Greene this offseason. If he's successful, Braxton Miller will have a huge target in 2014.