The Ohio State-Michigan rivalry has produced countless relationships and storylines that verge on the bizarre. Woody Hayes and Bo Schembechler formed one of the sport's most unlikely bonds, one-time Ohio State captain and national champion Gary Moeller later became head coach at Michigan and All-Big Ten offensive lineman Justin Boren's career took him from Ann Arbor to Columbus.
Add the budding friendship between Jack Mewhort and Taylor Lewan to the list. The uneasy rivals, training together in Florida at the IMG Academy, have leaned on one another during the grueling NFL draft prep. What's developed is camaraderie and respect.
It's surprising to most outside observers who characterize Lewan as not too likeable. But Mewhort said there's an on-field identity and an off-field identity that differ greatly. He described Lewan as a "pro wrestler" on game days, but much more mild away from the field.
"He's a good competitor," Mewhort said. "It's been good to have him down there to match myself against and see where I measure up. But I won't say we're buddies on camera."
Throughout his accomplished four-year career, Lewan made numerous enemies due to his cocky personality mixed with outsized bravado. Trash-talking and looking down on the opposition became a staple of Lewan's behavior, making him an easy target for opposing fans and players. In the Ohio State-Michigan rivalry, he became the perfect villain.
"It's over now," Lewan said of any lingering animosity. "I'll always be a Michigan Man. I'll always believe in Michigan when Michigan plays Ohio. I'll always call them Ohio. I'll never call them that other word.
"But Jack's a great guy, Ryan Shazier's a great guy, Michigan State's [Isaiah Lewis] — you've all seen me grab his facemask — we're great friends now. We've all worked together. It's amazing how things change when you're all working toward the same goal. It's amazing how people aren't really who they seem like on the football field."
But for Lewan, off-field troubles could derail a possible high draft selection. There are concerns about his role in intimidating a woman who accused former Michigan kicker Brendan Gibbons of sexual assault and whether or not he punched a Buckeye fan after Ohio State's win in November. Lewan has steadfastly denied all the allegations. 
The NFL puts a premium on players' character in the present age of the 24-hour news cycle. With billions of dollars invested in all 32 franchises, bad publicity is avoided at all costs. But winning can sometimes – OK, most of the time – trump all.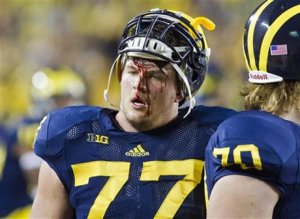 "It kills me inside," Lewan said at the NFL Combine when asked about the accusations. "It probably kills my mother, too. It hurts definitely, because of the player I am on the field, it's probably really easy to assume that stuff about me. But that's not who I am at all."
Who he is, despite the turmoil, is a top-10 draft pick. Lewan, all 6-foot-7 and 309 pounds of him, ran a 4.87 40, the fastest time among all offensive linemen, sending his stock soaring. Mewhort left the NFL's version of Ringling Bros. Circus as a projected second- or third-round pick.
In four seasons at Ohio State, he played everywhere coaches asked to put him. Adapting to various positions could be his friend come draft day.
"Versatility is huge in this league," Mewhort said. "You carry only seven offensive lineman on a 53-man roster, so being able to play more than one position brings a lot of value to an organization.
"I grew as a person and got a lot of experience by playing for three different coaches, in terms of leadership styles and being coached in different ways. Playing the different positions added a lot of value to myself."
Mewhort played center in high school and guard and left tackle for the Buckeyes. Guard and right tackle are the assumed areas he'll occupy in the NFL, though there is zero preference when it comes to his NFL career – just a spot on the roster.
"It's like asking a parent to pick a kid. I truly believe I can thrive at every position on the offensive line," Mewhort said. "I know that sounds crazy. I know you guys are thinking in your mind you have a favorite position, but it really doesn't matter.
"You point me in the direction and tell me to play the position, I'll do it as hard as I can go."
Making a roster seems like a guarantee for Mewhort. During his final two seasons in Columbus, he anchored an offensive line that was the best in a decade at Ohio State. Mewhort's presence was so vital that head coach Urban Meyer referred to him as the most valuable player of the offense. That's a unit that included do-everything quarterback Braxton Miller and running back Carlos Hyde, who could hear his name called in the first round come May. 
Meyer never shied away from those comments. Instead, he insisted the left tackle factored into the Buckeyes' success every bit as much as skill players. The characteristic Meyer cherished most was Mewhort's natural leadership.
It's been unmistakable once more in Bradenton, Fla., in the company of an archenemy.