Two and half weeks from the start of the 2014 football season, Eleven Warriors' season preview looks back ten years in the past to the 2004 football team. Ten years removed from that season, assessing a team two years from an undefeated season whose hallmarks were a win against Michigan and Michigan Man Les Miles in the Alamo Bowl may seem like misspent energy.
However, that 2004 team bears a noteworthy resemblance to the 2014 team on the eve of the season. The 2004 squad was two years from an undefeated championship season much like the 2014 team will be two years from an undefeated season. However, that 2004 team had just a few holdovers from that legendary 2002 squad. It lost 14 players to the 2004 NFL Draft, including three first-rounders and four third-rounders. These players were the foundation of the national championship team. A youth movement was underway in 2004.
Likewise, Ohio State's 2014 team no longer features many players that formed the core of the undefeated 2012 team. The offensive line is gone. The star tailbacks are gone.
The attrition for the 2014 team is less-pronounced than the 2004 team, but the comparison is apt. Jim Tressel's 2004 team no longer resembled the talent-laden, if sloppy, team he inherited in 2001. It was a team in his vision. Urban Meyer's 2014 team will not resemble the talent-laden, if incomplete, team he inherited in 2012. This will be a team in his vision.
Ohio State fans will hope for a better result in 2014 than it got in 2004. The start to that season portended the struggle to follow. The season-opening win against Cincinnati was good enough. Ohio State hosted the Bearcats in a return-leg of a 23-19 near-defeat in 2002 in Paul Brown Stadium. However, the offense was unconvincing and rife with storylines that would shape the season to come.
Justin Zwick, the five-star quarterback prospect from Massillon by way of Orrville, got his much anticipated first career start but was unconvincing. He was 14/26 on the day with one touchdown to two interceptions. He also had three (sometimes credited with four) fumbles and lost one of them to Cincinnati.
Troy Smith debuted later in the game as a quarterback and showed flashes of the brilliance to come. However, his stat line was a simple 2-3 passing day for 29 yards and a touchdown to redshirt sophomore Santonio Holmes.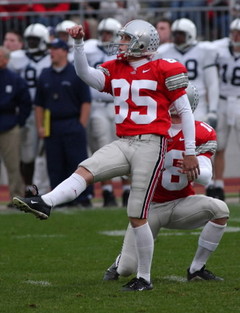 Still, a 27-6 win where Ohio State outgained Mark Dantonio's Bearcats 462-238 may have given Ohio State fans a sense of false confidence entering its next game against 0-2 Marshall. Ohio State fans remember the game for the game-winning field goal from Mike Nugent and the memorable Mike Tirico call that came with it. However, this game was rough from an Ohio State fan's perspective.
The Buckeyes outgained Marshall 403-290 but conceded 150 rushing yards to Marshall team led by Ahmad Bradshaw and Earl Charles. Santonio Holmes banner day of 10 receptions, 224 yards, and two touchdowns did not allay concerns about a Justin Zwick performance that featured two fourth-quarter interceptions that allowed Marshall to tie the game. Another unconvincing win kept Ohio State steady at no. 9 in the polls before a trip to Raleigh to play the Wolfpack.
Absent Philip Rivers, taken with the fourth pick of the first round in the 2004 NFL Draft, the return-leg in Raleigh was much less exciting than the three-overtime game in 2003. Ohio State won 22-14 against a Wolfpack team that finished with five wins. This game does well to encapsulate the problems of the 2004 football team. Lydell Ross' momentum in his first three-games sputtered. He finished with just 51 rushing yards on 25 carries. Justin Zwick had just 73 yards passing on 21 attempts. Ohio State won with just 137 yards of offense. NC State's five turnovers were the difference in a game in which Ohio State scored just one touchdown.
However ugly, the win in Raleigh was good enough to jump the Buckeyes two spots in anticipation of a trip to Evanston to play Northwestern after a bye. Ohio State's 2004 team started its mid-season derailment here. The Buckeyes lost 33-27 in overtime to a six-win Northwestern team that it had defeated in every encounter since 1972. Ohio State's 2004 team surrendered the second-longest head-to-head winning streaks among regular opponents.
The loss was shocking enough to Ohio State fans, but the details of the loss resembled details of the last three wins. Zwick was struggling and the number of sacks he was taking was increasing. Ohio State's running game gained no traction with Lydell Ross or Antonio Pittman. Playing against a spread offense led by Brett Basanez and Noah Herron, back when no one knew how to defend the spread, confounded a defense that had otherwise been good to that point.
Ohio State's mid-season struggles continued the next week at home to Wisconsin, resulting in a 24-13 defeat. It would be a rare loss in Jim Tressel's tenure as head coach and broke a string of 18 consecutive home wins for the Buckeyes.
The details of the loss were grim. Zwick was sacked five times and threw for just 125 yards. Stocco was not much better but looked much more competent for Wisconsin. He finished with 160 yards and two touchdowns. Ohio State had 99 rushing yards with senior Lydell Ross tallying just 30 for the day. By contrast, Wisconsin's Anthony Davis had 168 yards on 39 carries. Ohio State was shutout in the second half after trailing by just one point at halftime.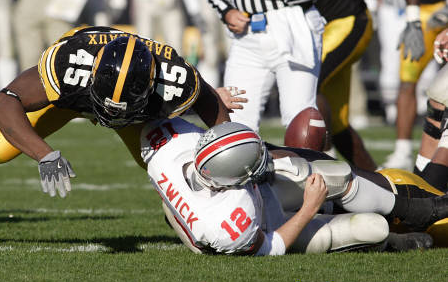 The real implosion came the next week in Iowa City in a 33-7 defeat to the Hawkeyes in the middle of its renaissance under Kirk Ferentz. A touchdown with just over two minutes left in the fourth quarter saved Ohio State from its first shutout loss since 1993.
Whereas the stats from the previous loss to Wisconsin was grim, the details of this loss were outright appalling. Troy Smith was substituted in the third quarter for Justin Zwick after a third quarter fumble that effectively ended Justin Zwick's playing time for the remainder of the season. In almost two quarters of play, Smith had seven rushing yards on six attempts and threw for 76 yards on 12 attempts. This was good enough for 25 percent of Ohio State's rushing yards for the day and over half of its passing yards. Ohio State finished with 177 yards of total offense for the game, outgained by Iowa by 271 yards.
However, this game was the turning point in not just this season, but Ohio State's trajectory going forward. A youth movement followed in Ohio State's next three games. Troy Smith started the next week against lowly Indiana, pacing the Buckeyes with 161 passing yards and two touchdowns on 24 attempts. He added 61 yards rushing as well. True freshman Antonio Pittman was the star of the game, rushing for 144 yards and a touchdown on 20 carries. True freshman Ted Ginn Jr. was the recipient of Troy Smith's touchdown pass on the day, a 59-yard strike. Ohio State won 30-7 to end its first 0-3 streak in Big Ten play since 1988. The win also prevented Ohio State from its first 0-4 Big Ten opening slide since 1922.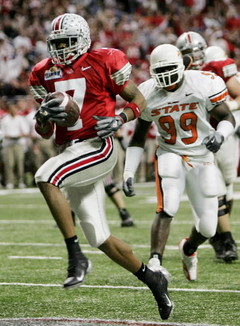 Ohio State's offense took a step back the next week against a meek Penn State team that featured a brilliant defense. Smith was six of eight passing on the day for 59 yards and no touchdowns. He was sacked three times as well. However, Ted Ginn Jr. had his first real breakout moment in running a Jeremy Kapinos punt back 67 yards for a touchdown in the first quarter. A Tyler Everett pick-six and Branden Joe touchdown added to a 21-10 Ohio State win.
Ted Ginn Jr. again stole the show the next week against Michigan State in East Lansing. Ginn had three touchdowns, one on a reverse, another on a catch, and another punt return for a touchdown. He had 170 all-purpose yards for the game in Ohio State's 32-19 victory in a game where Ohio State's defense conceded 407 yards of offense.
Ohio State's second wind concluded for the moment with a loss in West Lafayette to Purdue. Purdue was on a four-game skid but was a good football team in 2004. That four-game skid just happened to include Wisconsin, Michigan, and trips to Northwestern and Iowa. Troy Smith had three interceptions to offset 192 passing yards in a 24-17 loss to a Purdue team that rolled 384 yards of offense on an Ohio State defense that struggled against every competent offense it faced.
All that was left was for Ohio State to conclude the regular season at home against Michigan. 9-1 and AP no. 7 Michigan entered this game riding high on its own youth movement. Michigan's offense featured a true freshman starting quarterback and a true freshman starting running back that were supported by a seasoned offensive line and an explosive wide receiver corp. 
Further, Michigan had already secured the Rose Bowl bid by virtue of a win against Iowa earlier in the season and an undefeated conference slate entering the season finale. A victory in Columbus over a mid-table Ohio State team would give Michigan the outright conference championship. This was when Michigan wins in Columbus were part for the course. The Wolverines had won six of their last ten games against Ohio State in Columbus to this point.
A Michigan win was a safe bet. In fact, Kirk Herbstreit predicted a Michigan win, marking the first of many times Herbstreit would fall out of favor with Ohio State fans during his broadcasting career. Cries of Herbstreit as "Judas" at least echoed among the Ohio State fans I knew in college that were marching into the Horseshoe with me before the 1 p.m. kickoff.
The game that unfolded was unlike anything most analysts predicted. Ohio State scored on its opening salvo, a 68-yard pass from Troy Smith to Anthony Gonzalez. Michigan scored touchdowns on its next two drives to take a 14-7 first-quarter lead. Ohio State scored the next 13 points to take a 20-14 lead into halftime over the repeating Big Ten champions.
The third quarter marked the point where Ohio State took firm control of this game and, for all intents and purposes, the rivalry. After Michigan's second drive of the second half ended with a punt after seven plays and 15 yards, Ted Ginn Jr. returned Adam Finley's punt 82 yards for a season-defining touchdown. Ohio State now had a two-touchdown lead over the favored Wolverines. It added another touchdown on its next drive and ultimately prevailed 37-21. Even as decided underdogs, Ohio State was able to control its home turf against Michigan like Michigan was able to do in 1995.
Ohio State was selected to conclude its 2004 season in San Antonio against Les Miles' Oklahoma State Cowboys. However, the preparation for the bowl game was far from uneventful. Ohio State announced that Troy Smith would be suspended and ineligible for the Alamo Bowl after breaking an undisclosed team rule. The NCAA later extended this into the first game of the 2005 season, revealing the nature of the infraction. Smith had accepted $500 from a booster back when accepted chump change from a booster was the worst thing in the world for an amateur athlete. 
The outrage seems like an anachronism now, but it was palpable. That Ohio State football was still plagued by Maurice Clarett's messy departure from the program and had the ongoing issue with Jim O'Brien's firing from the basketball program made Ohio State an easy piñata for an ESPN network first discovering how it could cover college football with a "hot takes" perspective. This bled into the coverage of the Alamo Bowl itself, during which Ohio State's scandals felt like all ESPN wanted to discuss. Comments like those from Kirk Herbstreit, who again soured himself among Ohio State fans by saying he would not send his hypothetical college-aged son to play for Ohio State's offense, may be the start of the ESPN persecution narrative that Ohio State fans sense in watching ESPN college football programming.
The drama surrounding the Alamo Bowl for Ohio State was much greater than the drama of the game itself. Ohio State mauled Oklahoma State for Jim Tressel's most convincing bowl win during his tenure. Everyone looked good in what amounted to a send-off for players like Lydell Ross and Mike Nugent. Ross had 99 rushing yards and a touchdown on 12 carries. Mike Nugent had four field goals and took Pete Johnson's record as Ohio State's all-time leading scorer. Ted Ginn Jr. had 78 receiving yards and 40 rushing yards. Ohio State shutout Oklahoma State for over three quarters, winning 33-7 to conclude 2004 on a high note.
Revisiting 2004 before the start of the 2014 season does lend to easy comparisons between both teams separated by ten years. The youth movement is a common feature of both teams. Ohio State's youth movement in 2004 focused on quarterback and wide receiver. This year's youth movement is seen more at running back, linebacker, and, to a lesser extent, defensive line. Problems of attrition at most other positions are shared as well.
Ohio State's 2014 football team should have a much better offense than the 2004 squad had. That, more than anything, makes a comparison of the two seem like apples and oranges. Having a returning senior quarterback with a solid offensive philosophy supporting him helps Ohio State compensate the loss of Carlos Hyde and four of five two-year starters on the offensive line. Both teams share similar concerns about defense, though. Ohio State's 2004 defense was the worst of the Jim Tressel era under first-year coordinator Mark Snyder. If Ohio State's defense in 2004 was never going to be more than adequate, it was done no favors by an anemic offense and faltered on its own accord down the stretch.
Further, Ohio State's defense in 2013 was unwatchable. Good against the run, Ohio State's defense, and secondary especially, was all-time bad against passing offenses. The addition of Chris Ash and Larry Johnson, along with reshuffling of coaching priorities for Luke Fickell and Kerry Coombs, may lead to similar growing pains for an Ohio State defense where youth will play a role in the linebacker corp and at safety.
Ohio State's 2004 team concluded its season 8-4 with a convincing home win against Michigan and a blowout win in its bowl game. A similar campaign for the 2014 team would be a greater disappointment. It would lack some of the feel-good elements that the 2004 team has in retrospect. 
A similar fate seems unlikely given Ohio State's favorable conference schedule and a four-year starter at quarterback. However, growing pains resembling those in 2004 are not entirely out of the realm of possibility.