It's that time again.
The college football off-season at Eleven Warriors provides us the opportunity to look forward to the 2014 season by providing a comprehensive recruiting profile of each of the signees in Ohio State's latest recruiting class. The sixth edition of this currently 23-part series titled Better Know A Buckeye starts with the first member of the recruiting class.
Marcelys Jones, an offensive guard prospect from the fabled Glenville program in Cleveland, broke ranks with his fellow Tarblooders by not only committing to Ohio State before National Signing Day's eleventh hour, but committing to Ohio State over 14 months before he put pen to paper. This story is retold below, complemented by reference to his brief flirtations with programs like Kentucky and Alabama.
Readers familiar with the series should know how the feature proceeds from there. After profiling his recruitment, I offer a discussion of his strengths and areas for improvement. I give a projection of a redshirt status in 2014 before offering highlight film and miscellaneous things about Jones that you may find interesting.
Height: 6-4
Weight: 340
High School: Glenville High School; Cleveland
His Recruitment

A Tarblooder from the well-regarded Glenville program that has produced scores of college football talent over the past decade, Marcelys Jones was always going to get noticed by the major Division I programs. The attention started to come as early as the summer of 2012, in which Marcelys Jones participated in the first Friday Night Lights camp hosted by Ohio State upon Urban Meyer's arrival to Ohio State. Jones' performance complemented a quality sophomore season for Glenville in the previous fall. He did well to underscore the interest he was getting from programs like Arizona State, Florida, Illinois, Tennessee, Wisconsin, UCLA, and USC.
Surprisingly, though, it was Ohio State that was the first scholarship offer for Jones. It is not unusual for Ohio State to try to get a lead on other programs with high profile prospects from places like Glenville, though it is a bit unusual that Ohio State should beat in-state MAC schools and other programs like Cincinnati and West Virginia to the punch. It was a big offer for Jones. The first scholarship offer was not only a marquee national program, but the one Jones followed and supported. Though quick to say he was in no hurry to offer a rushed commitment, and was not interested in saying "no" to any particular school, he did want to make a return trip to Columbus.
The months that followed saw Jones complete his junior season of football for the Tarblooders while making a few recruiting visits. Jones did make that return visit to see Ohio State maul Nebraska in early October. He saw Ohio State's 2012 team play again when he trekked to Columbus for the season finale against Michigan. He came away impressed each time.
Though Jones said he was in no hurry to make a commitment, something changed over the Christmas holidays during his junior to elicit a change of heart.
His Commitment

On Christmas morning of 2012, Marcelys Jones committed to Ohio State as the first member of Ohio State's 2014 recruiting class.
When Eleven Warriors interviewed Jones about his commitment, Jones offered the following.
What made you decide to commit to Ohio State?

I just love the Buckeyes and felt it was where I needed to be. It is a special school and it felt like the right fit for me. I knew it was where I wanted to be.

What was Coach Meyer's reaction to the news you brought him on Christmas morning?

He was super excited, but surprised. He thought I would wait it out. Coach Meyer said it was one of his best Christmas presents. 

Was there any reasoning behind your choice to be the first commit of the class?

I am real excited to go and play for Ohio State. I didn't want to wait any longer. The honor of being the first commit is amazing. Making this the best class possible is a responsibility I wanted. I'm going to work hard to recruit others, and I think we will have a few more commits soon. I know that when I come back to Ohio I am going to work on [my teammate] Marshon Lattimore to follow me to OSU.

How does it feel to now know you're going to play for Ohio State?

It's awesome. I'm very excited to be committed to Ohio State. I want to bring home a national championship for Coach Meyer and the Buckeyes.
As for why Jones committed so early, he asked, "why not?"
Visits to Alabama and Kentucky

While Jones was the first commitment to Ohio State's 2014 recruiting class and ultimately signed with Ohio State 14 months later, his story did include flirtations with two SEC schools. The first was Alabama. The second, of all programs, was Kentucky.
Jones took a visit to Tuscaloosa in the summer of 2013 for a camp. His performance at the camp, along with Jones' experiences in Tuscaloosa, left a strong impression on Jones. From there, Jones shot up Alabama's board and Jones was eager to listen.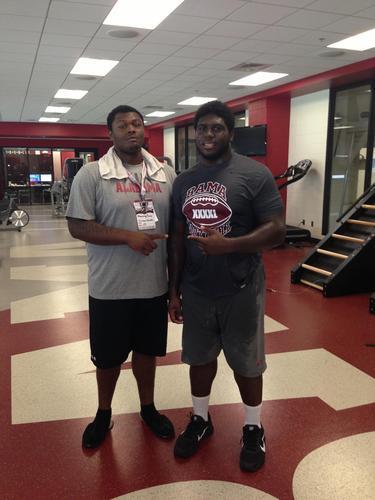 There was something unique about Alabama too. While Jones' tour of Southern schools included Tennessee, Kentucky, and Georgia Tech, Alabama was the only camp in which he suited up and worked out. The purpose of the trip, from Jones' perspective, may have been to help his younger teammates and future Buckeyes, Marshon Lattimore and Erick Smith, gain visibility, but more followed.
Even meeting recent Alabama program alumnus, Chance Warmack, on his trip seemed to make the Alabama experience resonate. Warmack was a dominant offensive guard for Alabama by time he left, something Jones aspires to be in college.
At the time, Jones did not think that experience would lend itself to an official visit to Alabama. However, that ultimately happened for Alabama's 49-0 mop-up of the Chattanooga Mocs. Jones took the official visit with teammates Erick Smith and Marshon Lattimore. While all enjoyed it, the consensus was that the experience was not overwhelming enough to threaten Ohio State's position with all three prospects, including the already committed Jones.
It was Kentucky, though, that fueled much of the message board speculation during the tail-end of his recruitment. While it seems alien that a program that won two games in 2013 and won zero conference games in the past two seasons should be in a position to flip Jones from Ohio State, the talk would not go away. Confusion surrounding Jones' mid-year agreement with Ohio State to enroll early compounded the intrigue. An official visit on December 7 gave way to even further speculation that Jones would possibly flip to Kentucky during the U.S. Army All-American Game.
Ohio State fans can breathe easy that never materialized. The clincher was Jones ultimately enrolling at Ohio State immediately after the U.S. Army All-American Game. His recruitment over, there is no longer any issue of him flipping to Mark Stoops' program in Lexington.
Where He Excels

Jones' greatest asset is his size. It is fitting that Jones wishes to pattern himself off Chance Warmack, who used a dominant senior season as a springboard to be the no. 10 overall selection in the 2013 NFL Draft. At 6-4 and 340 pounds, he has every bit of the frame that made him appealing to Ed Warinner.
Most of his strength is in his upper body. While most strength should come from the lower body, his current frame gives plenty with which to work.
More importantly than that, Jones has great footwork and agility for a guy his size. It follows him playing basketball through his youth. It was originally his first love.
Must Work On

Jones has considerable "upside", perhaps the greatest of any offensive lineman in this class. He is, though, very raw.
The aforementioned upper body strength seems to give him an incentive to play "high" after the snap. This is fine against high school competition, but it will get him bull-rushed in the college game. He could stand to improve on his leverage. He will need to learn to derive most of his power from his lower body and not his upper body.
Measuring at 340 pounds right now, he will need to be mindful of what "good weight" he needs and what "bad weight" he needs to shed. Fortunately, he is already addressing this in winter conditioning and with Ohio State football's nutrition program.
Finally, his footwork is great, but his speed off the line at the snap is only average from what I can gather. 
Redshirt?

I think so. Ohio State is replacing four of five offensive linemen. The one offensive lineman that returns happens to be a tackle, but I think there are more available answers right now at guard and center for Ohio State's two-deep in 2014. Jones may need to have an incredible spring and summer if he appears on the two-deep. If he is not on the two-deep for Ohio State's season-opener at Navy, the redshirt seems certain.
Highlights

Miscellany

He is a cousin of Donovan Munger on his mom's side and Aundrey Walker on his father's side.
He is by far the earliest commitment to Ohio State from the Tarblooder program since the "pipeline" was formed in 2002.
He participated in the U.S. Army All-American Game, along with future teammates Dante Booker, Johnnie Dixon, Jaylyn Holmes, Demetrius Knox, Marshon Lattimore, Curtis Samuel, Erick Smith, and Damon Webb.
Glenville is still chasing that elusive state championship for Ted Ginn Sr. The Tarblooders' 2013 season ended in a loss in the state championship game to Loveland.
He also kicked for Glenville as a senior.
247Sports.com lists him as the nation's No. 13 offensive guard and the No. 11 prospect overall in Ohio.