While the primary purpose of Big Ten Media Days is to look forward to the upcoming season, it's also an opportunity to look back at how each player got there.
Before each of the players selected to represent their schools at this year's event became stars for their current teams, they were once high school football players who had to choose where they wanted to go to school.
C.J. Stroud, Jaxon Smith-Njigba and Ronnie Hickman all chose to become Buckeyes despite being out-of-state prospects who held offers from the top programs in their home states and many others throughout the country. Several other players at Big Ten Media Days, however, chose to attend different schools in the conference despite holding offers from Ohio State.
Five players at this year's Big Ten Media Days fit that criteria: Illinois wide receiver Isaiah Williams, Maryland wide receiver Rakim Jarrett, Michigan defensive tackle Mazi Smith, Penn State defensive tackle PJ Mustipher and Wisconsin quarterback Graham Mertz.
Additionally, this year's Big Ten Media Days representatives included four players from the state of Ohio who did not receive offers from Ohio State: Indiana tight end AJ Barner, Michigan tight end Erick All, Michigan State safety Xavier Henderson and Penn State quarterback Sean Clifford.
Mustipher and Henderson were both at Big Ten Media Days for the second year in a row, and we already asked them about being recruited by Ohio State last year. Henderson, a Reynoldsburg native, told us in 2021 that it was "an honor" to be recruited by the Buckeyes even though he never got an offer from his hometown program. Mustipher wasn't interested in talking about being recruited by Ohio State last year, so we weren't going to pester him with the same questions again.
As for the other seven players at Big Ten Media Days who either received offers from Ohio State or grew up in Ohio, Eleven Warriors caught up with all of them to ask them about the interest they received from the Buckeyes – or lack thereof – and what they liked or didn't like about Ohio State before ultimately choosing to commit to the schools they did.
Maryland WR Rakim Jarrett
Out of all the players at Big Ten Media Days who weren't there as Buckeyes, Rakim Jarrett may have been the one Ohio State wanted most. Early on in his recruitment, Ohio State was a frontrunner to land Jarrett, a five-star wide receiver who was ranked as the No. 27 overall prospect in the 2020 class.
The Buckeyes ended up signing two other five-star wide receivers in that class – Julian Fleming and Smith-Njigba – but tried to sell Jarrett on teaming up with them. And Jarrett said Tuesday he was intrigued by that possibility.
"Early on, they were pretty high on my list," Jarrett said. "I know they would talk to us being the best receiver group coming in with me, Julian and Jaxon. And I liked Brian Hartline. He's probably one of the top receiving coaches in the country. So I really liked him."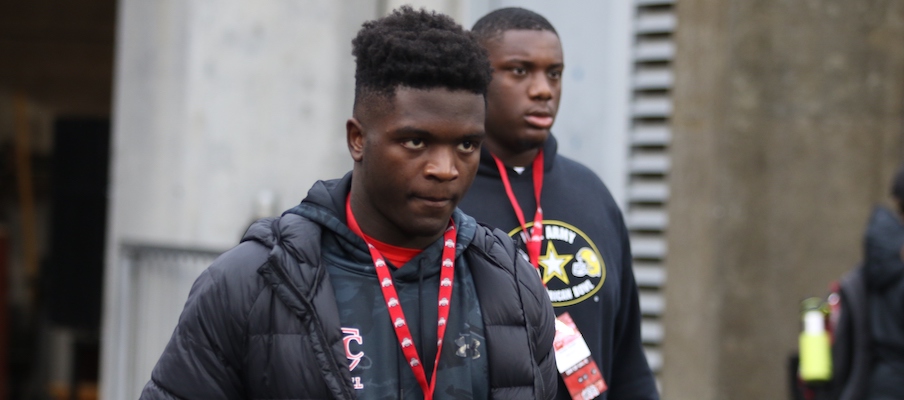 At the time, however, Ohio State was going through a coaching change, as Jarrett's senior year at St. John's College High School was Ryan Day's first year as head coach following Urban Meyer's retirement. Jarrett's interest in the Buckeyes faded as a result.
"It just wasn't a fit for me," Jarrett said. "They were going through that coaching change with Coach Urban Meyer, and it didn't feel confirmed to me or solid, just the whole program at the time."
Jarrett initially committed to LSU in April 2019 before flipping to Maryland on signing day. Jarrett, who grew up in nearby Palmer Park, Maryland, decided that playing for his hometown program would mean more to him than playing for an out-of-state powerhouse.
"I'm from Maryland. I know what I could have done at Maryland would have been way bigger than what I could have done at Ohio State," Jarrett said. "I could have went to Ohio State, went first round (in the NFL draft) and they would have had another five-star in there after that. But I go first round from Maryland, I'm a legend forever."
Jarrett, who led Maryland with 62 catches for 829 yards and five touchdowns last season, said he has no regrets about his decision to become a Terrapin. He said everything Maryland coach Mike Locksley told him as a recruit has been true so far.
"He didn't promise me anything he couldn't do," Jarrett said. "He didn't promise me we were gonna beat Ohio State. He just said I come in there and do what I need to do, then he can help me get to where I need to go."
Even without Jarrett, Ohio State ended up signing four wide receivers who were top-100 overall prospects in the 2020 class: Fleming, Smith-Njigba, Gee Scott Jr. and Mookie Cooper. Scott has since moved to tight end while Cooper transferred to Missouri after one year.
Wisconsin QB Graham Mertz
Ohio State did not end up signing a high school quarterback in the recruiting class of 2019 – which ended up working out OK for the Buckeyes when they landed Justin Fields in the transfer portal that offseason and C.J. Stroud a year later – but that wasn't due to a lack of trying. There were several quarterbacks who Ohio State pursued heavily in that class, and one of them was Graham Mertz.
Even though he committed to Wisconsin in 2017, Mertz made a visit to Ohio State in 2018 after receiving an offer from the Buckeyes. He built a bond with Day during the recruiting process, and had nothing but good things to say about the Ohio State coach – who was the Buckeyes' offensive coordinator at the time they were recruiting Mertz – even four years later.
"I just saw Coach Day a little bit in the elevator, he's a fantastic man, fantastic coach," Mertz said Wednesday. "He's a genuine guy who wants the best for his family and his other family, which is the team. So I'd say he's a really good coach."
In the end, though, Mertz – who is now entering his third season as the Badgers' starting quarterback – stuck to his commitment because Wisconsin felt like home.
"People always joke about like, when they're on a recruiting visit, they're like, 'Oh my God, this is where I belong. This is my home.' And I had that the second I stepped on campus," Mertz said. "So for me, it was that one feeling that I just couldn't get rid of. I knew it was my spot."
Illinois WR Isaiah Williams
A four-star athlete in the recruiting class of 2019, Williams received an offer from Ohio State in March 2017 and participated in OSU's Friday Night Lights camp that summer. Receiving that offer and participating in that camp both piqued his interest in the Buckeyes.
"I actually went to a camp at Ohio State. It was a dope experience," Williams said. "It was great learning from Coach Hartline (who was a quality control coach for Ohio State at the time), getting to meet them guys. Getting recruited by Ohio State, getting offered by Ohio State, I mean, that was kind of a dream come true. I remember growing up watching them. Great team, great coaching staff, but getting recruited by them, it was honestly like a dream come true."
Williams was recruited as a wide receiver by Ohio State, but he wanted to play quarterback coming out of high school. That played a big role in his decision to commit to Illinois, along with Illinois' proximity to his hometown of St. Louis.
"I wanted to play quarterback. I wanted to give it a shot, however it went," Williams said. "It didn't go my way, but I at least wanted to be like, 'Okay, I gave it a shot,' didn't just give up."
After starting four games at quarterback for Illinois in 2020, Williams ended up moving to wide receiver in 2021. Even so, he says he wouldn't change anything about the decision he made to join the Illini. He led Illinois with 47 catches for 525 yards and four touchdowns last season, and he believes his time spent playing quarterback was good for him in the long run.
"Sometimes people will be like, 'Bro, you're playing receiver now, you could have just did that earlier.' Then things could have been different. But I feel like my journey, it helped me become a better person," Williams said. "Like them two, three years, it shaped me into a different person and I'm totally different now. And maybe if I did play receiver and say good things happened early on, I wouldn't be the person I am now and I probably would have lost control of it. So I'm kind of grateful for everything that happened in my life because it shaped me into the person I am today."
Furthermore, Williams says he loves playing at Illinois.
"We haven't won many games in the past few seasons, but the fans, they're just still there for us," Williams said. "I just love the university. It's like a college town. I mean everything about it, the coaching staff, everything."
Michigan DT Mazi Smith
Michigan players are usually reticent to praise Ohio State when we ask them about being recruited by the Buckeyes, but Smith – a four-star defensive tackle in the 2019 class who received an offer from Ohio State during his junior year of high school – was complimentary of the Buckeyes' efforts to recruit him.
"They're good recruiters," Smith said. "They had a good D-line."
Ironically, the Grand Rapids native's decision to stay in his home state was driven by his relationship with a coach who would end up leaving Michigan for Ohio State before Smith's freshman year: Greg Mattison, who was Michigan's defensive line coach during Smith's recruitment but became Ohio State's co-defensive coordinator in 2019.
"When I was getting recruited, I kept hearing everything he touched turned to gold, and what y'all think I wanted to be? Some gold," Smith said of Mattison.
Although Smith wanted to play for Mattison, who retired from coaching after the 2020 season, Smith said he didn't hold Mattison's decision against him, understanding that's part of the business of college football.
"That's how the game go. It's an early lesson to learn but a great lesson, very valuable, invaluable lesson to learn," Smith said. "Still respect him. Still appreciated what he did for me in getting me to Michigan."
Smith, the only returning starter on Michigan's defensive line, remains happy he chose to become a Wolverine, describing that as "the best decision that I could have made for myself."
"Michigan has really taken care of me," Smith said. "Taken care of me internally, externally as a man. I've just grown a lot at Michigan. I'm not there yet. But I feel like when the time comes, I will be prepared for the real world. I'll be prepared for the next level. Whatever life has in store for me."
Michigan defensive tackle Mazi Smith, who was also offered by Ohio State out of high school, said he chose Michigan because of his connection with Greg Mattison. But he didnt hold it against Mattison when Mattison left for Ohio State and he has no regrets about picking Michigan: pic.twitter.com/XEV4R6wlTM

— Dan Hope (@Dan_Hope) July 26, 2022
Michigan TE Erick All
A four-star tight end from Fairfield, Ohio, All received interest from Ohio State as a recruit and even camped with the Buckeyes in 2018, but never received an offer from Ohio State. All says the Buckeyes, who took just one tight end in his class (Cormontae Hamilton, though Cade Stover later moved to tight end), told him they wanted to see him get bigger.
"They talked to me a lot. They recruited me. But I don't know, for them, my size, I was too small or something," said All, who is now 6-foot-4 and 245 pounds but was listed at 225 pounds as a recruit. "It is what it is."
While All showed at least some interest in the Buckeyes by camping at Ohio State as a recruit, he says now he "never really liked Ohio State." 
"I just don't like them. I don't like their fans," All said. "I'm a Michigan man. You just can't."
Although he grew up in Ohio, All's favorite team as a kid was Alabama. He never received an offer from the Crimson Tide either, though, and decided Michigan was the place for him after he made his first trip to Ann Arbor.
"My dad's side of the family, being from Alabama, we were always Bama fans," All said. "And ever since I stepped foot on Michigan's campus, I just fell in love with them and can't believe I didn't love Michigan my whole life, as great as Michigan is."
Michigan tight end Erick All said he wasnt surprised by the way the Wolverines beat Ohio State last season because of what he saw on film.

An Ohio native, All was recruited some by Ohio State but was not offered by OSU and said he never really liked Ohio State anyway. pic.twitter.com/Uh9P9oV6kd

— Dan Hope (@Dan_Hope) July 26, 2022
Penn State QB Sean Clifford
It might be hard to believe there's still players in college football who were in the same recruiting class as Danny Clark, but that's one reason why Clifford never received an offer from Ohio State.
A four-star prospect from St. Xavier High School, Clifford ended up finishing the 2017 recruiting cycle as the top-ranked quarterback in the state of Ohio, but Clark's commitment to the Buckeyes during his freshman year of high school effectively took them off the table for Clifford. Even after Clark decommitted, Ohio State never circled back to Clifford, as the Buckeyes ended up signing Tate Martell instead.
Like All, Clifford says he never had a real affinity for Ohio State growing up in Southwest Ohio. In his case, he never received enough interest from Ohio State to consider whether playing for the Buckeyes would be a good fit for him. But he's happy with the way everything worked out entering his sixth year at Penn State.
"They weren't looking for a quarterback, so when I started getting recruited, it was kind of out the window," Clifford said of Ohio State. "And Penn State was my spot. I'm from Barrington, Illinois. I was born in Barrington; moved to Cincinnati, Ohio. Love Cincinnati with all my heart; love Cincinnati, love the state and everything. But I didn't have that deep-rooted love for a specific school. So no, they didn't really recruit me. But yeah, Penn State was my spot."
Clifford says the family atmosphere at Penn State – where his younger brother Liam also plays – was what drew him to become a Nittany Lion, and he's grown to love it more and more over the course of his lengthy Penn State career. He still hears plenty of trash talk from his friends back in Cincinnati, though, when Penn State plays Ohio State each year.
"Of course. I mean, it's the same way if a Pennsylvania guy will go to Ohio, there's gonna be trash talk all the time," Clifford said. "So it's all fun because it's all playing the game that we love."
Indiana TE AJ Barner
A three-star recruit who was ranked as the No. 44 prospect in Ohio in the class of 2020 out of Aurora High School, Barner never drew significant interest from Ohio State as a recruit. The Buckeyes signed just one tight end in his class: fellow in-state prospect Joe Royer, who was ranked as the No. 9 Ohioan in their class.
Had Barner been recruited by the Buckeyes, he likely would have had interest in Ohio State. Former Ohio State offensive tackle J.B. Shugarts is his cousin, so he followed the Buckeyes growing up.
"Obviously, growing up in Ohio, I know plenty about the Ohio State program," Barner said. "I might have gotten a letter or two, but really never talked to the Buckeyes, no."
Barner, who's entering his first season as Indiana's tight end, says not being recruited by the Buckeyes gave him "a little bit" of a chip on his shoulder as an Ohioan. But he's glad he ended up becoming a Hoosier.
"Anytime you're from Ohio, obviously a lot of people root for Ohio State there," Barner said. "But I'm extremely happy that I ended up at Indiana and everything's worked out right here. I feel like just the program that Coach Allen has, all the people that he has here, it's really a people place, it's a special place and just the way they've developed me as a man but also as a football player."