Zach Harrison, Thayer Munford and Jeremy Ruckert weren't the only players at Big Ten Media Days who were recruited by Ohio State out of high school.
Many of the other Big Ten standouts who made the trip to Indianapolis for last week's conference-wide gathering with reporters were also once courted by the Buckeyes before they chose to instead take their talents to schools that play against Ohio State.
Eleven Warriors caught up with 14 players from other Big Ten schools at last week's event who had ties to Ohio State as high school prospects – either because they were offered by Ohio State, visited Ohio State as a recruit, had known conversations with Ohio State coaches while they were recruits or were from the state of Ohio – and collected their thoughts on what they remembered about being recruited by the Buckeyes and why they ultimately chose the schools they did. 
Purdue WR David Bell
Ohio State was once viewed as a favorite to land Bell, a four-star wide receiver from the recruiting class of 2019, and early on in the recruiting process, he too thought he'd end up playing for the Buckeyes – his favorite team as a kid.
"Growing up, I was a huge Ohio State fan," Bell told Eleven Warriors. "Really a huge Coach Meyer fan. I watched him at Florida with Tim Tebow, and then he came to Ohio State. I fell in love with Braxton Miller, so that's what really sold me on Ohio State. And growing up, it was always Ohio State, Ohio State, Ohio State. Until it actually became true like, 'OK, you can go to Ohio State,' but I just felt like it wasn't the right fit for me. I just felt that going to Purdue, it would give me a better opportunity to be seen."
Ultimately, though, Bell chose to become a Boilermaker, silently committing to Purdue after making his official visit in November and announcing his decision at the All-American Bowl. An Indianapolis native, Bell decided he wanted to stay closer to home – his grandmother is handicapped, and he wanted her to be able to come to all of his games – and felt that Purdue was the best place for him.
"It just felt like home," Bell said. "I know that kind of sounds cliché when the players say it, but I just really feel it. From the beginning, (Purdue wide receivers coach JaMarcus Shephard), he was always real for me from the start. He told me I was gonna play, but I had to work for it. I came in my freshman year a little banged up, but I ended up working to prove that I could be a starter eventually. And then Coach Brohm was just a smart offensive mind, I wanted to play under that. Not trying to discredit any of the other coaches that recruited me, but I just felt like it was a good fit for me."
Bell's primary recruiters at Ohio State were Urban Meyer and former wide receivers coach Zach Smith, both of whom were gone from the Buckeyes' coaching staff by the time Bell started his collegiate career. Ohio State ended up signing two top-100 wide receivers in his class, Garrett Wilson and Jameson Williams, but Bell said Ryan Day made a late push to try to sign him, too, after he became Ohio State's head coach in December 2018.
"He was actually texting me like two days before signing day, but I already knew I was committed to Purdue," Bell said. "I signed my National Letter of Intent. So I just wasn't responding.
"Ohio State's a good team, so I think if I would have went there, it would have been a good fit, but I'm glad I chose Purdue University."
Purdue DE George Karlaftis
Karlaftis was another top prospect from the class of 2019 who chose Purdue despite receiving offers from Ohio State and many of college football's other top programs. Karlaftis said he was recruited hard by the Buckeyes, made a visit to Ohio State and got to know defensive line coach Larry Johnson during the recruiting process.
"Just a really good dude," Karlaftis said of Johnson. "Very nice, respectful. You could tell, at his core, he's a good guy."
For Karlaftis, though, Purdue was always at the forefront of his recruitment. He grew up in West Lafayette, and many of his family members went to Purdue. So it wasn't a tough decision for him to become the highest-rated Boilermaker signee since 2005.
"My whole family went there," Karlaftis said. "Felt most comfortable with them. Coach Brohm, I think, does a great job of developing guys. And that's who I trusted my future with."
Maryland S Nick Cross
Another top prospect from the class of 2019 who was heavily recruited by the Buckeyes was Cross, the No. 4 safety and No. 55 overall prospect in the 2019 class. Recruited primarily by Meyer and Alex Grinch, who was Ohio State's co-defensive coordinator and safeties coach at the time, Cross visited Ohio State and came away with a positive impression of the program.
"Good school, good institution," Cross said. "I love Nike, so it was a good Nike school. Nice campus. It was a really good visit."
Despite his affinity for Nike products, Cross ultimately decided to go to an Under Armour school and stay in his home state by signing with Maryland, which he chose for the opportunities Maryland could offer him both on and off the field.
"Just a good situation. Young team. Opportunity to come in and play early. Good school, top-five business school in the country. Just great opportunities outside of football in the DMV area. The media market is great. And just being close to home," said Cross, a native of Bowie, Maryland, who's majoring in finance.
Having already been a two-year starter in Maryland's secondary, Cross said he has no regrets about his decision, as he believes the Terrapins are moving in the right direction as a program.
"It's definitely been a struggle, but at the same time, we see the tide turning a little bit," Cross said. "Guys are bought in, guys are doing their thing, working hard, everybody's trying to get that 1% edge that we're trying to get so that we can produce a good product on the field."
Rutgers WR Bo Melton
Going back to the class of 2017, another Big Ten player who was both offered by Ohio State and made a visit to Columbus as a recruit was Bo Melton, who was ranked as the No. 37 wide receiver and 252nd overall prospect in his class.
Five years later, Melton said he didn't remember too much about that visit now, though he did recall catching some passes from a pair of Ohio State quarterbacks while he was on campus.
"Visiting there, it was a pretty big stadium," Melton said. "We did go around the stadium and introduce ourselves. I remember throwing around with Cardale (Jones) and J.T. (Barrett)."
Melton said his primary recruiter at Ohio State was then-offensive coordinator Ed Warinner, who he described as "a good dude." And he still holds the Ohio State football program in high regard.
"Ohio State's a great program," Melton said. "I love the facilities, I love how it is over at Ohio State."
Like Bell, Cross and Karlaftis, though, the pull of playing in his home state ultimately made him decide to play for Rutgers.
"Really just having my family there," said Melton, a native of Mays Landing, New Jersey. "Having a lot of people support me from home. It's just given me an opportunity to play in front of my family, given me an opportunity to play with my brother (Rutgers cornerback Max Melton) again and it's just electrifying in Jersey, just staying in Jersey with the players and with the fans."
Penn State WR Jahan Dotson
Dotson, who Ohio State fans will remember from his eight-catch, 144-yard, three-touchdown performance against the Buckeyes last season, is another Big Ten receiver who could have been a Buckeye out of high school. A four-star prospect in the class of 2018, Dotson was offered by the Buckeyes and visited Ohio State for its Friday Night Lights Camp in 2017, where he was impressed by what he saw.
After losing to Ohio State in each of his first three games against the Buckeyes as a Nittany Lion, though, he'll be looking to beat the Buckeyes when he returns to Ohio Stadium on Oct. 30.
"It's a great program," Dotson said. "Big school, stadium's beautiful. I just can't wait to get a win in it this year."
As has been a common theme here, Dotson ultimately decided to stay in his home state. A native of Nazareth, Pennsylvania, Dotson committed to UCLA in September 2017 but flipped his commitment to Penn State three months later because he wanted to stay close to home and because he connected with James Franklin and the rest of Penn State's coaching staff, including Josh Gattis, who is now Michigan's offensive coordinator but was Penn State's wide receivers coach at the time.
"Coach Franklin, the school, tradition," Dotson said when asked why he ultimately chose Penn State. "There's no better education, no better school to get a degree from than a school like Penn State. Truly a tremendous honor to wear the blue and white every single time I step on the field. So just the heavy tradition, Coach Franklin, my parents being able to get to the games being it's so close to home; just so many different opportunities."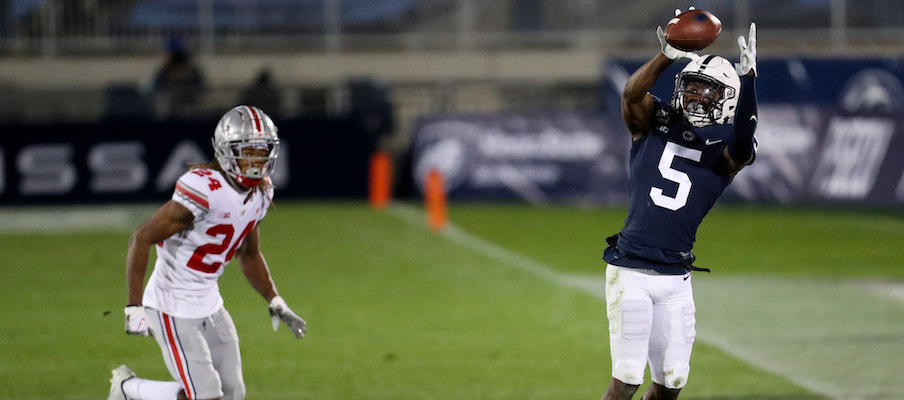 Penn State DT PJ Mustipher
Mustipher, a Maryland native, also chose Penn State over Ohio State during the 2018 recruiting cycle after receiving an offer from and visiting the Buckeyes.
Going into his fourth year as a Nittany Lion, though, Mustipher wasn't interested in talking about being recruited by Ohio State or any schools other than Penn State.
"I remember all my visits. They were great. But I came to Penn State for a reason, so I'm here now," Mustipher said. "All my visits were great to all the schools, but I chose Penn State, so I'm going to talk about Penn State."
Mustipher was happy to talk about why he chose Penn State, though, saying "This is where I belong."
"I think I've understood that as time's gone on, since I've been here, this is where I was supposed to be," Mustipher said. "Not saying any other school is better than any other school, but Penn State is my home. It's where I belong. It's where family's at. I've formed relationships with everybody that'll last a lifetime. The atmosphere, the school, the social aspect, just everything fell in line with what I wanted, and my journey at Penn State isn't over by any means. There's a lot to accomplish, and I'm ready to accomplish that this year."
Michigan State S Xavier Henderson
Henderson grew up just outside of Columbus in Reynoldsburg, Ohio, so naturally, the four-star safety from Pickerington Central High School had plenty of communication as a recruit with Ohio State, including then-cornerbacks coach (and now defensive coordinator) Kerry Coombs. He still holds Coombs and Ohio State in high regard.
"I liked Coach Coombs a lot and I still like Coach Coombs," Henderson said. "Actually, I just sent my condolences to him because I know his father just passed away. So my prayers and thoughts to Coach Coombs and his family.
"But it's a great program. It was an honor to be recruited by them."
Despite being ranked as the 10th-best prospect in the state of Ohio for the class of 2018, Henderson never received an offer from the Buckeyes. That was probably in part, though, because he committed to Michigan State in September of his junior year, and he doesn't believe an offer from Ohio State would have changed his decision to become a Spartan.
"I get asked that a lot, and I really don't think so," Henderson said. "I think (secondary coach Harlon) Barnett was the person I wanted to be coached by. It's ironic, because the first day I got there, he had left for Florida State, then he came back. So everything worked out well."
While Henderson is now playing elsewhere in the Big Ten East, he feels like he still has something in common with his hometown team: A hatred of Michigan.
"People try to trash talk me a little when I'm back at home, but we got that common denominator in the team down the road, so we both kind of hang our hat on that in trying to beat them, so it's fun," Henderson said.
Northwestern RB Cam Porter
Another Ohio native who went elsewhere in the Big Ten after receiving some recruiting interest from the Buckeyes but never an offer, Porter – a three-star running back from Cincinnati who was the 14th-ranked prospect in Ohio's recruiting class of 2020 – said he received considerable interest from Ohio State after his sophomore season at La Salle High School, but that interest eventually waned.
"I was recruited heavily (by Ohio State) after my sophomore year," Porter said. "Started to slow down after my junior year, and then I ended up committing (to Northwestern) after my junior year."
Ohio State ended up taking another Cincinnati running back in his class, Miyan Williams, who was actually ranked lower than Porter. But Porter has no ill feelings toward Ohio State.
"Great program, great coaching staff, nothing but respect for them," Porter said. "I had great conversations with (running backs coach Tony) Alford. Talked to Ryan Day many times."
Ultimately, Porter chose Northwestern because of his bond with Pat Fitzgerald as well as the educational opportunities in Evanston.
"First and foremost, we have the best head coach in college football," Porter said. "Second of all, you can't beat a top-10 education and a top-10 football program. So I mean, that was really what made me commit to this awesome university. The location being in Chicago, being right on the water, it checked off everything that I was looking for in a college."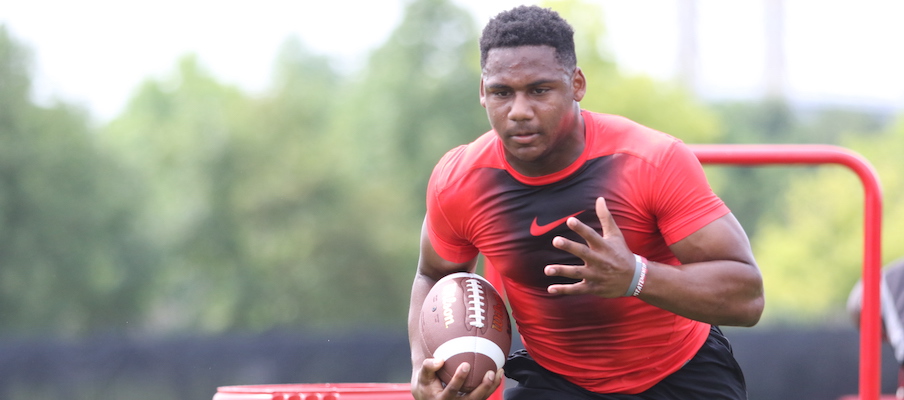 Northwestern C Sam Gerak
Although he is a product of Avon, Ohio, Gerak said he wasn't recruited much by Ohio State out of high school. Ranked as the 30th-best prospect from Ohio in the 2017 class, Gerak didn't have much communication with the Buckeyes, but he was OK with that.
"Growing up, that was where everybody wanted to go. That's who everybody rooted for. I was never an Ohio State fan, both my parents went to Penn State, so it was natural for me to go against the grain a little bit with that," Gerak said. "But I wasn't recruited by them much."
Gerak said he always hears from his friends back in the Buckeye State, though, when Northwestern is playing Ohio State.
"The most common comment I get when we play Ohio State is 'I hope you play well today, but I'm not rooting for you,'" Gerak said. "But I get a lot of texts from people back home, which is cool."
Among the schools that did offer Gerak, which also included Illinois, Iowa State and Rutgers among others, he said Northwestern stood out because of the people within the program.
"It was the coaches and it was the field of guys that hosted me on my visit," Gerak said. "I felt so at home, so comfortable there and knew that was somewhere I could spend the next four or five years of my life."
Wisconsin LB Jack Sanborn
A four-star linebacker in the class of 2018, Sanborn visited Ohio State in the spring of 2017, and the Buckeyes made a positive impression on him.
"I remember it was a really good visit," Sanborn said. "The coaches there were really cool, very down to earth, and yeah, I really enjoyed it there. It's a great program, obviously, and I thought their facilities, everything there was really outstanding."
Sanborn said he talked regularly with Ohio State offensive line coach Greg Studrawa during the recruiting process. He did not actually receive an offer from the Buckeyes, however, and he committed to Wisconsin shortly after his visit to Ohio State, at which point he shut down his recruitment.
"I just felt it in my gut that this is where I was supposed to be," said Sanborn, an Illinois native. "I feel like it checked all the boxes that I was looking for in a school. It's a prestigious university with great athletics, and a school that I can have a life outside of football then too, so I'm very happy with my decision."
Indiana QB Michael Penix Jr.
Before Penix torched Ohio State's pass defense for 491 yards and five touchdowns through the air last season, Day told reporters that he had recruited Penix as a quarterback coming out of Tampa, Florida in the class of 2018. Those conversations made a positive impression on Penix.
"I talked to him later on in my recruiting process. I had worked out with him before. But I feel like he's a great coach," Penix said. "Obviously, he's been having great success at Ohio State, and I respect Coach Day."
Penix never received an offer from the Buckeyes, who signed Matthew Baldwin in his recruiting class instead, so he didn't actually have the chance to consider Ohio State as a potential destination. 
He chose to become a Hoosier, even though he admitted at Big Ten Media Days that he didn't watch any Indiana football games growing up, because he trusted Indiana's then-offensive coordinator Mike DeBord and quarterbacks coach Nick Sheridan, who previously coached at Tennessee, where he committed initially before flipping to Indiana.
"They both were there, and they came to IU and they continued to show that love and that support and they showed that they really cared about me and they really liked my game," Penix said about why he signed with Indiana. "So just them being very honest and staying consistent with me."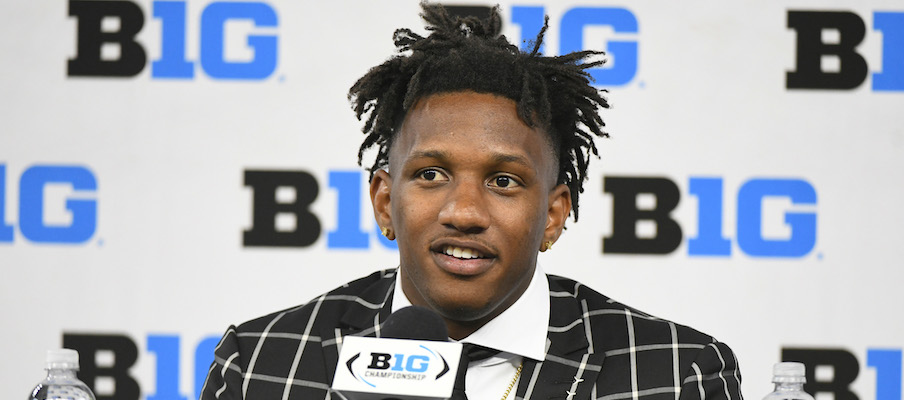 Maryland QB Taulia Tagovailoa
Like Penix, Tagovailoa was also recruited by Day as a high school quarterback, and even though he never received an offer from the Buckeyes, he came away with a positive impression of the Ohio State head coach.
"I talked to him on the phone a couple times," Tagovailoa said of Day. "He's a really cool guy, good coach. He knows what he's talking about, and they have a culture over there. I was never offered from over there, but he's a really good guy, good coach and he'll do something special at Ohio State."
Tagovailoa ultimately followed in his older brother Tua Tagovailoa's footsteps by signing with Alabama out of high school, but he transferred to Maryland just one year later. Had Ohio State offered him, there's a chance he'd be competing for the Buckeyes' starting quarterback job right now, as Ohio State didn't sign a quarterback in the class of 2019 and Tagovailoa says he would have considered an offer from the Buckeyes.
"Oh, of course," Tagovailoa said. "I feel like if you have a school like that, if you're Ohio State, you would definitely want to take a visit or do something that fits."
That said, he says he's happy he's ended up at Maryland, where he feels he has a chance to make his own name.
"It's a blessing," Tagovailoa said. "I get to be in my own vicinity and do my own thing and not walk around in my brother's shadow and stuff like that, so I feel comfortable around that, and now it's up to me to just be the guy for myself."
Michigan DE Aidan Hutchinson
We're wrapping up this article with a pair of Michigan players who were recruited by Ohio State out of high school, starting with Hutchinson, who visited the Buckeyes in 2016 and said at the time that Ohio State was "one of the best visits I've taken so far."
Hutchinson ultimately decided to follow in his father's footsteps by playing for the Wolverines, though, and as you might expect, he wasn't particularly interested in talking about that Ohio State visit five years later.
"That was a long time ago," Hutchinson said at Big Ten Media Days. "That was Old Aidan."
Hutchinson grew up as a Michigan football fan in the state of Michigan, so he was bred to dislike Ohio State. That didn't stop him from considering the Buckeyes as a recruit, but now that he's been at Michigan for three years, he says his appreciation for the Michigan/Ohio State rivalry has grown even more.
"Obviously, I've known about this rivalry my whole life, growing up a Michigan football fan," Hutchinson said. "But playing in it and feeling it, it's a little different. You have a different appreciation for that rivalry, and it definitely makes things more intense."
Michigan LB Josh Ross
Ross was offered by Ohio State as a four-star linebacker in the class of 2017, but if he had any interest in the Buckeyes back then, he's also not going to admit it now. Asked if he had considered Ohio State at all during the recruiting process, Ross quickly shut down the question, saying "No, I didn't."
A native of Southfield, Michigan, Ross also had family ties to the Wolverines and because of that, he said it was an obvious decision for him to stay in his home state and play for the maize and blue.
"Growing up, a Michigan guy, born and raised in Southfield, Michigan, dad was the biggest Michigan fan ever, still is," Ross said. "And my brother (James Ross) ended up coming here, and he played here from 2012-2015. And I used to always be around. Meeting some of the guys. Some of his friends back in the day is some of my closest friends now, that play here. So I've kind of been around Michigan since I was like 12 years old. It was meant to be to come here. There wasn't no other option, for real."