Ohio State held its second high school football camp of the month on Tuesday, giving hundreds more players an opportunity to work out with Ohio State coaches and players, learn some new skills and try to make enough of an impression to earn an offer from the Buckeyes.
As of Tuesday night, only one player had announced earning an offer from the camp: Theodor Melin Öhrström, a 2023 tight end from Sweden, who added the Buckeyes to a list of early offers that also includes Alabama, Arizona State, Florida Atlantic, Florida State, Georgia Tech, Kansas State, Minnesota and UCF.
Öhrström, a 6-foot-6, 245-pound tight end, earned the offer after an impressive workout on Tuesday in which he demonstrated his ability as both a pass-catcher and a blocker, making enough of an impression during receiving drills that Ryan Day called him out of the workout early, having seen enough to extend an offer before the workout was over.
Before his workout, Öhrström – who's part of Premier Prospects International, a group of European recruits who is traveling to camps all over the country throughout the month of June – spoke to Eleven Warriors and said Ohio State was "one of the best places I've been to so far."
"I really like the hospitality everyone's shown here," Öhrström said. "I like the facilities, and everything's been really, really great."
A total of five European prospects worked out at Ohio State on Tuesday, including one who already had an offer from the Buckeyes: Hero Kanu, a four-star 2022 defensive tackle from Germany, who was the clear standout during the big man portion of the camp on Tuesday morning, in which he showed excellent movement skills for his size and was dominant in one-on-one drills.
Kanu, who plans to announce his list of top schools following the conclusion of PPI's DreamChasers Tour later this month, flashed a big smile and said he has "a lot" of interest in Ohio State when asked about his interest in the Buckeyes following his workout.
Three other European prospects also worked out at Tuesday's camp: defensive tackle Thomas Collins and offensive tackle Lucas Simmons, who are both from Sweden, and defensive end Aric Burton, who is from Germany. While they didn't receive offers from Ohio State on Tuesday, all of them have offers from Power 5 schools, and Collins was also among the standouts of the defensive line group on Tuesday morning.
Thomas Collins vs. Josh Padilla: pic.twitter.com/S1a8Qjt2St

— Dan Hope (@Dan_Hope) June 8, 2021
Lucas Simmons, an offensive tackle from Sweden, also working out at Ohio State camp today. pic.twitter.com/WkHxmSMZYi

— Dan Hope (@Dan_Hope) June 8, 2021
Another prospect with an Ohio State offer who participated in Tuesday's camp was Joshua Padilla, a 2023 four-star offensive lineman from Wayne High School who received his offer from the Buckeyes in March. Though Kanu and Collins challenged him in one-on-one reps, the in-state target had a solid showing over the course of his workout, demonstrating quickness and strength while lining up at the center position, though he could also end up at guard.
Two other 2023 prospects with Ohio State offers were also on hand for Tuesday's camp, though they worked out separately from the rest of the campers. As part of their unofficial visits to Ohio State, five-star running back Treyaun Webb and four-star wide receiver Carnell Tate – both of whom are ranked among the top 42 overall prospects in their class – went through one-on-one workouts with Tony Alford and Brian Hartline, respectively.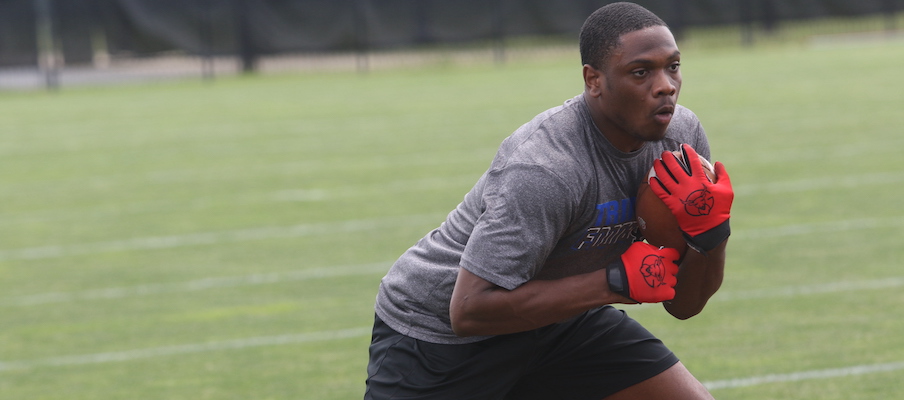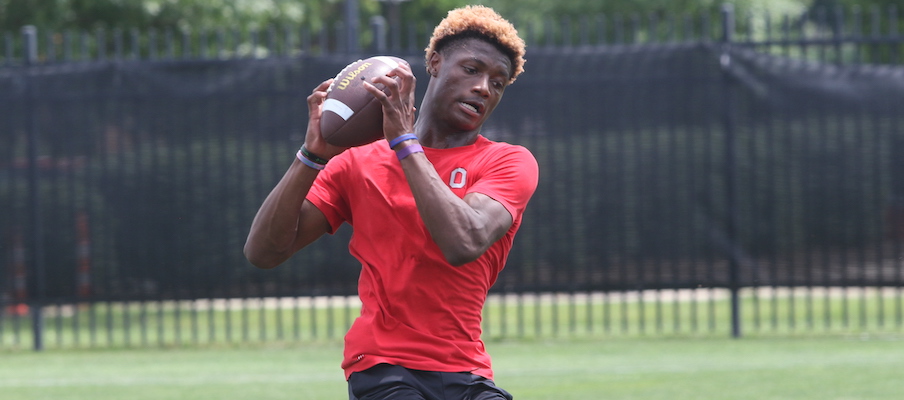 Tausili Akana, who hasn't yet announced an offer from the Buckeyes but is ranked by 247Sports as the No. 1 linebacker in the class of 2023, also got the one-on-one treatment during Tuesday's camp after making the trip to Columbus from Hawaii. He started the camp working out with the rest of the linebackers, but then went to work out separately with linebackers coach Al Washington and defensive line coach Larry Johnson, as it's possible he could grow into playing edge rusher at the collegiate level.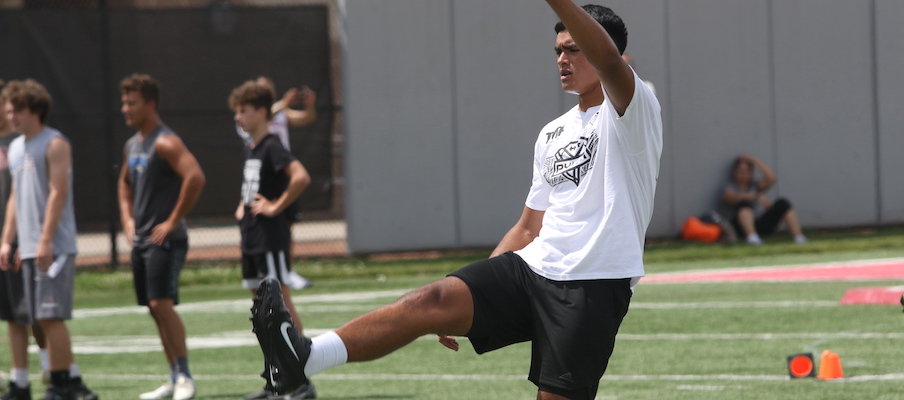 Among the quarterbacks who participated in Tuesday's camp, the two who got the most attention from Day and Corey Dennis were Cameron Edge, a four-star quarterback from Smyrna, Delaware who holds offers from 16 schools including LSU, Oregon, Penn State, Tennessee and Wisconsin among others, and William Watson III, a quarterback from Springfield, Massachusetts, who holds seven offers from Arizona, Boston College, Michigan, Oregon, Pittsburgh, Tennessee and UMass.
Four-star quarterback Cameron Edge among the campers at Ohio State this afternoon. pic.twitter.com/lebRpL9kYD

— Dan Hope (@Dan_Hope) June 8, 2021
Blessed to see another year and to be @OhioStateFB on my birthday #GoBuckeyes @ryandaytime @CoreyDennis !!! pic.twitter.com/D8LQeqvFeL

— William Pop Watson III (@WW3thefuture) June 8, 2021
Neither of them left Ohio State with offers on Tuesday, but Watson will be back at Ohio State for another day of camp on Wednesday and Edge is still hoping to receive one from the Buckeyes, describing the opportunity to work with Day on Tuesday as "amazing."
"It's kind of something I definitely don't take for granted," Edge said. "A lot of kids don't get the opportunity. You see him on TV all the time, it's weird to see him now in person, but he taught me some things that I think I'm definitely going to take home and continue to work on."
The quarterback contingent at Tuesday's camp also featured a much younger quarterback who's still a few years away from actually going through the recruiting process, but is a familiar face around the Woody Hayes Athletic Center: RJ Day, the son of Ohio State's head coach, who threw passes wearing a black Ohio State helmet.
Ryan Days son RJ among the quarterbacks throwing passes at todays camp. pic.twitter.com/JrMG6xDMjQ

— Dan Hope (@Dan_Hope) June 8, 2021
Stay tuned with Eleven Warriors for much more coverage from this week's recruiting camps, as I'll be back at the Woody Hayes Athletic Center on Wednesday for Ohio State's third camp of the month and writing more later this week about several of the prospects mentioned above.