The Hurry-Up is your nightly dose of updates from the Ohio State football recruiting trail, keeping tabs on the latest from commits and targets from around the country.
Brown a rising star
We are in the middle of an interview between myself and 2023 Springfield (Ohio) receiver Anthony Brown when we get interrupted.
In the middle of a question, Ohio State 2022 linebacker commit C.J. Hicks jogs over to put his two cents into the conversation. He can't help it.
Hicks puts his arm around the 5-foot-10, 170-pound slot receiver and smirks before pointing at Brown.
"I'm sorry. This is the next 'Best Receiver in 2023' all right?" Hicks says before pointing at the recorder. "Put that in there."
And like that, poof, he's gone.
Brown starts laughing and shakes his head while saying, "He always puts on like that for me. It's all love."
And when asked who the best linebacker is in Ohio?
"Oh, C.J. Hicks, for sure," Brown says.
Brown squares off with 2023 in-state receiver Anthony Brown (@anthonybrownn_), who was named the MVP of the receivers today pic.twitter.com/uztW06Jx4S

— Zack Carpenter (@Zack_Carp) April 11, 2021
There may be some laughs and jokes, but when it comes to Ohio receivers, it's Brown leading the pack, especially in the 2023 cycle. He certainly has a bright future, and this interview comes right after he proved it on the field.
At last Sunday's Under Armour Camp, the three-star prospect (who is ranked No. 37 at WR and No. 7 in Ohio, per 247Sports) showcased his quick, agile route-running and flashed his consistent hands en route to winning the event's Receiver MVP award.
"I felt good. It felt good to come out here and compete with the other people," Brown said. "I feel like I excelled in just getting better – route running, my shuttle was like a 4.05, which is good."
The highlight of the camp for Brown came when he went against another of his namesake in a physical press-man situation against 2022 Buckeyes cornerback commit and Lakota West (Ohio) senior Jyaire Brown. After a battle at the line of scrimmage in their one-on-one showdown at the end of the camp, Anthony got the better of Jyaire on an in-route, and the two dapped up in respect after the catch.
"This is the first time I've seen him. I follow him on social media, but this is the first time I've seen him," said Anthony, noting the tough matchup was a good test for him as a receiver.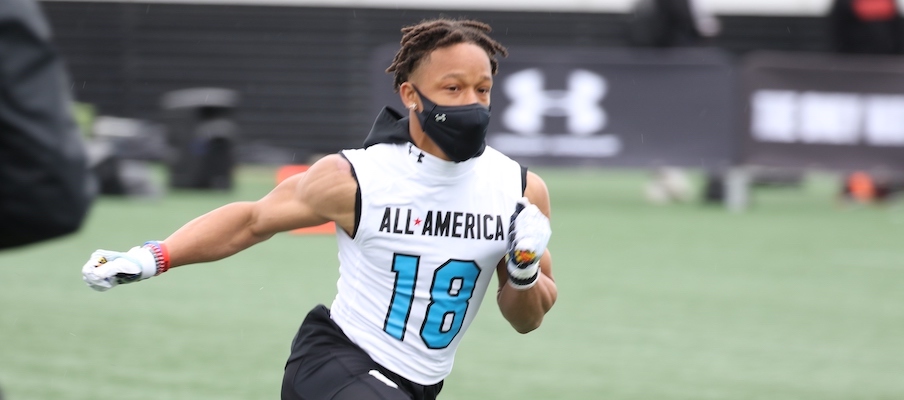 That performance for Brown is going to help his future endeavors when it comes to college coaches' interests. He only has eight offers thus far from Cincinnati, Kentucky, Minnesota, Pittsburgh, Tennessee, Eastern Kentucky, Miami (Ohio) and Toledo with his offer from the Vols coming just a few days before the camp.
When it comes to the recruiting process, though, Brown says that he is "just taking everything step-by-step" and "not really rushing anything and just taking my time."
Penn State, Illinois and Iowa State are three more showing interest who may extend offers down the road. Would be interesting if the Nittany Lions offer and wouldn't be surprising, either, as they landed a commitment from 2022 Westerville South (Ohio) Kaden Saunders, another 5-foot-10, 170-pound slot receiver who Brown could emulate and follow a similar development path.
Ohio State has not yet been in contact with Brown, but he's one of the 2023 prospects who could get some interest down the road, even with the Buckeyes trending away from adding the smaller slot guys to their receiver recruiting classes.
Either way, Brown does bring something of value to the table to a college program as he stock trends upward.
"I bring speed, explosiveness, just a winning mentality," Brown said. "I think a lot of coaches want that."
More targets set visits
Adding to a growing laundry list of top-flight talent set to hit Columbus this summer upon the end of the dead period is a trio of highly regarded targets:
Official visit dates set - 4th-6th Florida 11th- 13th Georgia 18th- 20th Alabama 25th- 27th Ohio state

— Enai White (@younggbenji0) April 21, 2021
I will be at The Ohio State University June 9-11 for an unofficial visit !!! #GoBucks @CoachTonyAlford

— Richard Young (@richard39495691) April 21, 2021
Can I come??

— BrandonSHOWTIME inniss (@brandon5star2) April 21, 2021
I will be at THE Ohio State University for an unofficial visit June 22nd and 23rd @CoachTonyAlford @ryandaytime @CoachStudOL #GoBuckeyes

— Payton PKAY Kirkland (@paytonkirk55) April 21, 2021
In addition to those four, plus the interest from five-star receiver Brandon Inniss, we've been told that another player from Ohio has set up a private workout with the Buckeye coaching staff for this summer in Washington tight end Tanner LeMaster. The No. 17 tight end in the 2023 class and No. 8 prospect in Ohio, LeMaster has 14 offers thus far (highlighted by Cincinnati, Kentucky and Tennessee), and like Anthony Brown will be another name to tuck away in your mind as a player Ohio State is interested in and may offer down the road.
Buckeyes to host camps
In addition to the private workouts that a few Buckeye hopefuls are set to participate in, Ohio State is set to host camps this June. Larry Johnson tweeted out a schedule for one-day camps (for offensive and defensive linemen in the morning; skill position players in the afternoon/evening) that have been so crucial in the past for players to earn offers and be evaluated in-person by the Buckeye coaching staff:
April 21, 2021
Tuimoloau evaluates Oregon visit
Five-star Eastside Catholic (Washington) defensive end J.T. Tuimoloau remains in a holding pattern when it comes to his Buckeyes recruitment. Until he makes the rounds of his official visits to Ohio State, Alabama and others in June, the No. 3 overall player in the 2021 class is not going to make a decision.
Tuimoloau, however, has taken visits over to Washington and Oregon recently, and he evaluated his visit to Eugene with 247Sports' Brandon Huffman:
With campuses still closed to recruiting, no visits with coaches, no tours of the campus, Tuimoloau watched from the stands but got to see the Ducks in action.

"The Oregon practice was very live," said Tuimoloau. "They had a high energy that was kept throughout the whole practice, from the coaches and trainers interacting with the team. It was very exciting to watch."

It was also Tuimoloau's first chance to see Oregon's new defensive coordinator, Tim DeRuyter, direct the Duck defense.

"It was also great to see the new DC, coach DeRuyter in action," said Tuimoloau.
---
Header photo: Anthony Brown