The Hurry-Up is your nightly dose of updates from the Ohio State football recruiting trail, keeping tabs on the latest from commits and targets from around the country.
Egbuka sets commit date
We finally have a set date on when five-star receiver Emeka Egbuka – the No. 9 overall player in the country, the No. 1 receiver in America and Ohio State's highest-priority offensive target remaining in the 2021 class – will be making a decision.
Egbuka gave an announcement of an announcement on Tuesday, saying that he will be letting the public know of his college decision at 8 p.m. ET on Friday.
Commitment dropping on Dec. 11th at 5:00 PM PST ..

— Emeka Egbuka (@emeka_egbuka) December 8, 2020
We have been told that Egbuka is likely to sign during the early signing period next week, but we are not sure yet if he plans to enroll early.
Egbuka has been keeping this close to the vest for a long time, and he's continuing to do so right down to the wire. He speaks with Brian Hartline every day, and he has had a strong relationship with both Hartline and Ryan Day for about two years, which we've written about that extensively in the past. 
That has been keeping the Buckeyes as the leader for that same amount of time, as both Ohio State and Oklahoma have similar offerings in terms of an NFL pathway for receivers, an offense that can lead to healthy production for its wideouts and the comfort of knowing there is going to be a dangerous quarterback throwing the ball to him between the two schools fighting to be QBU.
That relationship battle may still be won by the Buckeyes as they remain the overwhelming Crystal Ball favorite – notably from 247Sports' Brandon Huffman, who has the best line to this recruitment over anyone in the country outside of Egbuka's own camp – despite a relationship with five-star quarterback Caleb Williams that grew during Egbuka's visit to Oklahoma over the weekend.
There had not been optimism stemming from Ohio State's 2021 commits about an Egbuka-to-the-Buckeyes commitment, but that stance has changed just over the course of the past hour.
In the end, it appears that Egbuka will be picking the Buckeyes on Friday. But buckle up.
Previewing Early Signing Period
Whether they have been committed for a couple years or a couple months, the entire recruiting process will officially come to an end for those in Ohio State's 2021 class who are putting pen to paper during the early signing period that runs from December 16-18.
We got the opportunity to speak with several of those future Buckeyes, and over the next two weeks we will be previewing those players' journeys as they fax their national letters of intent to Mark Pantoni and Co. and officially join the program.
Sawyer more explosive than ever, ready to hit ground running
When Jack Sawyer last took the field in a game, the Buckeyes' five-star defensive end commit was hobbling off of it.
After tearing the MCL in his left knee during a playoff game on Nov. 8, 2019, Sawyer underwent successful surgery and a speedy recovery process last winter. However, he opted out of his senior season at Pickerington North (Ohio) to focus on preparing for his Ohio State career and hasn't seen in-game action since that night.
So when he eventually gets back to live reps this coming spring in Columbus, he admits there will be some emotions along with it and that his appreciation for the sport will be stronger.
"The next time I'm back on the field, I'm not gonna take it for granted," Sawyer told Eleven Warriors this week. "Every time I'm on the field, whether it's a practice, a game, a scrimmage, I'm just gonna be that much more thankful for it. I'm really gonna take advantage every time I get on the field. Every rep counts, and I'm really just gonna bust my ass every day and hopefully everything takes care of itself."
The Sawyer File
Class: 2021
Size: 6-foot-5/250 lbs
Pos: DE
School: Pickerington North (Pickerington, Ohio)
Composite Rating: ★★★★★
Composite Rank: 4
When he chose to forgo his final high school season, Sawyer told us that his plan was to hire a nutritionist to clean up his diet and tack on more weight, and he said he was going to be going full tilt in workouts. That went exactly as planned, as Sawyer says the past few months have been filled with working out, eating a lot and "trying to get as big, fast and strong as I possibly can."
He's been following that nutrition plan closely, eating about six meals a day with a lot of whole foods, protein and vegetables to clean up his diet, which is buoyed by a workout schedule of lifting for an hour a day before getting some football-specific drills in.
"Just about every day, I'm working on something for on the field, whether it's working on my agility or my top-end speed or my explosive first step. That's pretty much what my days really consist of," Sawyer said. "I'd definitely say my explosion's gone through the roof. I'm way more explosive and way faster than I've ever been in my life. Whenever I run now, I feel way faster and my vertical's closing in on 40 (inches). Everything explosive-wise, I've gotten so much better at. Seeing all the hard work on those leg days is paying off.
"I would definitely say working glutes and hammies, those are really the explosion muscles when it comes to pushing off and driving. Really just getting my mechanics down, too, on different types of stuff. The little fixes just kind of add all in together to make me that much better of an athlete. I just started deadlifting for the first time six months ago, and that's helped a lot. Glute stuff and hip thrusts are helping. Everything I've been doing all adds into it."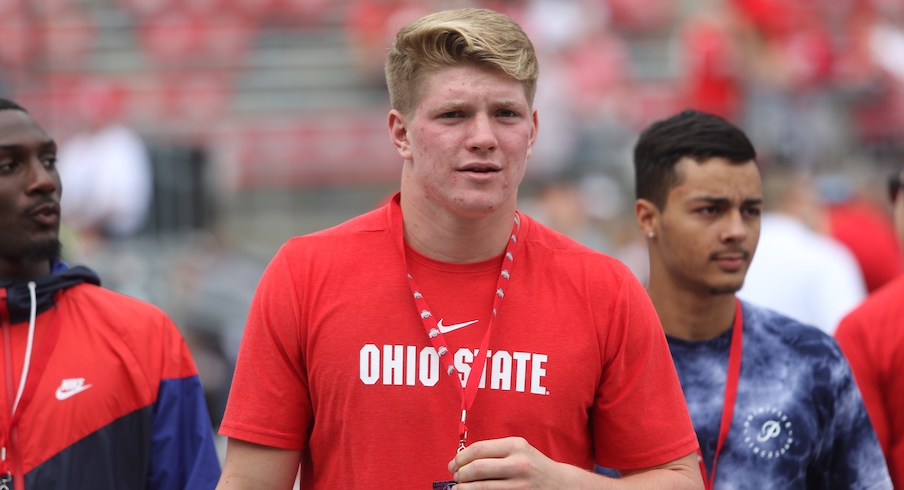 Sawyer is now up to about 250 pounds with his numbers in the bench press (325), squat (515) and hang clean (310) all going up, and he says his 40-yard dash time is at 4.64 seconds the last time it was charted – including some notable improvements in his 10-yard splits – and that he will run it one more time before he heads off to the Woody Hayes Athletic Center. 
He believes all of that work since August and September has made him a more well-rounded and more explosive athlete. But still, he's had an entire year off from playing actual football and that'll reach nearly a year-and-a-half by the time spring practices roll around.
So there will be some rust there, and he will have to face the challenges of getting back into playing shape and getting back into the rhythm of the game.
"Yeah, that's a great point," Sawyer said. "I think I've done a great job of staying in football shape and trying to keep a rhythm with my defensive end stuff on my own. But I think going in there and getting that early time with Coach (Larry) Johnson and Coach (Mickey Marotti) and getting back into the swings of practicing on my hips and stuff like that every day, working with Coach Johnson and getting his teaching will be a very smooth transition back into it, honestly."