It was another big weekend for future Buckeyes in Ohio, as four Ohio State commits set out on a path to reach the state championship games.
Jayden Ballard (Massillon Washington) squared off with Jaylen Johnson (Cincinnati La Salle) in the Division II state semifinals.
C.J. Hicks (Archbishop Alter) teamed up with 2022 Buckeye defensive tackle target Derrick Shepard as the Knights faced DeSales in the Division III semifinals.
Reid Carrico (Ironton) and 2023 target Trevor Carter, meanwhile, waited until Saturday to match up with LSU running back commit and former Buckeye target Corey Kiner (Roger Bacon) in the Division V final four.
Eleven Warriors was on hand to cover all three games and each athlete as Ballard and Carrico's teams punched their tickets to state championship games while Johnson and Hicks' seasons came to an end.
Ballard advances, Johnson bows out
MARYSVILLE – When Mason Luensman hit a 33-yard field goal to give Cincinnati La Salle a 10-7 lead over Massillon Washington, it honestly felt like that would prove to be the game winner.
There was still about eight minutes remaining in the Division II state semifinal matchup, but with the way the defenses had been stiff and the offense on both sides had completely come to a shutdown – not helped by injury stoppages on two straight plays, another five-minute stoppage because of issues with the clock, yet another clock issue to begin the fourth quarter and a third injury stoppage on the very next play to begin the final period – a three-point margin seemed pretty substantial amid the stall.
But one busted coverage helped Massillon erase that deficit in the final minutes, as Zach Catrone connected with Martavien Johnson streaking down the middle of the field for a 48-yard touchdown pass, with La Salle's Jaylen Johnson tackling Martavien as he crossed the goal line with less than 2 minutes, 30 seconds left. That score, and the ensuing extra point, gave the Tigers an eventual 14-10 thrilling victory and sent them to their third straight state championship game.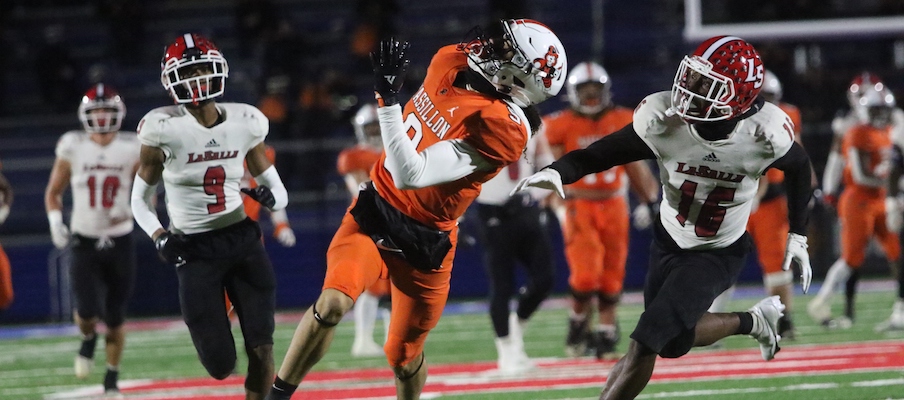 In a game featuring a pair of 2021 Ohio State commits, there were two sides of the coin.
For Ballard and Co., it was a revenge for a 34-17 loss to La Salle in last year's Division II state title bout.
For Johnson and his teammates, the game plan they ran worked all game until that big pass play.
"We were just trying to stop them defensively," Johnson told Eleven Warriors. "We knew we were down a couple players, but we came out ready to fight and stop the run and stop the big plays. That was our defensive plan, and it worked. We had a couple slip-ups, the last drive we had a busted coverage, and they threw a touchdown. We have nobody to blame but ourselves. Hope they go win state and beat Avon or Hoban."
While Massillon (10-1) will face Archbishop Hoban – the team it lost to, 42-28, in the 2018 state championship game but beat, 17-14, in a state quarterfinals game in 2019 – next Friday (7 p.m.) at Fortress Obetz, the Lancers (8-3) were unable to capture a second consecutive state ring.
"It was a tough loss," said Johnson, who lined up as a wide receiver for the Lancers throughout the night. "Senior year, you wanna go win state, but I had the opportunity to win state as a junior, had the opportunity to be in a place I didn't think I'd be in. I made every GCL team, every all-state team. My accomplishments are there. I wanted to get another state ring, but things didn't go how they were supposed to, so I'm good with everything I've done in high school. I completed my glory."
Ballard declined interview requests with the media after the game.
– Zack Carpenter
Carrico's three TDs lead Ironton back to state title game
LONDON – While a future Power 5 running back was also on the field in Saturday night's Division V semifinal at London High School's Bowlus Field, it was the future Power 5 linebacker who had the biggest night carrying the ball and ultimately led his team to victory.
Reid Carrico's future at Ohio State will be as a defensive player, and he played a big part in Ironton limiting Roger Bacon to just 19 points on Saturday. But it was his playmaking ability as Ironton's running back, in a game where a safety and a missed extra point made the difference, that led the Tigers to a 22-19 win and a second straight trip to the state championship game.
Carrico ran for a 78-yard touchdown in the first quarter to score the game's first points. He capped off a lengthy Ironton drive by powering into the end zone for a 1-yard touchdown run on 4th-and-goal in the second quarter. Then, after Roger Bacon scored 19 unanswered points, Carrico turned another fourth down into a touchdown, catching a pass out of the backfield on 4th-and-7 and strolling into the end zone for a 23-yard score, to give the Tigers a fourth-quarter lead they would not relinquish.

Now, Carrico and his Ironton teammates will get a chance to avenge their loss in last year's state championship game, as they're set for a rematch with Kirtland – who beat Ironton 17-7 in the 2019 D5 final – next Saturday (2 p.m.) at Fortress Obetz.
"It feels good, but I've been there before, and I'm trying to win this one," Carrico said after Saturday night's win. "Kirtland's a great football team ... there isn't one punk on Kirtland's football team, and I'm just glad that two good programs, we get to battle it out again. I've had a sour taste in my mouth for a year now, and redemption's going to come to fruition, I reckon."
During Carrico's postgame interview with Eleven Warriors, Kiner came over to congratulate Carrico and encouraged him to "go win it all" next week, while both wished each other luck at the next level.
As I interviewed Reid Carrico following Irontons 22-19 win over Roger Bacon to advance to D5 state championship, Corey Kiner came over to congratulate him.

Kiner: Good game, bro. Go win it all. Good luck at Ohio State.

Carrico: Good luck at LSU, man. Tear it up down there. pic.twitter.com/YRvT9eDDzW

— Dan Hope (@Dan_Hope) November 15, 2020
Carrico said he enjoyed having the opportunity to go head-to-head with another future FBS player on Saturday night.
"He's hard to tackle, he's stocky," Carrico said. "But man, it's fun. Because through our conference play and stuff like that, you don't get that. You don't get a player like that until the state semis or the state finals, and I'm just glad that Roger Bacon moved down a division and we were able to play them and compete."
​– Dan Hope
Hicks' season ends in semifinals
LONDON – As the clock ran out on Friday night's Division III state semifinal at Bowlus Field, C.J. Hicks dropped to the turf and put his head in his hands.
After eight straight wins for his Archbishop Alter team, the Knights' season ended just one win short of reaching out the state championship game, as they dropped a 23-13 result to St. Francis DeSales. While DeSales ran off the field in celebration, Hicks and most of his teammates lingered on the field in disbelief, shedding tears and sharing hugs.
For Hicks and his teammates, the realization that their seniors' high school football careers were over and they came up just short of playing for a state title was heartbreaking. But Hicks will have another chance to make a playoff run with Alter next year before he begins his Ohio State career in 2022.
"We'll be back," Hicks said after the game, still fighting back tears.
Per usual, Hicks was a mainstay on the field for Alter on Friday night, playing just about every snap of the game as a linebacker on defense, wide receiver on offense and every special teams unit.
He blocked an extra point after DeSales' first touchdown of the night, helping Alter take an early 7-6 lead. He also recorded five tackles in the first half, and caught what would have been a 40-yard touchdown pass on the final play of the first half, but it was negated by a holding penalty.
Hicks continued to be active on defense in the second half, including one diving tackle that stopped a potential touchdown run, but DeSales ultimately outscored Alter 14-6 in the second half, aided by a kickoff return fumble by Hicks that set up its final touchdown.
This wouldve been a long run if C.J. Hicks didnt chase down the ballcarrier from behind. pic.twitter.com/tZiQbTtqWF

— Dan Hope (@Dan_Hope) November 14, 2020
If the scene after the game was any indication, though, Hicks and all of Alter's returning players will be more motivated than ever going into the 2021 season. That includes fellow Ohio State recruiting target Derrick Shepard, who told Eleven Warriors after the game that he expects to be a mainstay on both sides of the line next season after playing primarily at offensive tackle this year.
"I just have to get in shape and not come off the field," said Shepard, who's being recruited by the Buckeyes and other teams as a defensive lineman. "I'll be running every day, I'll be back in my training room ... I talked to (former Ohio State defensive tackle) Rob Landers already and he already said we're going to be back in the gym."
Alter lineman Derrick Shepard says hes been in touch with Ohio State at least once a week. After a 23-13 loss tonight, his goal for the offseason is to get himself in shape to play on both sides of the line in his senior season after playing mostly offensive tackle this year. pic.twitter.com/0t3qYKptKh

— Dan Hope (@Dan_Hope) November 14, 2020
– Dan Hope
Buckeye Roundup
Here is the full rundown of Ohio State commits in the 2021 and 2022 combined recruiting classes who are either in action this weekend, had their seasons wrap up, opted out of their senior season or had it postponed to the spring.
Ohio State Commits' Results for Nov. 13-14, 2020

| Player (Class) | Team | Opponent | Day, Time (Record) |
| --- | --- | --- | --- |
| SDE JACK SAWYER (2021) | PICKERINGTON NORTH | SAWYER OPTED OUT |   |
| OG DONOVAN JACKSON | EPISCOPAL (TEXAS) | SEASON FINISHED | FINAL RECORD: 2-4 |
| RB TREVEYON HENDERSON | HOPEWELL (VA.) | SEASON PPD UNTIL SPRING |   |
| QB KYLE MCCORD | ST. JOSEPH'S PREP (PA.) | IDLE | (4-0) |
| CB JAKAILIN JOHNSON | DE SMET (MO.) | HOWELL | W, 28-7 (5-0)* |
| WR JAYDEN BALLARD | MASSILLON WASHINGTON | CINCINNATI LA SALLE (@Marysville) | W, 14-10 (10-1)* |
| DT MIKE HALL | STREETSBORO | SEASON FINISHED | FINAL RECORD: 8-1 |
| CB JORDAN HANCOCK | NORTH GWINNETT (GA.) | IDLE | (7-3) |
| LB REID CARRICO | IRONTON | ROGER BACON (@London) | W, 22-19 (11-0)* |
| RB EVAN PRYOR | WILLIAM AMOS HOUGH (N.C.) | SEASON PPD UNTIL SPRING |   |
| WR MARVIN HARRISON JR. | ST. JOSEPH'S PREP (PA.) | IDLE | (4-0) |
| OG BEN CHRISTMAN | REVERE | SEASON FINISHED | FINAL RECORD: 4-3 |
| S/CB ANDRE TURRENTINE | ENSWORTH (TENN.) | SEASON FINISHED | FINAL RECORD: 2-7 |
| DT TYLEIK WILLIAMS | UNITY REED (VA.) | SEASON PPD UNTIL SPRING |   |
| ATH DENZEL BURKE | SAGUARO (ARIZ.) | @ HORIZON | W, 26-0. (4-1) |
| S JANTZEN DUNN | SOUTH WARREN (KY.) | CHRISTIAN COUNTY | Friday, 7 p.m. (5-0) |
| S/LB JAYLEN JOHNSON | CINCINNATI LA SALLE | MASSILLON WASHINGTON (@Marysville) | L, 14-10 (8-3)* |
| TE SAM HART | CHEROKEE TRAIL (CO.) | @ OVERLAND | W, 34-0 (4-2) |
| OT ZEN MICHALSKI | FLOYD CENTRAL (IND.) | SEASON FINISHED | FINAL RECORD: 7-3 |
| P JESSE MIRCO | PROKICK AUSTRALIA | SIGNED WITH OHIO STATE |   |
| LB GABE POWERS (2022) | MARYSVILLE | SEASON FINISHED | FINAL RECORD: 6-2 |
| ATH DASAN MCCULLOUGH | BLUE VALLEY NORTH (KAN.) | @ SHAWNEE MISSION NORTHWEST | W, 30-6 (6-2)* |
| LB C.J. HICKS | ARCHBISHOP ALTER | ST. FRANCIES DESALES (@London) | L, 23-13 (8-3)* |
| CB JYAIRE BROWN | LAKOTA WEST | SEASON FINISHED | FINAL RECORD: 8-1 |
| OT TEGRA TSHABOLA | LAKOTA WEST | SEASON FINISHED | FINAL RECORD: 8-1 |
| TE BENJI GOSNELL | EAST SURRY (N.C.) | SEASON PPD UNTIL SPRING |   |
| TE BENNETT CHRISTIAN | ALLATOONA (GA.) | @ LASSITER | W, 44-9 (8-0) |
*Denotes playoff game