The Hurry-Up is your nightly dose of updates from the Ohio State football recruiting trail, keeping tabs on the latest from commits and targets from around the country.
Davis to visit for Buckeye Bash
The latest news as of Wednesday afternoon was that 2021 Pittsburgh prospect Derrick Davis Jr., the No. 2 safety in all of the land, was not going to be making a visit to the Buckeye Bash this weekend. Instead, we had been told over the past couple of weeks that Davis would not be making the trip, and yesterday it was reported by 247Sports' Steve Wiltfong that Davis and his father were all set to be making their first trip to Athens this weekend for Georgia's bye week. (And that he is looking to visit LSU before making a decision.)
That all flipped on its head on Thursday afternoon, as Davis is now all set to visit Columbus this weekend for the Buckeye Bash. The news was first reported by Lettermen Row's Jeremy Birmingham, and we were able to get confirmation this afternoon.
It's a very important visit for the Buckeyes, as their momentum had appeared to be dwindling for the stud defensive back with a Nov. 7 commitment date approaching. In getting Davis to Columbus, Ohio State now has the opportunity for him to mingle with Jack Sawyer, TreVeyon Henderson and Co. and get a better gauge of whether or not there's a strong vibe among them. However, the Buckeye commit Davis is closest within the 2021 class – fellow Pennsylvania prospect Kyle McCord – will not be at the Buckeye Bash as he has a game on Saturday. (Against Bishop Sycamore from Columbus, ironically enough.)
Davis is an extremely talented player and would be a huge get in this class, as I believe he's a five-star caliber player even if he only has four stars next to his name. However, he should still be seen as a luxury with six defensive backs (including Jaylen Johnson) already committed in the class.
We discussed Davis' relationship and respect for both Kerry Coombs and Matt Barnes earlier on Thursday, as those two coaches have been at the forefront of why Ohio State is right up there as, what we believe, a top-two finalist against Penn State in his recruitment.
"To them, I'm like a hometown kid, really," Davis told Eleven Warriors previously. "They show me a lot of love. They've been showing me love since I was a freshman. That's all I can say, man. They just show me a lot of love."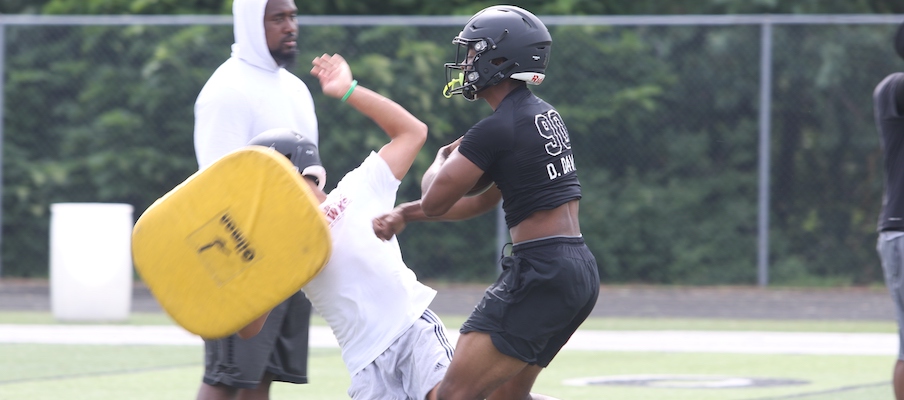 Davis keeps a tight circle when it comes to his recruitment, and when asked what his parents want in terms of his future college program, he said it came down to off-field priorities. 
"My mom, she don't really care about football. All she cares about is me getting the right education I need to get and me being a successful man in life," Davis said. "My dad's the same way. As much as he loves football, he just wanna see me shine wherever I go and lead that school and just be a better me."
As an aside, five-star offensive tackle Tristan Leigh, who we're told is still set to visit this weekend along with his mom and his brother Aidan (a 2023 offensive tackle prospect the Buckeyes have offered), remains the No. 1 priority among those who will be coming for the Bash. But Davis would still be a tremendous luxury in the class.
Hall honored with All-American jersey
The All-American Bowl will not be played in 2021, but on Wednesday night NBC Sports' Road to the Dome series continued with four-star Streetsboro defensive tackle Mike Hall becoming the sixth of the Buckeyes' 11 All-American Bowl honorees to receive his jersey in a virtual presentation.
Rob Rose, a former Ohio State defensive lineman, presented Hall with the jersey. Hall's segment begins at the 10:55 mark of the video below.
"First off, I just wanna thank God, my family and my friends for congratulating me on my big accomplishment, and I wanna thank my coach from Streetsboro High School. And another thing, I just wanna thank Buckeye Nation, too, because if it wasn't for them I wouldn't be here today," Hall said. "It was a dream all my life and just watching the other games previously, I just wanted to be out there with the top guys to compete and see who's the best in the country."
As part of the jersey presentation, Barton Simmons provided analysis of Hall's game film and what the scouts at the 247Sports network think of the 6-foot-3, 290-pounder.
"The more we dug into the film, the more we loved Mike Hall," Simmons said. "This is a kid that has the ability and the athleticism to be a 3-technique, but I really think his body type could allow him to fill out and become a nose as well. He plays with some stoutness, plays through the hips, plays with effort and motor – a lot of the things you look for from an interior defensive lineman. This is a kid that absolutely impacts the play and impacts the defense around him. He'll be a good one."
Williams to enroll early
The 2020 group of 14 Ohio State commits was a program record. We're inching closer to the 2021 class surpassing that, as Virginia defensive tackle commit Tyleik Williams announced today that he will be officially enrolling in January.
I will be enrolling early at Ohio state .

— Tyleik T5 William (@tyleikk) October 22, 2020
That gives Ohio State 12 confirmed early enrollees in Williams, Sawyer, Henderson, McCord, Jayden Ballard, Reid Carrico, Evan Pryor, Marvin Harrison Jr., Denzel Burke, Jantzen Dunn, Sam Hart and Jesse Mirco.