The Hurry Up is your nightly dose of updates from the Ohio State football recruiting trail, keeping tabs on the latest from commits and targets from around the country.
LeBlanc blown away by offer from Buckeyes
On Tuesday night, the news hit that former Ohio State star defensive end Joey Bosa had hit a mega pay day, as the Chargers signed him to a five-year, $135-million extension.
Less than 24 hours later, Larry Johnson — the man who helped develop Bosa into a multi-million dollar man and one of the most feared pass rushers in the NFL — came calling with an offer to Derrick LeBlanc. LeBlanc is a 2023 defensive end prospect out of Florida's Osceola High School who is an early candidate to develop into one of his class' five-star studs. 
Though it was actually area recruiter Tony Alford who officially offered LeBlanc, the relationship with Johnson that has been building steadily since December was one of the prime reasons LeBlanc was floored with the offer.
"I've been talking to Coach Johnson for a long time so for this to happen right now – because I thought they didn't offer freshmen – so I was surprised," LeBlanc said. "It means a lot because that means they're really trying to get me early. So that's just big."
Blessed and humble to receive a scholarship from THEE OHIO STATE UNIVERSITY @DemetricDWarren @ChadSimmons_ @CoachTonyAlford @R2X_Rushmen1 @ryandaytime @FootballKowboy pic.twitter.com/8eRUcen7Z4

— Derrick Leblanc (@getrightderrick) July 29, 2020
The 6-foot-5, 240-pounder already has offers from almost every powerhouse college program not named Clemson. But when asked which programs have been standing out the most, LeBlanc said bluntly with a laugh: "Ohio State." Plain and simple. 
"You've got Coach Johnson, you've got the best coach especially at my position," LeBlanc said. "He produces a lot."
That response wasn't just because he was speaking with an Ohio State reporter, and that comment obviously doesn't mean he's anywhere close to being a shoo-in to join the Buckeyes. But it's a great first step for a program always looking for the next big thing at LeBlanc's position. 
And after seeing Bosa's big pay day, and then being offered the very next day by the program that helped get him there, LeBlanc chuckled.
"Oh my gosh. Joey, Chase Young, Nick Bosa. All of them. I'm just saying, the people he produces are just straight dogs," LeBlanc said. "That's crazy. (Johnson) doesn't (mention the big NFL pay days his former players have gotten). He just wants to know me more. He wants to just see the things I like. That's what makes him different."
LeBlanc appears to have the potential to be a future star defensive end himself. He has a long way to go, though, and LeBlanc is the No. 1 person who knows that. He comes off as a genuinely grateful and humble young player who knows he has to keep working to remain at the top. 
"Every offer means you just gotta work that much harder," LeBlanc said. "None of this was handed to you. I still just have the mentality of grind like you got nothing. I would never try to get big-headed over this stuff. I stay humble because it could be easily taken away from you so I never get a big head.
"I know some people who let it get to them. They're like, 'I got all these offers so I just stop trying,' and when they got to college they were like, 'Oh, man. I should've done this.' I don't wanna be that type of person. I just stay humble about things, and I just work. People ask me how I'm so different, but it's just a mindset you've gotta have to do those things."
As for the recruiting process itself, LeBlanc is being diligent.
"I ask about the little things," LeBlanc said. "I look for a lot of things in a school. I'm not looking to go to a school for a big logo. There's a lot of kids in my area who've been doing that. That's why you see a bunch of kids in the transfer portal. You just need to take your time to process and weigh your options. Not every school's got what you like.
"I look for graduation rate, the people in front of, the scheme they run and how I would fit in, the environment, all the people they put in the league – Coach Johnson's got a lot – and it's just the little things that stand out for me. Once I go up there and visit, it's gonna be cool. As soon as (the pandemic) is over (he is going to visit)."
As for the actual on-field fit, LeBlanc loves what he sees from Ohio State's scheme. 
"I would fit in real good because they run a nice scheme so I would fit in really good. They run a 4-3 so I would fit in nice," LeBlanc said. "(Johnson) said I could also play outside linebacker because I've got that speed. He said he likes how fast I can get off the ball and that I have the things he likes. He said he only recruits first-round draft picks. That's the man, right there."
Leigh comments on offer
We already reported on the Buckeyes extending an offer to rising sophomore Aidan Leigh, the younger brother of Ohio State's five-star offensive tackle target Tristan Leigh in the 2021 class.
Earlier this week, the younger Leigh — an unranked offensive tackle prospect in the 2023 class — commented to Eleven Warriors about receiving his Buckeye offer. That came after a hectic two-hour period in which both Ohio State and LSU — two of the top five schools in the elder Leigh's final list, perhaps the top two — offered Aidan. 
Extremely excited to receive my 2nd division 1 scholarship offer to The Ohio State University!! #GoBuckeyes @OhioStateFB pic.twitter.com/8vVQWlusel

— Aidan Leigh (@Aidan_leigh72) July 27, 2020
Those offers came a week after Aidan received his first Division I offer from Maryland, and when Ryan Day came calling, it left a big mark.
"Coach Day gave me the offer, and it impacted my life a lot because they are a really good school," Aidan told us. "My brother helped me build a relationship with the coaches when he went on visits to OSU."
Tristan visited Columbus in November for the Buckeyes' game against Penn State, and we've reported how impactful of a visit that was — one that continued to boost Tristan's views of Ohio State.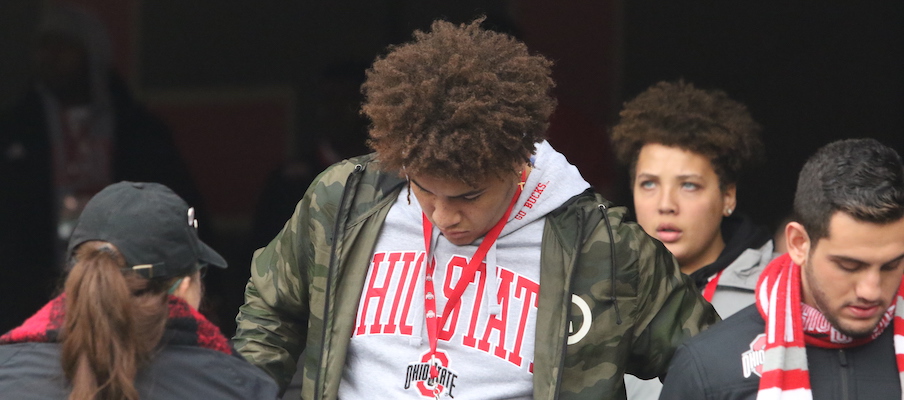 Aidan also walked through the tunnel at The Shoe that day, getting his first taste of the intense atmosphere that cold, rainy afternoon, while Ohio State was getting its first look at Aidan, an up-and-coming prospect who has already grown to 6-foot-4 and 225 pounds. 
That size and the time he still has to tack on more muscle are a couple reasons the Buckeyes pulled the trigger on an offer.
"They like my size, length and my potential. They see me as a tackle," Leigh said. 
Like most recruits who Ohio State has been offering in the 2023 class, Leigh is in the infant stages of an exciting recruiting process, and he says "a lot of programs stand out because of their great coaches and recruiting."
---
Top photo: Derrick LeBlanc – Andrew Ivins/247Sports