The Hurry-Up is your nightly dose of updates from the Ohio State football recruiting trail, keeping tabs on the latest from commits and targets from around the country.
DE not the plan in Buckeyes' recruitment of Powers
The first time that Michigan defensive coordinator Don Brown ever spoke with Mike Powers, the father of Marysville (Ohio) High School linebacker Gabe Powers, he didn't beat around any sort of bushes and there was no b.s. 
"He told me, 'I've only ever offered a scholarship to two players who I've never seen play a varsity snap,'" Mike Powers recalls Brown saying. "'One played for 10 years in the NFL; the other played for 15 years in the NFL.'"
Mike can't remember the names of the two players Brown mentioned, but the Wolverine assistant soon added Gabe as the third member of that list. That offer came last September, as Michigan became the first top-tier college program to offer Powers. He had only played in one game thus far during a sophomore season that saw Marysville beat the brakes off Northland, 49-0, in the season opener, but it didn't matter. There was more than enough there to warrant an offer.
Florida State followed the next month, Ohio State followed in November, and now Powers holds offers from Michigan State, Notre Dame, Penn State, Stanford, Tennessee and USC among nearly 20 total offers. His stock has only continued to rise over the last 10 months, and it will continue rising up from his standing as the No. 43 overall player, No. 4 outside linebacker in American and No. 1 player in Ohio's 2022 class.
So Powers has many options, and even though Ohio State lies just 30-35 minutes to the southeast of Marysville's football stadium, Powers is not planning on making a commitment anytime soon. He has said previously that he is likely wanting to wait until next spring or summer to make a commitment, and he is maintaining that decision timeline. 
"That's still my timeline right now," Powers told Eleven Warriors. "I still wanna get out to visit schools because I wanna see coaches. I've got a lot of schools so I don't wanna leave one out but there's West Virginia, Penn State, Nebraska, Wisconsin, Ohio State, Michigan, Arkansas, Georgia Tech."
Got out to Marysville today to check out Ohio State 2022 linebacker target Gabe Powers (@GabePowers21)

Powers is an OLB who could play a hybrid spot in college. Today, he was working on his footwork with a few teammates, led by former Ohio State CB Donald Washington (@DWashIII) pic.twitter.com/haWKs3PpTn

— Zack Carpenter (@Zack_Carp) July 7, 2020
Powers is the type of person to stay loyal and not back out of a commitment, so he wants to be 100 percent sure it's the right fit for him. He also wants to get a chance to see practices in person so that he can better analyze the tactics of his possible future position coach.
"I just want to go where I feel really loved and where I fit in, so I've gotta take some visits and see how they coach," Powers said. "I wanted to get to some spring ball this year with some teams just to see how they coach. But that couldn't happen so I just wanna wait until I can get out there and see how they coach and interact with their players – to see which ones really love me and where I'd fit in the best.
"When I say fit in, I don't wanna say coaching style because I'd fit in with any coaching style – I've been coached by my dad all my life – but just to see which coaches are out there to actually coach and not just there to get a paycheck. I just wanna see if they really love their guys and if they like being there."
When looking at it through an Ohio State lens, even though he hasn't seen linebackers coach Al Washington lead a Buckeye practice – as was the plan in the spring before the nationwide COVID-19-induced shutdown – both he and his father have liked what they have heard, and they are happy with the relationship they've built with Washington.
"There's not enough good things I can say about that man," said Mike Powers, a former captain and All-American Mike linebacker at the University of Findlay. 
"Coach Washington has shown a lot of love," Gabe Powers said. "At the Penn State and Michigan State game, I met his family, and he's very down to earth and seems like a player's coach. I actually talked to a couple players who graduated this year, and they all love it there. They love Coach Day, and they were talking to me about the school. They have nothing to lose. They're going to play in the NFL now, and they had nothing but good things to say."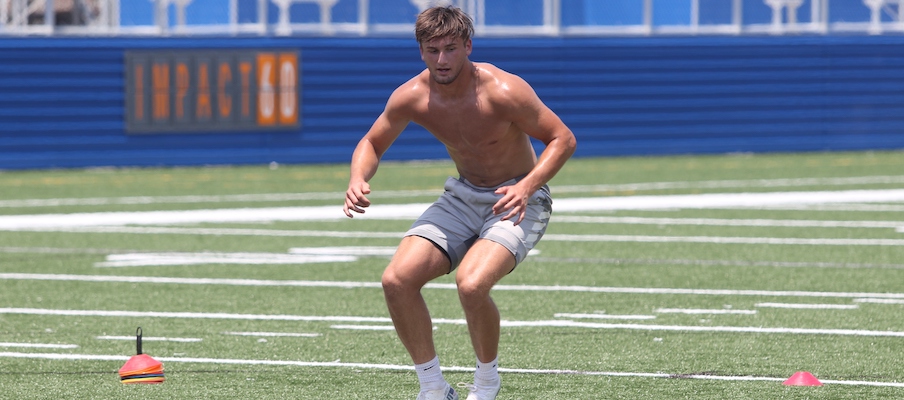 One of those players was former Buckeye long snapper Liam McCullough: "Long snappers practice with the linebackers sometimes, and he got to know Coach Washington, and he had nothing but good things to say about him," Powers said. 
Powers and Washington have spoken over the phone and through Zoom meetings several times, and with each conversation, there has been at least one constant: Washington and the Buckeyes' vision for Powers has not changed. 
Even though I have spent plenty of space in past Hurry-Ups saying that Ohio State's plan is to move Powers to defensive end in college, that is not the plan. It's not entirely out of the question, because Powers still has two more years left in high school and his body could develop to the point where defensive end becomes the best place for him. 
But as of right now and into the foreseeable future, the plan is for Powers to remain at strongside linebacker and for the Buckeyes to use him at the hybrid linebacker/defensive back position, similar to how they have recruited Kourt Williams and C.J. Hicks. That's how Washington has been recruiting Powers, and that is very unlikely to change anytime soon.
"I'll play wherever. It doesn't affect me at all," Powers said. "I'll compete wherever I go so it doesn't matter if I play tight end or lineman."
But…
"(Defensive end) isn't the plan," Powers said. "That's what we were talking with Coach Washington about. He said, 'No, we're recruiting you as a linebacker.'
"Like you said, covering tight ends and being a hybrid. I still gotta get down there and see where I'd go because if I put on weight, it just depends on where my body takes me. I don't play a position. I play football. They've just told me about the hybrid and being able to cover tight ends, playing on the line and rushing off the edge, stuff like that."
Tegra and Curry offer
As I've said numerous times, Ohio State is going to have to continue recruiting its committed players as if they are uncommitted, and that will be no different with its three in-state 2022 commits as we stand about a year-and-a-half away from the early signing period for the 2022 class.
That includes maintaining a strong relationship with Lakota West High School offensive tackle Tegra Tshabola, who has an outside shot at eventually becoming a five-star prospect. 
This week, the 6-foot-6, 320-pound rising junior was extended an offer by his home city school, the University of Cincinnati, as Luke Fickell and Co. will still be coming after Tshabola despite his commitment to the Buckeyes. 
Im proud to announce that I have received an offer to play D1 football for my hometown. Id like to thank @Marcus_Freeman1 @CoachFick @CoachTomBolden @LakotaWestFB and the whole Bearcat family #uc #bearcats #gocats pic.twitter.com/Azx47VqUgc

— Tegra Tshabola (@tshabola_tegra) July 6, 2020
Tshabola's verbal commitment is safe, but don't be surprised if the young star continues adding more and more schools to his offer sheet.
And speaking of adding offers, one of Ohio State's top defensive line targets added an offer from Michigan this week, as four-star Center Grove (Ind.) High School defensive tackle Caden Curry was officially offered by the Wolverines.
Grateful to receive an offer from University of Michigan. Thank you to coach @CoachNua, @CoachJim4UM plus the rest of the staff! @UMichFootball #GoBlue pic.twitter.com/J6IUKdl3gz

— caden curry (@CadenCurry14) July 7, 2020
Curry is ranked No. 134 overall, No. 4 at defensive tackle and No. 1 in the state of Indiana in the class of 2022.
Fox sports graphic
Over the past three recruiting classes (2018, 2019, 2020), the program that has signed the most five-star prospects is ... anyone? Bueller?
Georgia.
In 2018, the Bulldogs set a record in the modern recruiting era by signing seven five-star prospects. In 2019, they signed the most five-star prospects in the country (five), and in 2020, they tied Alabama in signing the second-most five-star prospects in the country (four).
So, naturally, Georgia was left off this graphic from Fox Sports:
If you were a 5-Star recruit which coach would you want to play for? pic.twitter.com/ZvHGyt069c

— FOX College Football (@CFBONFOX) July 7, 2020
Those 16 five-star prospects is the most in that three-year span, with Clemson (11) the second-highest in that span. 
The other teams on that list: Ohio State (nine), Alabama (nine), LSU (seven), Oklahoma (four) and Oregon (four).
---
Top photo: Gabe Powers