June has been pretty rough to Ohio State so far, as three consecutive decisions did not go the Buckeyes' way for priority targets in the 2021 class:
Four-star receiver Troy Stellato committed to Clemson over Ohio State on June 5.
Five-star offensive tackle JC Latham committed to Alabama over Ohio State and LSU on June 12.
Four-star tight end Hudson Wolfe committed to Tennessee over Ohio State and Alabama on June 15.
(As said in Friday's Hurry-Up, the commitment of cornerback Jaylin Davies to Oregon does not qualify as a recruiting loss.)
Stellato had been trending toward the Tigers since he was able to visit Clemson just before the shutdown and was unable to get back to Ohio State as he had planned. Latham and Wolfe, however, were considered Buckeye leans right up until the calendar flipped to June, and now they will play their college ball elsewhere.
The Buckeyes will still recruit Latham and Wolfe. But in the best-case scenario, they would be described as "well behind" in those recruitments.
Losing Stellato and Wolfe are not crushing, especially with Stellato because of who's still left on the board, but losing Latham really hurt, despite the Buckeyes being very deep at offensive tackle over the next few years. That's because any time you're leading considerably for a five-star, potential top-10 overall talent and potential first-round NFL draft pick, it's going to hurt even if you're deep at the position – and especially when throwing in Latham's Midwest connections and the family he has in Ohio. 
All is far from lost for the Buckeyes, however, and even though that Greatest of All-Time Class is probably gone – Colin Hass-Hill detailed everything that would need to go right in order for them to still surpass Urban Meyer's 2010 class at Florida – the No. 1 class is still there for the taking. And the Buckeyes could stop recruiting right now and probably end up with a top-three class or, at worst, a top-five class.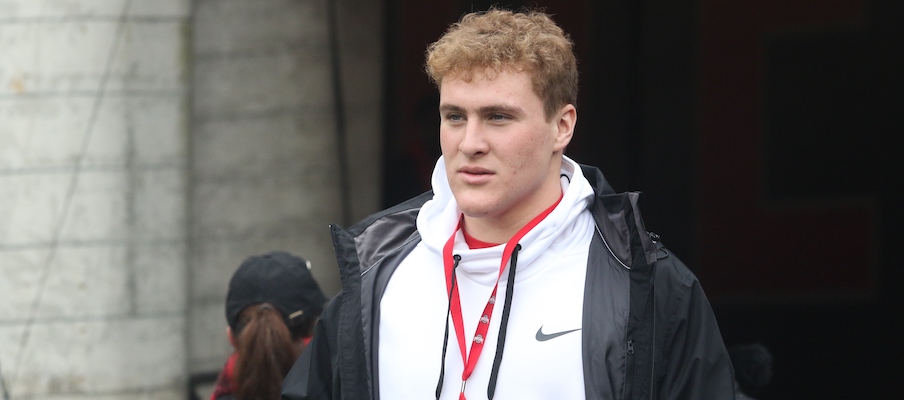 But there are still some big fish out there, and today we wanted to quickly reset, in order, who the Buckeyes' top five remaining targets are in the 2021 class:
Other targets
Offensive linemen: Rocco Spindler, Garrett Dellinger, Tristan Leigh, Nolan Rucci, Rayshaun Benny, Noah Josey
Defensive linemen: Demeioun Robinson (Maryland commit), Damon Payne
Linebacker: Raesjon Davis (LSU commit)
Cornerbacks: Tony Grimes, Jordan Hancock (Clemson commit)
These players are under essentially an "honorable mention" category because, while they would each be fantastic additions to the class, it may be a little too late to regain traction with them this late in the process – they still have a shot with those players, but there is a long way to go in each of their recruitments at this stage – or they are players we have heard the Buckeyes are not very high on.
Dellinger will be coming off the board soon, likely to LSU, while Spindler announced two weeks ago that, like fellow offensive guard Burton, he is planning on delaying a commitment until after he is able to take his five official visits – one of which will almost certainly be a visit to Ohio State in addition to Michigan, Notre Dame, Penn State and LSU. Leigh and Rucci appear to be long shots at this point in the process and Josey is likely to go elsewhere, while Benny appears to be one of the likeliest options behind Burton.
Just wanted to let everyone know that I will NOT be committing Anytime soon. Not until I take all 5 officials. Which will be... Michigan, Ohio State, Notre Dame, Penn state, LSU.

(No interviews thank you) pic.twitter.com/plvJF4q5WX

— Rocco Spindler (@RoccoSpindler92) June 11, 2020
Robinson is another whom Ohio State will continue going after, though when Eleven Warriors recently reached out to the Maryland star and versatile defensive end/outside linebacker, he was pretty straightforward that nothing is going to change in his commitment to the Terps. 
There seems to be a bit of mystery centered on Payne and how hard the Buckeyes are pushing for him, but he remains a possibility. Grimes looks to be trending toward either Georgia or North Carolina.
As for Davis and Hancock, it's not looking great as a pull from their respective commitments to southern programs looks very difficult, though Davis recently told Eleven Warriors that he plans on taking official visits to Ohio State and Oregon with his parents once things open back up.