The Hurry-Up is your nightly dose of updates from the Ohio State football recruiting trail, keeping tabs on the latest from commits and targets from around the country.
Byrd looks to improve 40 time, earn Ohio State offer
Class of 2022 running back Stephan Byrd has nine offers to his name right now, but Ohio State is not one of them yet. 
But the talented running back from nearby Canal Winchester High School – 20 miles to the southeast of the Buckeyes' campus – is certainly a player to keep an eye on moving forward in the recruiting process over the next year or two.
Byrd impressed Tony Alford and other Buckeye assistants at a one-day camp last June and welcomed him to his first game day experience as a recruit – and first visit to the Columbus campus as a recruit – for their 42-0 win over Cincinnati on Sept. 7. That was an eye-opening trip for Byrd, a 6-foot, 195-pound sophomore back with offers from Cincinnati, Iowa State, Minnesota and West Virginia. 
Byrd enjoyed that experience and says the coaching staff was welcoming, but in order to get a shot at playing there in scarlet and gray, he knows the first thing he has to improve.
"Who wouldn't want an Ohio State offer?" Byrd told Eleven Warriors. "But (the Ohio State coaches) said I need to improve my (40-yard dash) speed to a 4.4, and I run mid 4.5 so gotta get to work this track season and take it seriously that's all that means. 
"I just have to stretch this year and take track seriously this year, and I'll think I'll get there."
Ever since that June camp in which he impressed Alford, the two have been building a relationship. Byrd says the two spoke about a month ago, but with the dead period and NCAA contact restrictions on 2022 recruits, they haven't spoken since. There's certainly an increasingly symbiotic relationship building there, though, and if Byrd continues to develop, his recruitment to Ohio State could pick up steam.
"We both know what we want out of each other and how we can help each other, and we're still building our relationship also," Byrd said. "I have talent in ways I can help the team, and he got me by helping me become a better man and hopefully getting me ready for the league."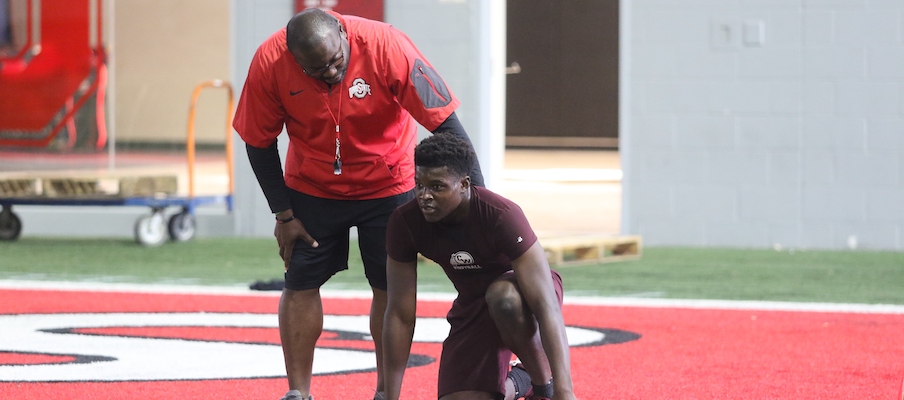 Alford told Byrd that the recruiting process is "kind of a business" and that it's a "you help me, I help you" sort of situation, "and we both benefit."
Alford says that he likes that Byrd is "a big, strong, physical back with good acceleration and vision. … Yeah I always have room to improve, for sure. Nobody's perfect."
Byrd expects to visit again for a spring practice.
Burke being recruited at WR/CB, plans spring visit
Powerhouse Arizona program Saguaro High School produces studs and top-level Power 5 recruits every year, and that includes 2020 Buckeye target Kelee Ringo and 2021 targets Bram Walden and Quintin Somerville. 
Another key name to know in the 2021 class from Saguaro is 6-foot, 190-pound athlete Denzel Burke, a four-star prospect ranked No. 176 in the nation, No. 8 at athlete and No. 3 in the state behind Somerville (No. 1) and Walden (No. 2). Burke has offers from 15 programs, including Arizona, Arizona State, Auburn, LSU, Oklahoma State, Oregon, USC, Texas and Washington.
Ohio State added its name to that list on Jan. 27, as Ryan Day dished out an offer to the standout.
"Coach Day offered me, and I felt blessed," Burke told Eleven Warriors. "I'm in contact with coach (Corey) Dennis a lot and also coach Day, and our relationship is pretty good."
*The Ohio State University https://t.co/owUxxpYdT4

— Denzel Burke (@King10Burke) January 27, 2020
Burke says the Buckeyes are recruiting him as an athlete, and that the coaches see him as either a receiver (he finished with 12 receptions for 313 yards and four touchdowns as a sophomore) or as a cornerback (he recorded two interceptions last season). 
"I'm very physical," Burke said. "I compete at the highest level at practice and games."
Burke says he has some of his best relationships with coaches from Texas, USC, Washington and Oregon, and he says he will visit Ohio State in either March or April. 
Confident Carter to visit April 26, gives insight on Day's teaching style
Quarterbacks don't often lack confidence, and that's certainly the case with West Memphis (Ark.) class of 2022 pro-style quarterback Tevin Carter.
The 6-foot-3, 205-pound sophomore is nicknamed "Gunslinger" and says the Ohio State coaches have taken notice of how he plays behind center.
"They like my QB style. I'm not a dual threat I'm a gunslinger," Carter told Eleven Warriors. "But like Justin Fields, I can definitely you my legs when I have to or needed to. What I mean by that is, the way I play, I pretty much fit perfect in the offense.
"I'm almost like a Dwayne Haskins, but I think I'll be better and I think they formed that opinion like I said based off my style of play."
Really? Better than Haskins?
"I definitely think I could be," Carter said. 
Carter, of course, has a long way to go before he would sling 50 touchdown passes and break a college program's passing records, but it won't be long before the young Arkansas budding star is on Ohio State's campus. 
Carter will be making an unofficial visit to campus on April 26, where he has a good idea of what he will be looking to find out. 
"I will be looking for a family environment for sure and the way they treat their players and, you know, get a feel for the campus," Carter said. 
Carter, who says he does not yet speak to Buckeye coaches frequently because of 2022 contact rules, was last at Ohio State two years ago for a visit, and he's eager to get back, especially to talk with Day, who he says he would love to play for – and to meet Dennis for the first time.
"Coach Day would be the only coach (that I have the best relationship on the Ohio State staff) because it's been so long," Carter said. "He is chill but loud at the same time. He will get on you pretty hard. He's the type of coach that will not get on to you for something you don't know, but once he teaches it to you and you still mess up, then he has a problem. I haven't met anybody else. Really, I look forward to meeting the new QB coach, though."
Carter says the Buckeyes' main recruiting pitch to him is how successful he could end up being in their offense.
Carter does not yet have an offer from Day and the Buckeyes, but he does have 12 offers to his name, including from Auburn, Baylor, Florida State, LSU, Michigan and Texas. He says Texas A&M, Florida State Arkansas and Memphis are the schools recruiting him the hardest right now. 
He has plans to visit Texas A&M, Florida State, Arkansas, Maryland and Alabama this spring and summer, plus possible visits to Tennessee and Florida.