The Hurry-Up is your nightly dose of updates from the Ohio State football recruiting trail, keeping tabs on the latest from commits and targets from around the country.
Grimes' father impressed with Coombs during first visit
One of the most important visits for Ohio State – arguably the most important considering the player and the need he would fill in the Buckeyes' 2021 class – during last month's two-week contact period came when Kerry Coombs hopped on a flight to Virginia Beach on Jan. 28 to visit Princess Anne High School.  
That's where Coombs met with two of the most important people involved in the recruitment of Tony Grimes, the nation's No. 1-ranked cornerback and No. 7-ranked overall player. On the east coast of Virginia, where the Atlantic Ocean meets the Chesapeake Bay, Grimes' father Deon Glover and head coach James Yeager met with Coombs in person for the very first time as the hectic hunt for Grimes' commitment continues.
"Kerry, Yeager and myself sat in the coaches office and talked for a while," Glover told Eleven Warriors this week. "Coach Yeager and myself were pulling double duty because other coaches were coming by the school. With all the traffic, we never rushed or made coach Kerry feel rushed. He had our undivided attention."
"Coach Kerry said that no one in the country can develop Tony like him. He said that he is the absolute best corners coach in football. He said he's not cocky or arrogant, nor will he apologize for saying what he said."– Deon Glover, the father of top-ranked 2021 CB Tony Grimes
Grimes and Glover had both spoken with Coombs over the phone after he had been officially returned to Ohio State, and shortly after those conversations took place, Glover told us he was impressed. That opinion grew stronger following the visit. 
"This was the first time I met coach Kerry," Glover said. "I read about him, researched him, watched his videos, and I was just as impressed with him in person. Energy, energy, energy!"
The fact that Coombs came to visit during that hectic period left a great impact on Glover, and it showed that the Buckeyes are serious about recruiting Grimes. Of course, it's hard not to be seriously recruiting the best in the nation at the position. 
"I believe coach Coombs being at Princess Anne to talk with coach Yeager and myself helped me to better explain to Tony how serious Ohio State really is about recruiting him," Glover said. "Programs don't just waste flight time and expenses on athletes they are not sure they really want in their program."
Coombs didn't start detailing to Glover and Yeager the X's and O's or Ohio State's defensive scheme during the visit. Instead, the three football minds "talked about expectations on both sides of the coaches/players relationship," Glover said. 
"Coach Kerry will break him, tear him down, eliminate bad habits and then build him back up," Glover said. "When I say tear him down, I don't mean in a degrading, condescending way. I mean challenging him to push past the norm – arming him and weaponizing him to be a lethal weapon in the secondary. I think that is a great starting point. The great thing about Tony is that he is always up for the challenge. It's my job as his coach/dad to help him minimize bad habits and make sure he is at his absolute best before he gets to college. That way his transition will be smooth no matter what they do."
Coombs also made a pitch about himself – without going overboard or sounding egotistical. 
"Coach Kerry said that no one in the country can develop Tony like him," Glover said. "He said that he is the absolute best corners coach in football. He said he's not cocky or arrogant, nor will he apologize for saying what he said. That's just what he believes. He said the numbers don't lie. He said no other corner coach can say they had two first-round draft picks in the same year. 
"He said that he will only recruit corners that have NFL potential, and he expects his corners to have an NFL work ethic and mindset. Tony fits Ohio State's system. In fact, they really have one of the best systems to play corner in."
This visit was an important next step in the recruitment of Grimes, as the Buckeyes pit themselves against Penn State, Clemson, Texas A&M and Georgia – a program that has been quickly rising as a strong option for the five-star corner and his family.
But, as Glover points out, there are plenty more steps to go. That includes getting Ohio State's head coach into the Princess Anne hallways. If Grimes sticks with his set commitment date of Dec. 1, there will be plenty of time for that.
Main Focus ... Committing December 1st 2020 @dhglover @Bubblesdnf @RivalsFriedman @PAHSCAVS @JBrumage2 @CoachYeager2019 pic.twitter.com/z5hXs6RYEz

— Tony Grimes (@757EliteDB) January 23, 2020
"Seeing coach Coombs was a great start. Seeing coach Ryan Day in the building will really put things into perspective for us," Glover said. "Especially seeing these head coaches in the building – coach Lincoln Riley, coach Justin Fuente, coach Dabo Swinney, coach Kirby Smart, coach Jeremy Pruitt, coach Bronco Mendenhall, coach James Franklin, coach Mack Brown and coach Jim Harbaugh."
Glover says he and Grimes are still planning on making an unofficial visit in either March or April. Coombs told Glover that they can discuss setting up an official visit when they come to Columbus in the spring. 
Egbuka will take OV to Ohio State
Grimes is not the only five-star player who would add an incredible splash to the Buckeyes' 2021 class.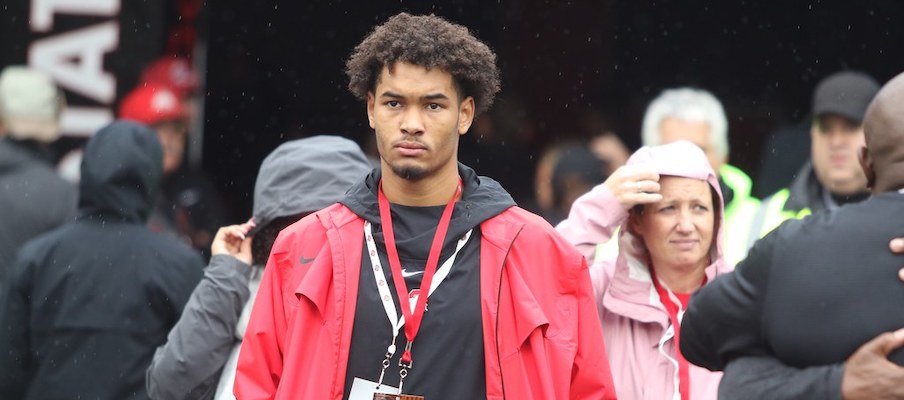 Emeka Egbuka – the country's No. 10-ranked player and No. 1-ranked athlete who will be a receiver in college – has had Ohio State high on his list for a long time, ever since Brian Hartline and Ryan Day entered the Steilacoom High School hallways during Egubka's sophomore season as they continue an attempt at prying the doors open to a pipeline to the state of Washington. 
Over the weekend, Egbuka gave Eleven Warriors a brief update of his recruitment, telling us, "I haven't planned any visits as of right now. I will take an official to Ohio State. Not sure if it will be my next visit or not."
The Washington Huskies continue to make a strong push for Egbuka, perhaps an even stronger one ever since Jimmy Lake was announced as Chris Petersen's replacement as head coach. It's widely believed that Egbuka's recruitment will come down to Washington, Clemson and Ohio State, and that's what we believe as well. 
When asked to compare Ohio State and Clemson, Egbuka said, "Both of them are different programs and are special in their own way. They just both want me to come be a part of something special."
Aybar "an elite talent"
One of the many high school players to receive an Ohio State offer in January was Cheshire (Conn.) Academy defensive end Wilfredo Aybar. 
Aybar is a 6-foot-3, 220-pound talent in the 2022 class, ranked early as the No. 1 overall sophomore WDE and No. 4 overall player in the class, per 247Sports' own evaluations. 
I am excited and thankful to have earned my 14th offer from THE OHIO STATE UNIVERSITY #GoBucks @Coach_Mehleisen @coachdykeman @BrianDohn247 pic.twitter.com/EMAUvy3muP

— Wilfredo Aybar (@WillAybar1) January 27, 2020
Aybar has 16 total offers thus far, receiving his offer from the Buckeyes on Jan. 27, as assistant secondary coach/special teams coordinator Matt Barnes spoke with Aybar's head coach, David Dykeman, who relayed the message to Aybar. 
"He was quite excited," Dykeman told Eleven Warriors. "I think they believe Wilfredo is an elite talent. He has incredible quickness, combined with great size. He creates a lot of (adversity) on the defensive side of the ball.  He is also a young man with incredible character who is a great student as well."
Dykeman says Aybar wants to visit Ohio State, and they are hopeful to set up a trip to Columbus this spring, in addition to visits to a few other schools, to see the Buckeyes' campus and facilities up close. A visit would also give them an opportunity for an in-person meeting with Barnes, a coach who's left a strong impression on Dykeman.
"I've gotten to know Matt over the past few seasons," Dykeman said. "I think he is incredibly sharp and I am impressed with him as a recruiter."
The Buckeyes have not signed a player from Connecticut in the modern recruiting era, which dates back to 1999.
Buckeyes a finalist for Carter
As we said in Sunday's Hurry-Up, we expected that the announcement coming from North Gwinnett (Ga.) linebacker Barrett Carter on Wednesday would be a list of his final schools. 
That proved true, as the nation's No. 6-ranked OLB, the No. 99-ranked player in the country and Georgia's ninth-ranked player in the 2021 class, released a list of his top 11 schools, which includes Ohio State.
overly focused, its far from time to rest now ...
#TOP11 pic.twitter.com/Mwfq5RUE33

— barrett carter (@bcsznn) February 12, 2020
It's a typical who's-who list for you would expect for one of the best recruits in the country, as Alabama, Clemson, LSU, Oklahoma, Florida and, of course, Georgia, are on the list.