I know you're sick of hearing about Clemson, but it's the reality Ohio State and every program that successfully recruits nationally is facing – Dabo Swinney and the Tigers have asserted themselves as the ones to beat on the trail.
But the reason to bring up the Tigers this time is this ... 
When Clemson nabbed four commitments last weekend, all from recruits who are ranked in the top seven at their position and the top 112 of all 2021 prospects, it happened during the Tigers' "Elite Junior Day," an event that brought many of the Tigers' top targets for the class all to campus at once.
Clemson's junior days have become a wild success, especially over the past two years, and this past weekend it was a host to four five-star prospects (eventual commit Korey Foreman, Will Shipley, Payton Page and Caleb Williams), plus four-star offensive lineman Tristan Leigh, a high-priority Ohio State recruit who has picked up offers from Clemson and Notre Dame. (Those won't be the last high-caliber programs to offer Leigh, as I wrote about how Leigh's recruitment will soon be blowing up three weeks ago.)
All of those mentioned above have told multiple media outlets of the great experiences they had at the junior day.
Now, while Clemson's latest junior day was a more exclusive one, with not as many recruits invited as past events, it brought up a good question, as many programs elect to have junior days that sometimes host more than 50 recruits.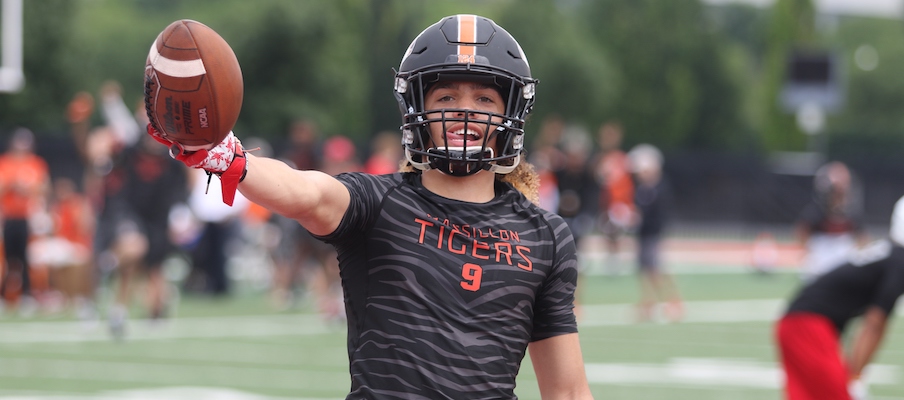 Will Ohio State ever elect to hold its own junior day in the future, especially after seeing four major prospects (each of whom were being recruited by the Buckeyes) commit in one weekend?
In short, it doesn't look like it. 
We've talked about it plenty of times before, but Ryan Day's approach to recruiting is a slow build, as Day and the assistants look to create genuine relationships over time. In part because of Midwest weather in January, the Buckeyes are approaching recruiting differently than schools in the south by electing to not hold junior days.
Despite the wild success Clemson just experienced, the Buckeyes are primed to continue their strategy of having recruiting weekends in which they only host a few underclassmen at a time. 
We'll have to see if it pays off in the long run, but in the short term it certainly seems to be working. Ohio State's recruits whom Eleven Warriors speak with almost always bring up their strong, genuine relationships with Buckeye staffers and how the constant communication and real-life conversations are at the forefront of why Columbus is a top option. 
For example, in mid-January, I asked 2021 cornerback Jordan Hancock if the main reason that Ohio State is such a high option for him is because of the Buckeyes' reputation as "DBU."
"No, it was just the relationships with the coaches and their great history of DBs. Because we really built a strong relationship," Hancock said at the time. "I called Coach Day today so we have a really good relationship. ... We talked for like 10 minutes. We just talked about life. We didn't really talk about recruiting or anything. We were just talking about school."
To be clear, it's not as if this is an exclusive approach by Ohio State by any means. Recruiting is the lifeblood of a college football program, and relationship-building is the lifeblood of recruiting. 
"If I wanna get to know my girlfriend, I don't wanna go out with her and all her girlfriends and all my friends. I want it to just be me and her. I wanna get to know her."– Deon Glover, father of Ohio state recruit Tony grimes, on his preference for more personal recruiting weekends instead of big junior days
But those quotes from Hancock are just one example of the players who have detailed their genuine relationships with the Ohio State coaches. It's in large part because of instances like those that the Buckeyes could be able to continue recruiting successfully with that approach and choose to continue not hosting large junior days.
Glover's thoughts
On Wednesday, Eleven Warriors published a lengthy Q&A with Deon Glover, the father of top-ranked 2021 cornerback Tony Grimes. 
Something I saved for today were Glover's thoughts on junior days.
Unprompted, Glover started discussing the fact that he loves the personal time afforded during an offseason unofficial visit, as opposed to the hectic environments of junior days, and it was interesting to hear his thoughts. 
"I don't like Junior Days, in particular, because sometimes they get rushed," Glover said. "They're on a schedule. But, like when we came last time (in April), it was more personal. It was intimate. I love it. I love things like that. When you actually get to spend real time, actual time, with the coaches. You learn the personality of a program. Tony got to go hang out with (Ohio State linebacker) Teradja (Mitchell) and some of the other players. I love that. 
"(Junior Days are) hectic. You're herded. 'Hey, we're going here. OK, now we're gonna go take pictures. OK, now we're gonna eat. Now, we're gonna do this.' That's fine for underclassmen like freshmen and sophomores coming in, but when you're in the hunt and you're looking for a program, you want it to be more exclusive so that you can ask the hard questions and get to know everybody."
And, with some laughs, Glover compared recruiting relationships to partner relationships. 
"We'll follow the program (of a junior day). We don't mind that," Glover said. "But we're in the hunt. We're looking for a home. I need to court you. I need to spend some time with you. If I wanna get to know my girlfriend, I don't wanna go out with her and all her girlfriends and all my friends. I want it to just be me and her. I wanna get to know her.
"We might not get to ask all the hard questions that we wanna ask. You're in a group with 75 other people, and in the other group, you've got 75 other people coming back through, so they've gotta keep it moving. It's a different feeling when you go up to a school and they've got the whole staff waiting for you at the door. You shake everybody's hand, and their families are around. You spend two hours talking with the head coach and mixing it up with the defensive coordinator, and they're on the board finding out exactly what you know, where your football IQ is at, and they're showing you exactly how they're gonna use you and what plan they have for you."